I was thinking that it had been awhile since I had hosted a linky party.
Living in Arizona with its high temps I have to come up with creative ways to make it "feel" like it really is fall. One way is cooking warm and delicious fall foods. But I sure could use some new recipes to add to my repertoire. So let's have a
Fun Fall Foods Linky Party!
So hey good lookin' I want you to share what you've been cookin'. Soups, appetizers, main dishes, breakfast casseroles…anything goes. Even posts you wrote have written previously.
Of course you know me, I like to have a sweet reward for all the effort you make to attend the linky party. Everyone who links up will be entered into a giveaway I will be hosting in conjunction with the party. I've been collecting a bunch of fun fall kitchen themed goodies which I will reveal next week.
Here's a button you can place on your sidebar to remind you.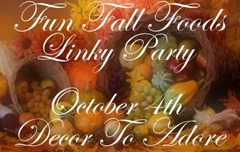 It's on October 4!
Laura