I am a fan of walls that appear to have centuries of patina created by layers of paint, smoke and age.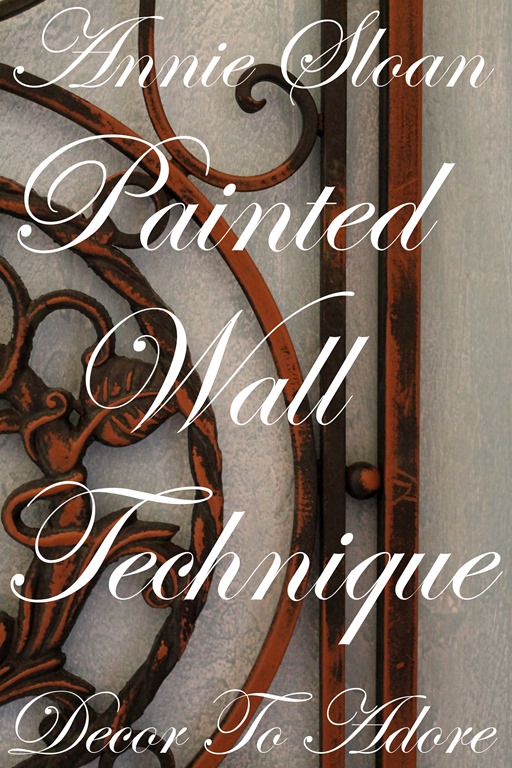 There is a small and narrow hallway that leads to the master bedroom in our home. The right side wall has an architectural niche that measures 19 inches wide by 52 inches in height at its tallest point.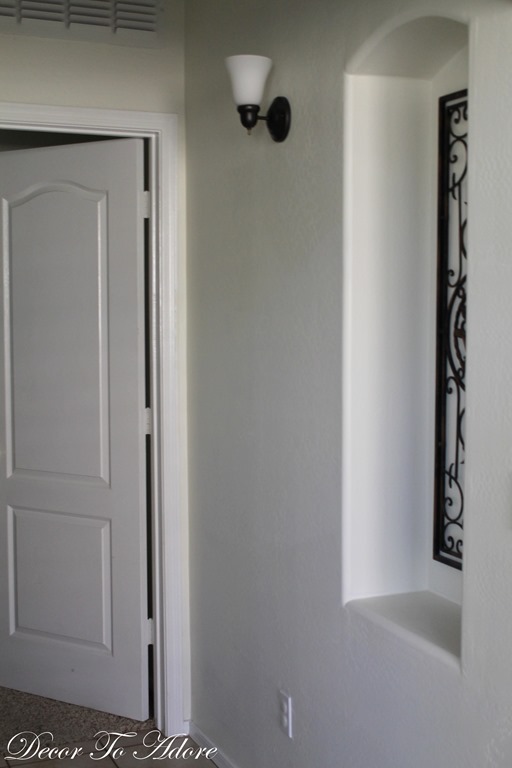 The niche begs for a fantastically oversized French statue but alas the right one has alluded me.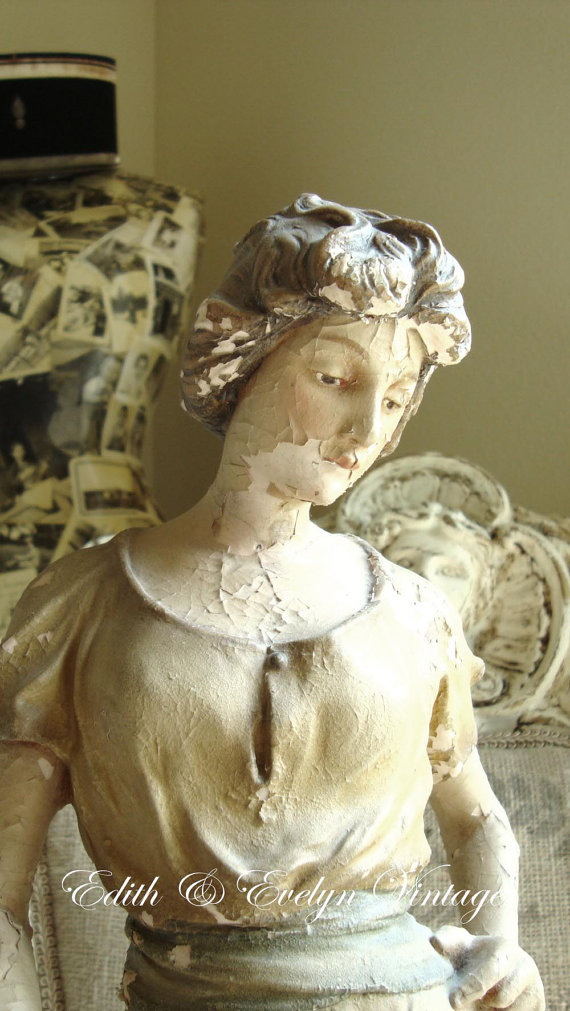 So the niche has remained rather plain, decorated with just a simple, but lovely, piece of ironwork gifted to me by my good friend and former neighbor Phyllis. I have thought about painting just the back wall. As you can see, like all the corners in my home, the edges are softly rounded making a paint stopping point rather difficult.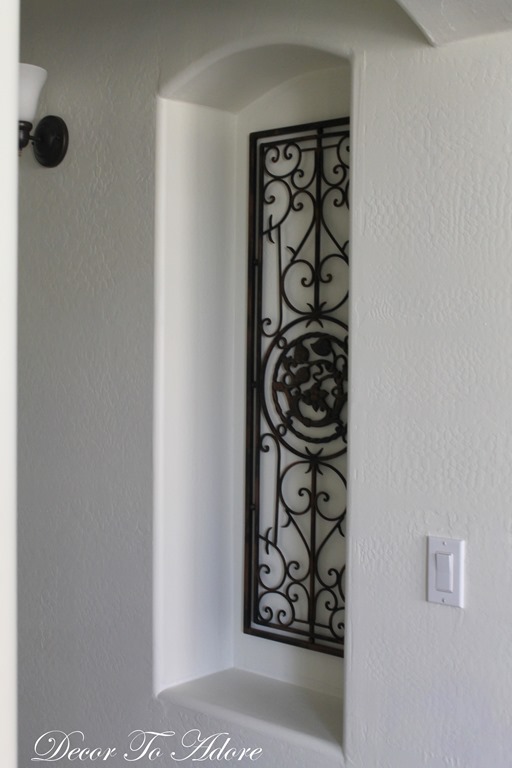 I've long admired the old world painted wall finishes used by French Interior Designer Frederic Mechiehe. Particularly those he created in his own home, an old fisherman's house in the south of France. (You can see more of his home in "Rooms to Remember: Interiors Inspired by the Past" by Barbara Stoeltie.)
So I picked up a 4 ounce sample size pot of Annie Sloan chalk paint in "Provence". (It retails for around $11.00.) Then I taped off the portion of the wall. Since my walls are so highly textured I made sure to really seal the tape down by running a credit card over it.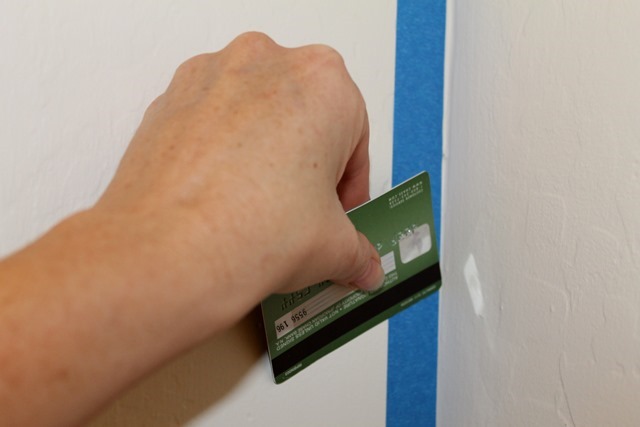 This is where it got fun and interesting.
 Sweet Guy has been working on his Home Repair Merit Badge in Boy Scouts. He needed to paint a wall for one of the tasks so I handed him a plate of paint and a paintbrush.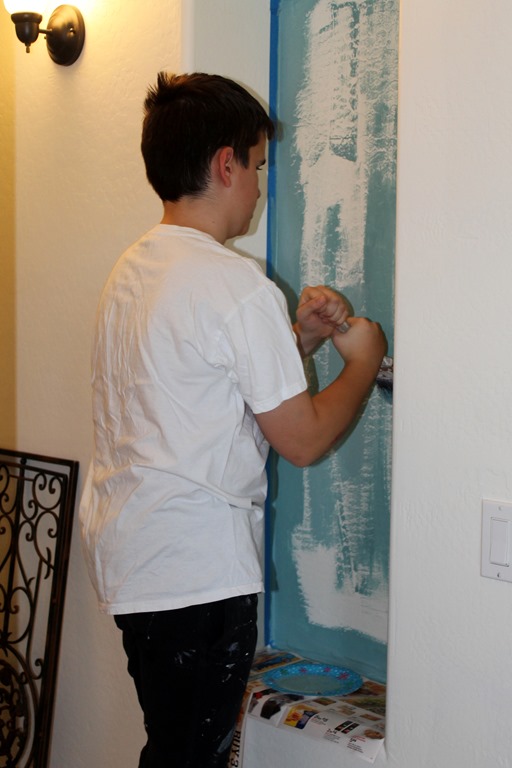 Good job! Task completed.
Then I looked at that wall for two days…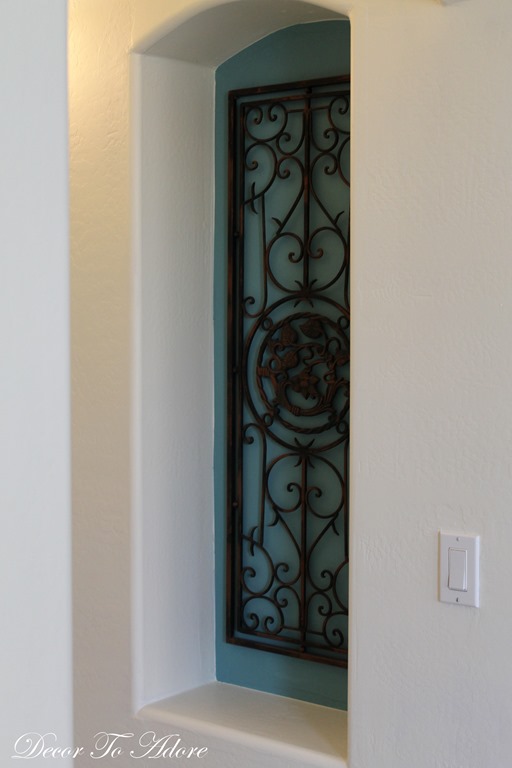 … and lived with it for two nights.
I wasn't "feeling it".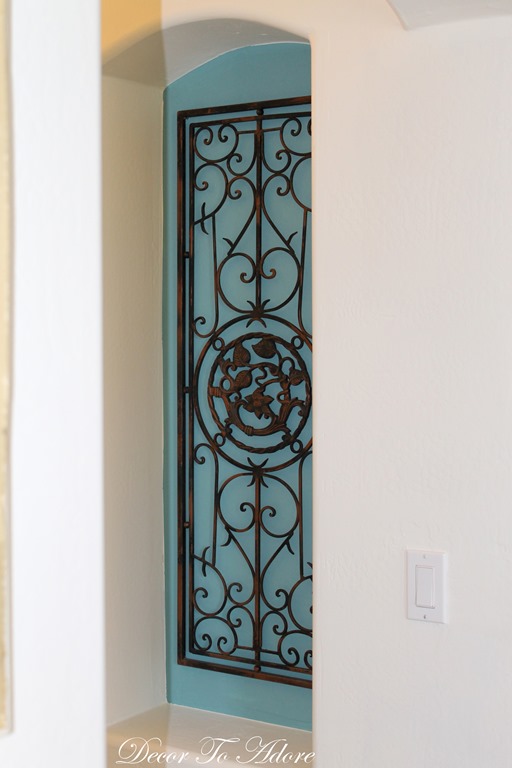 So I went out to the garage and grabbed my ziplocked bag of Annie Sloan chalk paint in white. (The bag is necessary due to the huge dust storms we get here in AZ. The dust just sneaks and seeps in everywhere.) I pried off the lid with a flat headed screwdriver and…
Mama was NOT HAPPY!!!
I was thinking that Annie Sloan chalk paint does not do well in extreme temperatures.
I was also thinking "Half a can of $40 paint down the tubes."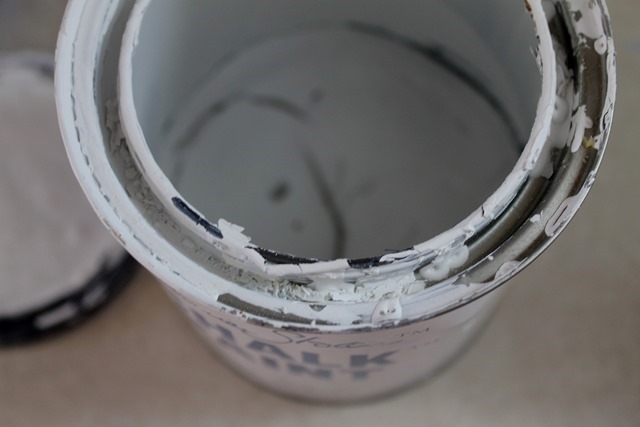 So I pried out a chunk of the white paint, took a dash of the Provence paint and half a cup of distilled water and mixed it up until it was a pale minty soupy mess. Then I grabbed a dry paintbrush and lightly brushed the mixture onto a small section of the wall.
The pictures are not good. Please keep in mind I was the painter and the photographer. 🙂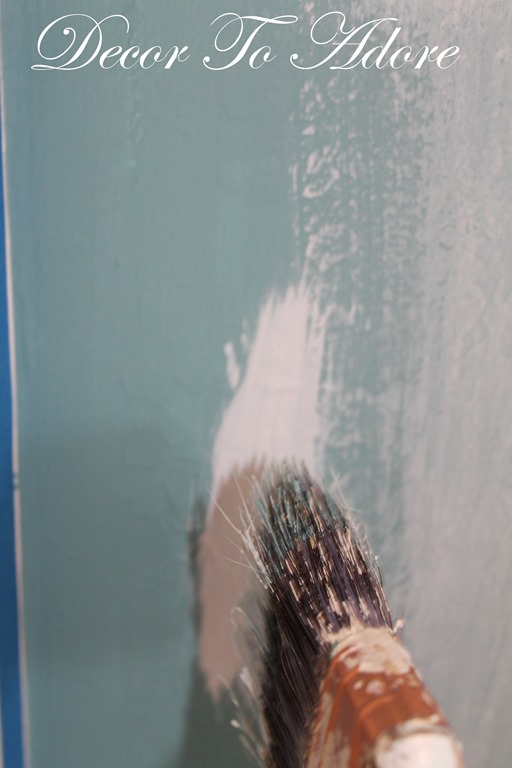 Then just as quickly I grabbed a clean paper towel and rubbed and wiped most of the paint off. (You could also do this with a clean white rag that does not leave lint behind.)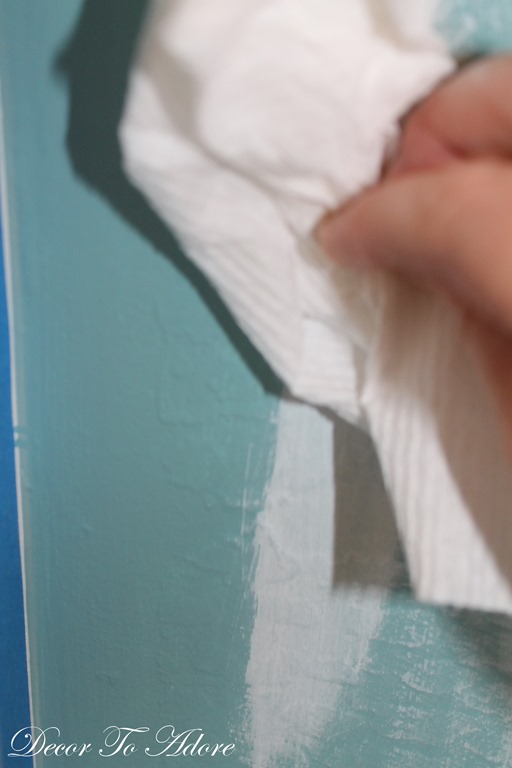 This is what I was left with.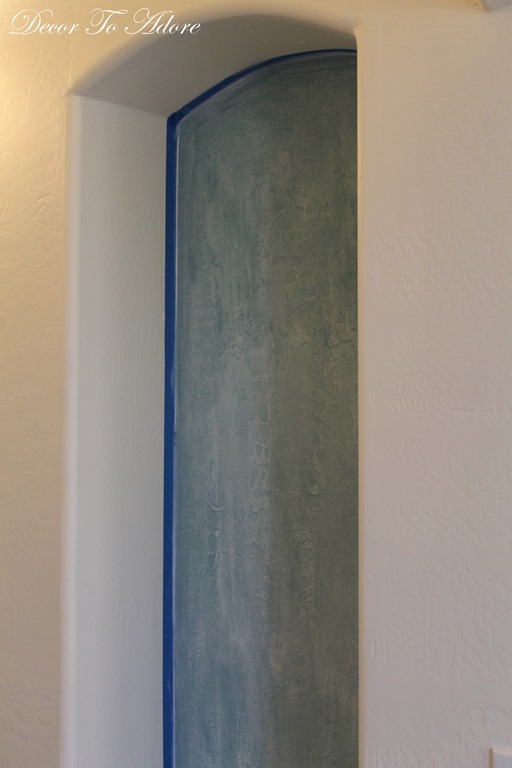 Here's a close up where you can really see the highly textured walls. (Personally I hate them because the texture is impossible to wallpaper or create various painting techniques such as clean, straight stripes. But I am thankful to have walls.)
It still wasn't quite my vision.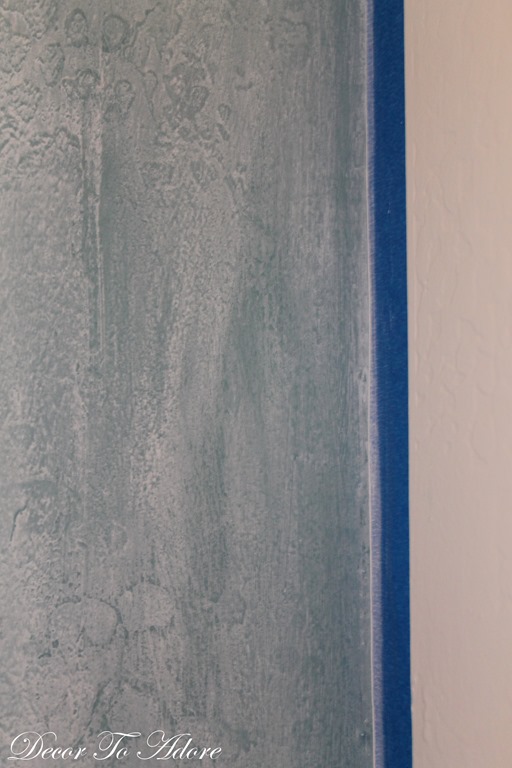 So I added a layer of Annie Sloan clear wax and then another layer of Minwax "special dark" furniture wax.
Then the heavens parted and birds began singing.
Am I right? Just LOOK at it!!!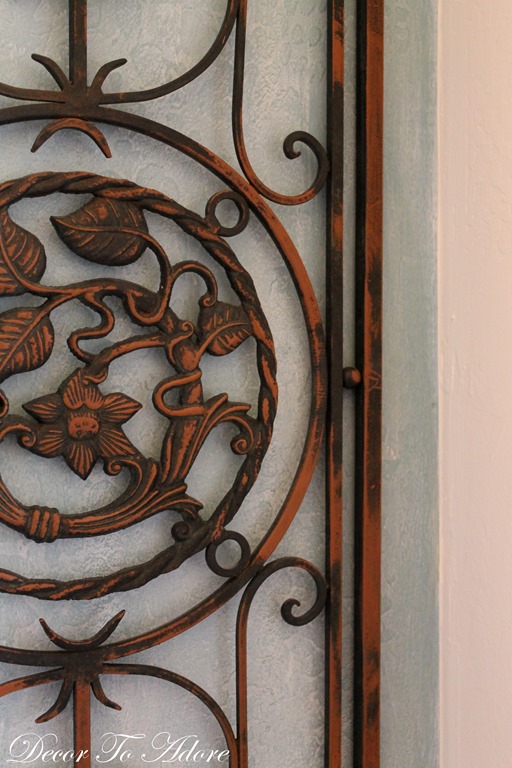 Overall the entire process took about 2 1/2 hours. I could see this finish in a small powder room too.
Here is the finish at night. Still in love.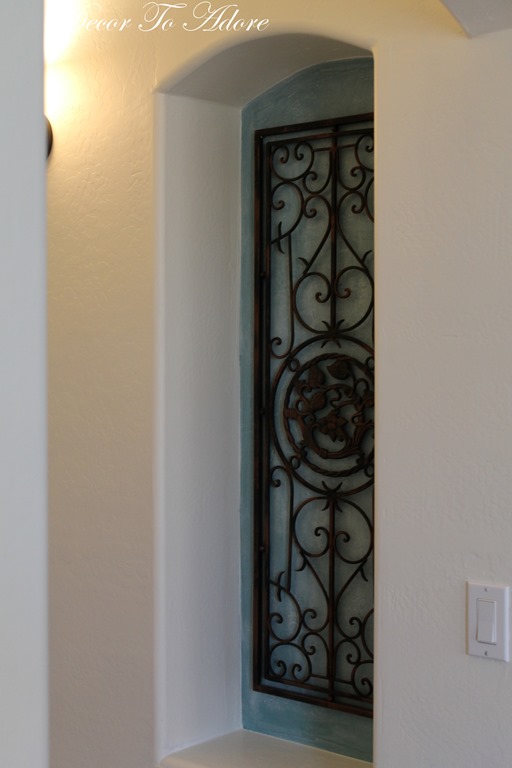 I'll leave you with a smile.
While Sweet Guy was painting he stopped to take a moment and sing "I see a white wall and I want it painted blue."
Yep, we're huge classic rock fans.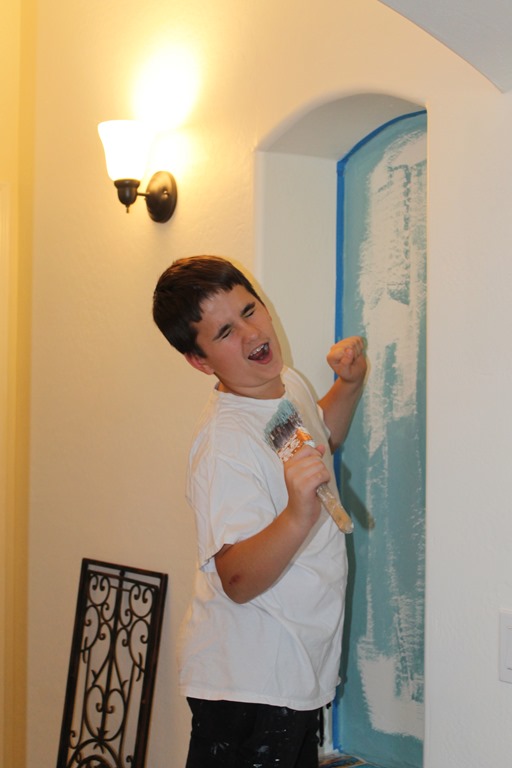 Can you name the original tune?
Laura
Linking to:
Between Naps On The Porch , A Stroll Thru Life, Not Just A Housewife,  A Bowl Full of Lemons, We Are That Family, Someday Crafts, The 36th Avenue, Craftberry Bush, Stonegable The Shabby Creek Cottage, Jennifer Rizzo, No Minimalist Here, Country Cottage, The Shabby Nest, Imparting Grace, My Romantic Home, Common Ground , The Charm of Home, Tatertots and Jello, Funky Junk Interiors, Under The Table and Dreaming