Today would have been Rembrandt's 407th birthday. Let's celebrate!
Self portrait ~ 1659 as seen in the National Gallery of Art.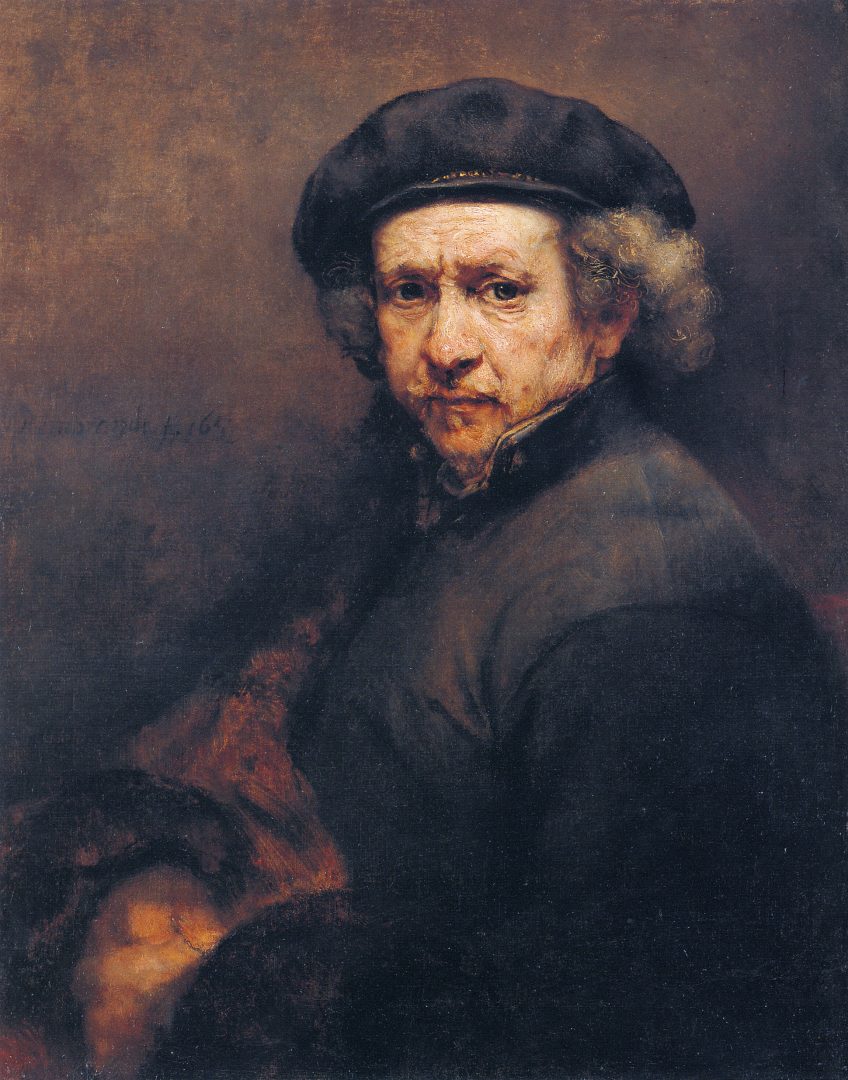 After a wonderful weekend in the Virginia beach area we headed north to the Washington D.C. area to visit our cousins L, C and B. If you are a longtime reader you may recall we last visited in 2011. (Click on the highlighted links to find past posts of our visits to Arlington, Monuments Near the Great Basin, and the MLK Memorial.) One thing that I didn't write about were the fabulous museums. We managed to see several of the Smithsonian offerings such as the National Air and Space Museum, the National Museum of American History, the National Museum of Natural History, visited Ford's Theater  and somberly reflected at the United States Holocaust Memorial Museum. But one that was missed was the National Gallery of Art. So we hopped on the subway for a quick three hour tour.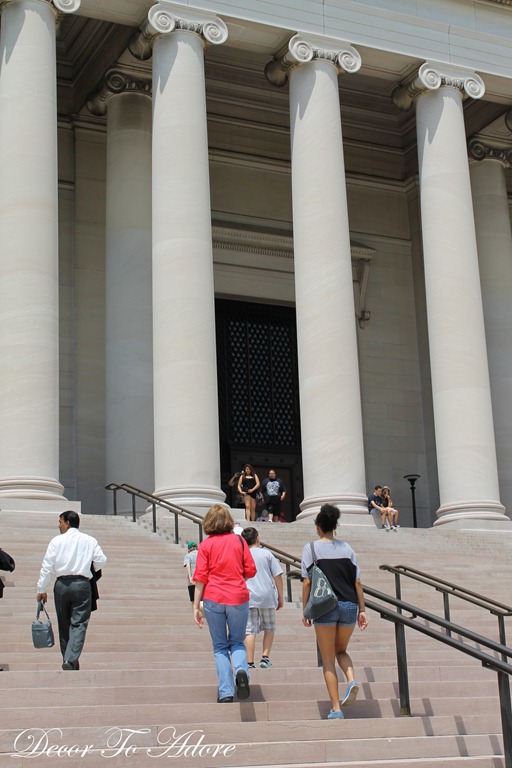 You know it's going to be good when you walk into an atrium that features a gorgeous fountain by Pierre Legros I entitled "Cherubs Playing with a Lyre" 1672~1673.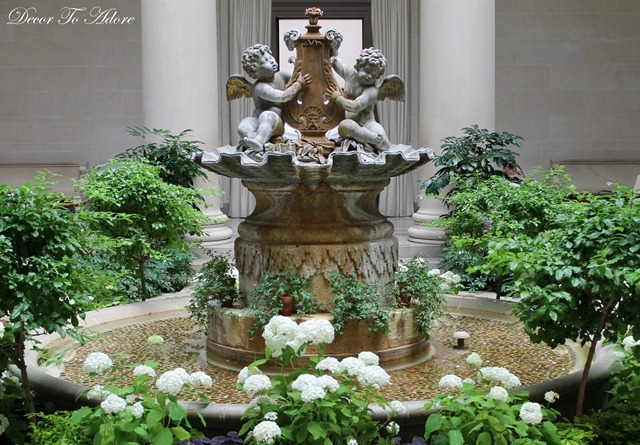 As it was past lunchtime we made a beeline to the café and then walked through "Multiverse" the largest and most complex light sculpture created by American artist Leo Villarea. It connects the East (modern and contemporary art) and West (Renaissance to 1800's) buildings.We headed West.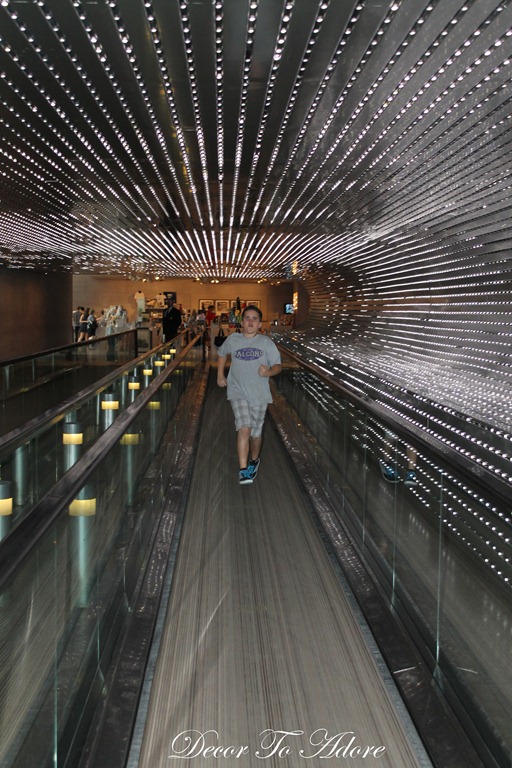 The National Gallery of Art offers various tours such as guided and audio (which is free) for adults as well as children. I highly recommend this. We began on the main floor which contains numerous galleries.  Each piece of artwork has a small plaque that states the title of the painting, the medium used~ oil, watercolor, etc, the year it was painted, the name of the artist, the genre~ American, French, etc.,  as well as when it was acquired and if it was a gift. (Let me just interject that the number of paintings that were bequeathed, donated or given is astonishing and I thank each and every generous person or foundation who did so.)
Some of the paintings will list a number linking it to the audio tour. If you do not have an art history background this is an easy way to know that the particular work of art in question is extra special. So take a moment to linger and admire.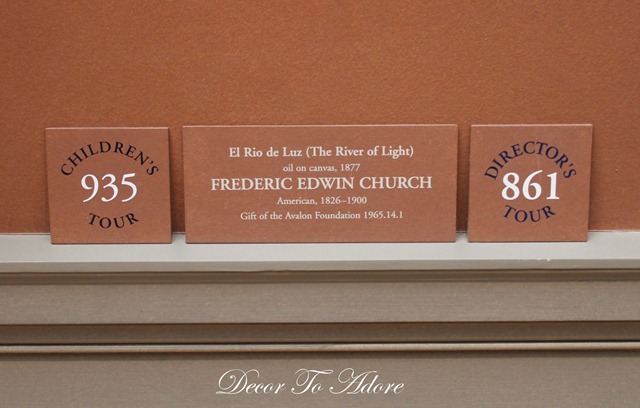 Sweet Boy taking an extra moment to admire "El Rio de Luz (The River of Light)" 1877 by Frederic Edwin Church.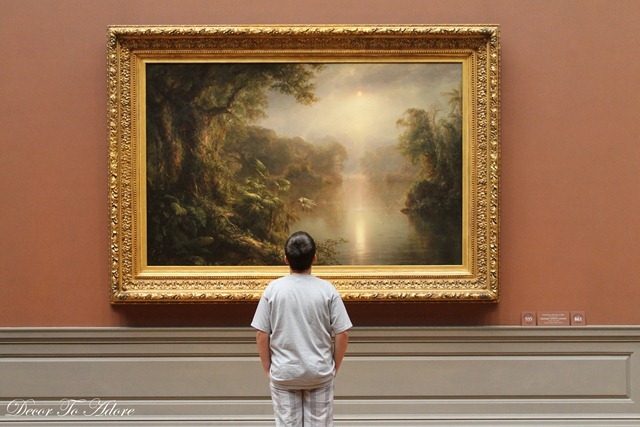 We first focused on American artists. Many of the images, such as "George Washington"  1821 by Gilbert Stuart were instantly recognizable.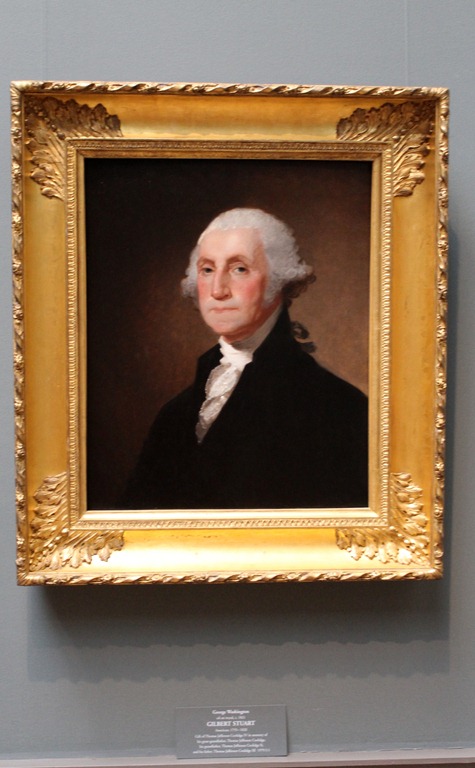 While James McNeill Whistler is most famous for "Arrangement in Grey and Black: Portrait of the Painter's Mother" more famously known as "Whistler's Mother"  his "Symphony in White, No. 1, The White Girl" 1862 shows a mastery of white shading that is truly ethereal beauty at its best.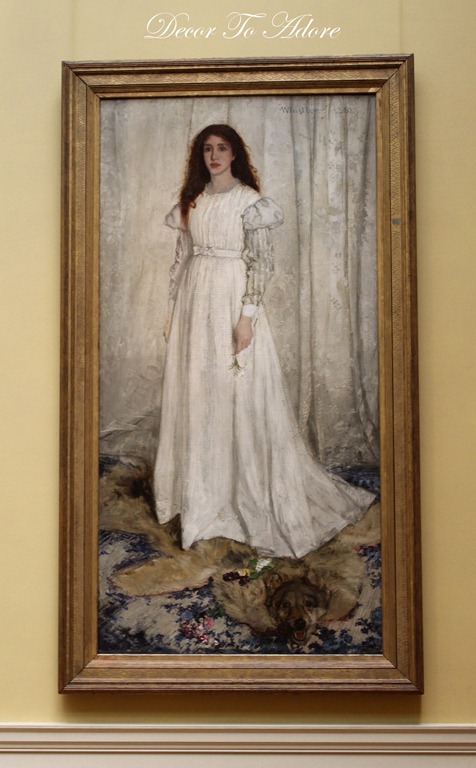 Here's a fun fact. One of my favorite American artists is Winslow Homer. When I spied "Breezing Up (A Fair Wind)"  1876, which was a piece of artwork I had previously only admired online and in art books,  my heart leapt and tears sprang to my eyes.
For it is one thing to see a painting impersonally via the web or a book but it is an entirely more profound and deeply moving experience to view such beauty in person. That is just one of the many reasons why it is SO important to visit museums.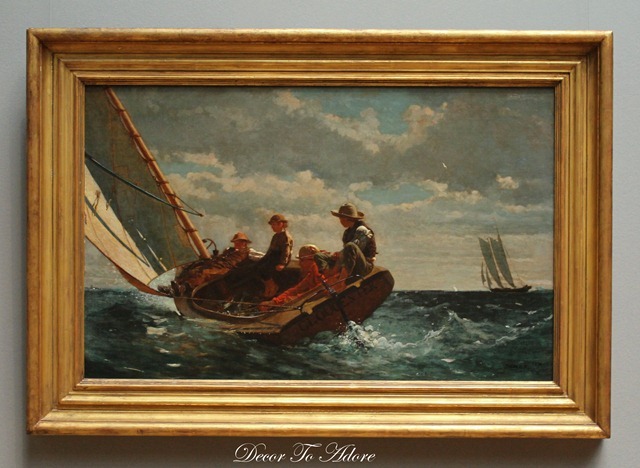 Because while you can admire a stunning piece of art such as "The Adoration of the Magi" 1440/1460 by Fra Angelico and Fra Filippo Lippi…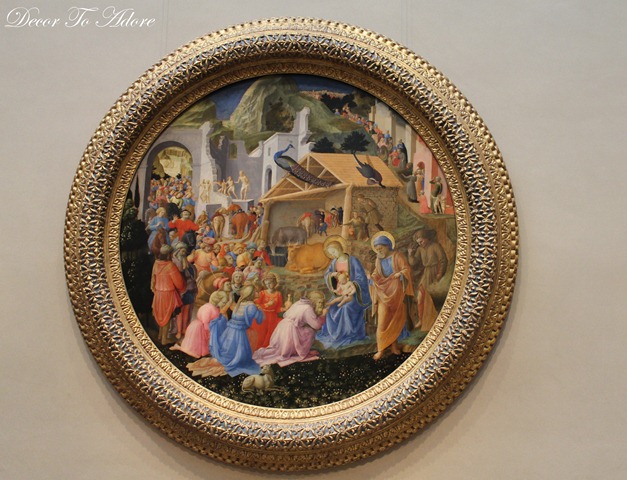 …there is something miraculous when you can clearly see the brushstrokes and truly reflect that THIS piece of artwork was painted almost 600 years ago. It is nothing short of astonishing.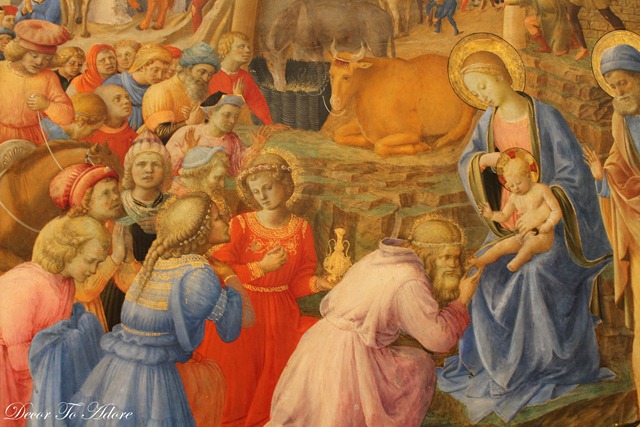 I just adore round paintings. This masterpiece, "The Small Cowper Madonna", 1505 is by Raphael.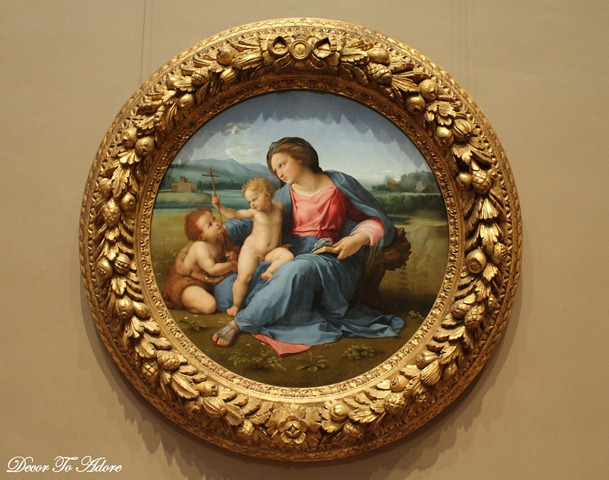 Oh my was the Italian gallery such a treat! Botticelli, Titian, Della Robbia and of course Da Vinci.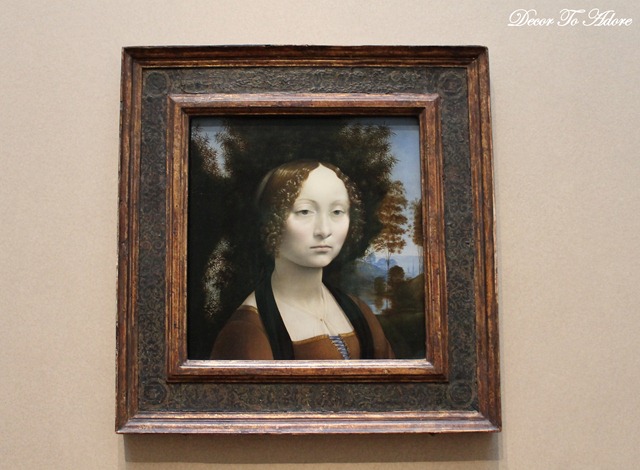 Da Vinci was such a dedicated artist that on the painting above, "Ginevra de Benci" 1774/1478, he even painted the reverse side.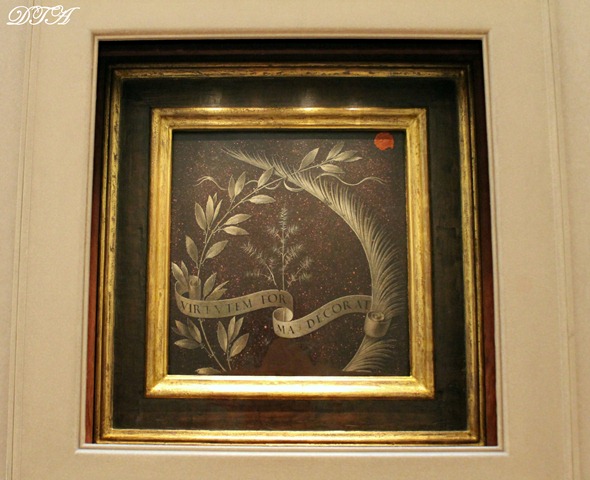 Then it was on to the Venetian painters such as Canaletto and finding a new favorite Spanish painter, Bartolome Esteban Murillo. The joyful expressions on the "Two Women in a Window" 1655/1660 was so infectious I couldn't help but smile back.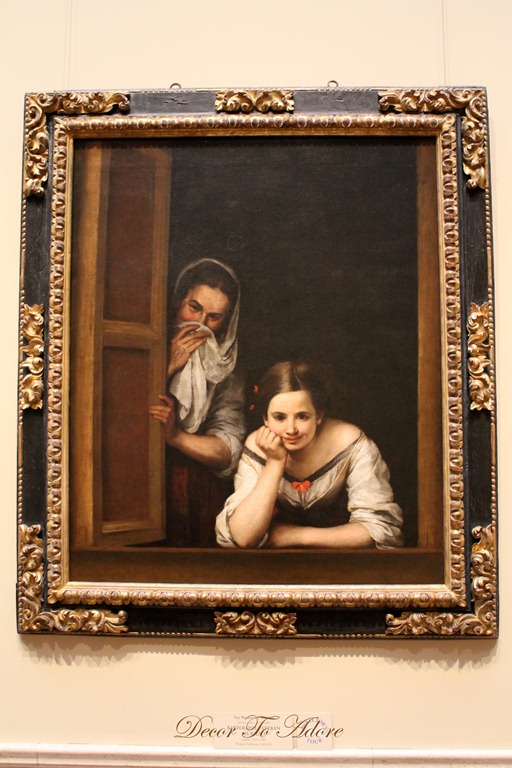 Then we viewed the Dutch painters, such as Rembrandt, who are known for their portrait painting as well as magnificent still lifes such as "Vase of Flowers" 1645 by Jan Davidsz de Heem.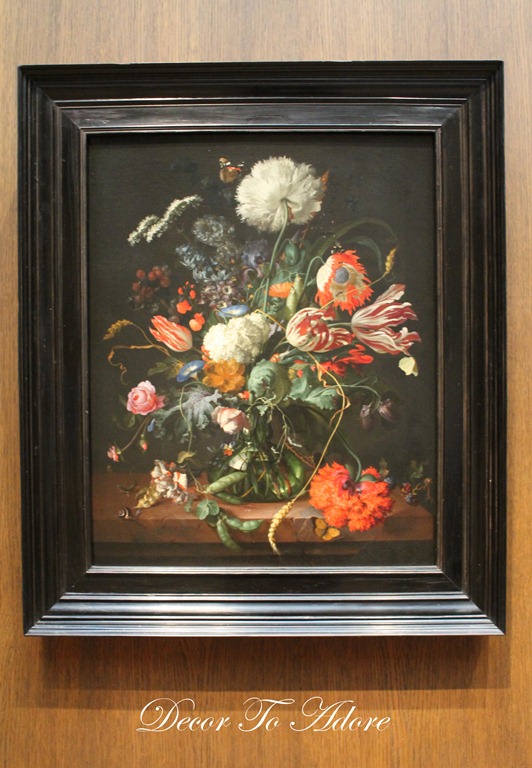 You may know Johannes Vermeer through his famous painting "Girl with the Pearl Earring". He is a true master at capturing light, which sadly I failed to emulate in the image I took of "Woman Holding a Balance" 1664. Surprisingly, much like the Mona Lisa, most of his artwork is quite a bit smaller in person than what I imagined it would be.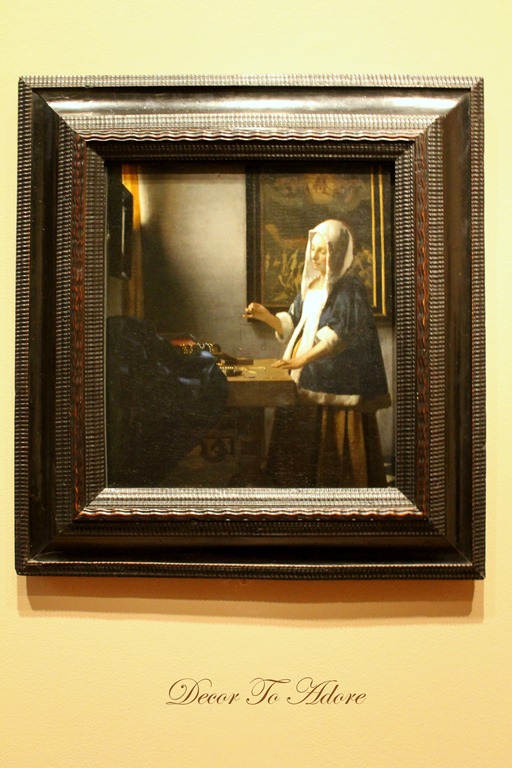 No surprise, I spent the most time in the French galleries. One of my favorite artists is Jean-Honoré Fragonard. While "The Swing" is loved by many, I have always enjoyed "Young Girl Reading" 1770.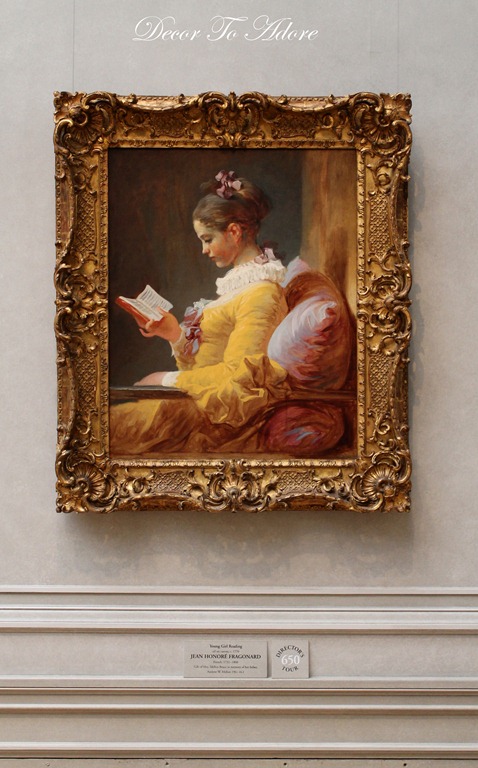 You may recognize the name Louise Élisabeth Vigée Le Brun as the court painter for Marie Antoinette but she created artwork for other nobles such as "The Marquise de Pezay, and the Marquise de Rougé with Her Sons Alexis and Adrien" in 1787.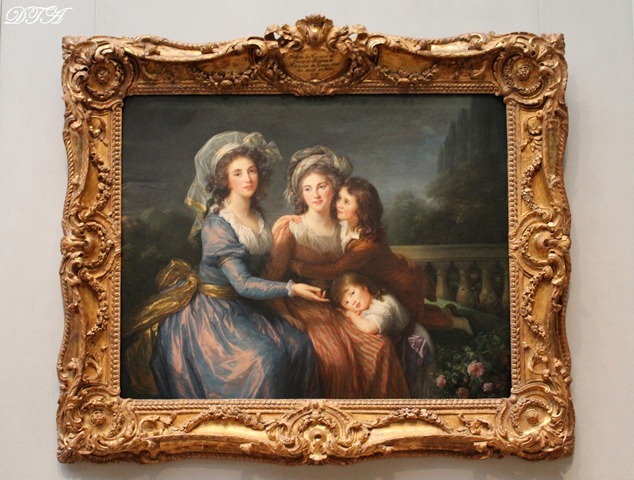 "A Girl with a Watering Can" was created by Auguste Renoir in 1876. It has always reminded me of a portrait taken of the Fashionista in a blue velvet dress when she was three.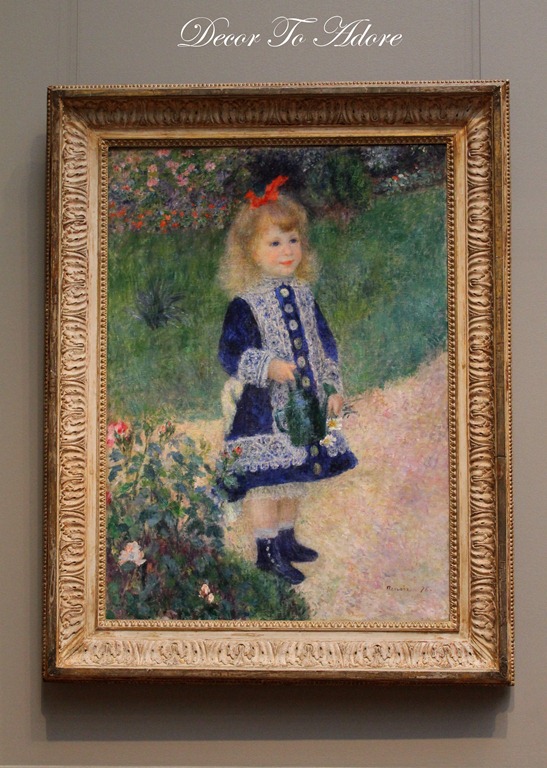 Then of course there is Claude Monet who painted "Woman with a Parasol~ Madame Monet and Her Son" in 1875.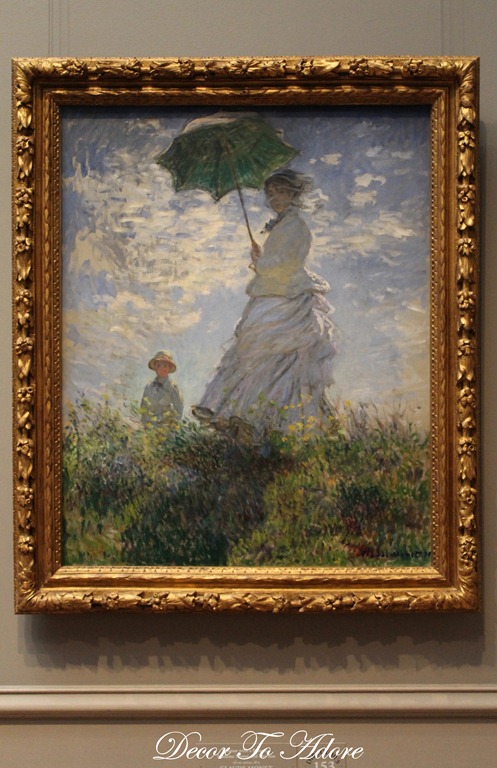 While some dismiss Henri de Toulouse–Lautrec as just a poster painter, his artwork "Marcelle Lender Dancing the Bolero in Chilpéric" 1895/1896 with its amazing color and movement insures his rightful place as a true master.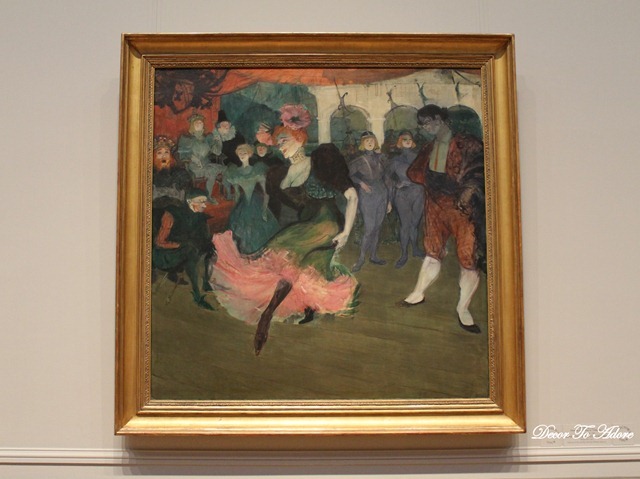 I have been blessed to see several Edgar Degas paintings over the years but never with such colorful intensity as found in "Four Dancers" 1899.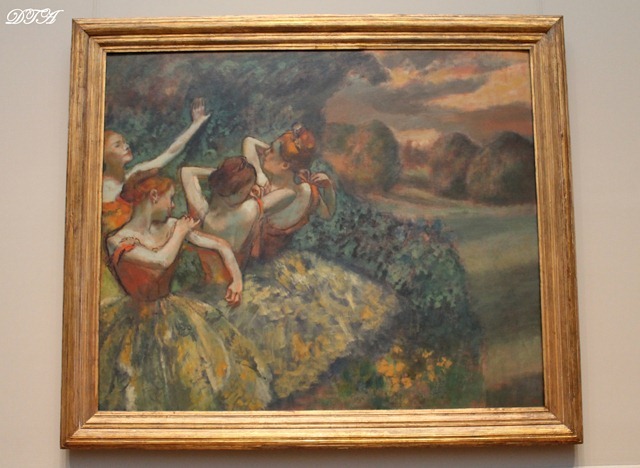 I am not sure why they included Mary Cassatt's painting "The Boating Party" 1893/1894 in with the French impressionists as she was an American. Perhaps it was because she lived in France and was largely responsible for bringing the appreciation for French impressionists to America.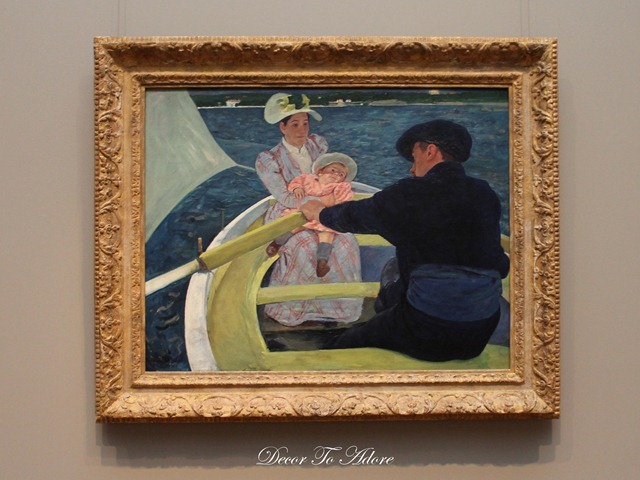 My favorite for this visit was Edouard Manet's "Spring" 1881. The techniques used and lovely color palette just captured my heart.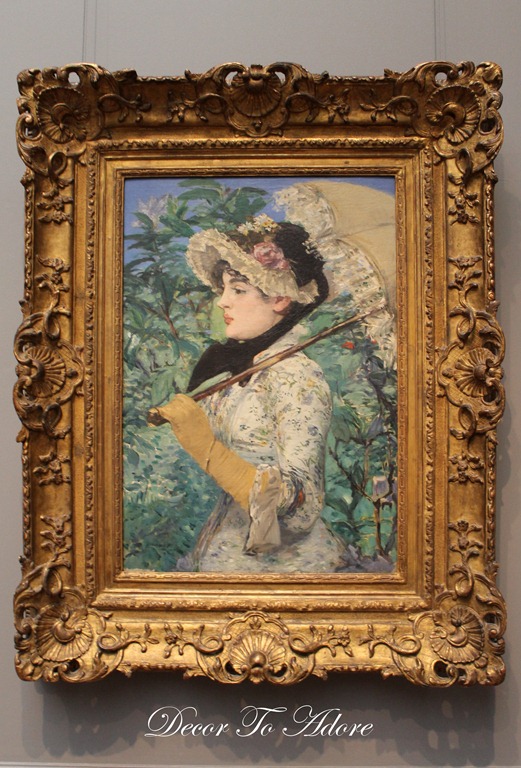 By this time Sweet Boy was more than done. Thankfully since cousin L and B had been to the museum several times previously they led him to the sculpture garden where he entertained him with his knowledge of Greek Mythology. This allowed me the opportunity to view the furniture collection.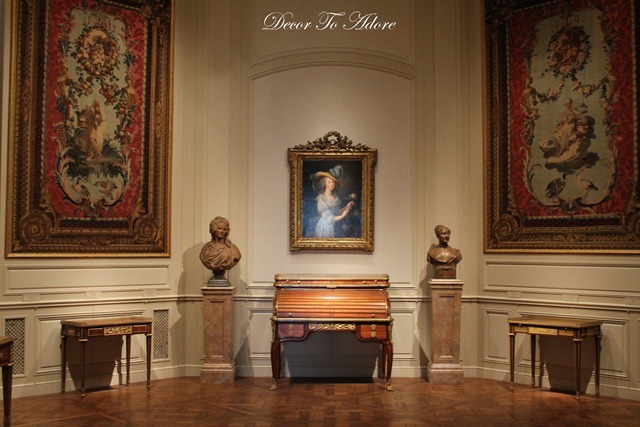 Just like artwork, you really must view this collection up close to truly appreciate the works such as this tapestry done by Cozette in 1781.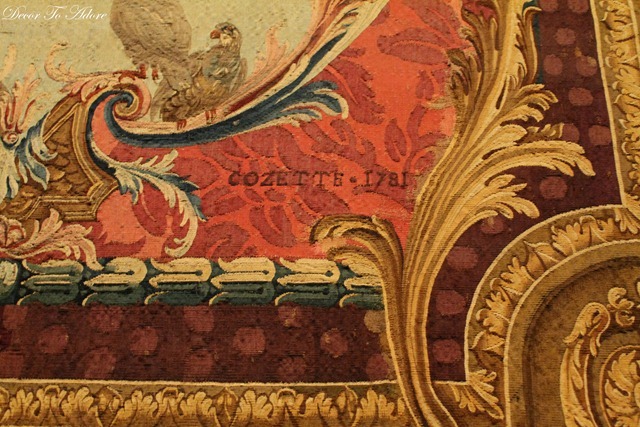 Or this work and writing table by Martin Carlin created in 1770.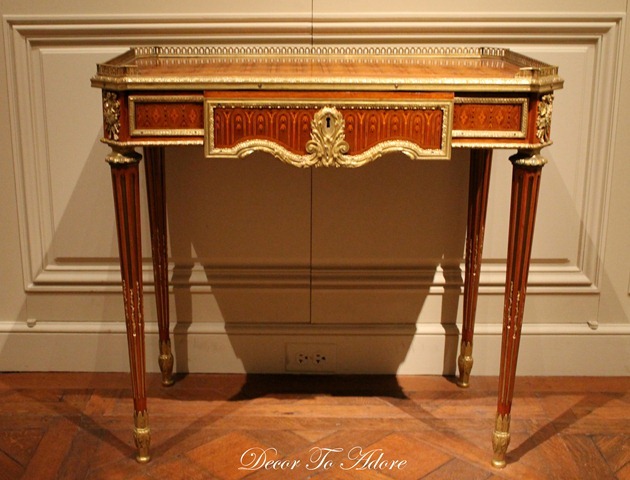 It is comprised of an oak base and was veneered with sycamore, tulipwood, purplewood, ebony, boxwood and features gilded bronze mounts. What amazing detail!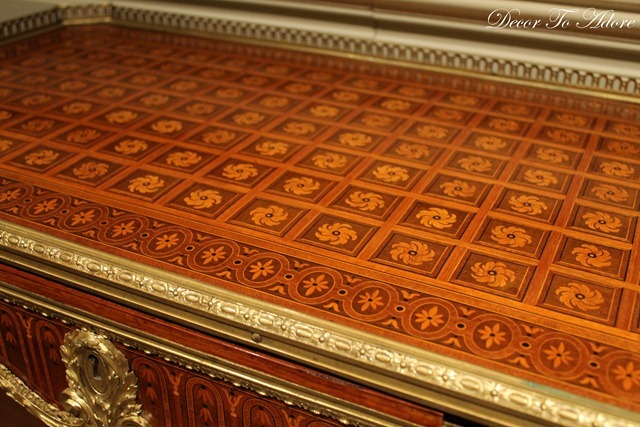 The museum also has a lovely collection of pre revolutionary furniture done in the Queen Anne, Chippendale and Federal styles.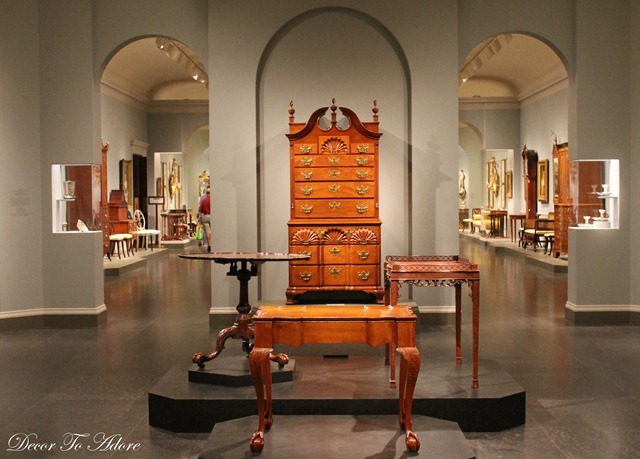 I'll take all three~ wrap 'em up!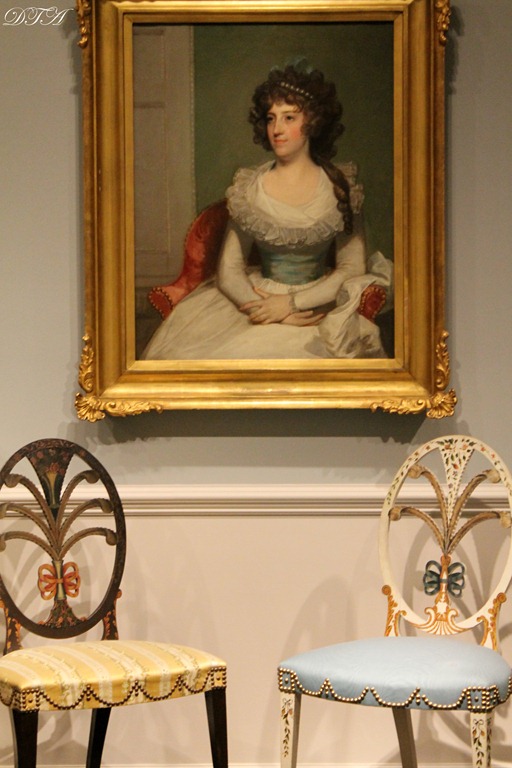 Painted details of a side chair from Massachusetts 1790-1800.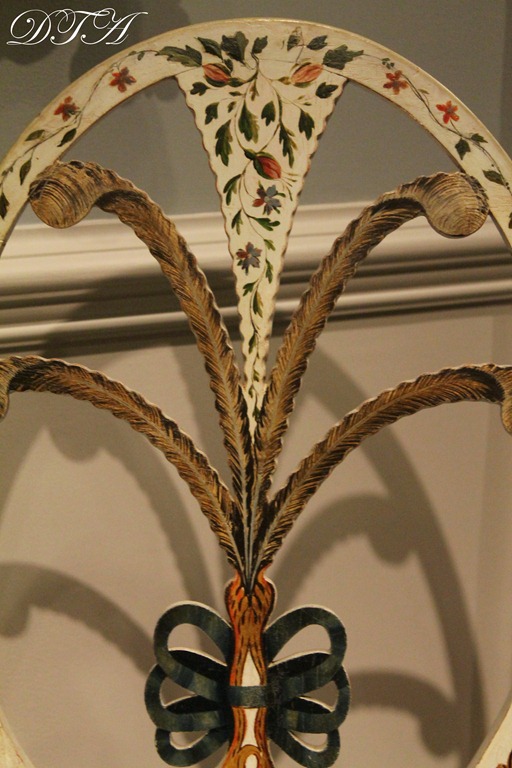 I'm inspired to recreate such glorious tack work.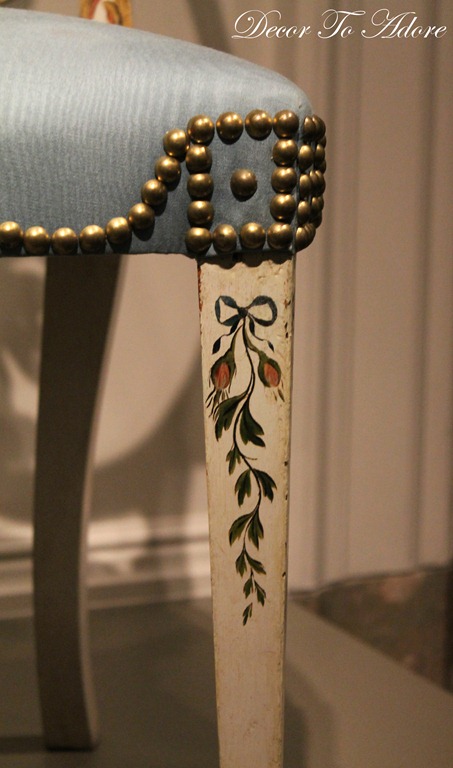 There is also a good sized collection of Classical (also known as Empire) style furniture and accessories.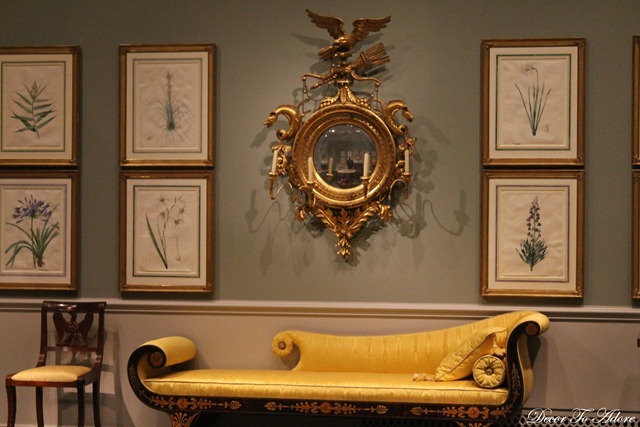 While it is not my favorite style…
…I always appreciate a nice chaise. Because after writing this monster sized post, I need to lie down. 🙂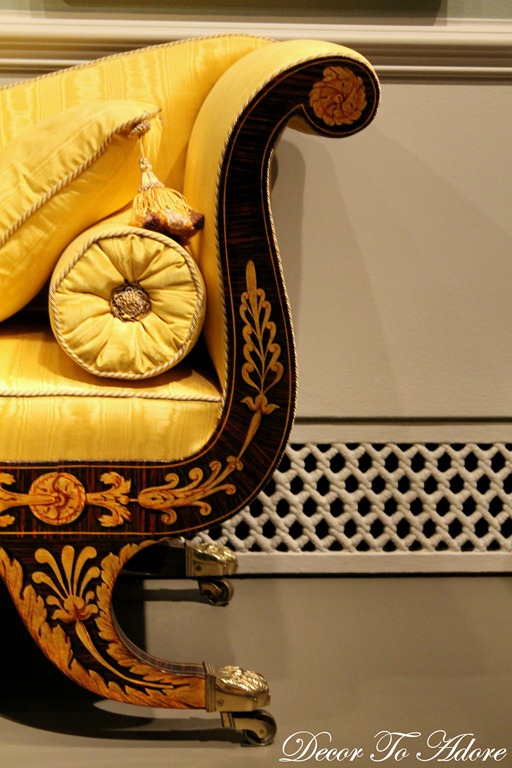 It is hard to believe that this museum, just like all the Smithsonian museums, is FREE. God bless America!
Laura