Did you know that Anthropologie also has a gardening store, Terrain? While they do have an online site there is just one store and it is located in Glen Mills, Pennsylvania.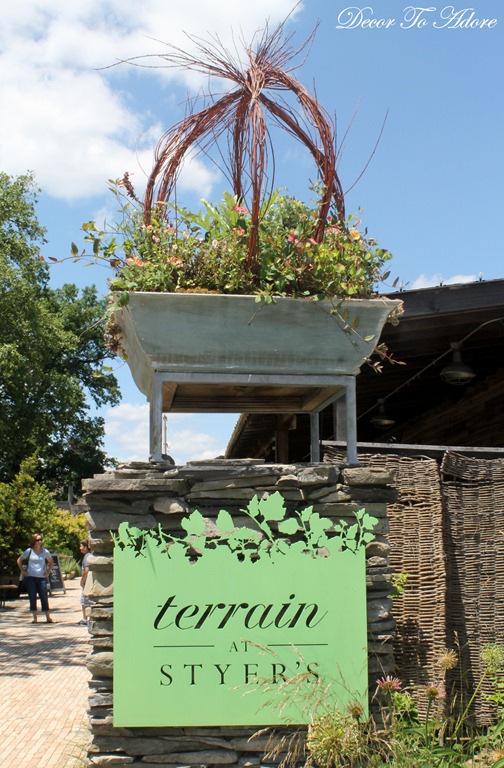 Think of Anthropologie's wonderful displays of repurposed items and gifts from around the globe then add lovely flora and fauna to the mix.
From the moment you walk in there are enchanting gardening vignettes everywhere.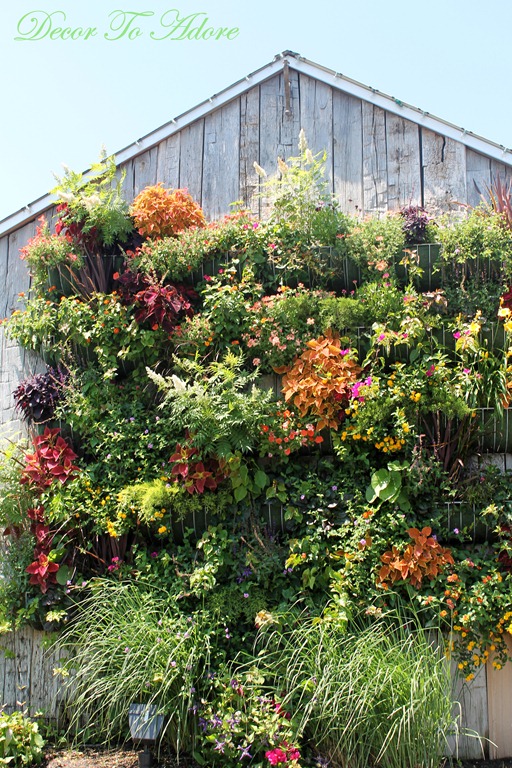 As per my usual custom anything that caught my fancy got an even closer look.
Who knew some scrap lumber and four bicycle tires could be so cute?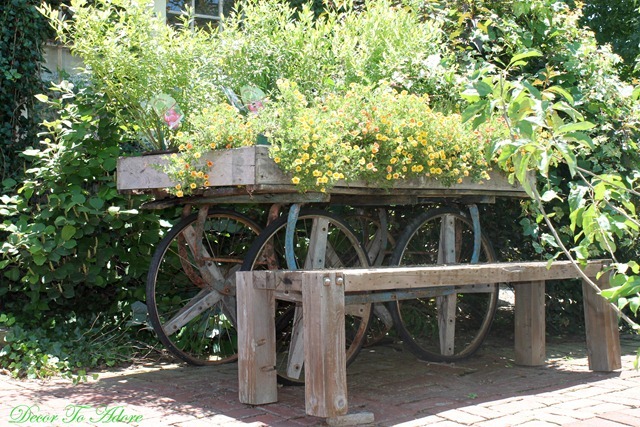 Large scale architectural salvage was use to create "rooms" in the outdoor areas.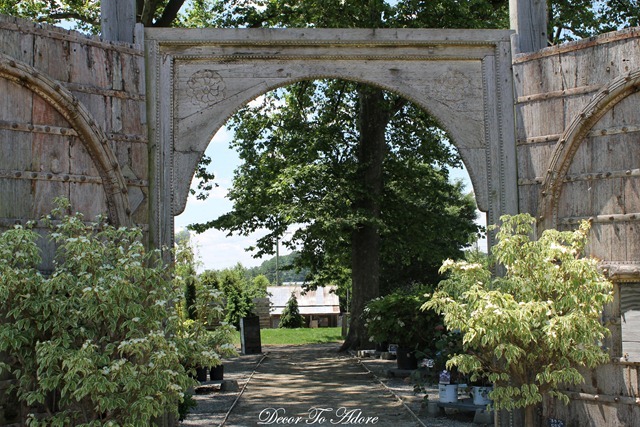 A profusion of plants for purchase.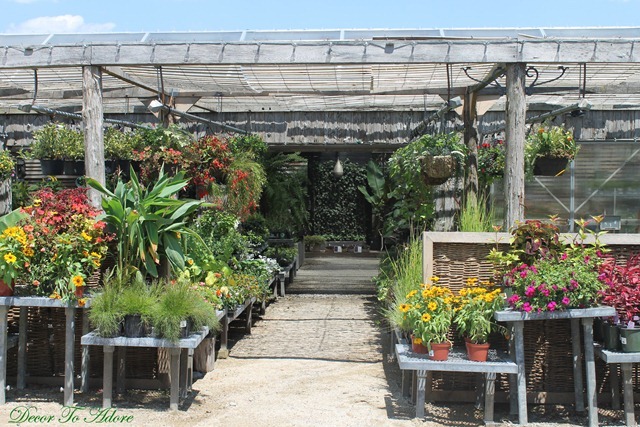 Zinc topped tables loaded with African violets.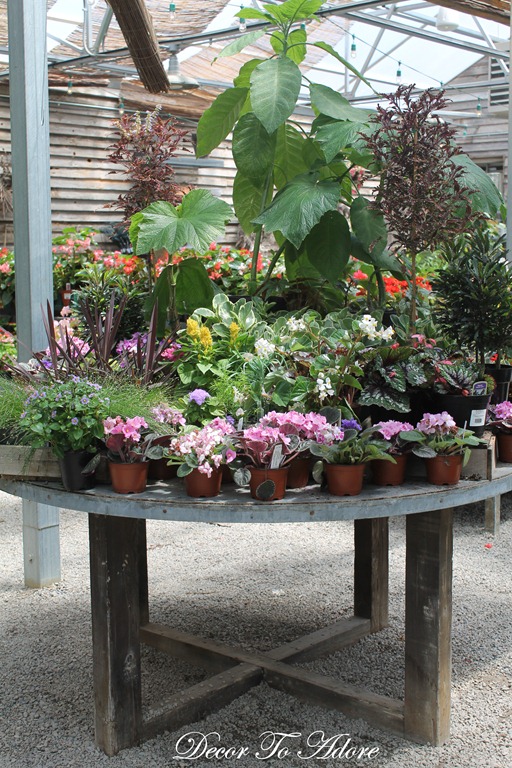 Now you know what to do with old birdbaths~ stack 'em up!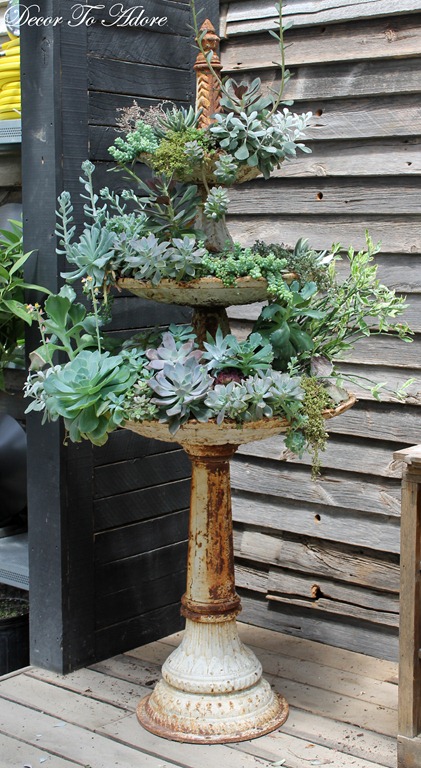 Then fill with succulents.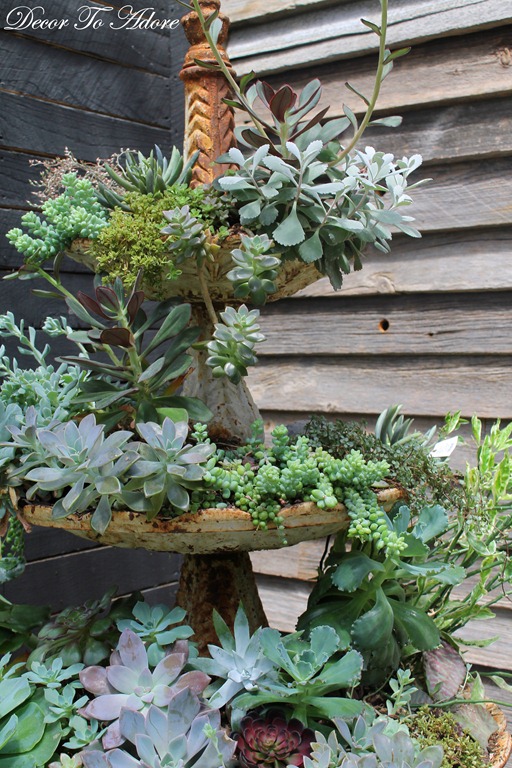 Acres of antiques waiting to be discovered.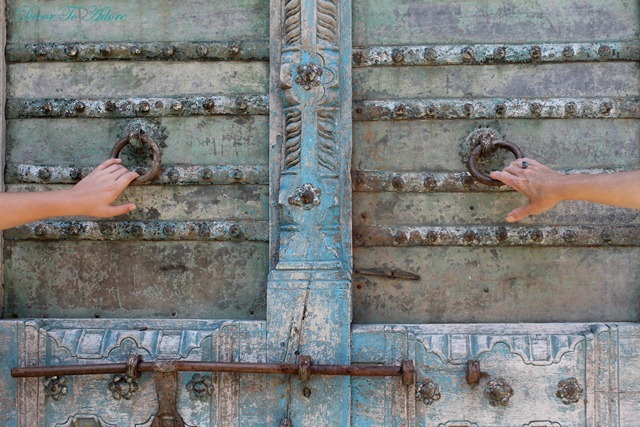 Can you imagine building a gardening shed around these doors? Auntie T says "Yes, yes I can."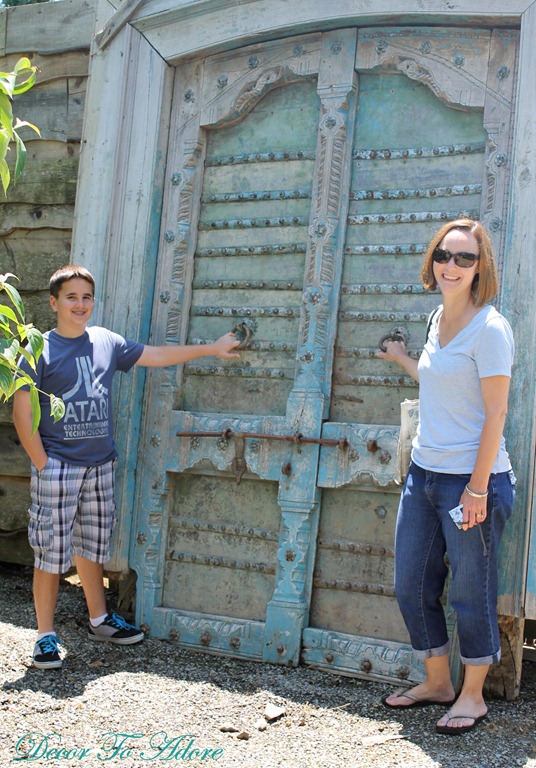 How about having your own personal pavilion?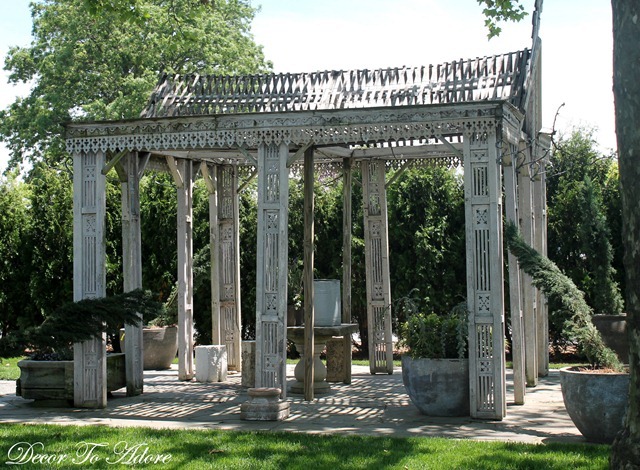 At night you could dance underneath rows of sparkly lights.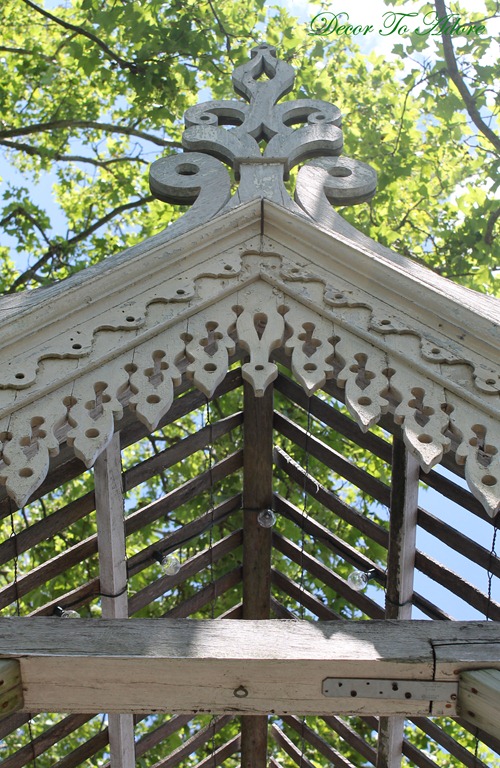 Yes, this structure was Sweet boy approved.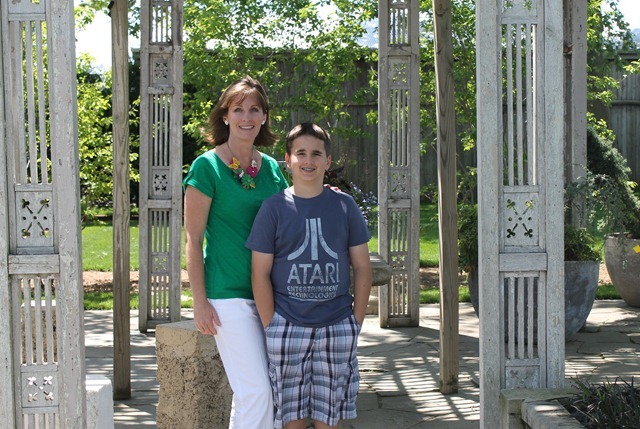 He also loved the checkerboard look of green grass and paved stones.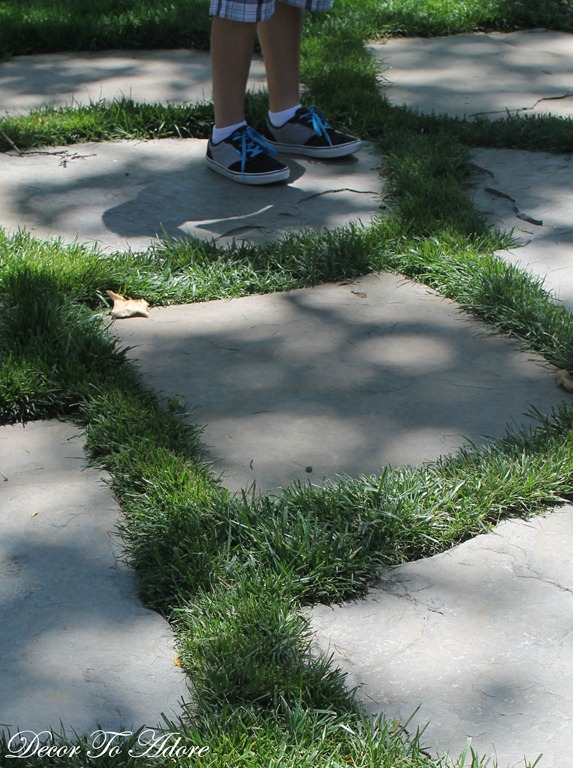 I spied some gardening stakes that surely could transform my backyard into the delightful potager Meryl Streep loved in "It's Complicated". (It is my dream garden after all.)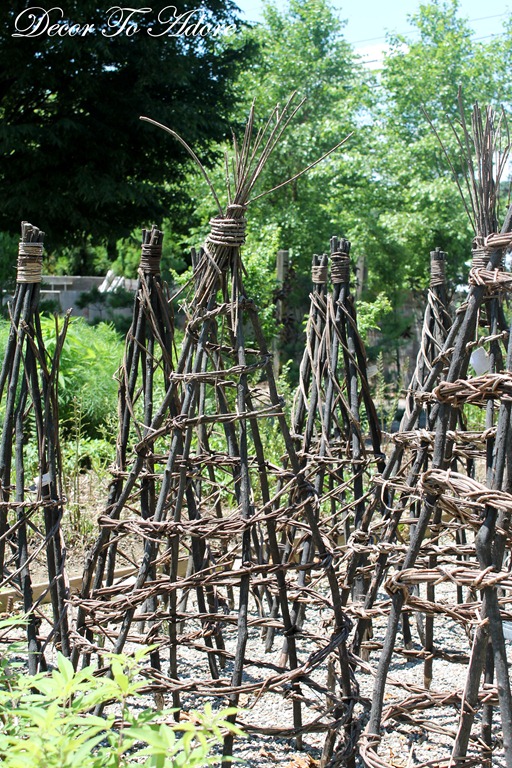 Ever the eagle eye, Sweet Boy spied a picnic set and said "Hey mom, don't we have this EXACT table and bench?"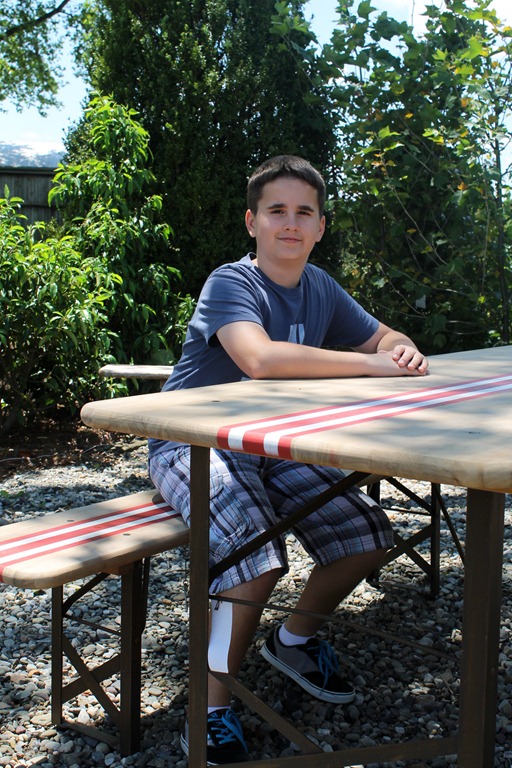 Why yes, we do. Of course ours does not feature a jazzy painted update… yet.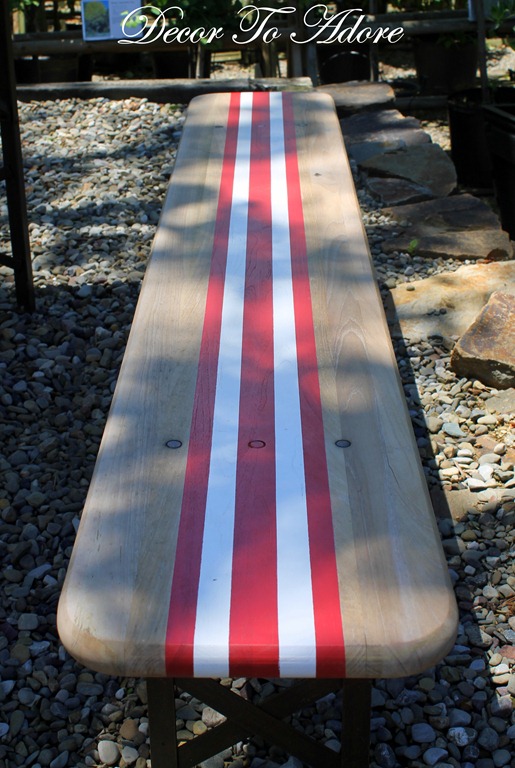 How about a bit of French bistro seating in happy, bright colors?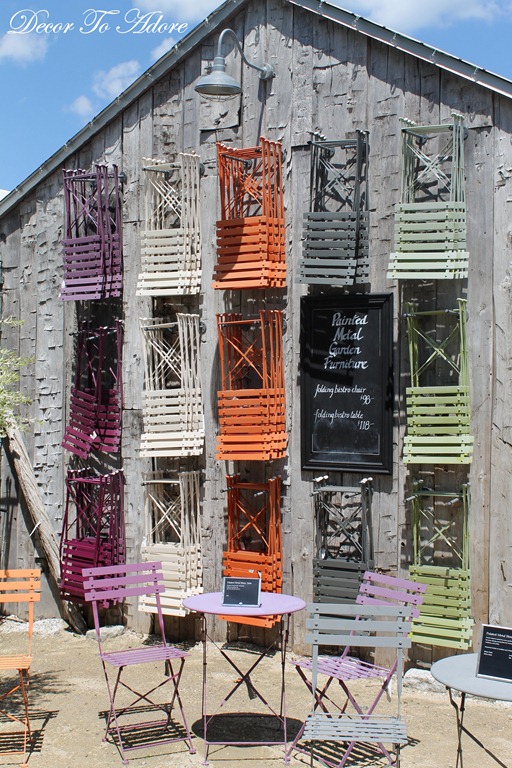 What's this, a charming restaurant on site? Why yes, I am hungry.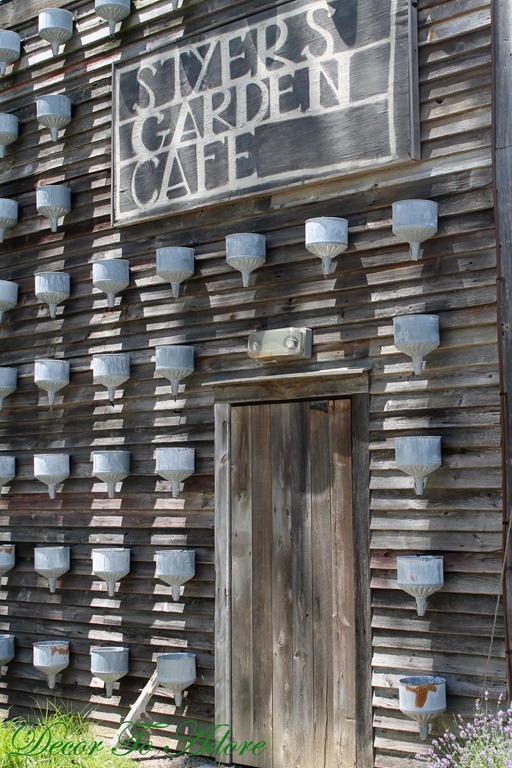 They had indoor tables that offered hanging vines for privacy.
But the weather was so lovely we opted to dine al fresco. The table was set simply, but quite quaint.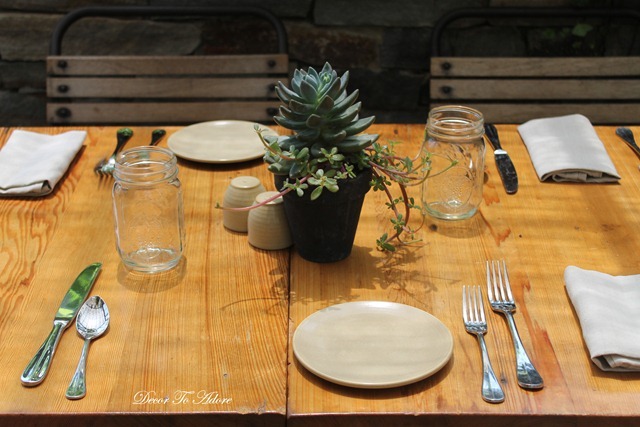 Refreshing spritzer's started us off.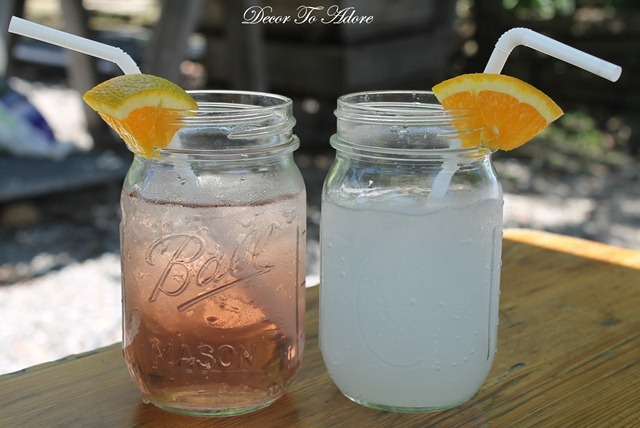 Homemade bread was brought out in tiny terracotta pots. I might try this for a future dinner party.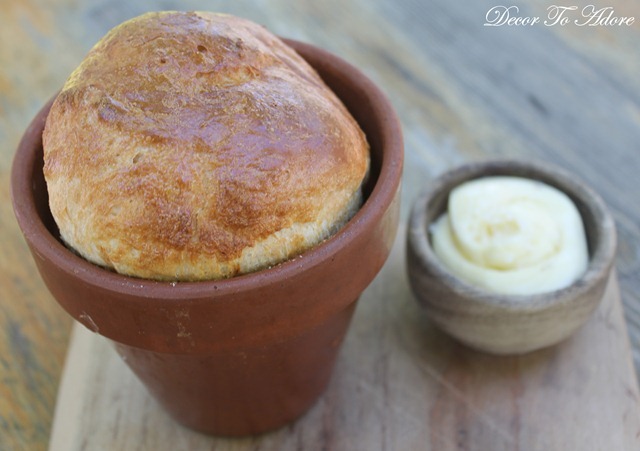 I forgot to take pictures of our entrée's as the young man was SO hungry and I was distracted as he was having trouble cutting up his chicken. But the bill was brought tucked inside a darling old book.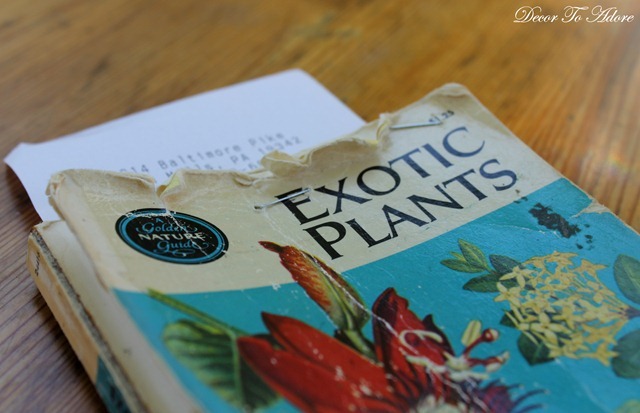 After lunch it was time to head inside to see the delightful array of offerings such as Weck canning jars~ my favorite.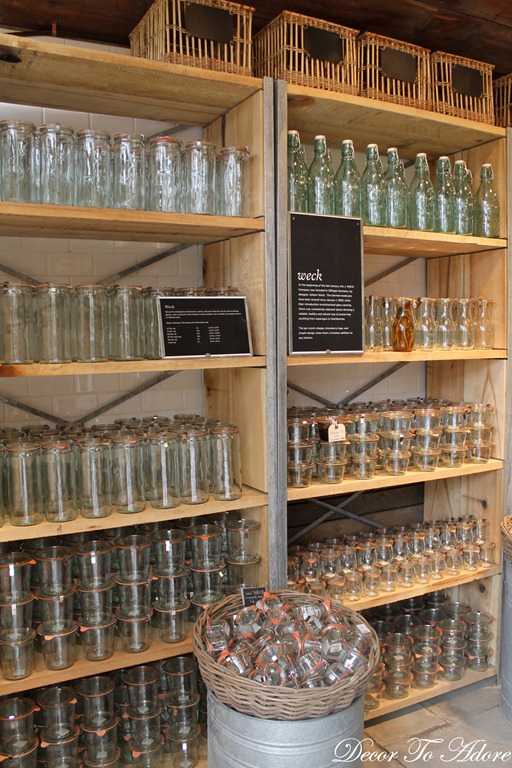 Hand thrown pottery in sunny shades.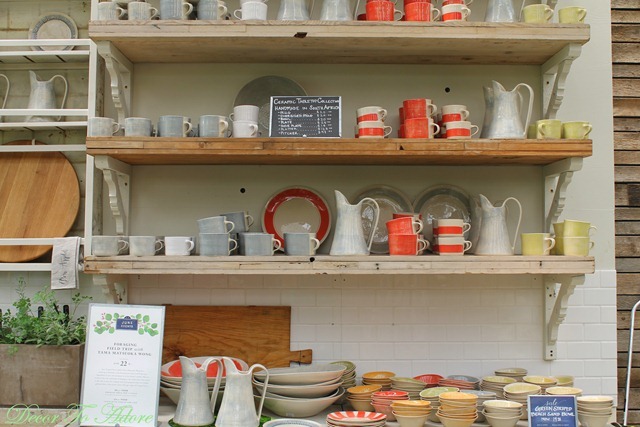 Don't let the worlds largest rosemary topiary tree distract you from the cute pedestals made of wood and metal rings.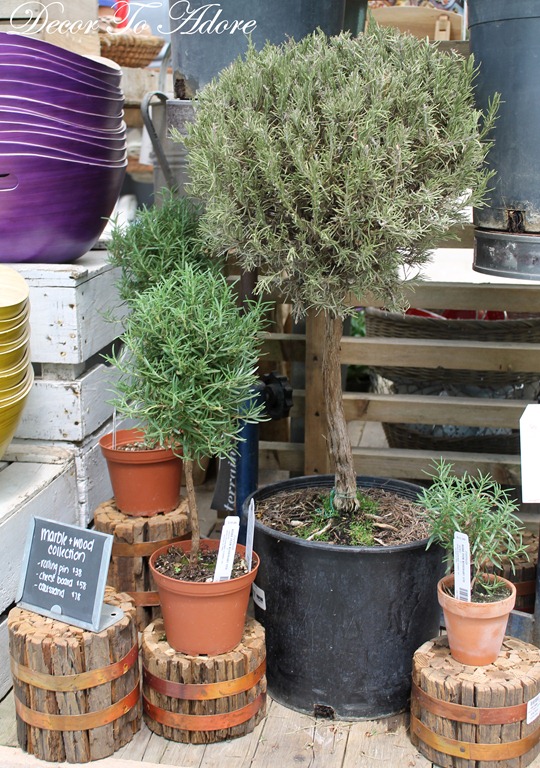 I wanted several pieces of the outdoor copper lighting in the WORST way!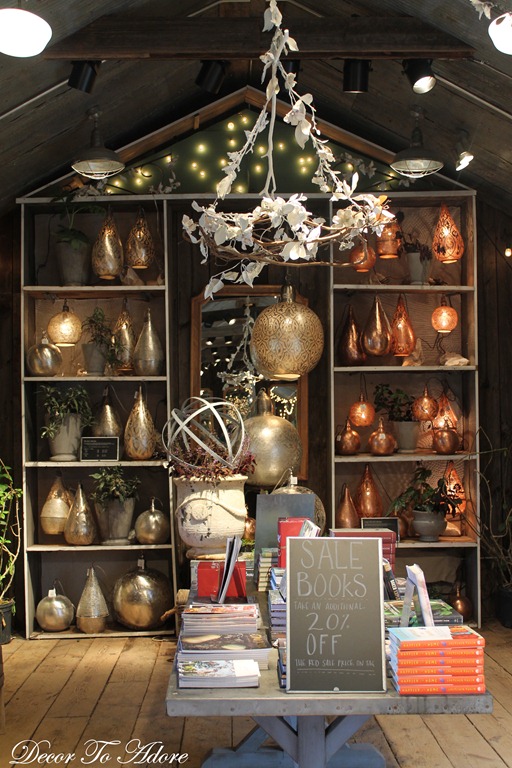 Like chicken wire, but better.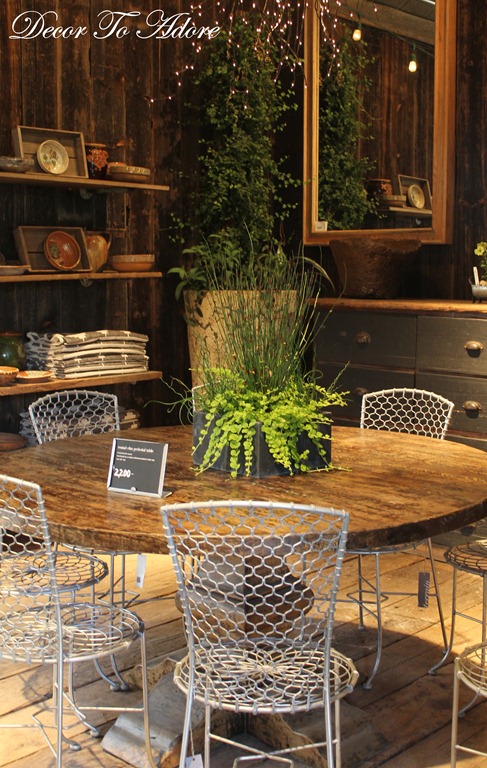 It's raining cans, hallelujah.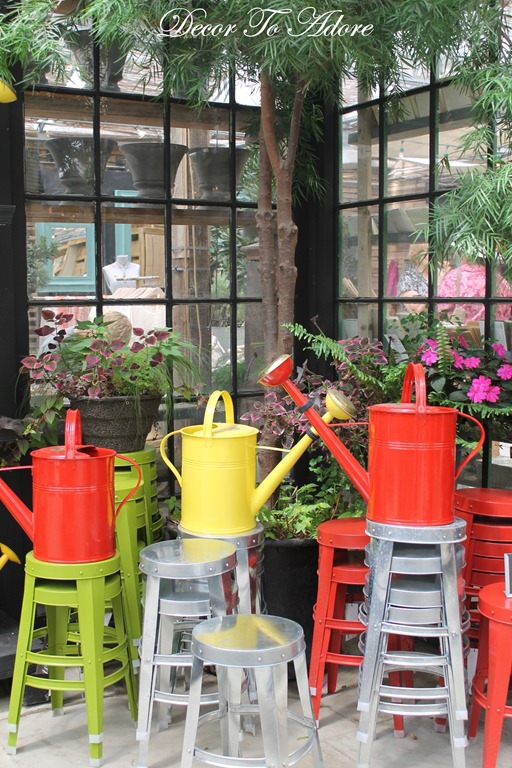 I'll close this post with a really funny and definitely embarrassing overshare.
Thoroughout blogland you see pictures of well mannered cherubic children. Some mothers may think to themselves "Why aren't MY children perfect like that? What am I doing wrong?"
Some may even question how my Sweet Boy (cough cough) behaves so beautifully as I take him to boring site after boring site. (His words, not mine.) The reality is this:
I made sure on this trip that he ALWAYS had a book (he is currently reading the Percy Jackson series) or his Nintendo DS to occupy his mind when he became bored.
Even so, he tortured me. Primarily with photo bombing.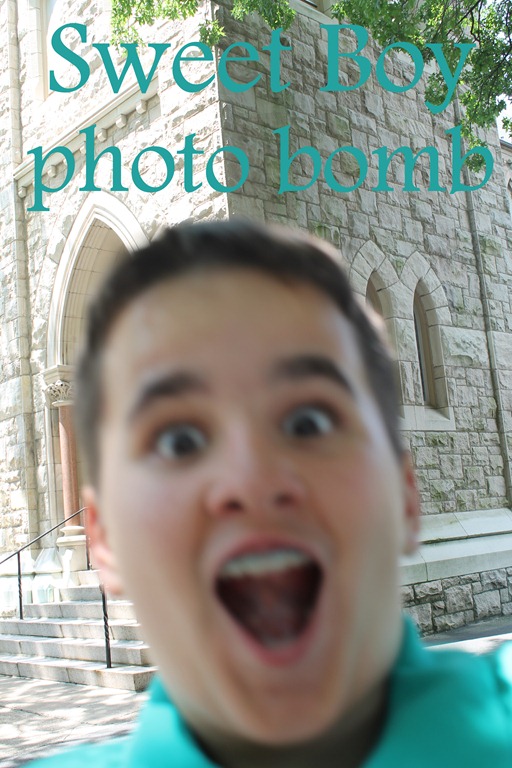 Can you imagine, as a blogger, setting up shot, after shot, after shot and being consistently photo bombed each and every time?
Below is the image that sent me over the edge.
Beautiful wreaths.
Boy with delicious mischief sparkling in his eyes walking deliberately into the shot for like the 800th time that day.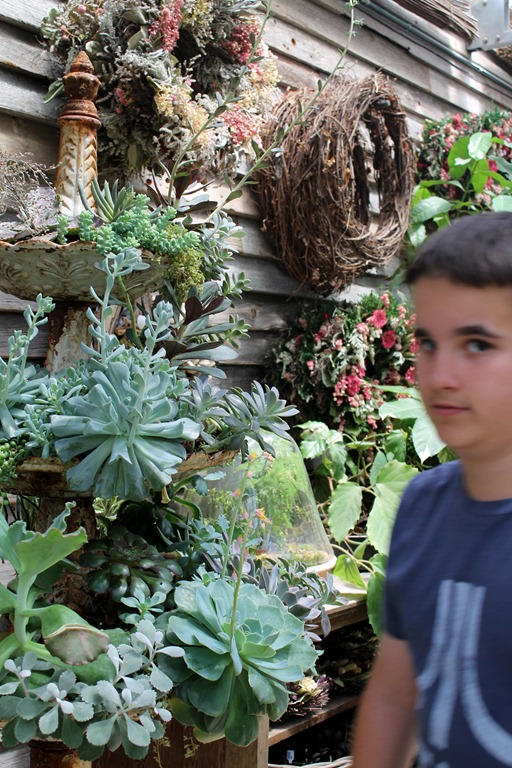 I made the #1 error in motherhood.
I said "Can you PLEASE find some other way to entertain yourself that doesn't involve torturing me?"
So he did.
A few minutes later he went up to Auntie T and said "We need to leave."
Auntie T looked at her watch thinking he was eager to pick his cousin up from soccer camp but he interjected "Can you hear that?"
So she listened.
Quiet ticking was followed by a large ear clattering rrrrrrrriiiinnnnnggg of an chicken shaped kitchen timer going off.
Did you set that? She asked.
I set ALL of the chicken timers. He replied.
And she let him live.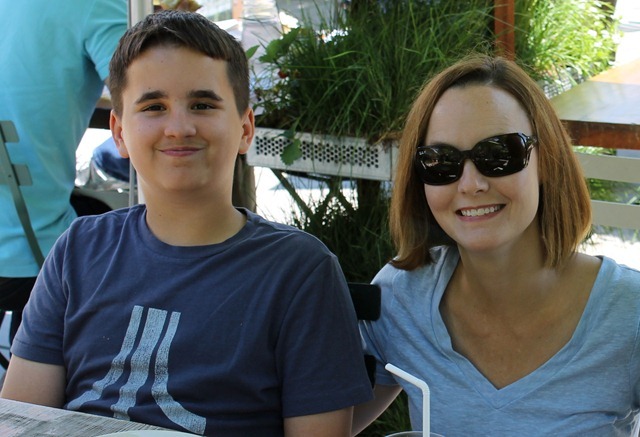 Quickly she hustled me out of the store. Once in the car they gave a blow by blow account of what was going to occur in the store within the next 3 minutes.
I then made the second worst error in motherhood.
I started to laugh.
I laughed until tears sprang from my eyes.
I finally was able to say "Can you imagine the looks of bewilderment on the faces of those poor store clerks?"
Auntie T, always in possession of quick wit, said:
"Yep, it will be a look that says"…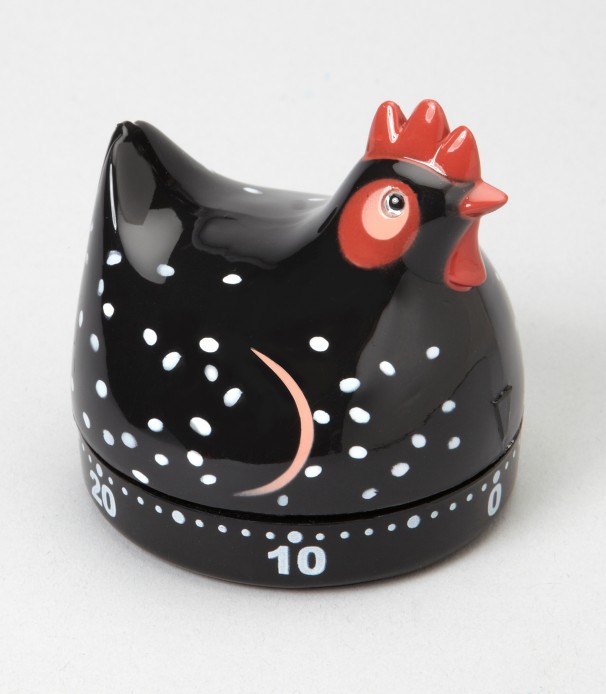 "What the cluck?"
Laura