Last Sunday I was on the phone with my good friend Jackie and inquired about when she was expecting the movers. "On Monday" she replied. "What!" I practically shouted. "I know. It's come up too quick." She said.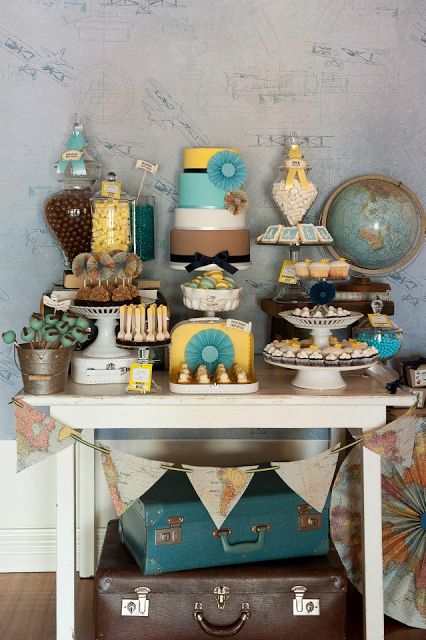 I quickly looked around my house and saw some spaces that were still in a disheveled state from my recent trip to California. I thought of Erma Bombeck and her "If I Had My Life To Live Over" poem which includes the line "I would have invited friends over to dinner even if the carpet was stained, or the sofa faded". Yes, messy rooms aside, in the grand scheme of things it was more important that we see our friends before they moved east than to keep my house pride.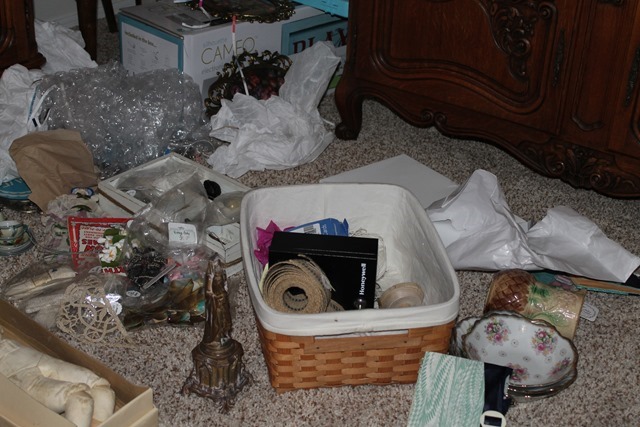 Having just a day to throw something together I quickly scanned Pinterest. Why there was a whole smorgasbord of "Bon Voyage" themed parties!
I adored David Stark's map inspired party. The wall map had "Bon Voyage" spelled out in red thumbtacks~ brilliant!
A romantic version was created by Ampersand and Ink Designs. I think this would make a lovely bridal shower theme.
Don't forget your vintage suitcases and steamer trunks.
Love the day created darling flags and mini garlands out of maps.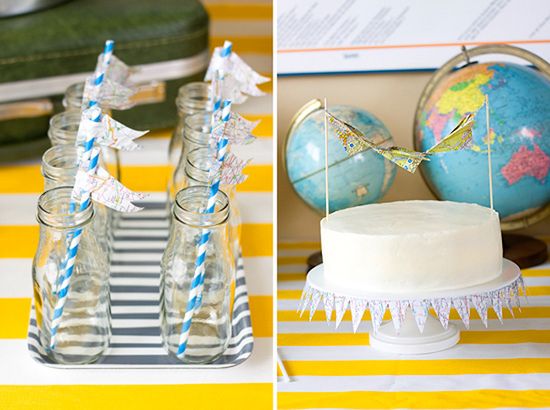 Catch my party rolled up plastic ware in navy paper napkins and secured them with a candy "life preserver" and red ribbon. Too cute!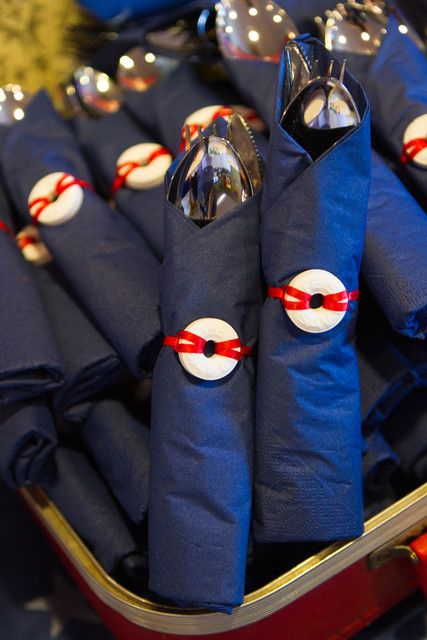 If you were having a large gathering party favors are especially darling in the form of miniature suitcases.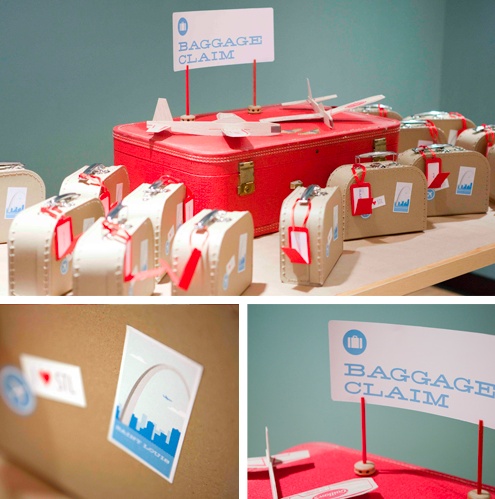 I also thought about how cute would it be to make a luggage tag version of placemats and name tags kind of like this: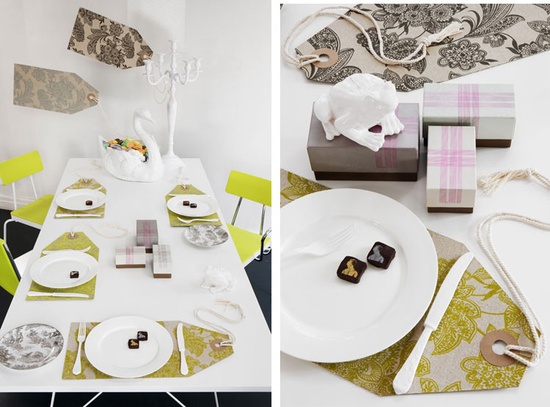 Don't even get me started on the "Bon Voyage" themed food. I loved the watermelon ship. Or perhaps it's a Love Boat.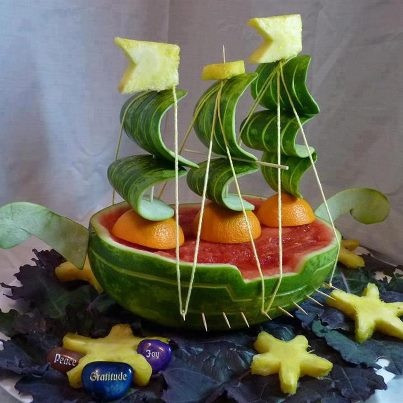 I don't know if I could eat this work of art.
Hostess with the Mostess shared truly yummy looking cookies.
Then of course there are all sorts of vintage travel themed posters.
French travel inspired printables.
In the end I settled on an image that featured the Fashionista and Sweet Boy at precisely the ages they were when we first met our friends. Eight years ago both of our families had just moved to Phoenix and we were living at the Residence Inn while we looked for a house.
Shannon (in pink) was not even a year old when she toddled over to our breakfast table under the watchful eye of her parents. She went straight for Mr. Décor who always attracts kids  and puppies and smiled the biggest smile. It was love at first sight for all of us. Sweet Boy became fast friends with Erin and Shannon both.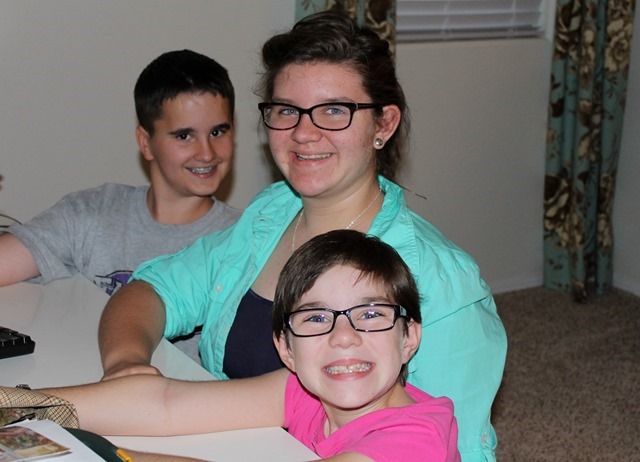 When you are in the Air Force and separated from loved ones you learn to create new family units that have no bloodlines. As we settled just a few blocks from one another we have celebrated numerous birthdays and holidays with our dear friends. They could be counted on in good times and in bad. A rarity in this world.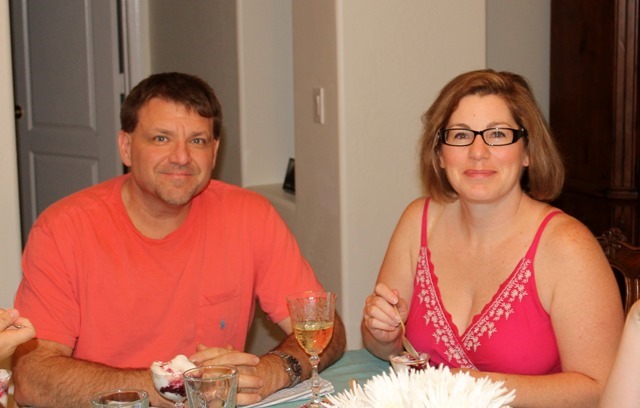 So a turquoise linen cloth was laid down and covered by a snowy white topper. Simple plates and cutlery were laid out along with the blue ticking napkins I had made awhile ago. It was topped by a "Bon Voyage" printable. Easy peasy.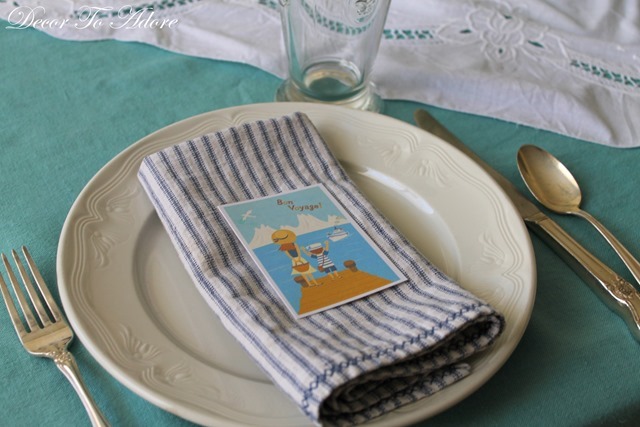 The centerpiece had been created a few days earlier with peonies that the heat had taken care of. Replacement spider mums in white looked great too.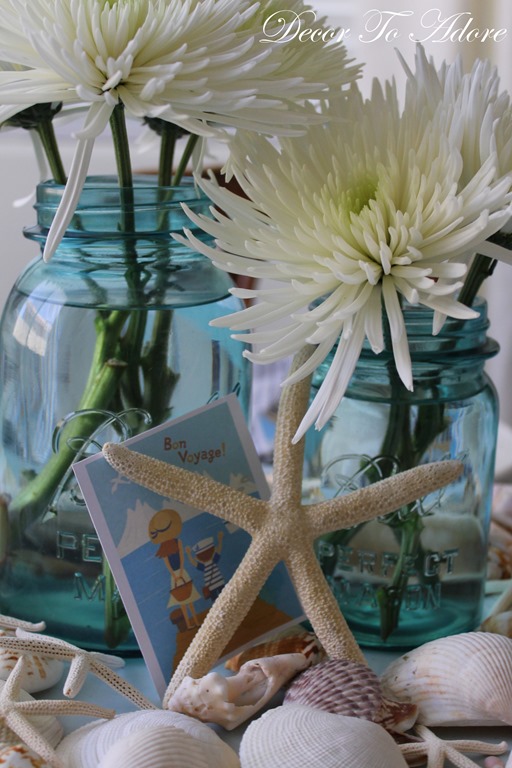 The dinner menu included:
Appetizers
Tzatziki with flat bread (recipe to follow on Friday)
Roasted Pepper Hummus with pita chips ala Trader Joe's
Main Course
Marinated and grilled tri tip and chicken
Laura's potato salad
Corn on the cob
Desert
Rote Beeren (warm red berry sauce over vanilla ice cream) ~ recipe to follow soon
It was so good that some of our guests licked their plates. (I love kids! 🙂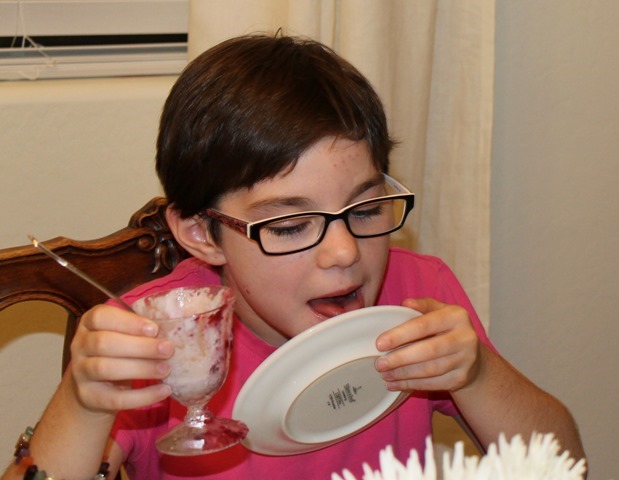 I couldn't send my favorite girls home empty handed. As they are driving to their new home I transformed J. Crew bags with a printable, ribbons and filled them with travel sized snacks (both healthy and fun) as well as a few travel activity books.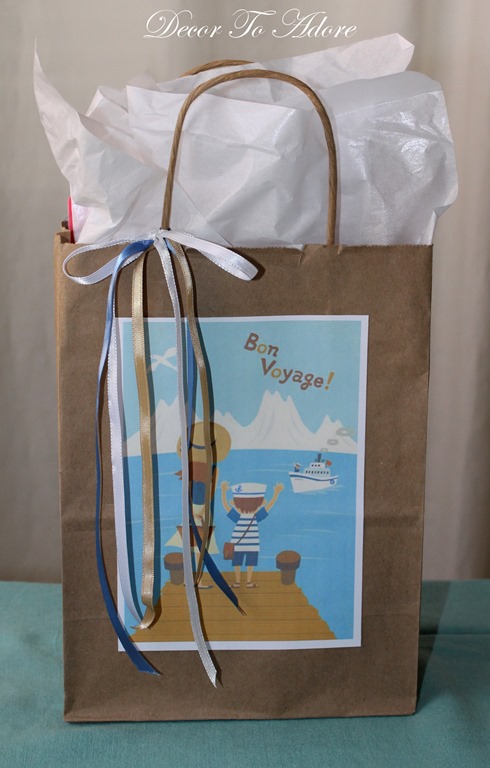 I know it will not be the last time we will see our friends. (Their new home has a gorgeous guest room!) But still they will be sorely missed. Sniff.
Bon Voyage mes amies,
Laura