If you follow Décor To Adore on Facebook or Twitter you may have, in the past, read how much I loved Jenna Lyons Park Slope home (128 Garfield Place in Brooklyn) when it was featured in the November 2012 of Lonny Magazine.
I had first seen her home in the November 2008 issue of Domino Magazine. (Sigh, I STILL miss the monthly version of the magazine.) This was followed up by a feature in the September 2009 of Britian's Livingetc magazine as well as a feature in the September 2011 issue of British Vogue. Some wondered "Was it worthy of all that coverage?" I believe so as Ms. Lyons was constantly creating new vignettes within in her home.
The home was purchased by Lyons and her now ex husband in 2004. Many mourned when it was announced that the home had been sold to Vincent Martin of Depeche Mode in late 2012 for well above asking price by Sotherby's. But I see it as an opportunity for Ms. Lyons to now have a fresh blank canvas in which to create something fabulously new. 
But the space deserves one last look and I have collected my favorite images from the different publications mentioned above for this one post.
This is the interior entry of the Victorian gem which dates back to the 1880's. The arched door and dentil molding is simply magnificent.
Many people often shy away from older homes thinking that they have to fill the space with furniture from the same era. But one can easily see by the following images that is not the case. The classic architecture was mixed with modern furnishings.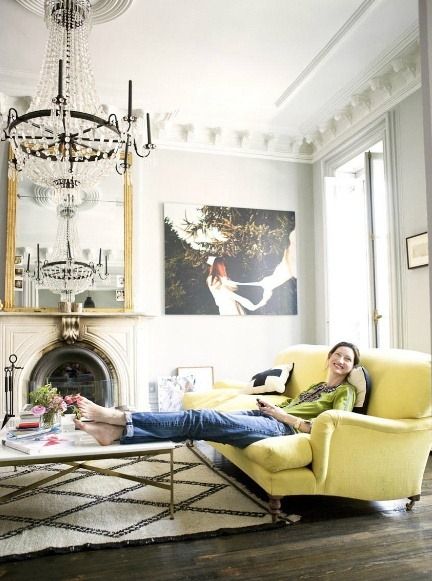 My belief has always been if you start with good bones in a space anything will look good.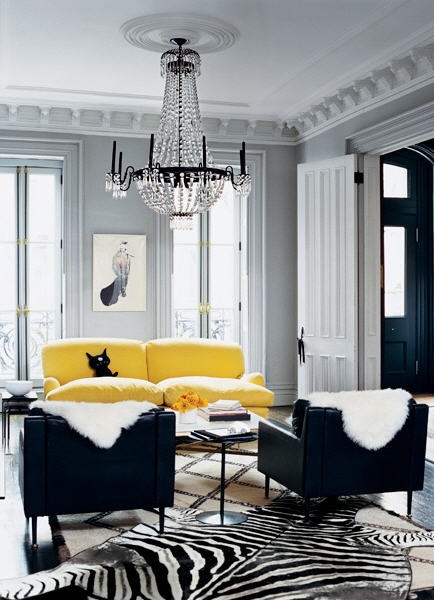 The living room was done in neutrals with the exception of a bright yellow sofa. Happy, happy.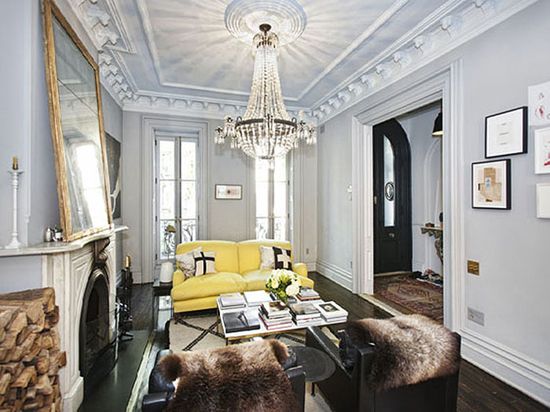 The formal dining space was separated by a magnificent archway. I adore the twin fireplaces.
If you were wishing you could see into the cabinet in the previous image here you are. I like that simple dishes and pitchers, as well as books, were arranged together.
The artwork could easily be recreated.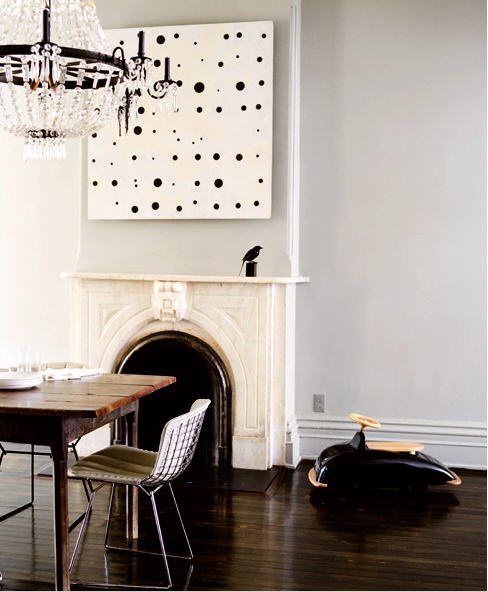 The chandeliers were duplicates which I think is a perfect solution to ease the eye in transitioning between two spaces.
I adore the brass helmet lamp.
The kitchen, although a small size, was remodeled by Levenson McDavid Architects and quite functional. I actually don't mind the silver duct work showing.
This shot includes a glimpse of the backyard.
A blooming dogwood tree in the backyard is the epitome of spring in New York.
The bedroom space featured dark walls and white linens.
If you've ever hesitated to paint out fantastic trim this shot shows that it can be quite stunning.
The attached bath featured a herringbone floor, claw foot tub and brass plumbing fixtures.
This shot reminds me a bit of Kelly Wearstler.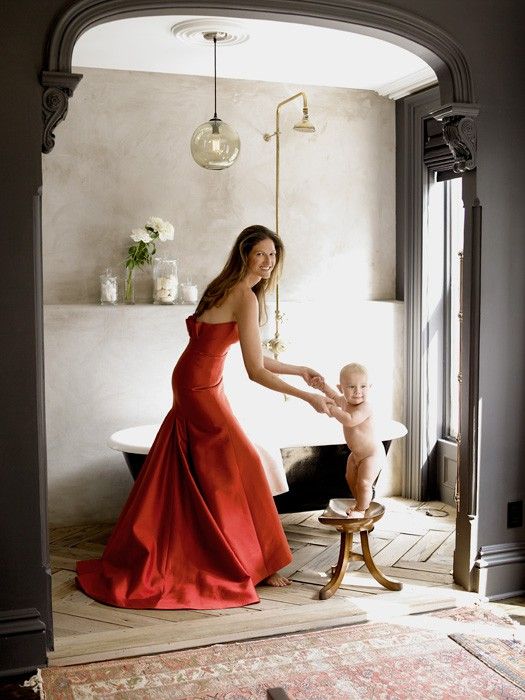 A happy childs room.
I enjoy an office that looks like actual work gets done.
For those of you who perhaps aren't aware of what Jenna Lyons job is, I have to share her dream of a closet.
Oh the shoes….
Jenna Lyons is the creative director for J. Crew.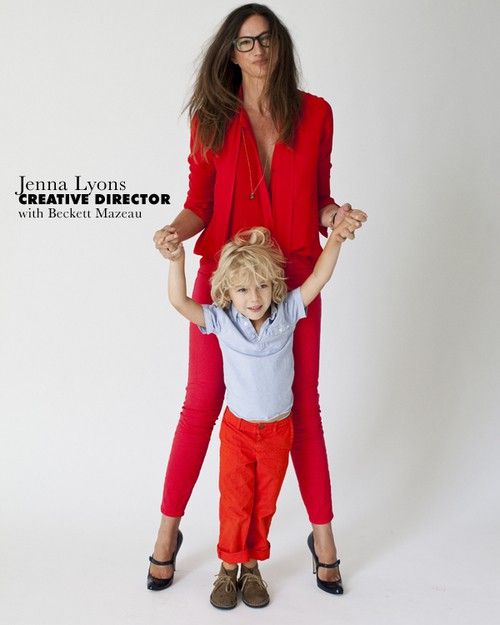 Her personal fashion style is pretty fabulous too. She has been featured in several fashion magazines, including Glamour and has received tons of pins on Pinterest.  
I can't wait to see her new space. It was rumored that she was living HERE, but this apartment has now also been sold.
Laura