If you asked 10 people what makes a good marriage you would probably get 10 completely different answers.
But here is my 2 cents told via Lego's.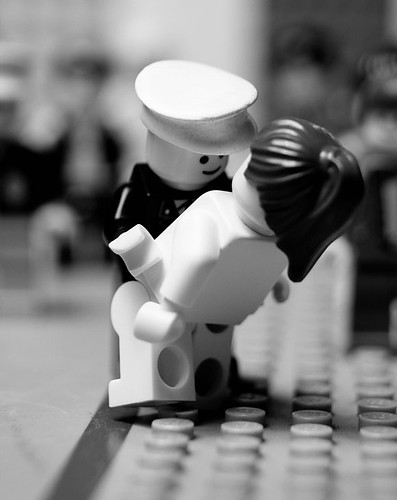 Back in December when I created "the elf on a shelf" (part one, part two) for my sweetheart I received some comments via email along the lines of :
"Well that's nice and just what is he doing for you?"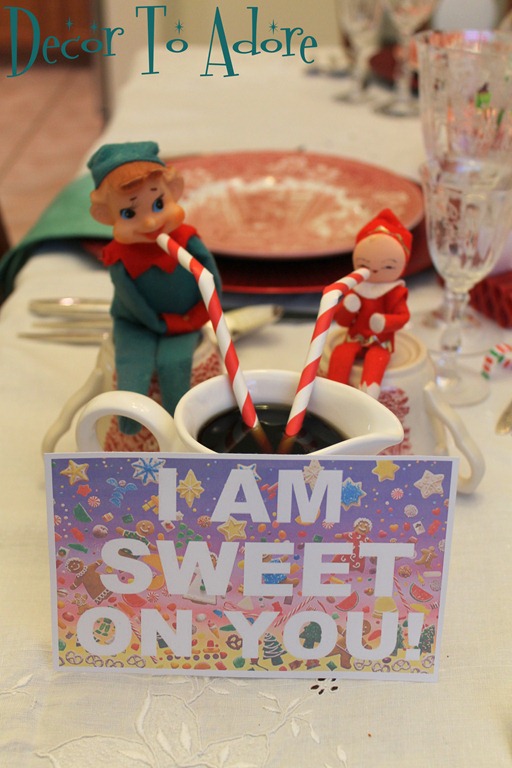 Here's the thing~ there is an idea that marriage is 50/50 all of the time. But that is not reality.
December is a hard month for my husband. So I give 110% and carry him through.
Right now I am completely exhausted by my responsibilities with family, school, work, Reve the magazine, blah, blah, blah. I wasn't expecting much help from Mr. Décor as he left on a long business trip at the end of March. But on April 1st I received a text message from him.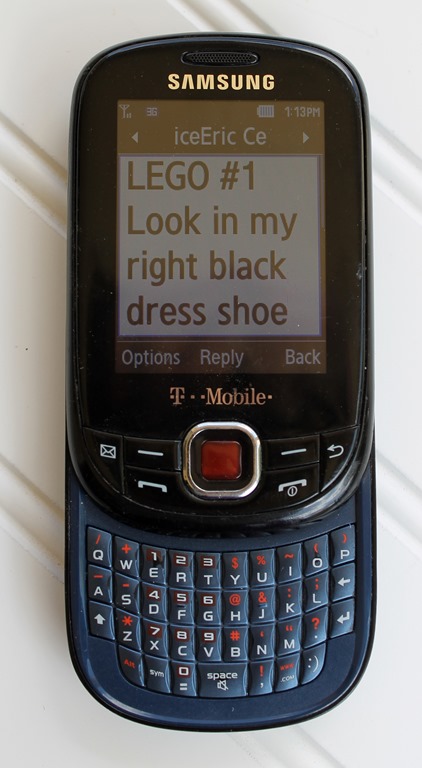 Inside the shoe I found a Lego with a message typed on a small strip of paper.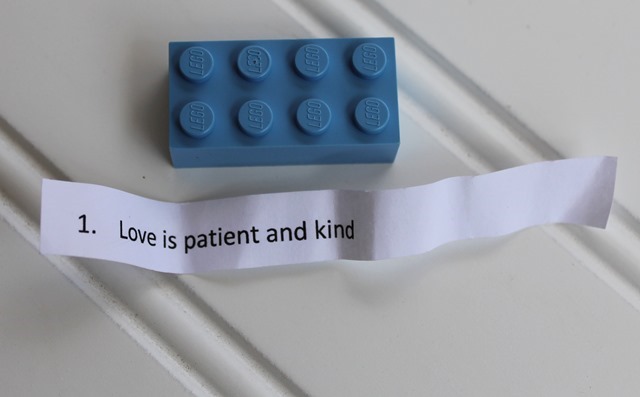 On April 2nd I received another message from my friend Jackie.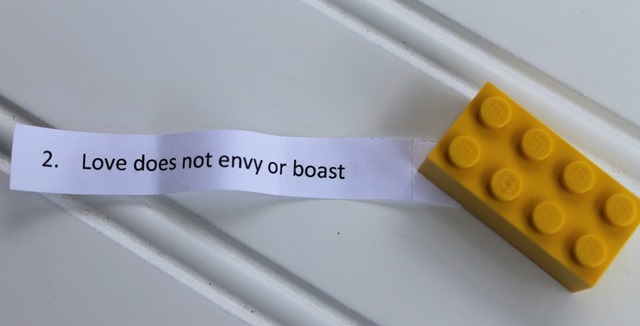 The 3rd of April's message came all the way from Hawaii via my sweet foster sister Cynthia.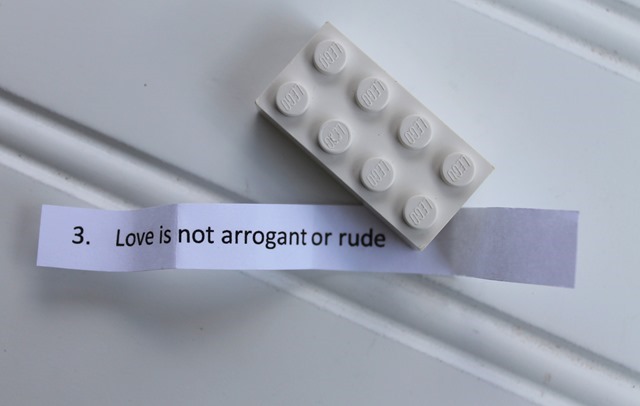 Of course by day 2 I knew what the next message would say. But it was such fun for me to see who would send the text and guess where the next clue might be. (Although I didn't spoil it by actively looking.)
Sometimes I had to get a step ladder to reach the daily Lego. Like when it was high up inside the Fashionista's childhood doll house. But I didn't mind.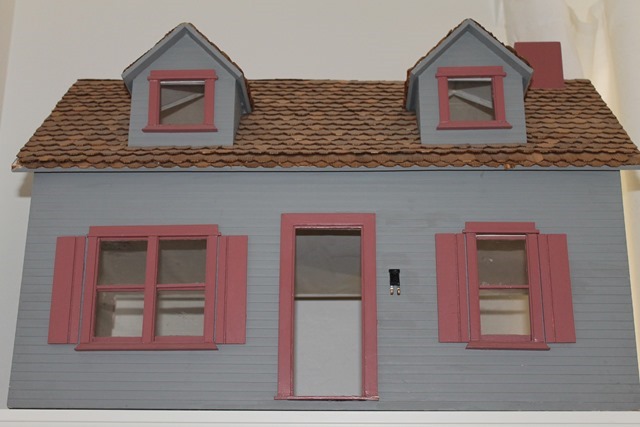 Yes, overall it's simple gift. But it took some thought and planning. The result was every single day I felt SO loved and treasured. I was sort of sad when April 11th arrived because I knew the daily Lego would end.
But the love, that didn't end.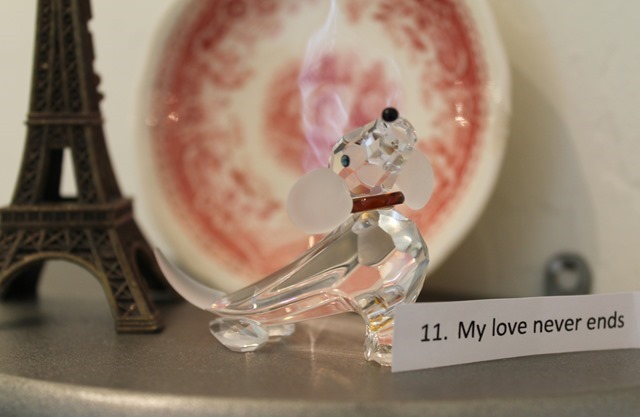 The pile of Lego's sits on my nightstand. I can't imagine I will move it anytime soon.
I still feel SO special.
But here is the best part. Every single person who was "in on it" and sent me a text, I think that they felt really special to be a part of it. The love was shared.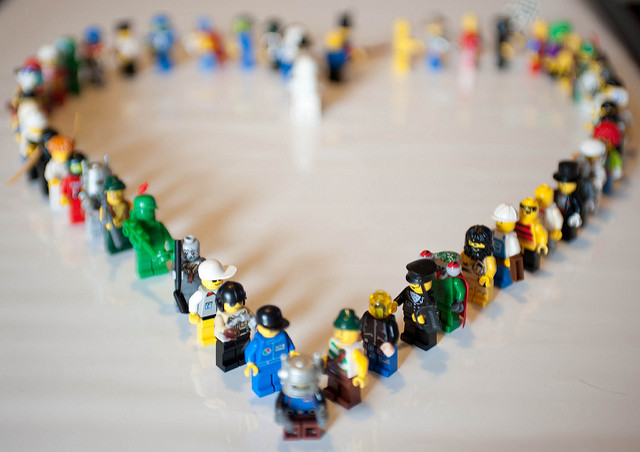 That's the thing about love. Even little doses can do great things.
Laura
"Love is patient, love is kind. It does not envy, it does not boast, it is not proud. It does not dishonor others, it is not self-seeking, it is not easily angered, it keeps no record of wrongs.  Love does not delight in evil but rejoices with the truth. It always protects, always trusts, always hopes, always perseveres. Love never fails." ~ 1 Corinthians 13:4-8
In observance of the Sabbath, in lieu of a comment, please share some love today.