Oh it has been a hard week for our country.
The terrible explosion in tiny West, Texas.
I remembered how I once drove through there while living in Dallas. Such hardworking, lovely salt of the earth people. My prayers have been deep and often for this community.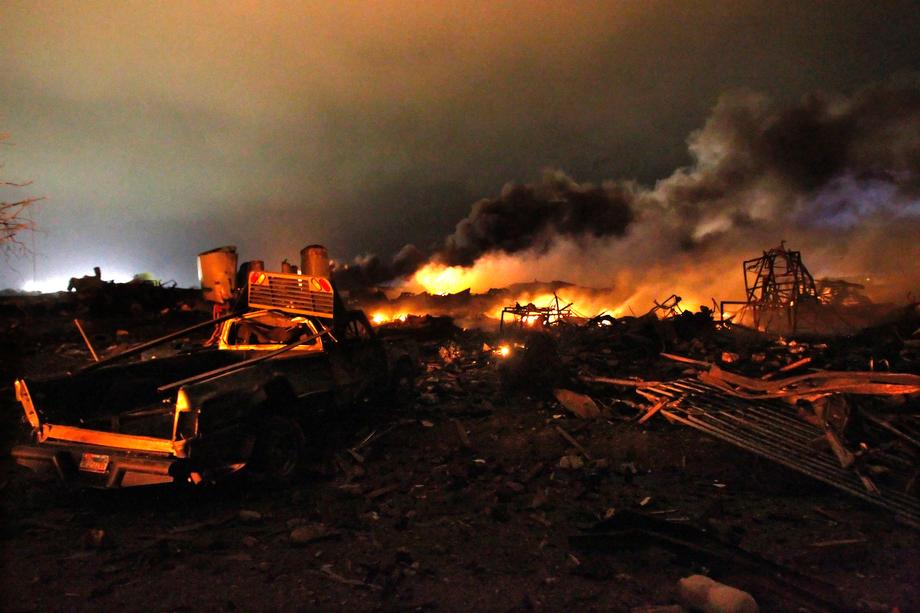 Boston. My heart just breaks even writing that single word.
Boston was personal for me. So very real. I heard about the horror immediately after and my heart began to pound.
My cousin, who is a young Opera singer in Boston, had been planning to attend. Phones lines were jammed. I quickly thought to instant message her on Facebook. The two seconds that it took her to respond seemed like two years. Tremendous relief poured through me as she said she was fine. She had gotten called into her other job that morning and had to forgo attending.
Boston was also personal for me in that Sweet Boy was once an innocent 8 year old boy just like Martin Richard.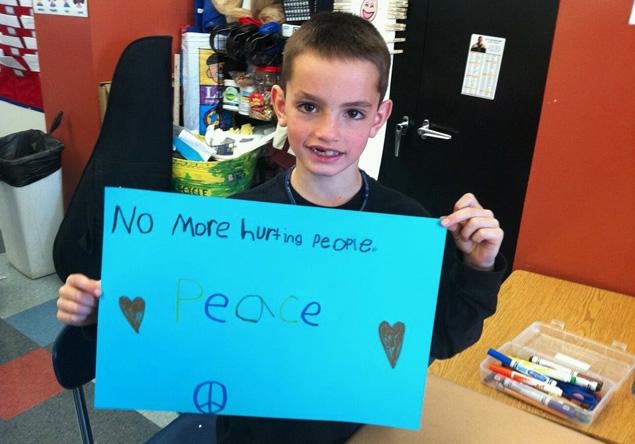 I continue to pray for his mother, Denise Martin, his 7 year old sister Jane, and the families of Krystle Campbell, and Lingzi Lu's parents ~ as she was their only child.
  So many suffered injuries.
I also can't help think about the men who did this.
(I agree with Anderson Cooper in not writing or speaking their names. Mr. Cooper, since the Sandy Hook tragedy, believes that only the victim's should be given media recognition. There should be no thrill for terrorists and murderers seeking 15 minutes of fame. I support this.)
But I am praying for the man who was captured. I am praying for their families.
Yes, I am.
Does this make me insensitive? Many might think so. But let me share a story.
My father's life was horrifically taken when he was just 21 years old. My mother, his wife, was three months pregnant with me.
Hunter S. Thompson once wrote:
Mr. Thompson you are wrong.
For every father/daughter dance and event that occurred when I was a child ~  I missed having a father.
When I really needed a dad's wise advice or loving embrace ~ I missed having a father.
When I was dressed all in white, a veil covering my face ~ I missed having a father.
When I had my first child ~ I missed having a father.
When I watched my husband giving driving lessons to my daughter ~ I missed having a father.
When it's grandparents day at school and the chair is empty ~ my kids miss having a grandfather.
I have missed my father for 45 years. I will most likely continue to miss him for many more.
But I still pray for the men who killed him.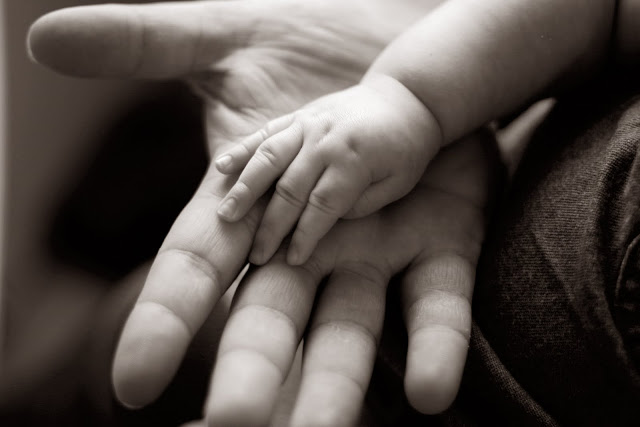 How? Why?
Because I find comfort in my Heavenly Father. He will never leave. He will never let me down. I praise God that I know this.
So yes, I pray for those that might be suffering. I pray for those who may not know about God's love. 
Many have asked "Where was God this week?"
Sometimes accidents, like in West, Texas, happen. There may have been a small human error, there might have been faulty man made equipment. We don't know yet. We can only pray and send aid to those who have suffered.
In regards to Boston, we must remember that we are all given free will in this life. We make our decisions. Because God gave us the ability to choose. He gave us free will stemming from Eve's choice of the apple. 
There will always be people who make the wrong choice ~ a bad decision. When that happens God's heart breaks along with ours.
But here is where I saw God and goodness this week:
Fifteen active duty soldiers from the Massachusetts National Guard walked/ran the marathon on Monday. They wore full gear and a pack that added 40 pounds of extra weight. They did this to honor their fallen comrades and to raise funds for charity.
I cannot even begin to imagine their exhaustion after completing the 26 miles. But shortly after crossing the finish line these same soldiers were forcefully tearing through rubble and debris and providing aid to victims.
Then there is Carlos Arredondo who came to the race to support the soldier that honored his son, Lance Cpl. Alexander Arredondo, who died in the Iraq war. Immediately after the blast Arredondo began offering aid to victims. It is quite probable that by holding the main artery of Jeff Bauman's leg he saved his life.
(I chose to crop the graphic image.)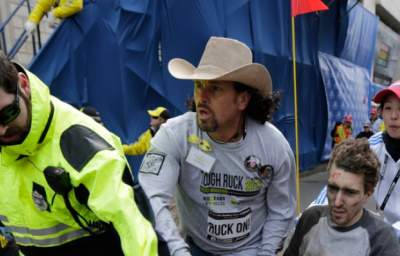 Jeff Bauman is also a hero. When he awoke from unconsciousness he immediately asked for a pen and paper and provided the FBI with the description of a man wearing a white ball cap. This of course aided the search efforts of video footage and led to arrests.
For both the towns of Boston and West I think about all the first responders. While hundreds were running away from danger they ran toward it.
Many of those who died in West, Texas were first responders.
"There is no greater love than to lay down one's life for one's friends." John 15:13
There are hundreds of stories of heroism and bravery. My Boston cousin heard about the 1000's who were displaced after the bombing, unable to get to their hotels, etc. She posted that her apartment was open. Many, many other Bostonians did the same.
You can read about some of the amazing acts of kindness HERE.
Goodness has prevailed.
Laura
In observance of the Sabbath and in honor of the victim's and hero's I ask that in lieu of a comment go out and share goodness.