Our family has had an Easter tree for many years. We started the tradition while living in Germany. The Easter tree and its decorations are often the only Easter décor you will find in a German or Austrian home. Here is Our Easter Tree and Crazy Bunnies.
Believe it or not, in the 5 years I have been writing this blog I have never shared any pictures of our annual Easter tree. I guess that was because I was too busy creating and sharing crafts. But perhaps my busyness in areas other than crafting has its benefits.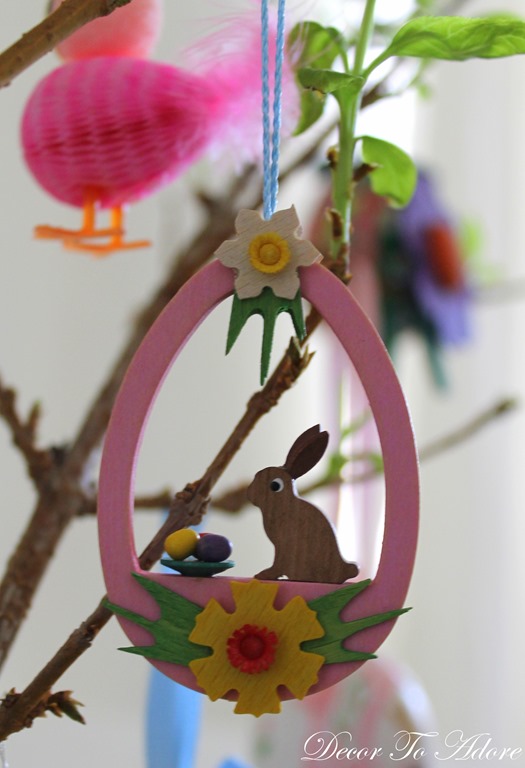 Our Easter Tree and Crazy Bunnies
This year I decided that I would try and force Forsythia branches to blossom. (You can read about forcing spring branches HERE.) Perhaps the climate here is too warm or maybe Easter is just too early but all I have been able to achieve are lovely green buds and leaves.
I put the vase of branches in an antique Easter basket I found last year. Then I added some daffodils and moss.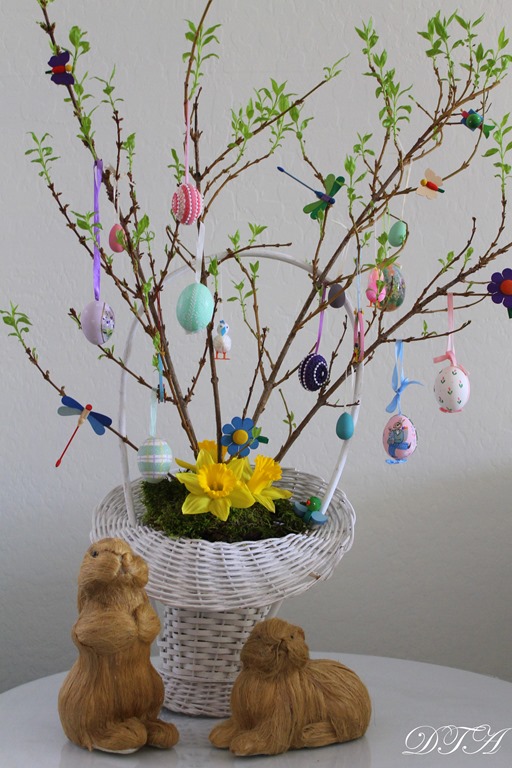 This leads me to the bunnies. I bought these bunnies years ago in Germany. When people come into my home at Easter time they always remark how much they love these particular bunnies. I agree. But for some reason, they do not photograph well at all. I am looking at these photos cracking up because they look like crazy hairy blobs. You'll have to trust me that in person they're really cute.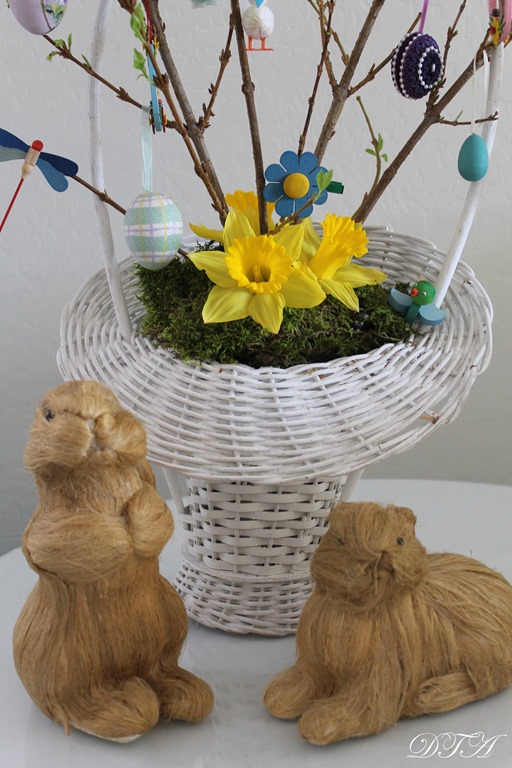 So back to the Easter tree. To me, the best part of an Easter tree are the decorations. Each one has meaning. For instance, while we were in Salzburg taking a "Sound of Music" tour (I'm completely serious~ our family is nuts about that movie.) my daughter fell in love with this hand painted egg at a Farmers market. 
Then another year we were in the Bavarian town of Garmisch-Partenkirchen. I fell in love with some eggs that a sweet little lady was painting and selling at a small gift shop. As we were living on an airman's salary I could not justify the cost of even a single egg. The owner must have sensed my love because she somehow communicated to me that there was one egg on sale because of an extra large blow hole. I could afford that egg. It remains my favorite, and not just for the delicate brushstrokes. It is a reminder that beauty, if one truly desires it, is always somehow obtainable.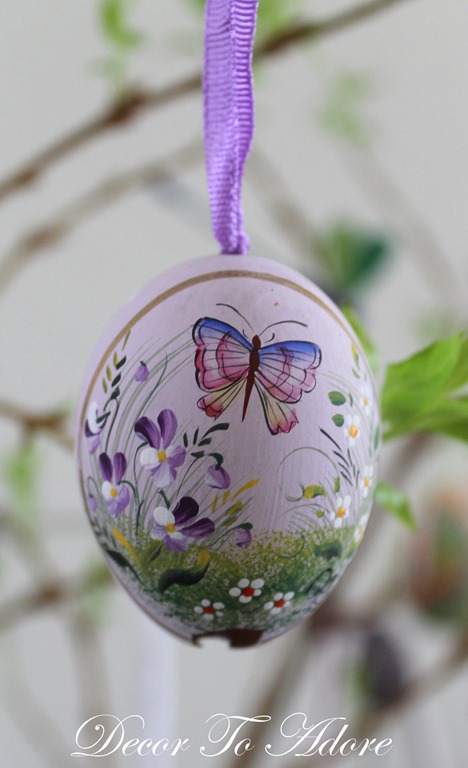 Then there are the sweet offerings made by a woodcarver in our village. Butterflies….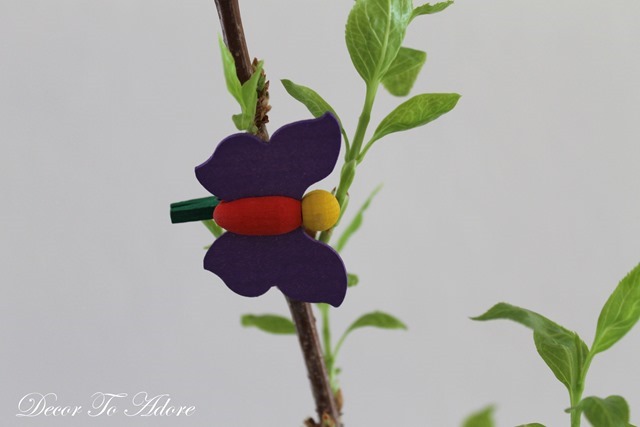 …Dragonflies…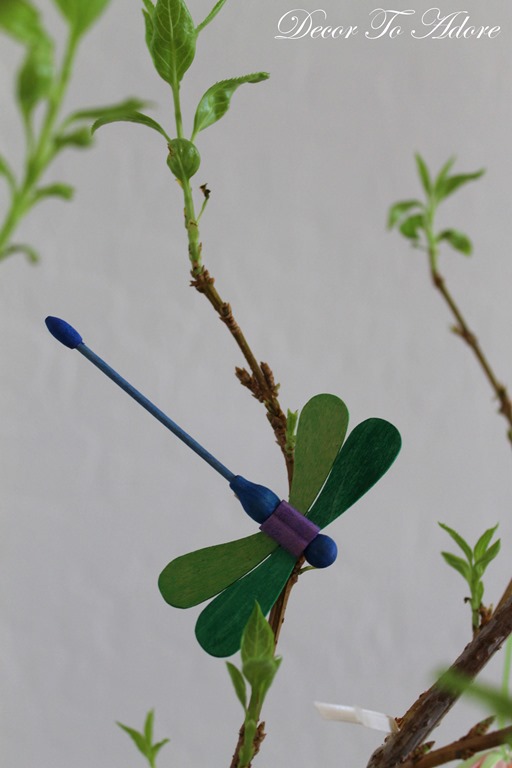 …and sweet springtime scenes.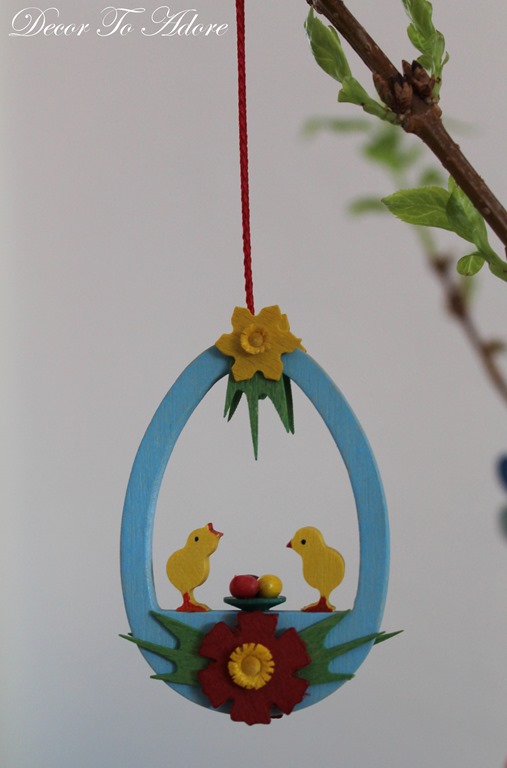 Mr. Décor found this egg the year I was pregnant with Sweet Boy.
Every year as I unpack these precious gems I am in awe of the various visions each artist possessed and the mastery of the skill they used to complete their vision.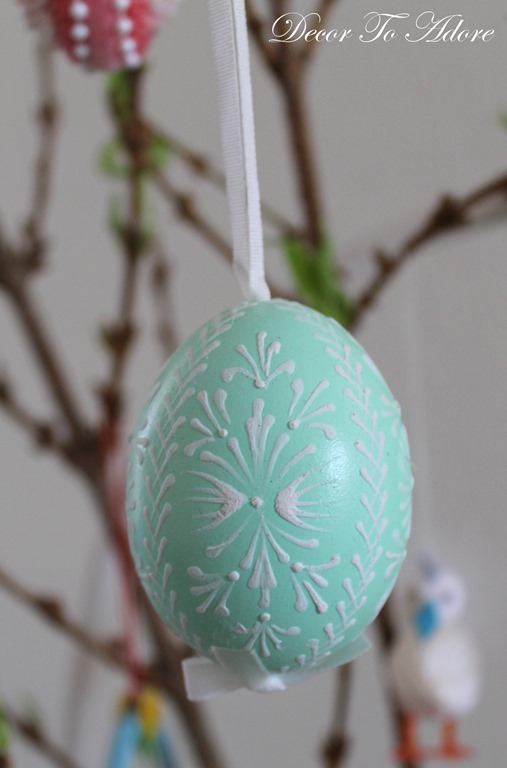 Each egg is unique and so very beautiful in its own way.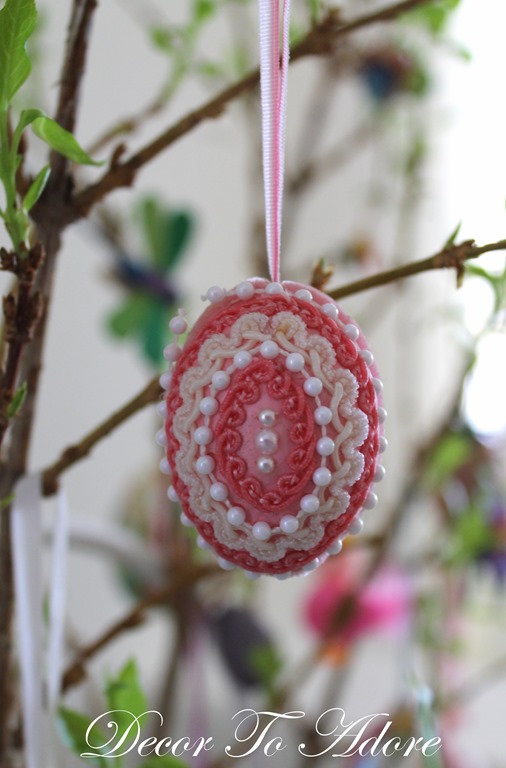 I imagine it is the same way that God feels about us.
May your Good Friday be blessed,
Laura