Let's start out with something funny. In hindsight I should have clarified on Mondays post what all the keys were for. So many of you were shocked at the amount of keys we had. Here's the breakdown:
We have an extra key for each of our cars as well as our house/the Fashionista's condo and our mailboxes.
We have extra keys for several of our friends and neighbors houses. (I guess we're trustworthy. 🙂
We also kept one key from each of the houses we have lived in as a memento. Being retired military we have lived in  A LOT of places! Someday I might make a shadowbox…. So yes, we have a lot of keys. 🙂
Ok, moving on to pillows!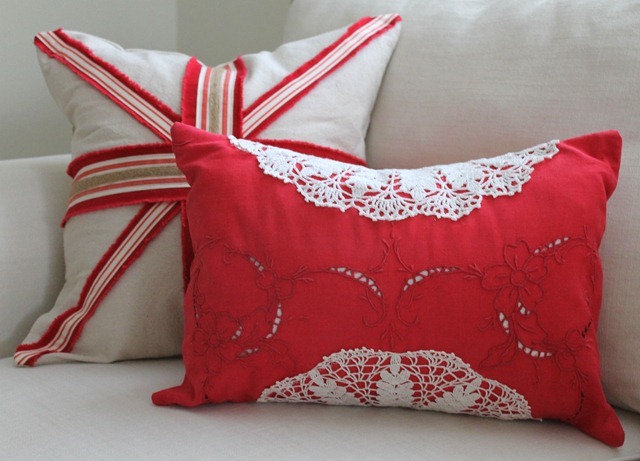 Back in December I decided I wanted to incorporate a bit of red into the front room décor since so much of our vintage Christmas décor was red.  I loved the "Villa Martine" fabric by Ralph Lauren. It had a bit of blue and cream in the print which  worked so well with my blue and cream ticking slipcovered chairs. By the yard it was a bit beyond my budget but enter in a king sized sham found on clearance at HomeGoods.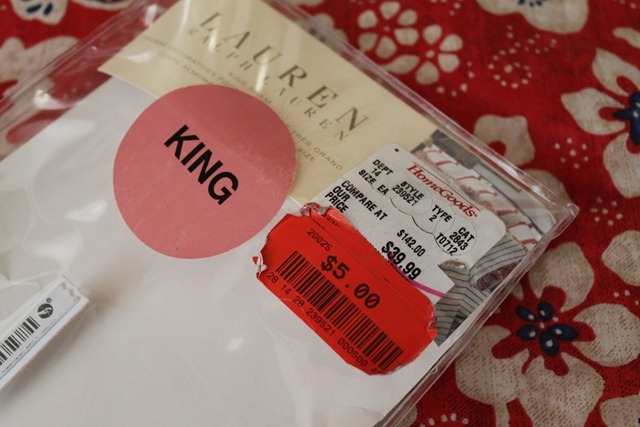 I just took the sham apart and reused the fabric and trim to create two pillow. Since I already had the down inserts the pillows cost a whopping $2.50 each.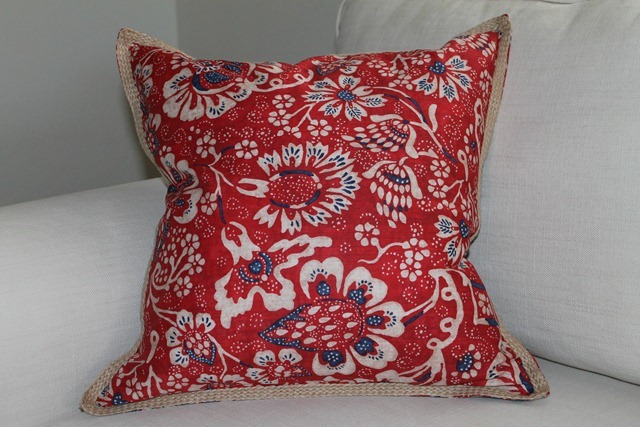 Everyone who has come to visit seems to like the two pillows that I made out of an old cutwork tablecloth and two doilies. Vintage linen enthusiasts don't faint: both the cutwork tablecloth and the doilies were stained and had holes in several areas. It was time for a makeover. The tablecloth received a color update with Rit dye in cherry red.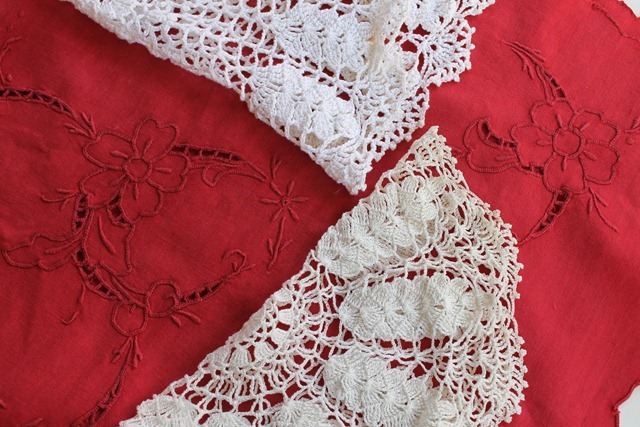 I literally cut the tablecloth and the doilies in half so I could have two pillow fronts.
I centered the doily at the top of the cutwork and pinned it in placed. It was then sewn on. The bit of white peeking through the cutwork is the down insert.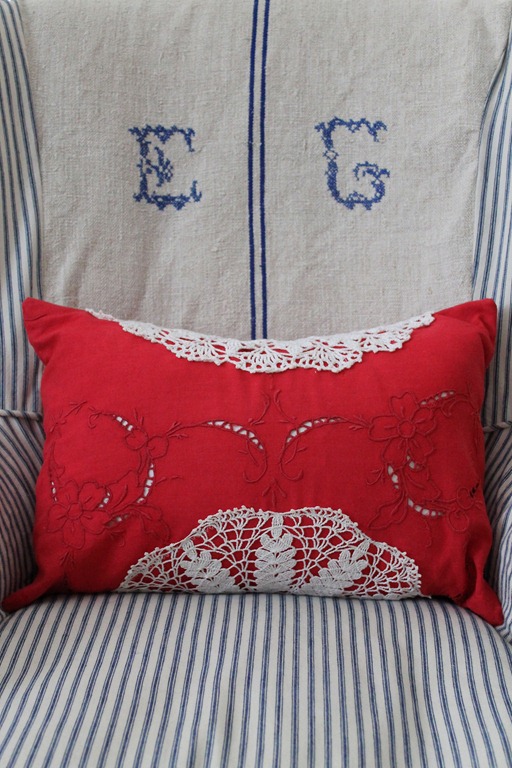 A simple envelope closure was created on the back.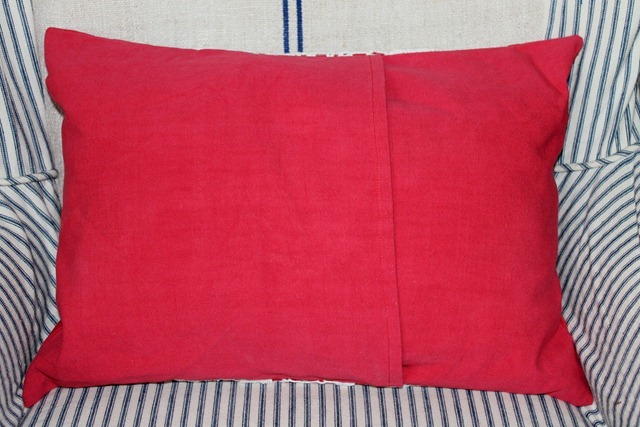 I felt like I still needed one more printed pillow for the couch. I remembered that my dear friend Jill had made a Union Jack pillow way back in July that I just loved. Longtime readers know I am 1/2 Francophile and 1/2 Anglophile and love England like nobody's business. I had to have it!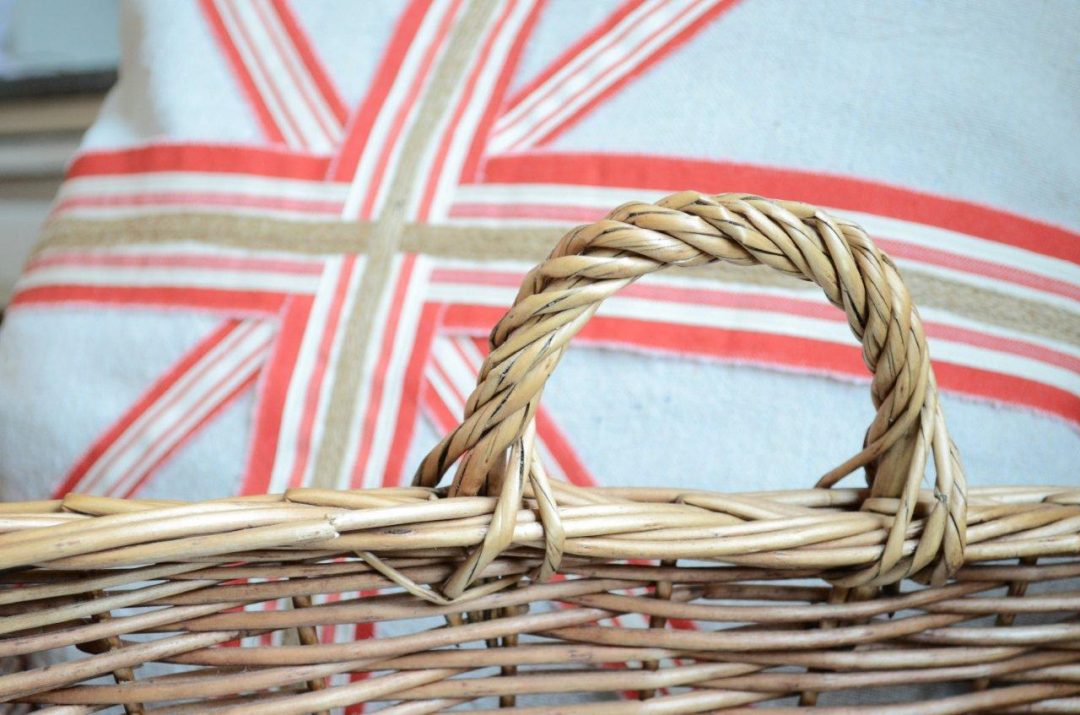 It arrived last week and is perfection! Every time I walk into the room this gorgeous pillow just makes me smile. I love how the jute trim works with the trim on the Ralph Lauren pillows.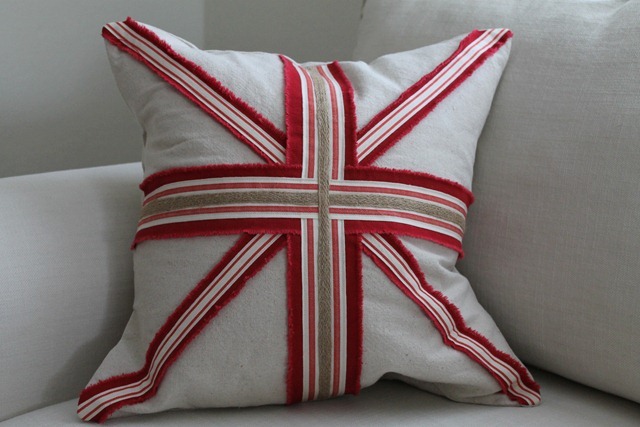 Jill has a darling Etsy shop that is loaded down with sweet sewn treasures. Like the Union Jack pillow in yellow. Spring is coming and boy would that yellow look good with the blue ticking chairs too! 🙂
Tomorrow is the Valentine linky party. I hope you join in and share what you love, have created, favorite treats or who your sweetheart is!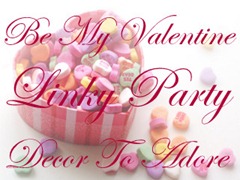 Do you like decorating with red?
Laura