Today is Epiphany. The twelfth and last day of Christmas.
I am not really one to go around boasting "Look at what I got for Christmas…" But everyday, sometimes several times a day, I find myself walking into Sweet Boy's room with a singular purpose: to look at, touch, and marvel at a piece of handiwork that has been over 100 years in the making.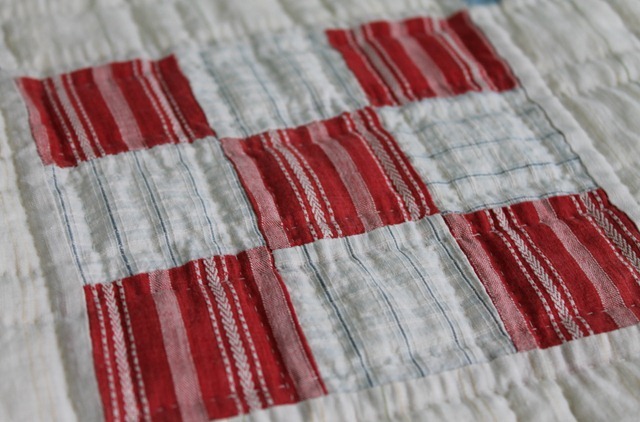 A few years ago Grandma Jingles led me into her bedroom and asked me to open her decades old hope chest while she sat on the bed. Together we sifted through the contents: lovely lace, antique stockings, an old hat or two and several quilt pieces and tops that were never quite finished. She asked me to take them home and finish what had been begun by my great~great grandmother over a century before.
It might be a good time to mention that I do not know how to quilt. But for some reason or another my grandmother had faith I would somehow get this overdue task accomplished.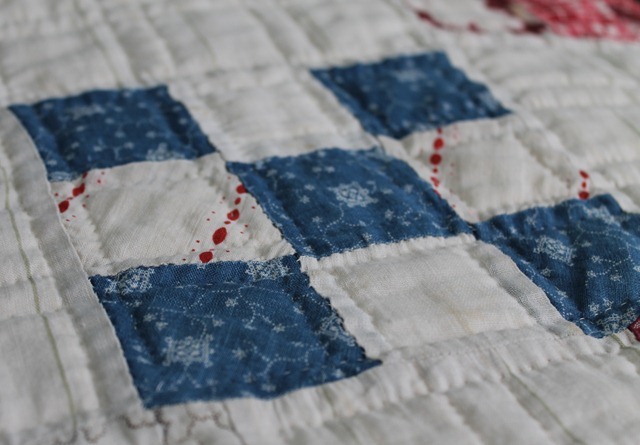 Upon my return home it took several days to hand launder, line dry and iron all the fabric which was heavy with years of dust and must. The fresh and clean pieces were placed in acid free tissue and tucked into a closet.
From time to time I would venture into a quilt shop and inquire about classes. The instructors would "Oooh and ahhh" over the old flour sack cloth and occasionally an offer would be made to purchase the pieces to which I would politely decline. I would talk about attaching cotton batting, creating homemade binding and finishing with hand stitching. Each inquiry came with the same reply: "We only teach machine quilting." Back into the closet the pieces would go.
Time passed as this season of my life tends to be filled with my children's activities.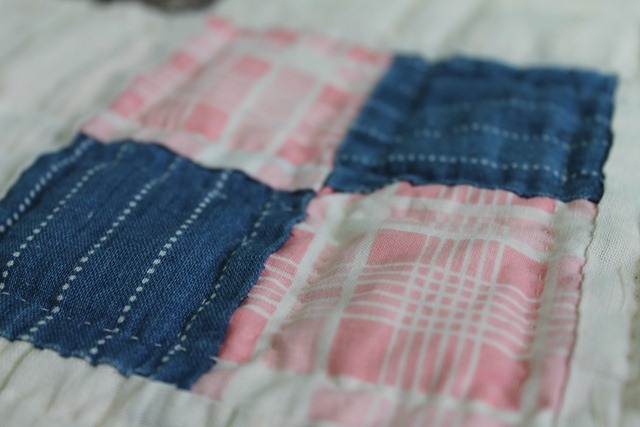 Two springs ago I went to go visit my cousin L. During the trip I was enraptured by the quilts she had made. True works of art that hung upon her walls. The talent that lies in her hands is beyond incredible. She is incredible.
This past year, when so many others fell by the wayside, she has remained true. A constant source of love and encouragement. She repeatedly asked "How can I help?" "What can I do?" To which I would reply "Just you asking is enough. That speaks volumes of how much you care." To which she would once again say "Yes, but what can I do to help?"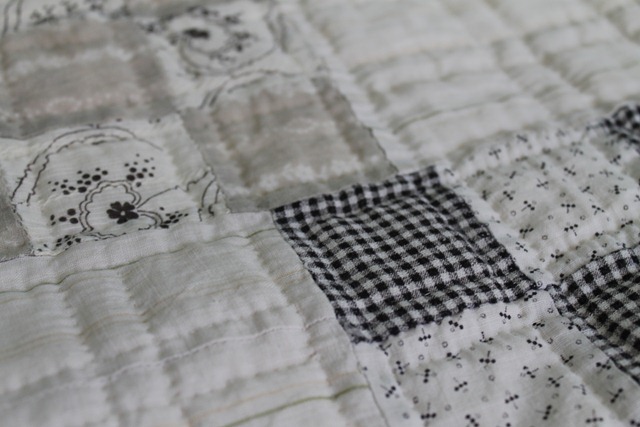 Like many others, it is hard for me to accept offers of help. It shouldn't be that way. I know this. I myself like feeling helpful and I shouldn't deny someone else that same joy. One day a light bulb went on in my head and I was able to shift the focus off of myself and turn it to my son.  So when she asked again I said, "I have a quilt top that my great~ great grandmother started years ago. It is small: it measures approximately 40" by 64". I would love to have it finished to lay at the foot of Sweet Boy's bed. The pieces are old and in no way straight. It could possibly frustrate even the most experienced quilter." She said, "Send it to me." So I did and every now again I would get an email or phone call that revealed she was still hand quilting the precious piece. It took months.
A package arrived a few days before Christmas, a very busy time, so I set it under the tree to open when my full attention could be given to such a gift.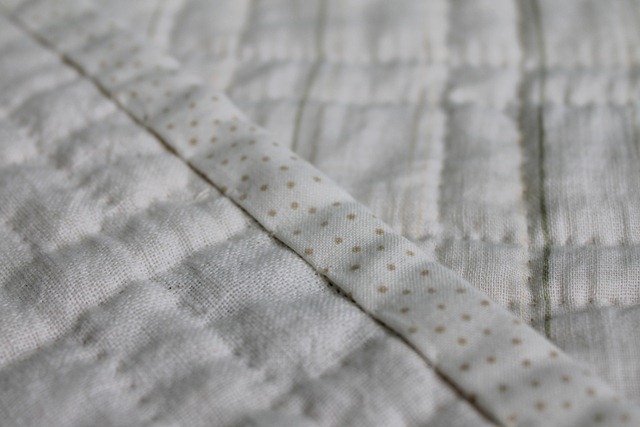 Christmas morning came. I opened her gift last. I was completely and utterly speechless. As I ran my hands over the fabric tears spilled over my cheeks and onto the well worn cotton. It was beautiful. Priceless.
Every stitch a stitch of love.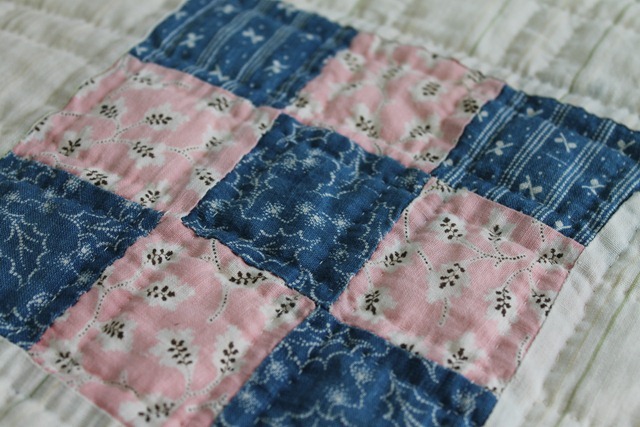 It was in me to reject such a gift. I wasn't worthy.   
But I realized that she sees me with different eyes than which I see myself.
I am embarrassed to admit that I still haven't called or written to her. Not because I have nothing to say, but because my heart is too full and mere words of thanks seem… inadequate.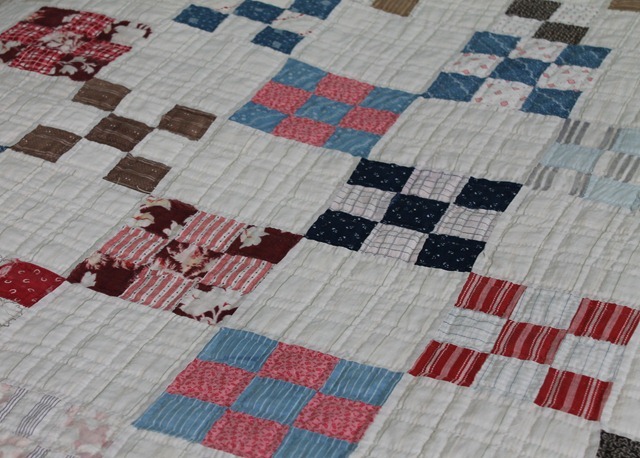 But each one of us is worthy of such a gift. It is our choice whether or not to accept such gracious goodness and loveliness.
Let us all be wrapped in His love. 
Laura
"She gave birth to her first child, a son. She wrapped him snugly in strips of cloth and laid him in a manger, because there was no lodging available for them." ~ Luke 2:7
"A time to tear apart and a time to sew together; A time to be silent and a time to speak." ~ Ecclesiastes 3:7
Update: For those of you who left lovely comments, sent emails and facebook messages regarding this post, the answer is yes, my cousin is a faithful reader of this blog. I actually wrote the story for her as so many of you guessed. Smarties!
My cherished kin read this entry and the written arrow did indeed hit the intendeds great big heart.  Cheers to her!