A few weeks ago I was looking through the Ballard Designs catalog and something caught my eye.
I spied the Antique Mirrored Table Topper. I have two such tables that have a clear glass topper. I wanted it. Bad! But a topper to fit my large 36" table was $179.00. Yikes!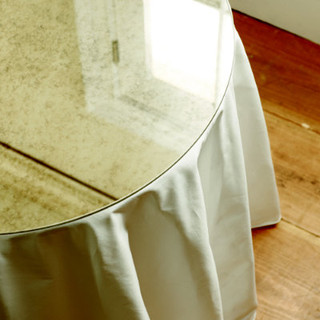 So I thought and thought about how I could DIY it. One day I remembered that I had seen something about two years ago on Design Sponge. Sure enough, I found a tutorial on creating an antique glass votive. Yes! An antique mercury glass table topper would be perfect!
Then I had to think some more because a votive is one thing, a large glass table topper was another.
I actually had an extra 24" glass table topper that someone had given me so I decided to practice on this piece first. You can find such toppers at most home décor stores, as well as Target and Wal Mart.
Mr. Décor set up two saw horses so that I would have a stable flat surface in the backyard for painting. I made sure that the glass was squeaky clean before I began the process.
Here is what you will need:
One clean and empty spray bottle filled with 1 cup of distilled water.
If you want more of a crackled finish add 1 cup of vinegar to the water in the spray bottle.
Paper Towels
One can of Krylon Looking Glass Mirror Like Paint. After a 5 store search I finally found it at Wal ~ Mart. It's a tiny can and cost around $8.00. The price and size actually made me pause for a moment in the aisle. But then I weighed the $8 verses the $179.00 and bought it. It ABSOLUTELY has to be this product.  I also followed the instructions on the can and shook it up like nobody's business! :)
Instructions:
Spray a fine mist of the water and vinegar solution onto the clean glass. You want tiny droplets of water to cover the entire surface.
Immediately after, spray on a light layer of the mirror like paint. You want a thin, even coat.
You will see within 30 seconds that the mix will begin to bubble.
Wait another 30 seconds to one minute when the finish looks like it's beginning to dry and take a paper towel and gently blot the entire surface. Some of the bubbles will pop. Do not rub or scrub as this will remove the paint.
Then walk away for 10 minutes.
Come back and repeat the process.
This is what the surface looked like after the second application. The glass begins to appear more opaque.
After three separate coats I took a bottle of black acrylic paint and dabbed areas here and there. I let it dry for about 5 minutes and then did one final coat (for a total of 4) of the water/vinegar/mirror spray combination.
It was left to dry completely for 3 hours.
Now the magic is that once you turn the glass over it indeed has a mirror like finish. You can also see the areas that I added a wee bit of black acrylic paint. (Click on the photo to enlarge it if you like.)
I am REALLY happy with how this project turned out! This particular table will now go in the man cave. (We are debating between the Chevron fabric I shared HERE or this Ralph Lauren Damask/Ikat fabric.)
Now the question is whether or not to paint the massive glass topper in the living room. I set up a vignette with a white cloth as that is how the table is normally dressed.
Not bad for an under $10 knockoff!
So what has inspired you lately?
Laura
Linking to:
Funky Junk SNS, Common Ground, StoneGable, Tatertots and Jello, Positively Splendid, The 36th Avenue, Jennifer Rizzo, BNOTP,  ASTL, Someday Crafts