When they were passing out green thumbs I forgot to get in line. Sure, I can keep certain types of houseplants alive. But thankfully I can blame the changing of the seasons for the regular demise of my outdoor pots.  When dear Bev of The Willows announced she had opened a new garden shop and was having a class on creating terrariums I showed up with bells on!
There are two types of terrariums ~ closed and open. A closed terrarium, shown in the photo above, is generally more on the self watering end of the spectrum but still requires a weekly misting. An open terrarium is like a traditional house plant only dressed up. Over time both may need the soil changed out or nutrients added and perhaps an occasional haircut.
So of course the first step is selecting a container. Bev had some beautiful. Lovely antique jars, round bowls and miniature conservatories.  I had brought along my own container.
Although I created two terrariums on my kitchen counter, an outdoor work surface is perhaps a better choice if you want to get messy.
You begin by adding a thin layer of pea gravel to your container to aid in drainage.
Next add in enough rich soil for your plants to grow comfortably in.
An interesting fact that I learned is that if you mix a bit of charcoal into the soil it allows air to diffuse within the soil which creates better quality soil (a natural fertilizer in essence) and helps keep bacteria at bay. 
Of course you have to select the plants. Pick smaller varieties of your favorites.
Succulents work really well in a terrarium environment and need very little watering.
After you have potted your plants wet a bit of moss and cover the soil. The layer of moss will help to keep the soil moist longer.
Next is when it really got fun for me. Decorating your terrarium. You can add in bits of driftwood.
Try standing the driftwood straight up to help train a vine plant like in Kristina's awesome vintage dairy jar.
Or just lay it horizontally across the moss and soil to add a bit of visual interest.
What about a wee bird in a nest? Looks like one of the eggs is ready to hatch.
I've gone a bit overboard making terrariums since then.
But wouldn't this be a darling bit of spring to bring someone as a gift?
I am already thinking about an antique glass battery jar.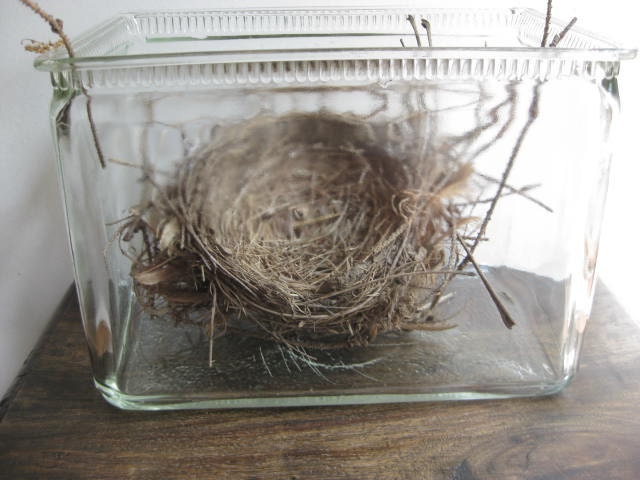 I would need tongs to position everything in this one. But cute no?
Maybe add in a few gardner's ala Amélie.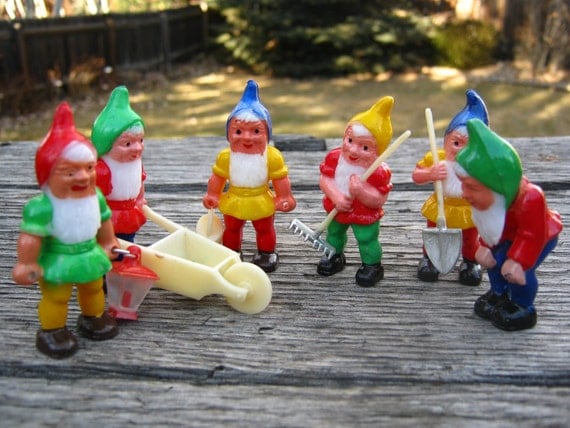 And a wee toad stool or two via Etsy.
I am sure the Fashionista will want a forest of deer.
Not even Sweet Boy's plastic zoo animals will be safe.
What would you put under glass?
Laura
Linking To: