The sweetheart elves are still going strong at Décor To Adore manor. Here are their adventures, Sweetheart Advent Elves Week 2.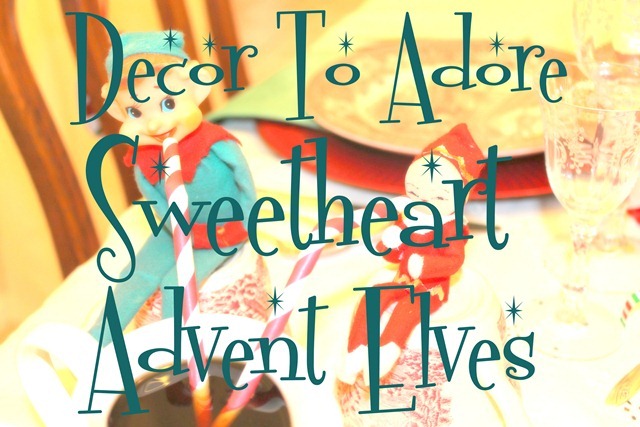 Sweetheart Advent Elves Week 2
On Saturday (Dec. 8th) Romeo provided Mr. Décor and Sweet Boy with movie passes and $2.00 so that they could fill their $1.00 movie cups. Funny how that elf knew that this would really be a gift for me as I got so much done in an empty house. 🙂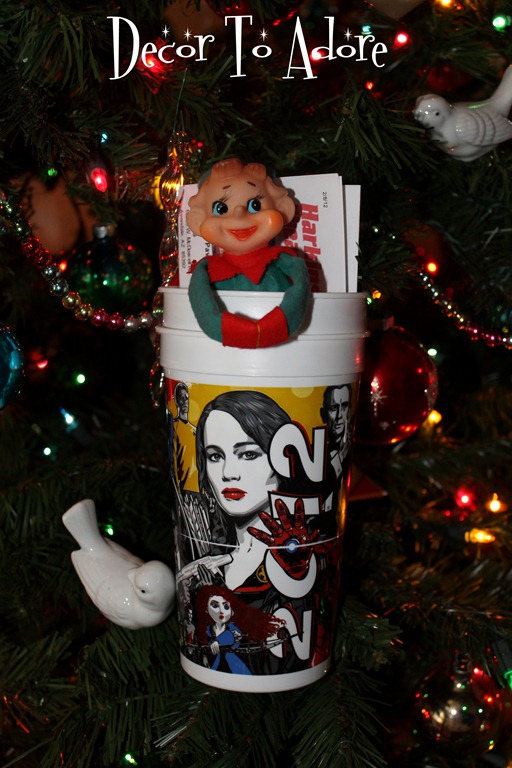 On Sunday (Mr. Décor's birthday!) that sneaky elf waited until I got up in the morning and headed off to the kitchen then he taped crepe paper to the bedroom door. Mr. Décor smelled bacon and broke through this zigzagged madness in two seconds. 
Elf Adventures
Monday (Dec. 10th) was started off right with a $10 gift card to "eat fresh".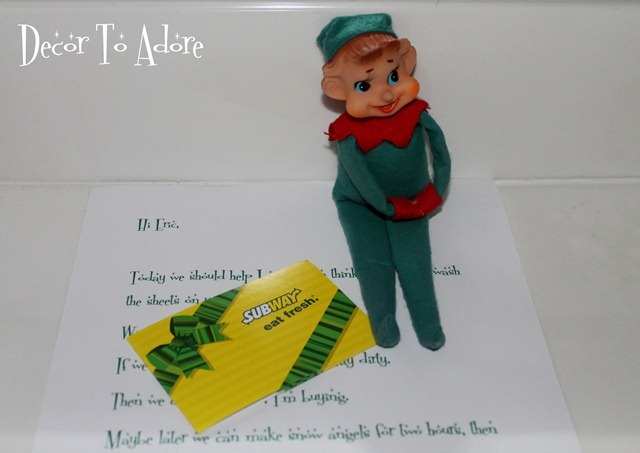 Tuesday was chaos at Décor to Adore manor. Sweet Boy was sick. The Fashionista's Mac crashed mere hours before a final term paper was due. A trip to the apple store revealed that the laptop was on the naughty list. Our elf took a break and went to go visit his good friend Buddy why we helped type up months of notes.
On Wednesday (Dec. 12th) the elf left roses on the bathroom vanity.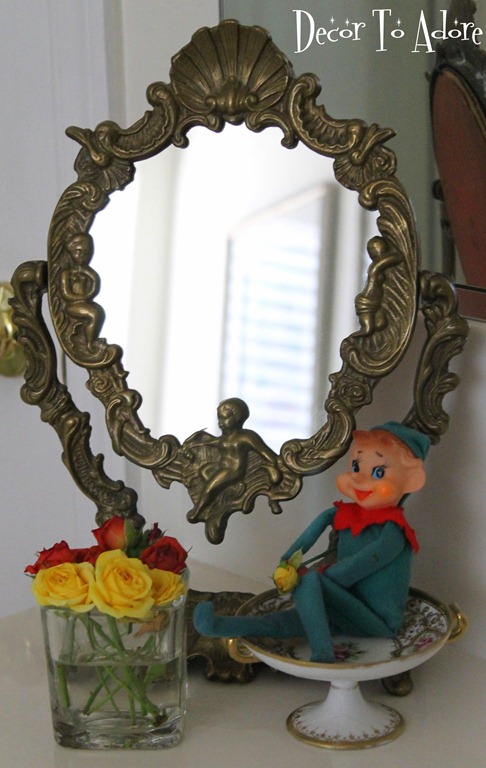 Mr. Décor may or may not have had a huge stack of clean laundry sitting on the bedroom settee for several days. I tried to entice him to put it away by hiding a box of delicious Williams Sonoma chocolates within the pile. Alas, he found a piece missing on Thursday (Dec. 13th) ~ I blame the elf. 🙂
 Rein Beer
Now I hesitated to post this next picture.
Please remember that this elf is for my husband only. My children (ages 11 and 23) each have their very own advent calendars filled with candy/small treasures. This elf is NOT a toy. He is a precious vintage element that belonged to my mother. Both of my children know this and respectfully do not mess with him.
In creating an advent elf for my husband it has brought him great joy during a personally difficult time. This elf has ensured we laugh, hug and kiss a little more ~ which we both think is a wonderful thing in an almost 15-year marriage. That my Mr. enjoys a rein beer on a rare occasion is ok in our home. I understand and respect if that is not something you opt to do in yours. 
Here's the photo. I know some of you will crack up. That is the point. (pun intended)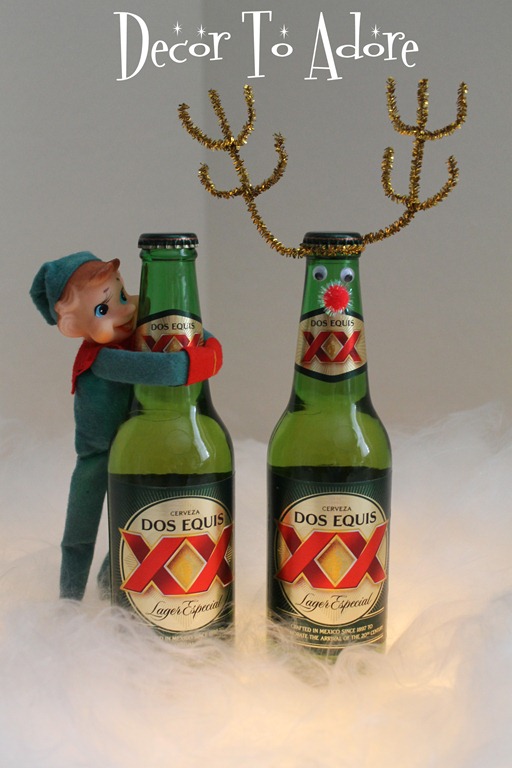 I have to wonder if the elf chose Dos Equis for the color (red and green), because it has two kisses (XX) or because right now Mr. Décor is very much "the most interesting man in the world".
Be merry and bright!
Laura