Today I am turning another year older. I always feel so blessed to do so.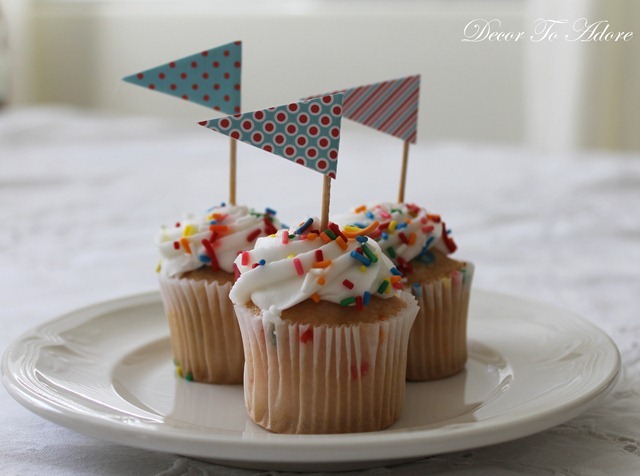 I celebrated my birthday early by hosting a Swap Soiree.
I mentioned before that we recently downsized. It is SO freeing to get rid of a bunch of stuff.
But the hard part is getting rid of a bunch of stuff. Really nice stuff that you think "I wish I knew someone who would appreciate this good stuff."
The premise of a Swap Soiree is you invite your décor loving friends over and ask them to bring one item (or more! More! MORE!  in the case of this party) that is in good condition but perhaps they have tired of or just don't have a place for. Then you swap for things you can use.
I gave myself an extra challenge that since I was trying to downsize I could ONLY use things I had on hand for the party.
You know ~ like you have one leftover invitation, 5 napkins here or 6 cups there. Yep. I had to use it UP!!!
So everyone received sort of a one of a kind invitation.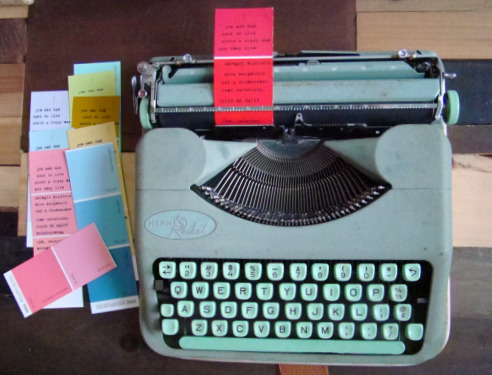 In using only what I had on hand also meant that the tablescape got REALLY creative. I had purchased a large pack of polka dotted plates ages ago from TJ Maxx. I will admit that I had to purchase the cups for the party. They came from the Target dollar section and I thought the stripes looked crazy good with the dots.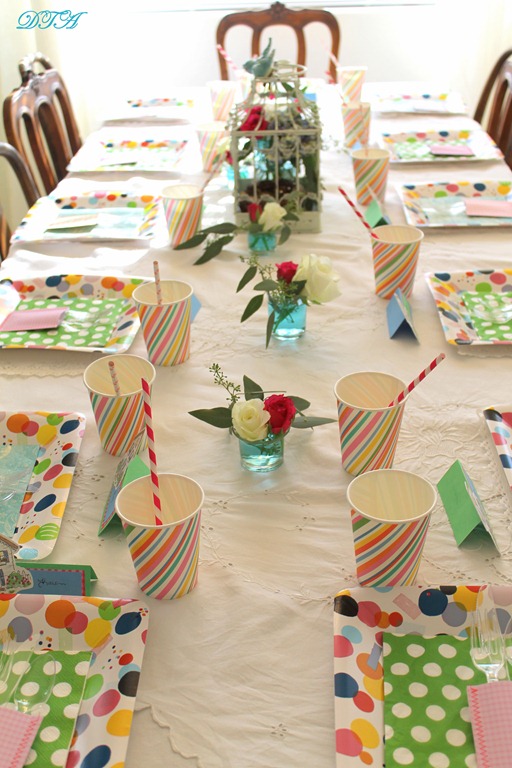 Not everyone had the same napkin and the straws were also a kaleidoscope of colors, but I did try to keep it within a happy color palette. It was sort of Bohemian Rhapsody at its finest.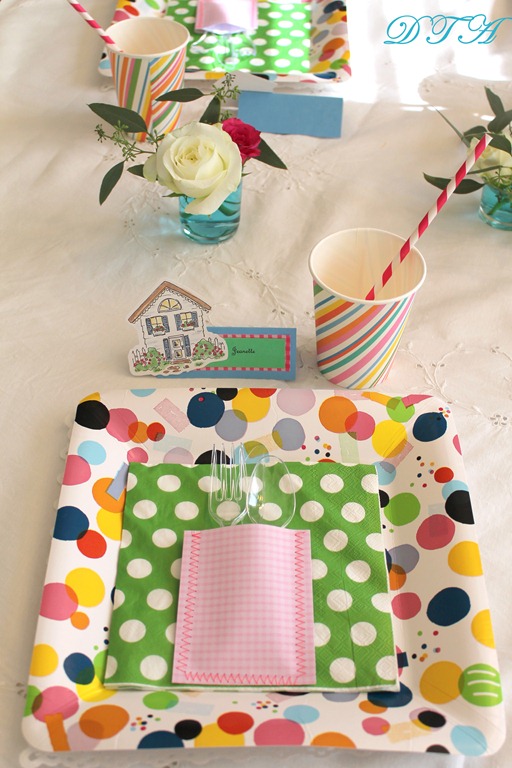 Simple plastic ware became sweet nestled in pretty pockets sewn from leftover scrapbooking paper.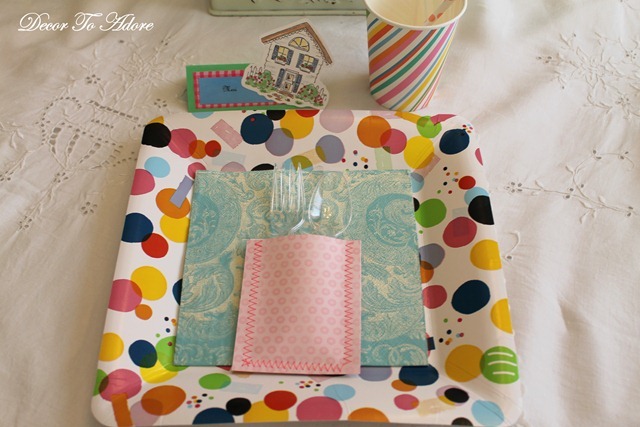 Again using leftover scrapbook paper, I made place settings for each spot. As the guests were seated I had them turn their name in the other direction so that perfect strangers could become friends.
Many marveled at the simple fact that I used food coloring to turn the vase water blue.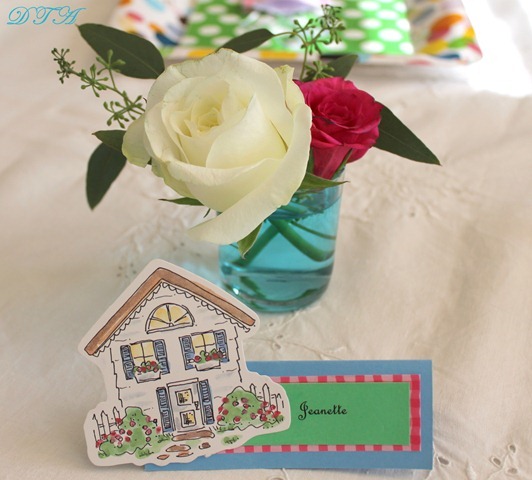 The centerpiece inspiration came from this image.
I had the birdcage, bird, nest and blue mason jar on hand.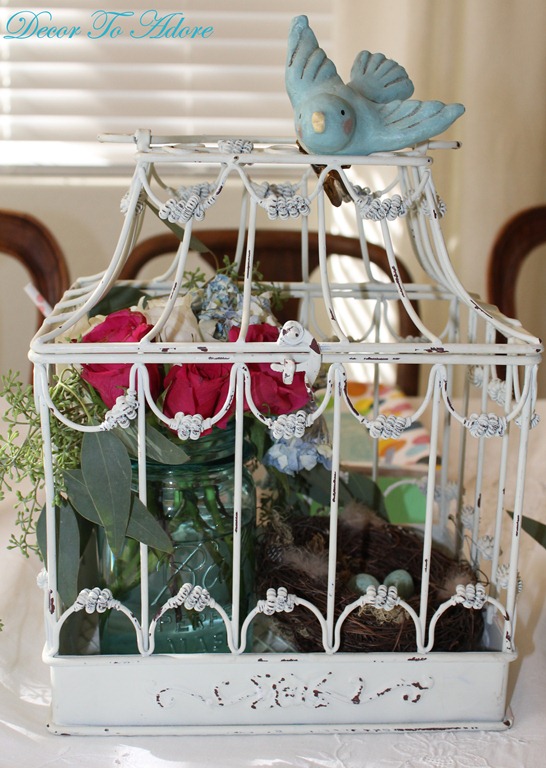 I purchased blue hydrangeas and pink and white roses for the party from Trader Jo's.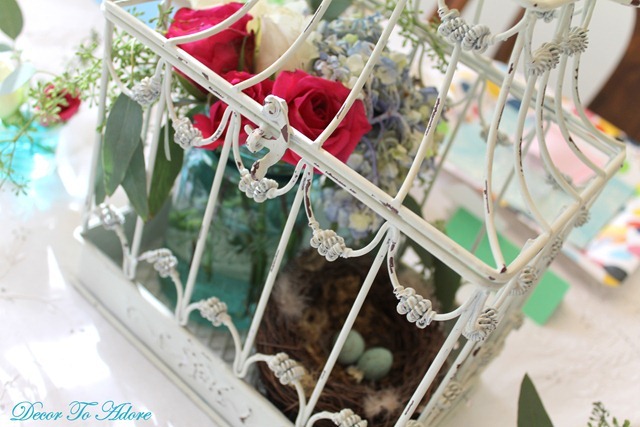 Guests loved the European style luncheon. It made even my vegetarian and gluten free friends happy.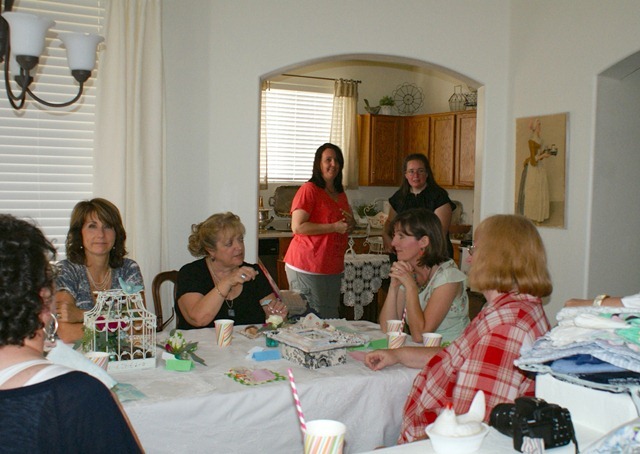 The menu featured chicken salad nestled in puff pastry, rustic cucumber sandwiches, and a few of my favorite salads including this delicious caprese delight.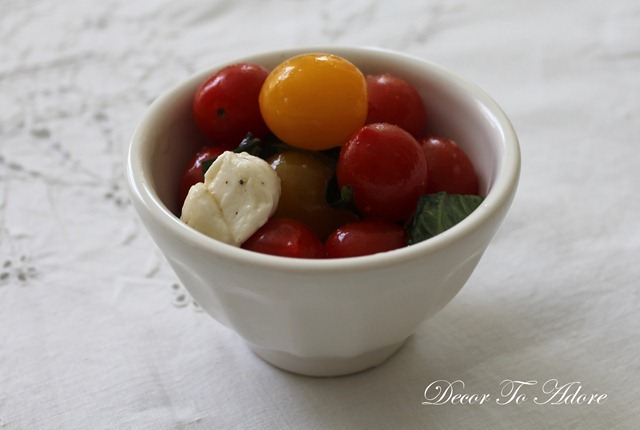 I can never get enough summer fruit. The raspberries and blueberries were sweet enough to serve on their own.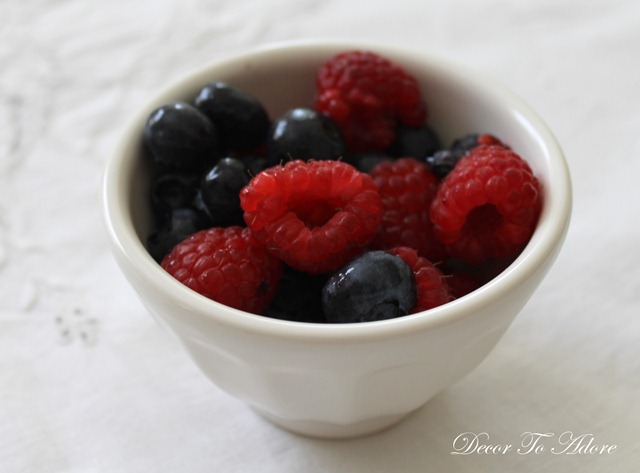 No one left the table hungry. 🙂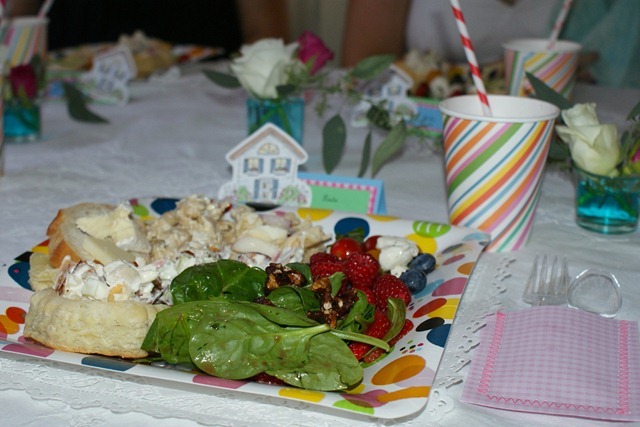 For dessert, guests had their choice between oatmeal cookies, yellow cupcakes or dark chocolate frosted in fun shades. Simple flags were cut out from leftover scrapbook paper (again) and glued to toothpicks.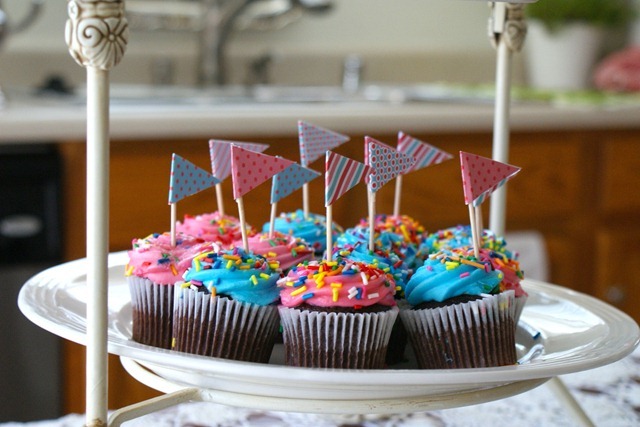 We also celebrated Miss Marty turning 73 ~ yippeeee!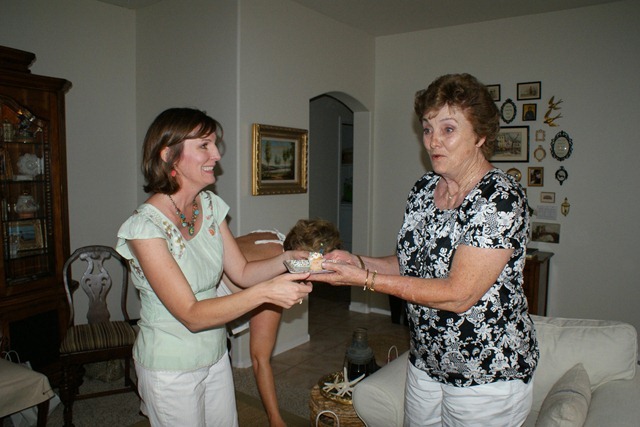 After lunch I had to break up the chatter to begin the swapping festivities. This was no easy task. Although some of the women arrived not knowing anyone they all quickly found some new best friends. Each guest was assigned a number. Everyone got to go into the office and select one item they loved best. The table was groaning with swap goodies!!!  We had enough for three rounds of selections. I apologize for not taking a picture of all the grand loot. Julie and Meri talked to Jen about blogging while waiting their turn.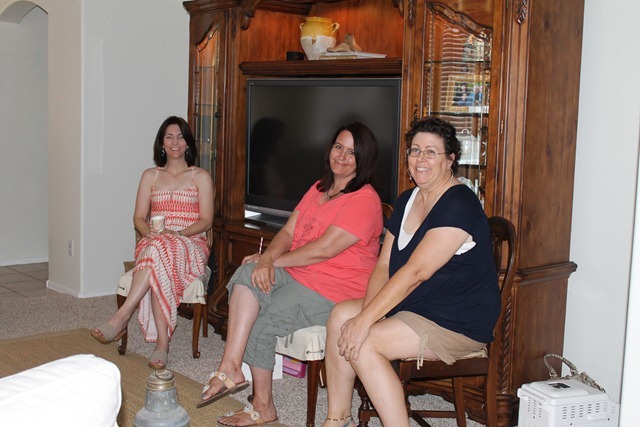 To make things easier I provided personalized "shopping bags". (Tutorial coming.)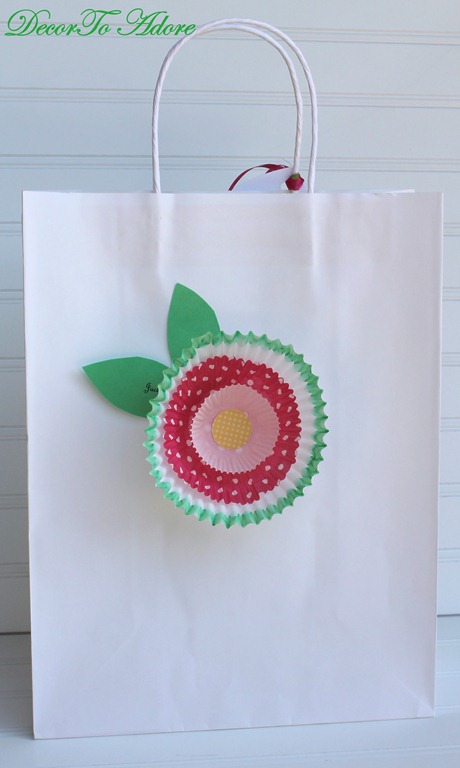 The guests were thrilled that they:
1. Got rid of a bit of clutter from their own homes.
2. Selected something new to them that they could fully enjoy.
And the best part?
3. All the remaining leftover items were donated to Hope's Closet, a thrift store where 100% of the proceeds benefit the New Life Center.
All the guests, like the lovely Ceekay, left happy and my fur boys enjoyed the extra attention too.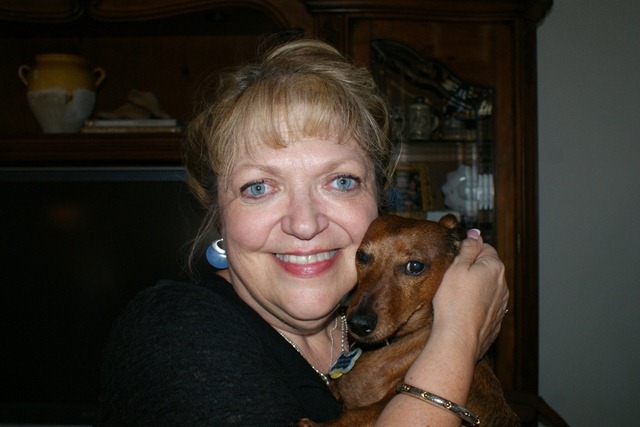 Many thanks to dear Linda for the great photos she took of the party!
My friend Jackie supplied additional seating and dear, dear Kristina helped me immensely in the kitchen.
Other lovely blog writing ladies who attended:
Jenny of Redhead Sadie. Karen of The Language of Design.
What are you HAPPY about today?
Laura
Linking to:
A Stroll Thru Life , StoneGable and BNOTP , Today's Creative Blog, SSS, StoneGable, Someday Crafts, The Shabby Nest, Tatertots and Jello, Positively Splendid, The 36th Avenue, SNS