Queue the choir…You can't always get what you want. But if you try sometimes, well you might find…You Get What You Need.
Italian Vogue 1966
On occasion I sing this rock classic to my children and they LOVE it. (Insert sarcasm.) Of course there are occasions that I have to sing it to myself and truthfully, I don't like it much either.
Take my kitchen window. I had dreams of nice Belgian linen café curtains, something like this:
Maybe with a band of antique French linen.
Or perhaps a bit of fan pleating at the top.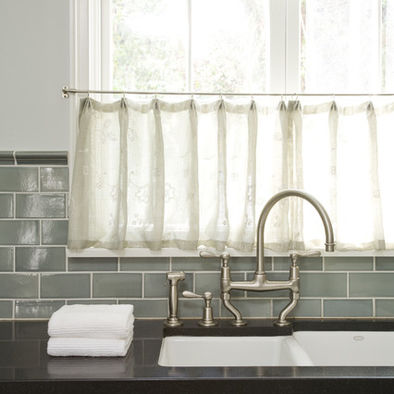 But remember when I wrote about listening to your house? Well, thankfully I take my own advice.
I had ripped down the car wash blinds that hung over the sliding glass door in the kitchen because nothing at all was better than that choice in my mind.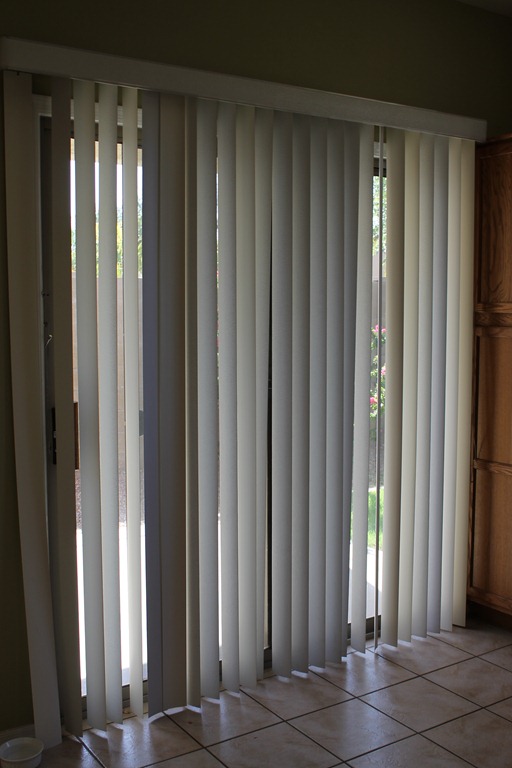 I also took them down from the window over the kitchen sink. Then I lived with it.
Visions of café curtain covered window grandeur swirled in my mind for approximately two weeks.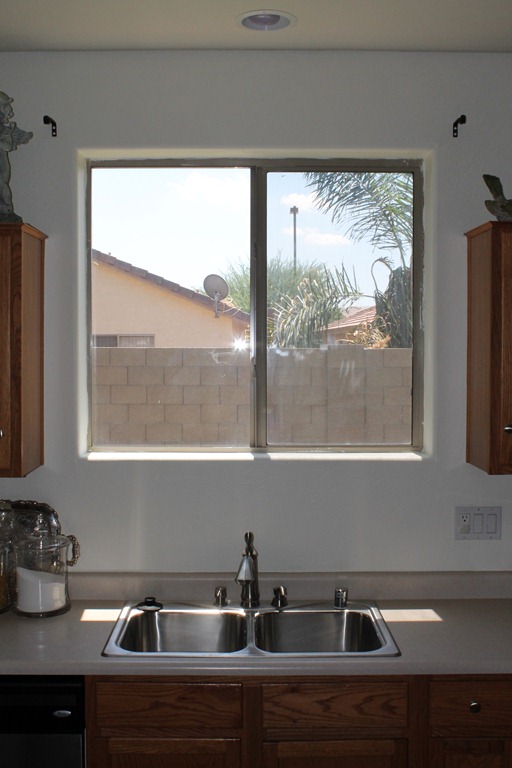 But I discovered that because the contractor built the window so high above the sink that there really was no view at all. What I focused on was the dirty glass. So I cleaned the windows. Much better! But I live in a dusty desert so guess what? By the next day they were dirty again. 🙁 
Living in the desert also meant that 110 degrees of sunshine streamed into my kitchen for about nine hours a day. It made it so hot that I didn't want to cook. Now some of you would look at that as a bonus…. 🙂
So I determined that the window did need a permanent blind of some sort. My dreams were something like this:
Matchstick blinds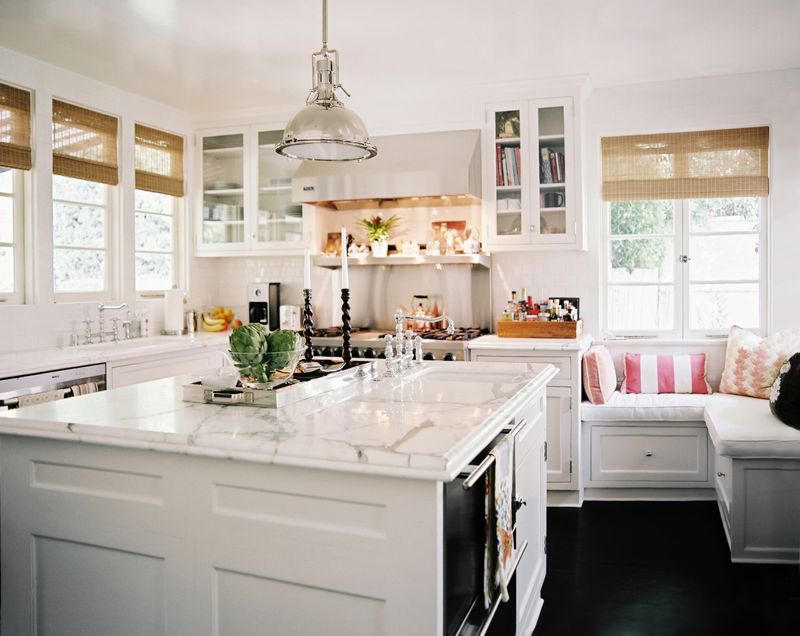 You know like you see in Layla's house….
and featured over at Joni's?
But here's the thing ~ in each and every picture I found the blinds were pulled up to look really great and provide good light to work in the kitchen.
Go ahead, take a moment to scroll up and look at all the images and think about when you have seen similar blinds featured in design magazines. They are ALWAYS pulled up, right? So that totally would not work for me. Hmph!
I then considered what I thought was the next best thing. Plantation shutters.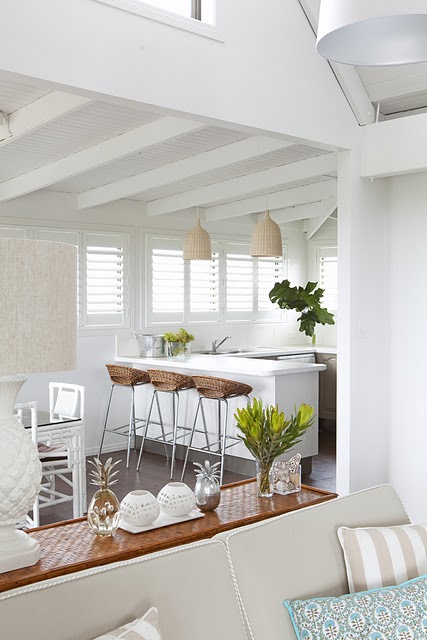 But it was going to be about $500 for the kitchen window and $1,000 for the sliding glass door. Gulp.
This is not our forever home. This is our maybe live here for 5 years home. So plantation shutters were quickly shut down.
A week later I was in one of my favorite consignment stores and I found a pair of Cote Table Belgian linen tie top panels that were a perfect fit for the window. They still had the original price tags on them. Cha ching! But I got them for a "start the car" price. I removed the fabric ties tabs that were attached.
Before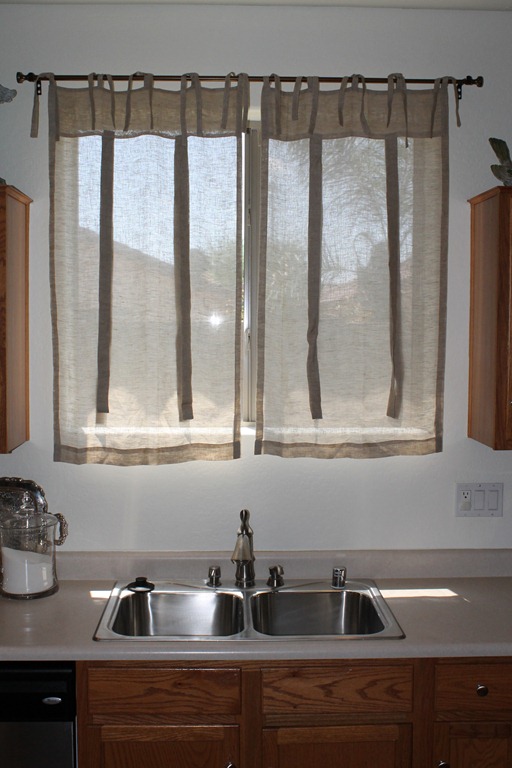 After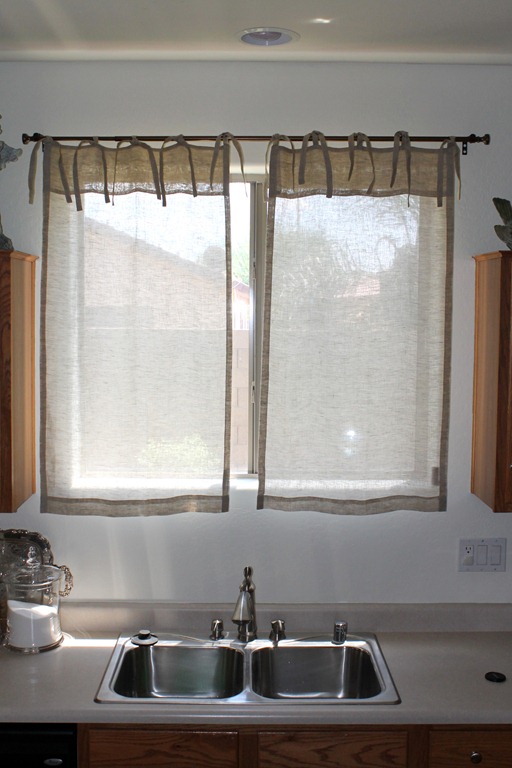 We also finally decided on plantation blinds from The Home Depot.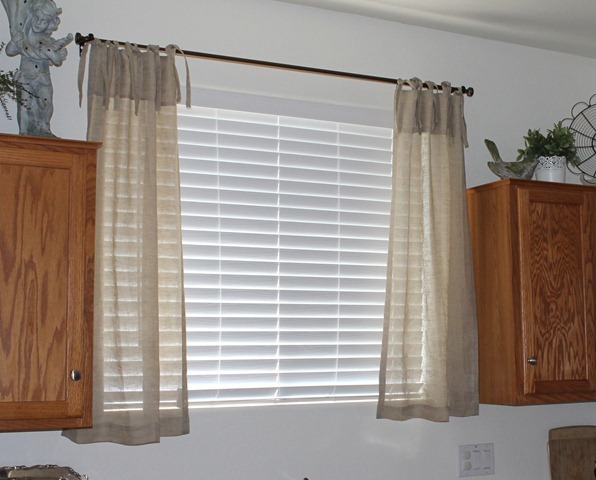 I love how the sunlight just softly filters through no matter what time of day it is.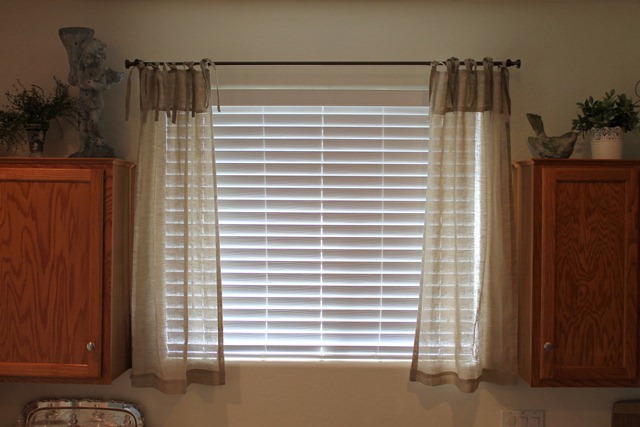 I then started addressing the sliding glass door. I needed a bit of coverage but still wanted the light to show through. I've dreamed about smocked linen panels for about three years. They range in price from  $60.00 a panel HERE up to to $280.00 a panel HERE. I would need three panels….GULP again.
But practicality paid off and two days later I found matching Belgian linen panels at Tuesday Morning that were a perfect fit for the sliding glass door. I practically stole those too. You can find similar panels here and more budget minded panels here.
You can read about the DIY Drapery Baton I created to help keep the drapes clean HERE.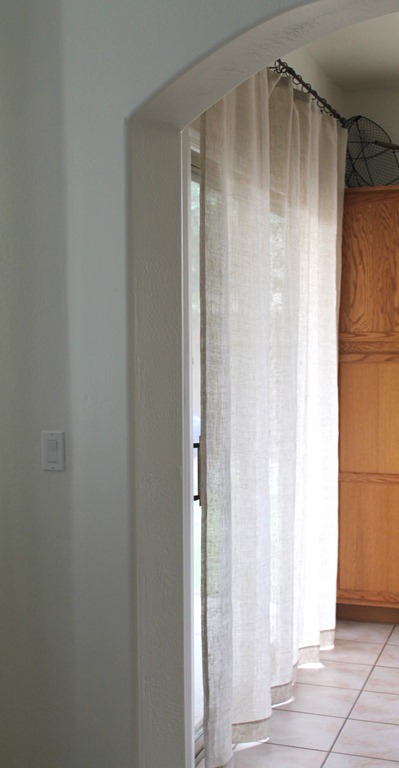 In the end was it the look I originally dreamed of? No. I didn't get what I wanted. But I got what I needed and that is infinitely better.
Laura