When we first moved into our new to us home I had dreams of creating a built in sleeping area for Rudi and Franz in the laundry room.
Maybe a bit of beadboard and molding.
Perhaps some shelving on top.
So I went to my favorite décor haunts looking for two matching dog pillows to place in the room temporarily. Crickey! $30 for just one simple dog bed!!! No thank you! I put on my thinking cap and remembered I had two extra large euro sized pillows not in use. A trip to Ikea produced a nice linen look cover that is washable.
I got the pillows all set up in the laundry room and guess what? The boys weren't having it.
They wanted to be out in the main living space no matter how hard I cajoled.
They won by insisting they would sleep on the ground if need be.
So I placed the pillows on either side of the entertainment center.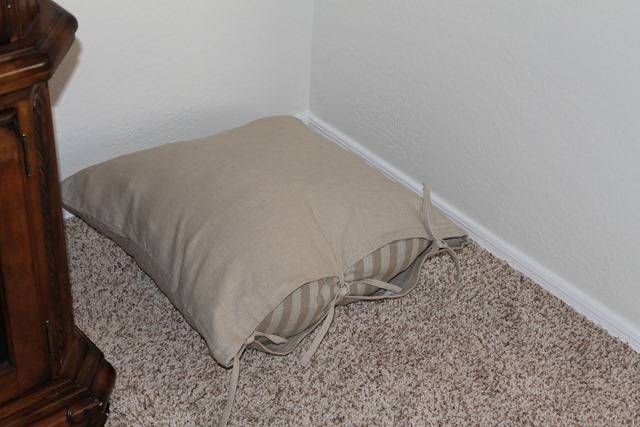 Franz was the first to inspect the new sleeping accommodations but he then claimed the left side as his own. (It's closer to the kitchen. 🙂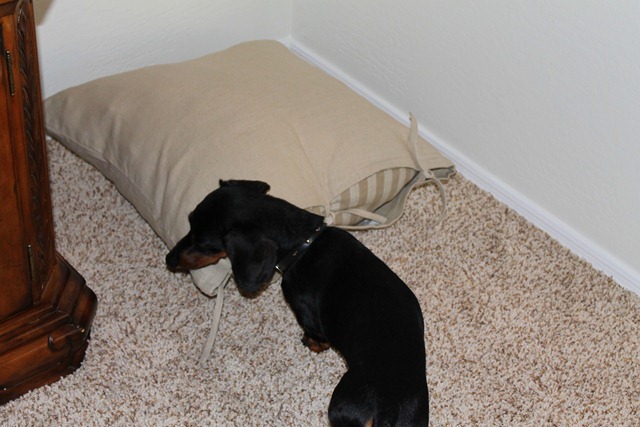 Easy going Rudi moseyed over next to the pillow.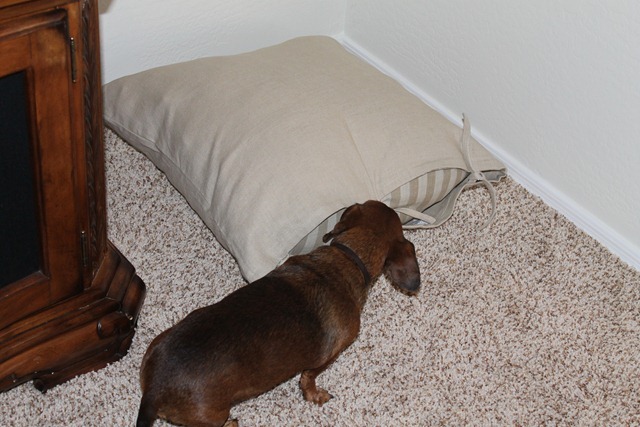 Success! I now just need to make some matching blankets. (Dachshunds like to snuggle.)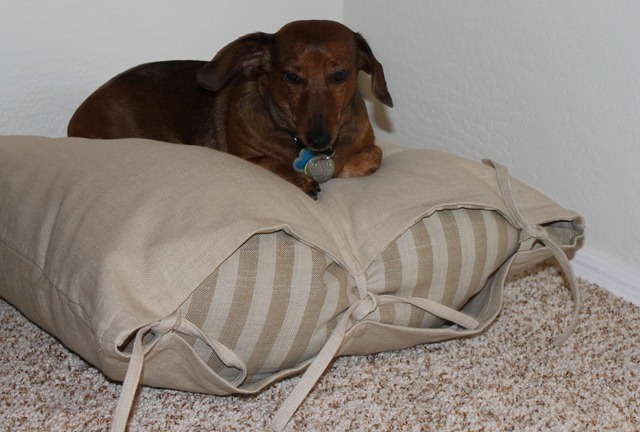 I am thinking about having Mr. Décor build something similar to this great crate to house the pillows.
This sweet seat was created from an old side table.
I had to include this one as well as it features Rudi's doppelganger.
I loved this idea from Neat O Rama.
Of course Rudi and Franz's favorite creative idea was this sweet suitcase which holds a lovely long haired doxie.
Where do your pets sleep?
Laura
Don't forget to link up your favorite "pinable" images on Friday!
Yes, it can be a direct link to your Pinterest account.