I have spent the past two weeks painting my entire house. Yes, you read that right. Two weeks. I thought it would take about four days. Silly me. I ended up having to paint each room a total of 3 coats. Yikes!
Let's start out with how you shouldn't paint because it makes me smile.
At first glance Mr. Décor thought our home was move in ready. Silly rabbit. I quickly pointed out to him that the colors were all wrong. We would have to get all new furnishings. He quickly agreed that painting would be cheaper. I also pointed out the painting styles of the previous occupants.
The "Why take down lighting when you can just paint around it" approach.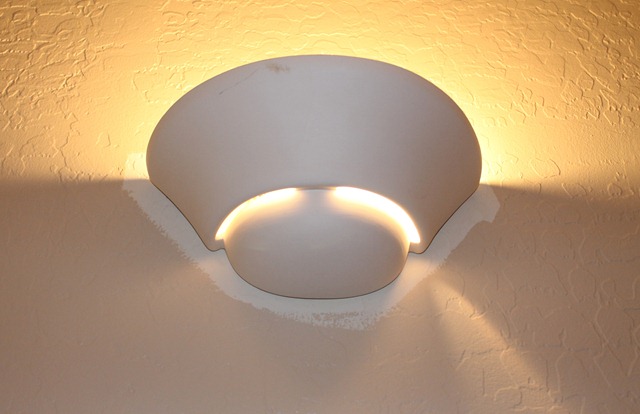 Or how about the "No need to take down the blinds, we can paint dark tan and then lighter tan over the original builder beige". This idea is kind of like a timeline. You can see the progression of paint selections.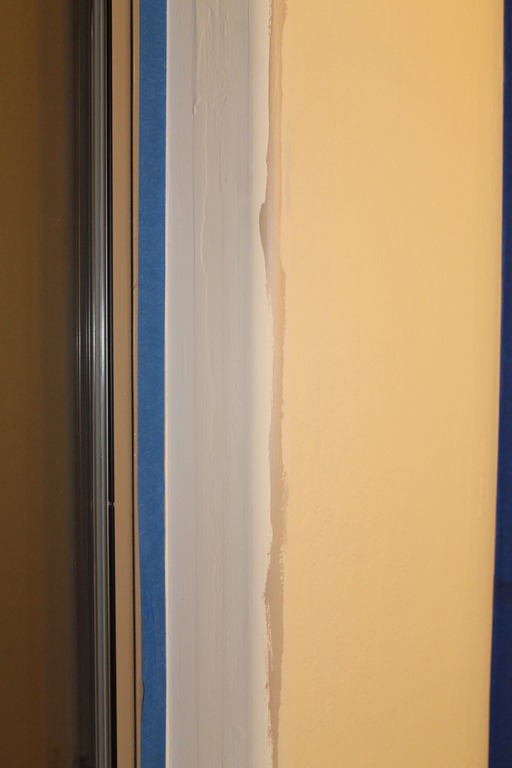 Here's a close up. Mind you this was taken after ALL the walls, sills, baseboards and trim had been scrubbed. One word: ewwww! Yes, Mr. Décor EVERY inch of the interior of this house will be painted.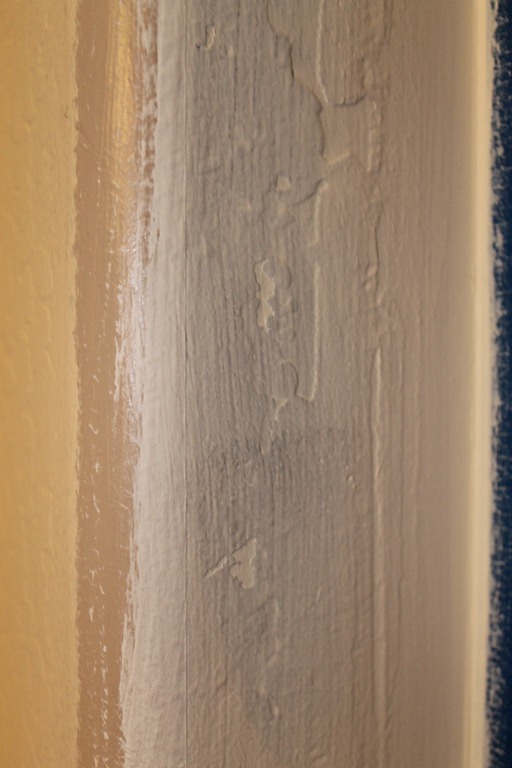 I have an assistant who is good at rolling. Here he shows off the plethora of Sherwin Williams paint we used.
Design Basics ~ Pro's: a fantastic price. Cons: There is a reason it is being discontinued. It had a watery consistency and very thin coverage.
HGTV Home ~ Pros: a good price, cleans up really easily. Cons: Also has a rather thin consistency and needed 3 coats to cover a flat finish wall that was a medium shade/color.
Super Paint ~ Pros: A thicker consistency, rolls on well. Cons: Requires a bit more clean up time and costs about $50 a can.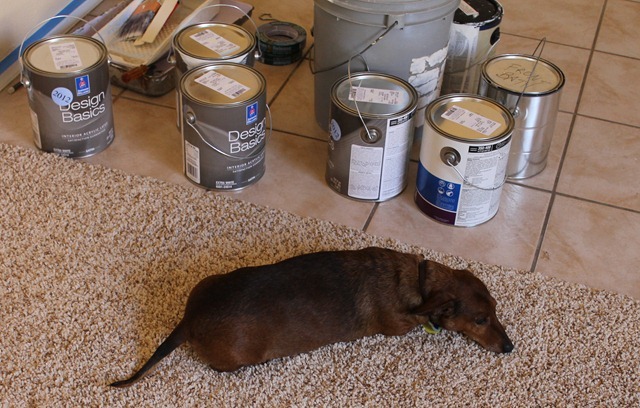 I believe that taping is important. Using my home as somewhat of a tape testing ground I offer up the following observations.
Frogtape: Pros: works beautifully and peels away easily and cleanly. Cons: About $5 + a roll.
Scotchblue Painters Tape: Pro: works well, priced a bit less than frogtape. Cons: generally peels away easily~a few difficult spots.
Duck Painters Tape:  Ok, I may or may not STILL be a little angry. This tape was a good price but it was HORRIBLE to peel off. In addition, it also peeled away half of my wall/ceiling with it. Grrrrrr! A true case of you get what you pay for I guess.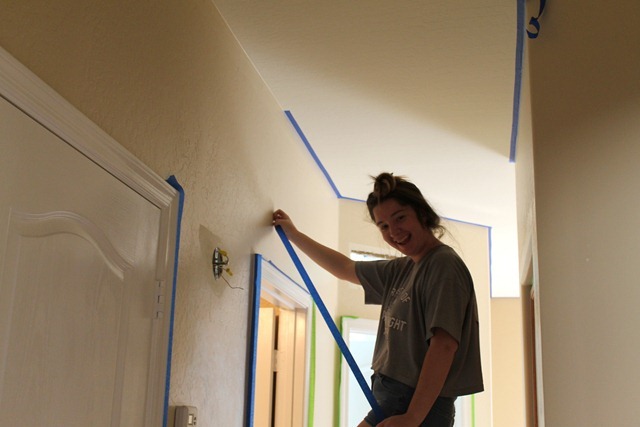 TIP: Many people use a credit card to smooth and seal the tape. If you have textured to highly textured walls/ceilings that particular method doesn't work. Use your finger to work it into all the nooks and crannies.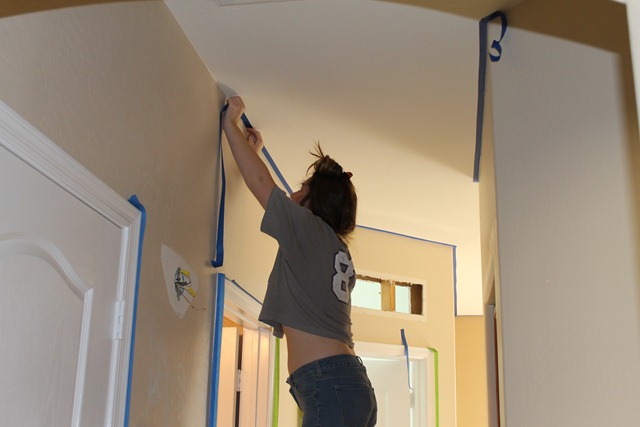 Here you can see the heavily textured skip and trowel wall treatment that is on ALL my walls and ceilings. The day glow yellow covered every inch of the laundry room.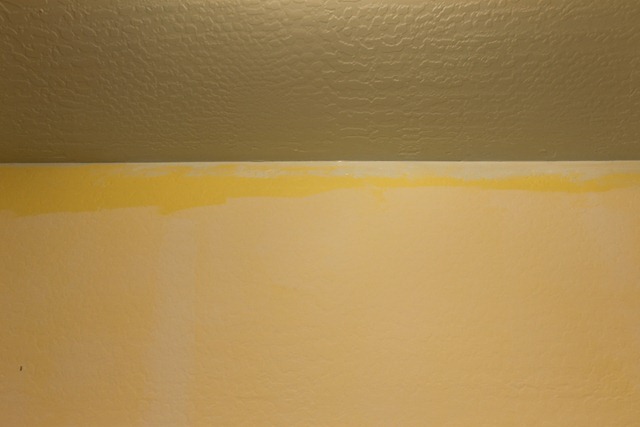 If you plan on painting your ceilings do that first. There is no need to tape.
The brown bathroom was transformed with a Retiring Blue SW 6763 ceiling and an initial coat of primer. The walls were later painted White Flour SW 7102.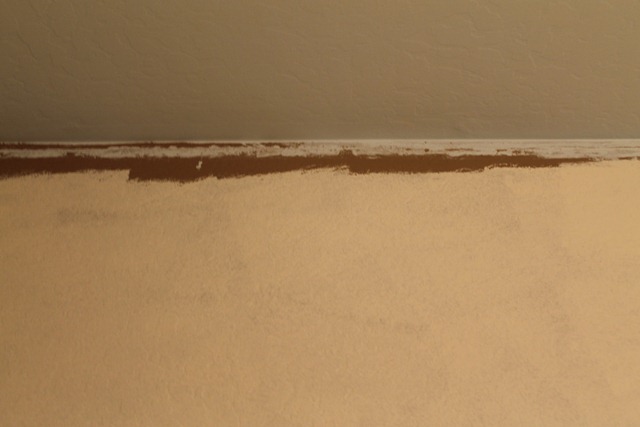 By now this was day five of painting. I was beginning to wonder if:
A. I was a horrible painter.
B. The paint totally sucked. Literally. It was like the walls were sucking it down.
I am blessed with a good friend, Karen, who is an amazing designer with Sherwin Williams. She came over one evening and schooled me. What I learned was:
Textured walls require more paint to cover the walls due to the unevenness.
When you have an existing flat finish (unwashable) on the walls and transform it to satin finish (washable) it will require more paint to cover. A flat finish on walls will literally SUCK in the new paint.
Paint quality does matter~ in terms of coverage you get what you pay for. Mr. Décor and I call our entry and living area "Karen's room" since she helped us paint it.
I also recommend using a drop cloth. Some people don't. Trust me, it's a dangerous gamble.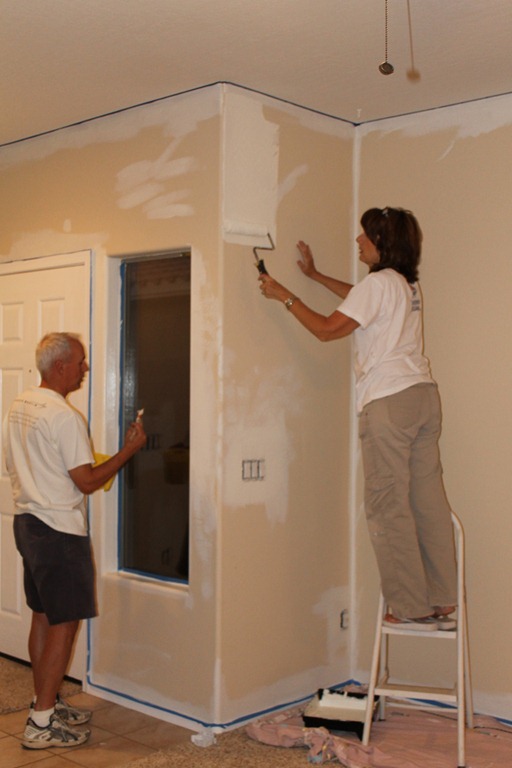 Karen also brought me a roller cover that I just might be in love with. The Purdy Colossus. It costs around $5 for this roller cover. But let me say that it is worth EVERY SINGLE PENNY. Paint rolls on easily and doesn't splatter. It cleans up easily. When my friend Tracy arrived I had to go buy a second roll cover because she too quickly became a convert and we were fighting over it. 🙂 Not really, but we both wanted to use it. 
Dear Louise came over on Wednesday. She did all the cut in work in Sweet Boy's room. Louise is an esthetician at the beautiful Wigwam Red Door Salon and Spa. Go see her for wonderful facials and other services.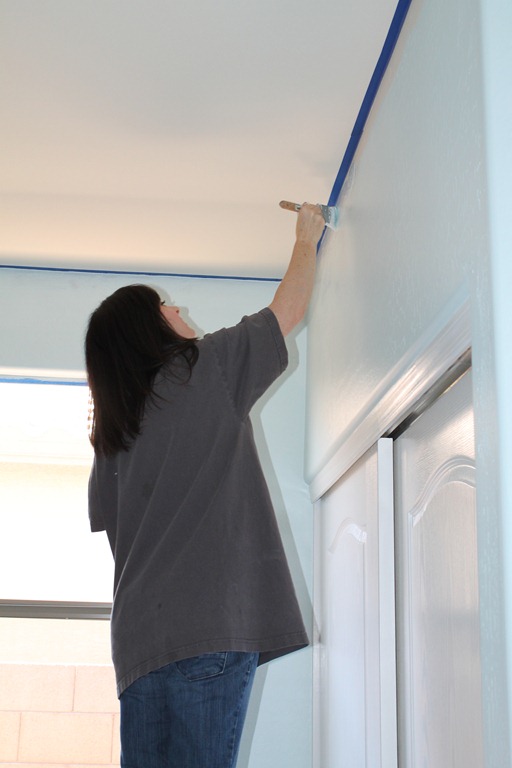 Tracy introduced me to shur line paint edger. This tool is wonderful! So much quicker and easier than a brush and doesn't leave tell tale brush marks.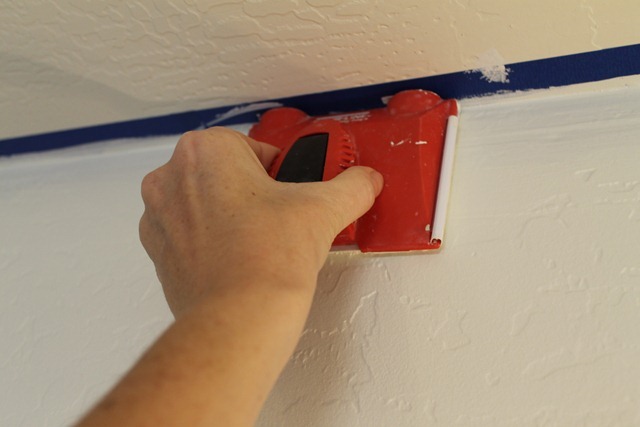 For narrow nooks and crannies I like a short handled paint brush.
Here is the "before" shot of my dark dungeon office.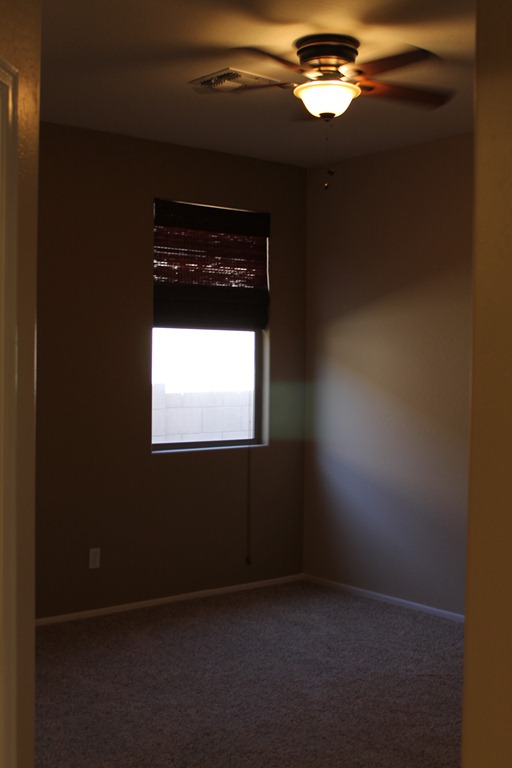 Paint really can transform a space. I used Dover White SW 6385. It has nice golden undertones which works well with the caramel flecked carpet.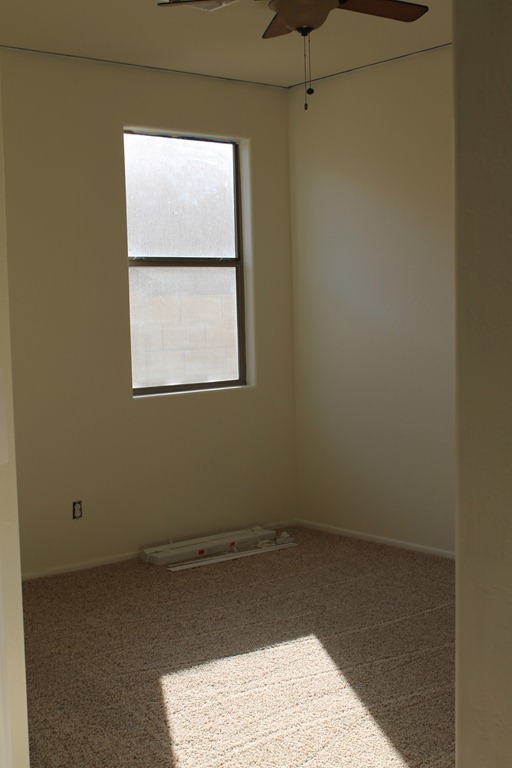 A dreary "before" in Sweet Boy's room.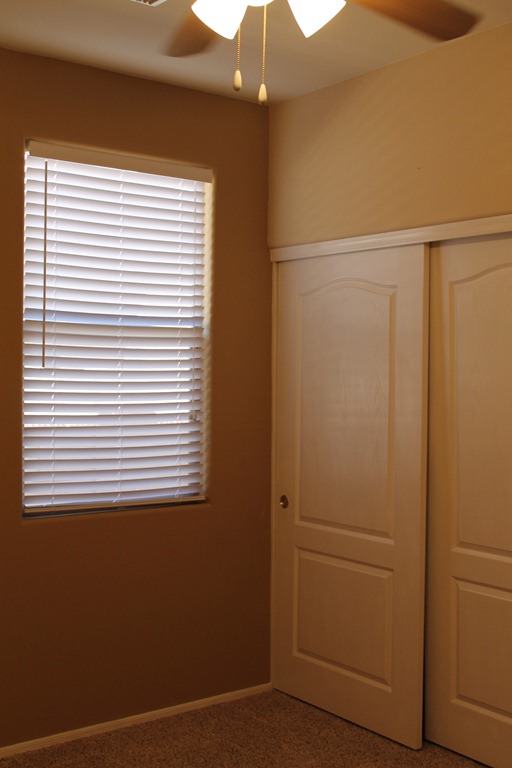 Isn't the "after"  so much happier? He selected the Retiring Blue 6763 himself. It is totally mom approved.
Lucky for the Fashionista, the new window seat she climbed up on to hang her new blinds featured White Flour SW 7102 in a satin finish which is completely washable. 🙂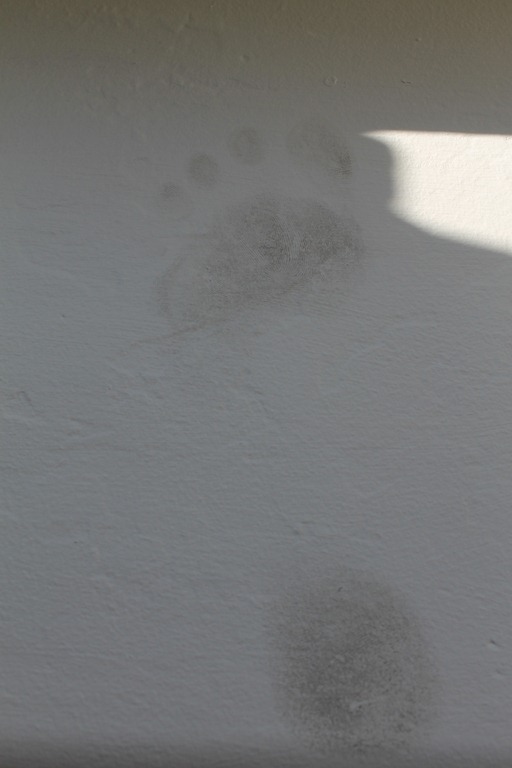 STILL doing touch ups,
Laura
Don't forget that Friday Décor To Adore is beginning a new linky party. I hope you'll share your favorite pin!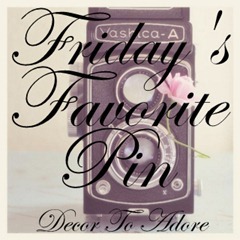 I have temporarily turned off the comments while I am in the midst of painting. I hope you understand. You can always leave a message on the DTA Facebook page.