I love linky parties. I try to participate in a few parties each month. I love seeing the creativity of others and enjoy the camaraderie and inspiring comments. It's all good. I really wish I could participate more. But the reality is that the planning, prep work, photography and then writing a DIY/cooking/gardening/sewing post can take hours. Hours that I don't always have.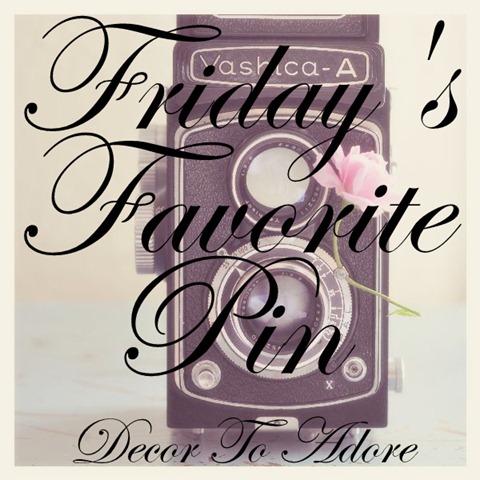 Recently I found a pin that I thought was very pretty and I wanted to share it with all of you.
There are so many things to love in this image:
The coffered ceiling and moldings.
The reproduction (or possibly original) lighting fixtures.
A grand buffet used as an island.
That BLUE stove! Who says blue doesn't "work" in a kitchen?
Then a lovely reproduction light bulb went on inside my head. Maybe, just maybe, many of you love linky's too but also don't have a lot of DIY time to invest in a post. But anyone can quickly pin an image from an online magazine, web site or blog and then share it here.
So beginning next Friday, July 27, and every Friday thereafter, I will be hosting "Friday's Favorite Pin".
I'll share a pin I love and the reasons why. You can join in by doing the same. Easy peasy.
Here's a sidebar button for all you adorable pin up girls and guys.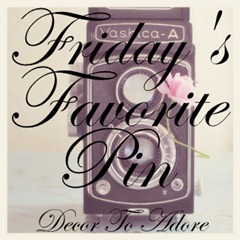 Hope to see you next Friday!
Laura
The comments are temporarily turned off while I move/unpack. Thank you for understanding.