I awoke on Friday bone weary, feeling like life's personal punching bag.
The entire week had seemed as if everything was a battle or just plain disappointing.
Our family has been smack dab in the middle of one of life's most stressful events.
Shuffling earthly possessions in the middle of a Phoenician summer where the thermometer hovers in the 110+ degree range is no picnic.  Forget "dry" heat. It's monsoon season so the humidity is off the charts too.
We were blessed in that our large casegood pieces were lovingly disassembled, moved and reassembled by a group of Mr. Décor's wonderful friends over a week ago. But the majority of the contents of our home, packed up in boxes, were moved by one woman in her Toyota camry. (That would be me.)
Lather, rinse, repeat for what seems like 500 million times.
I have continually prayed for literal strength and patience.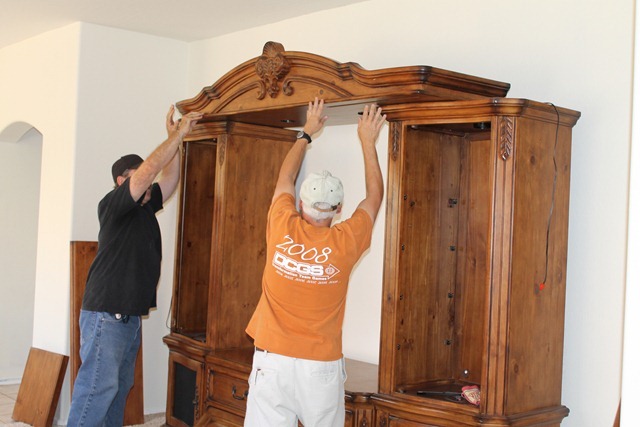 Mix in a 10 year old boy on summer vacation in a new neighborhood with no friends, no computer and no television for over a week, well that's a recipe for sheer torture. 
The one bright spot carrying me through was a Thursday lunch date with friends. But what a Herculean effort it was to make that happen!  A night before cancellation of the sitter left me scrambling. Then I awoke on Thursday to no computer. Again. Of course the directions were in my hotmail account. Panicked phone calls made. Dear daughter finally rescued me with her handy laptop and I was on my way. Even leaving on time at 11am.  I so needed this break!
But there must have been mixed message.  After an hour of driving I was left literally holding the (gift) bag standing at a door that didn't open to my hopeful knocks.
I got back in my car to begin the long drive home. Upon my arrival the phone rang.
My niece Samatha's husband Brian was a logger by profession. He had been involved in a fatal logging accident. He was just 36 and left behind two small children, Jaelyn and Hudson.
At that moment my heart broke and tears began to pour.
I said "When." to God.
I thought about the cross that Jesus clung to. Through it all He never said "When." How thankful I am that He endured.
Be comforted in the hope that He pours out.
Laura
"Therefore we do not lose heart. Though outwardly we are wasting away, yet inwardly we are being renewed day by day. For our light and momentary troubles are achieving for us an eternal glory that far outweighs them all. So we fix our eyes not on what is seen, but on what is unseen. For what is seen is temporary, but what is unseen is eternal."  2 Corinthians 4:16-18
Comments are closed in observance of the Sabbath.