Yesterday I held the keys to my new home for the first time in my hand. Tomorrow I have a gaggle of delightful women coming over to help clean and celebrate.
In early spring I spied this darling picnic from Echoes of Laughter. I put it in a file in the back of my mind.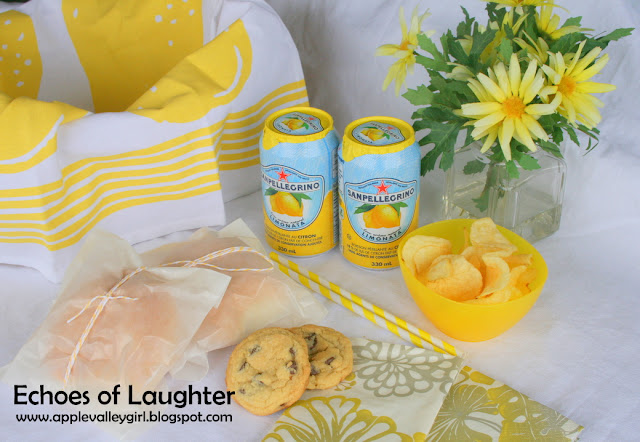 It came back to the forefront when I began planning the luncheon menu and spied limonata at the Fresh and Easy market. A color palette and Italian theme was born.
Mr. Décor will set up our European picnic table inside as the temperatures are supposed to reach 110+ degrees in Phoenix this weekend. It will be topped with darling paper products in shades of blue, green and yellow for a quick cleanup.
There will be green and white bakers twine involved.
Pretty little napkins and sweet containers.
We'll begin our feast with some lovely Italian antipasto.
My bff has provided her famous baked ziti recipe.
For those eating lighter we will have grilled Mediterranean chicken.
I'll set up the salad bar in a way that makes picking your favorite toppings a breeze.
Fresh bread is a must.
While Italian gelato would be a great finish to the meal I have settled on classic cookies made with Italian chocolate.
Everyone in blogland can join us in spirit. I'll be tweeting quick updates throughout the day. I have the account set up so that all tweets are then transferred to the DTA facebook page. That way you can share in the escapades even if you don't have a twitter account.
I have the comments turned off as I am still trying to respond to each and every person who left such lovely support recently AND of course am now in the midst of moving. Feel free to contact me on the DTA Facebook page.
Laura