There have been many events leading up to the Diamond Jubilee festivities over the past several weeks.
Things really got underway on Tuesday, May 30th, with a garden tea party held at Buckingham Palace.
The Queen wore a lilac print silk dress and wool coat by Peter Enrione with a matching Angela Kelly hat. She of course carried her ever present black patent Launer handbag.
Proving once again she is a class act and wanting the focus to remain on Queen Elizabeth, the Duchess of Cambridge wore an Emilia Wickstead coat dress that was very recently seen on May 18th at a Windsor Castle lunch. Also on repeat were her LK Bennet "Sledge" pumps and "Natalie" clutch.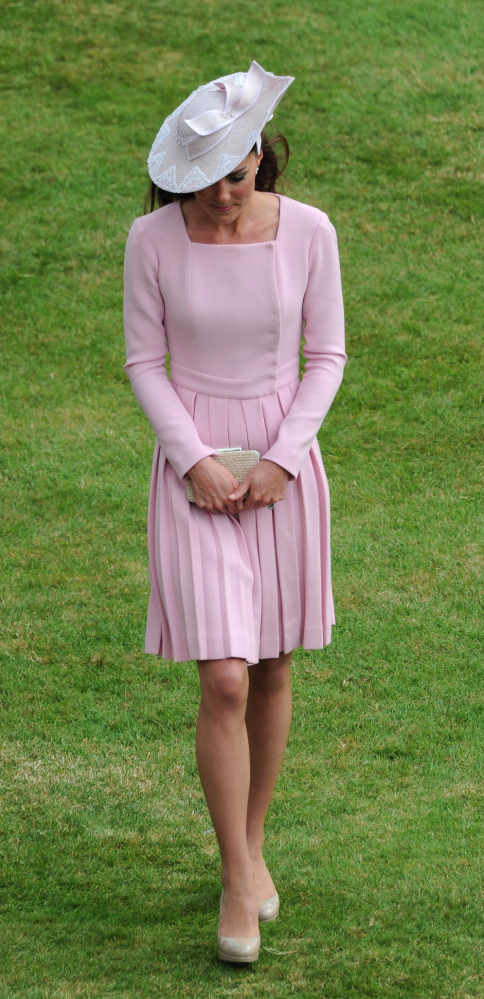 She topped her ensemble with a new Jane Corbett hat and double drop pearl earrings.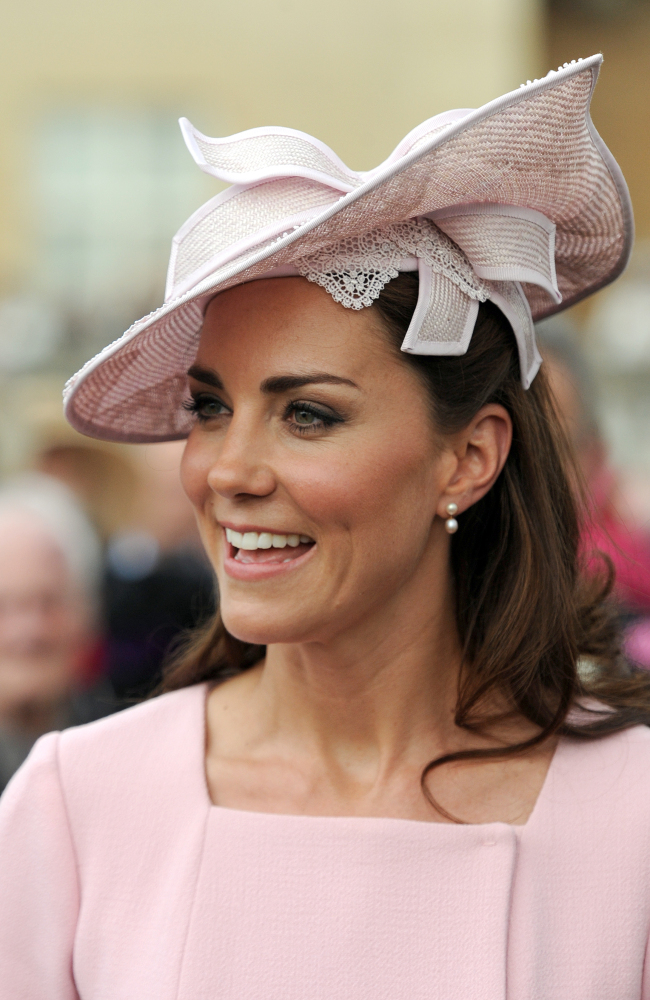 A group photo showed the Duchess of Cornwall in a crème frock and the Princess Royal wearing earth tones.
This is the only picture I could find of the Countess of Wessex. I would have loved to have seen her hat more closely. It appears to have peacock feathers.
I am thinking that she too did a bit of recycling. If so, her topper was made by Jane Taylor. Bravo!
Later that evening, Queen Elizabeth attended a dinner with The Argyll and Sutherland Highlanders, 5th Battalion The Royal Regiment of Scotland at the Caledonian Club.
Lavender is one of the Queen's favorite colors and it paired beautifully with a spring green. She is never without a pair of Genevieve Lawson gloves.
The event which the Queen was probably most looking forward to was the Epsom Derby held on Saturday. Her Majesty wore a royal blue crepe coat by Stewart Parvin and a hat by Rachel Trevor~ Morgan.
The square cut diamond and cabochon sapphire brooch on her coat originally belonged to Queen Mary who received it as a wedding gift from her sister, Empress Feodorovna of Russia. The Queen inherited the brooch in 1953, the year of her Coronation.
The Queen's granddaughters, Princesses Beatrice and Eugenie, also attended the derby. 
Much was made over Princess Eugenie's Union Flag painted nails.
Sophie, Countess of Wessex, wore quite the chapeaux.
Sunday, June 3rd, brought the Thames Diamond Jubilee Pageant where the Queen launched 1000 ships and broke a Guinness World Record. It was an amazing floatilla that stretched for seven miles.
The Queen was resplendent in an Angela Kelly coat and hat.  The Bouclé fabric was embroidered with gold, silver and ivory circles and embellished with Swarovski crystals.
 The front and neckline of the coat was finished with a silk organza frill. It was said that the outfit took a year to design, create and embroider.
The Queen's hat had a swept up brim. The crown was made of the same material as the coat. Details included feathers hand dyed in Buckingham Palace by one of Angela Kelly's team. More silk organza and Swarovski crystals were used to decorate this uniquely shaped hat.
The Queen wore her grandmother, Queen Mary's, Devon pearl button earrings and pinned the Jardine Star brooch to her coat.
The diamond brooch is in the shape of an eight-point star with a large central diamond from the late Victorian era.
The Duchess of Cambridge wore a stunning red wool Alexander McQueen dress, Prince William dressed in his RAF uniform and Prince Harry wore his Household Cavalry uniform.
The Duchess sported a matching red Sylvia Fletcher hat from James Lock & Co.
Her accessories were kept simple. She carried a matching red Alexander McQueen clutch, Kiki McDonough citrine earrings, a scarf made of Strathearn tartan - a nod to her Scottish title, the Countess of Strathearn, and a brooch in the shape of two dolphins with a crown which was a wedding gift from the RN Submarine Service. Prince William is Commodore in Chief of that unit.
Princess Eugenie wore a coral Roland Mouret dress, LK Bennett shoes, carried a Anya Hindmarch bag, and topped her ensemble with a black and coral Stephen Jones hat.
Princess Beatrice began the day in a navy blue and silver Suzannah dress paired with a berry colored Moschino cardigan.
Later she topped her dress with a navy coat from Marni. The Countess of Wessex is shown next to her.
The Duchess of Cornwall wore an elegant cream coat and dress by Anna Valentine and a cream straw hat by Philip Treacy.
While not exactly royal, I rather loved Pippa Middleton's navy blue suit by Milly. Her brother, James, was also quite handsome.
I believe that Her Majesty, Queen Elizabeth, is quite enjoying her Diamond Jubilee.
Is it ok to say Her Majesty is just darling?
We'll have more Royal fashion on Wednesday.
The Duchess of Decor