I have received a fashion question more than once via email and blog comments and thought that it seemed like a good idea to answer it on a grand scale.
"You often mention that the pieces you wear are from several seasons ago, but they still look great. What's the secret?"
The number one reason that clothing wears out is from repeated washing and using a hot dryer ~ plain and simple. Washing and drying our clothing, much to the glee of detergent manufacturers, is something we Americans tend to do excessively which basically wears out the fibers and fades the yarn dye. Not to mention excessive washing creates an overflowing laundry hamper. 
I cut down on my laundry by following a few "how to's and queues" from Europeans.
Most Europeans wear their clothing at least 2-3 times between washings. The simple reason is that clothing is very expensive in Europe, as is the cost associated with the electricity needed to run a washer and dryer.
Europeans also avoid dry cleaning services. It is not only three times as expensive to dry clean clothing in Europe but they are quite familiar that the chemicals are not only bad for the environment, they are really harsh on clothing and break down the fibers even quicker than a machine washing. Just because the tag says "Dry Clean Only" that isn't always the truth. I personally hand wash all my delicate cashmere, wool, silk and cotton pieces then air dry. They come out sweet smelling and generally only need a small touch up from an iron. So do a bit of research and possibly save yourself some money.
If you are crinkling up your nose at the thought of wearing something more than once between washings consider for a moment popular fashion blogs such as The Sartorialist, which often feature Europeans in their images. It is quite evident that most Europeans are very well put together.
So what is their secret? Well, there are several.
When cooking, cleaning, gardening or crafting European men, women, and children wear aprons or large smocks/shirts. I NEVER wore an apron until I moved to Crete. Now, if I am working at home I am rarely without one. If you protect yourself from spills and stains in the first place then you lesson the need to do laundry.
They also use a napkin to protect their clothing when eating. Bibs are perfect for young infants and toddlers unable to negotiate with a napkin. I know, it sounds simple. But how many times could you have avoided a stain if you just would have used a napkin? :)
So, I know what you're thinking "That's great for the outside of clothing, but what about the thing nobody wants to talk about~ body odors?"
One word~ UNDERGARMENTS.
Most men and women in Europe spend as much on their undergarments as they do clothing. Undershirts, camisoles, slips and tap pants all provide a barrier between the body and clothing. The undergarments are of course changed daily.
Oh there you go crinkling up your nose again. I am NOT talking about the polyblend nightmares that most American stores try to sell us. I am speaking of wondrously soft silk, linen or cotton. Don't knock it 'til ya try it. 
So, living in America where does one procure such things? Well, I have found vintage delights for mere pennies at thrift stores, ebay and etsy. Cotton unmentionables have also been located at Target and other chain stores. It just requires some searching. Anthropologie is also great about carrying well made delicates made from natural fabrics.  If you wait patiently they often go on sale for a very good price.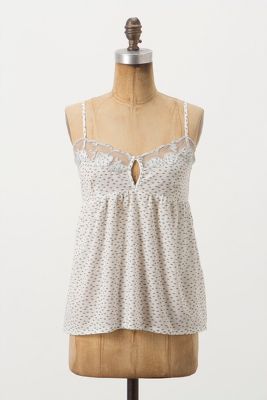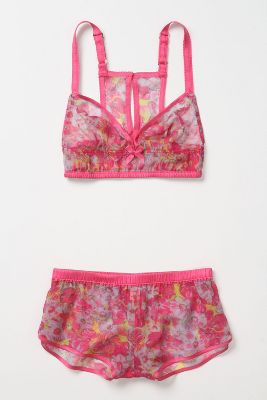 I have found some fabulous undergarments from Anthro over the years and have never paid over $20.
Then of course when I have gotten really desperate I've made slips from vintage pillow cases too.
There are also benefits beyond less laundry when wearing undergarments. Such as you will feel pretty and pulled together from tip to toe. Also, as someone who also been married for 14 years, I can tell you that your overall efforts will probably be very much appreciated. Wink, wink.
Bolero jacket circa 1999.
Are you ready to do less laundry? You can also read part 2 HERE.
Laura
Linking to