When I lived in Germany there was a military chaplain who always made me smile. Whenever I would see him and inquire about how he was doing he would respond with a big grin and say "I am to blessed to be stressed!"
Every single day I have so much to be thankful for. My list is probably very similar to what you would also count as your blessings. 
Sometimes in the midst of a trial, when dark clouds cover the sun, it is easy for us to forget or overlook the simple joys and beautiful miracles we experience everyday. 
For several years now I have heard that a person can change their perspective and even their lives simply by having an
attitude of gratitude
.
Back in early January Ann Volkamp, author of One Thousand Gifts, invited readers of her blog, A Holy Experience, on a Joy Dare ~ to list just three things a day that you are thankful for.

That same afternoon I received a box in the mail from my friend Deborah. Inside it held a blank vintage desk diary just waiting to be filled. Who says God doesn't offer encouragement? I also think He has a fantastic sense of humor.
So I decided to take God and Ann up on their offer. Even THOUGH life was (and still is) pretty black at the time.
At dinner that night I told my family what I would be doing and inquired if they would like to join me. My announcement was met with blank stares (and perhaps an eye roll or two) followed by a begrudging acceptance.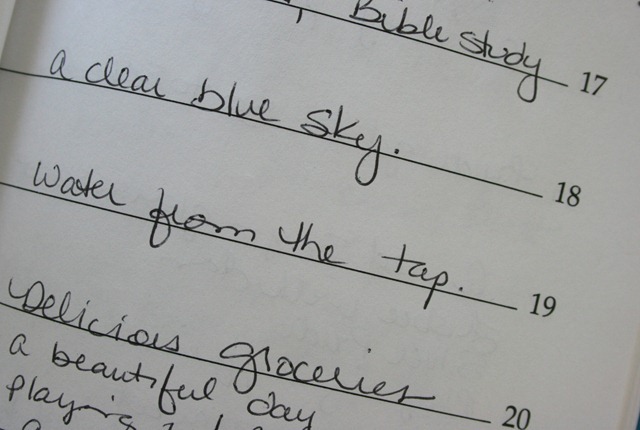 I will admit in the beginning the entrees were somewhat…half hearted and grasping. Two words made the list more than once.
Most of the world doesn't have it and we are thankful on a daily basis that we do.

But strangely enough over the course of a few months, even when things seem bleak, we find ourselves looking forward to dinnertime. Sweet Boy ALWAYS makes sure that the book is on the table so that we can fill the space with gratitude. "Indoor plumbing, electricity and our home"  has blossomed into "spotting a beautiful monarch butterfly, an awesome soccer practice, juicy meatballs and a great new haircut".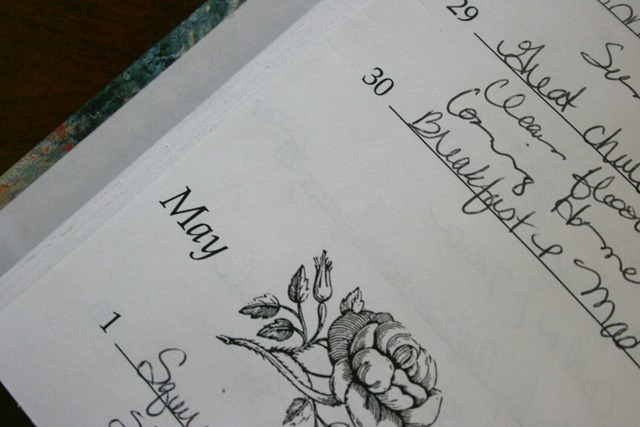 We remind ourselves each and every day goodness exists. Yes, some days are harder than others. That is when we light the candle Lynne sent to help us through our dark days and reach for the hanky that Missy gave to help dry our tears.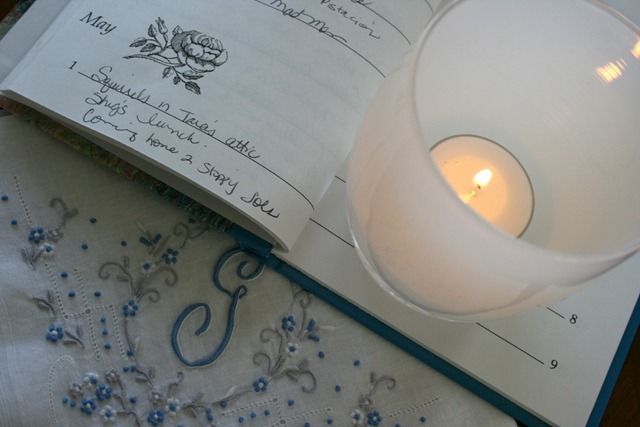 Kindness abounds so we write it down. Everyday ELEVATED. Appreciated.
Laura
"Let them give thanks to the Lord for his unfailing love and His wonderful deeds for mankind" ~ Psalm 107:8