I recently had a conversation with Mr. Décor that went something like this:
He said: I can't believe you wrote a post about bacon.
Me: Giggle.
He said: What is more unbelievable is that the readers seemed to have really liked it.
Me: Laugh.
So here's another tip on a Tuesday if you have things like sheets, cushions and bedskirts that need to stay in place and don't.
I'm gonna share a secret~ I have bought not one, not two, but three bedskirts in the wrong size on purpose. It was all because of a "make me fall over" good deal.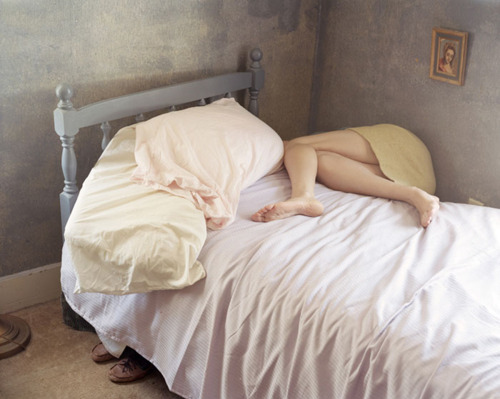 In the guest room I purchased a queen size bedskirt for an antique full sized bed. The skirt was a gorgeous quality cotton by Ralph Lauren. I wanted to dye it and if it failed I didn't want to have wasted more than the $10 I paid for it. It didn't fail, but it was a little too big.
Then I bought a full size bed skirt for the twin bed in Sweet Boy's travel themed room. I had been looking forever for a natural linen skirt that wasn't gathered and when I found it, well I decided to improvise. It helped that the Pom Pom (cha ching!) skirt was on clearance for …$10.
Lastly, I have been looking for a sheer white linen skirt for my own queen size bed for over a year now. I have grown a bit tired of the custom gingham skirt I have had on the bed for oh about …six years. Talk about airing your dirty laundry…
I finally found a Bella Notte (cha ching!) linen skirt at a store closing sale for, you guessed it, $10. It was king sized. I washed it in hot water to see if it would shrink at all. Then it was fenced dried. This method is similar to line drying. :)
When the linen was 90% dry I placed it on the ironing board, used a measuring tape and ironed in a crease. Next, I put the bedskirt on the bed, refolded the crease and held it in place with several twist pins. You can get them at any craft or sewing store. They come in packs of 10 to 25 for a few dollars and look like this:
A few turns through the fabric into the box spring and your fabric (folded or flat) will not move. The pins lay flat against the surface when you are done twisting.
Warning: While twisting you will shout if you accidently prick your finger with the tip of the pin. 
Shake it up baby,
Laura