This woman is smiling because someone else cleans her microwave.
I hate cleaning my microwave. My microwave hangs above my cooktop. Microwaves placed at this height are a nuisance for a woman who is 5"4 (and shrinking).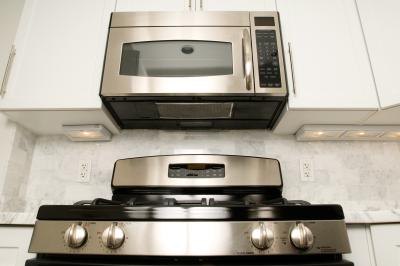 I have to really S T R E T C H and stand on my tip toes to clean junk like this:
Now obviously that was not my microwave. My microwave has never been that bad ~ cough, cough.
Over the years I have used various cleaning tips such as place a container of water inside and boil it, let it set for a few minutes to build up steam. The crusty goo will loosen enough for you to wipe off.
But this method still requires S T R E T C H I N G and cleaning.
I also tried begging asking my family to cover their food with a paper towel to control splatters in the first place. (You should never use plastic wrap in the microwave. You can read why HERE.)
Instead I usually heard the words mother's love to hear.
"I forgot."
Or the towels ended up looking like this:
A few weeks ago I was cruising the aisles of Wal Mart for….something…. I can't remember. I found myself in the section where they sell microwaves. I saw something on the shelves that made me stop my cart so fast my apple juice and milk sloshed like a tsunami within their containers.
It was a plastic microwave plate cover.
I couldn't throw it in the cart quick enough. I paid my $3, took it home, explained it's purpose to the family and…..
It works!
It is just left in the microwave waiting and ready at all times. As I said it has been a few weeks now, and no one has "forgotten" to use it because it is RIGHT THERE. I also saw that Target carries these chore saving gems.
About once a week I take the cover out and give it a good cleaning in a sink of hot, soapy water. My microwave has remained spotless. It makes me feel a little like her:
 Run, don't walk! You'll thank me later.
Laura
Linking to: