I love red. I mean LOVE. Fire engine, cherry, primary red. My first kitchen was red. There are no photos so here's a few images that I adore.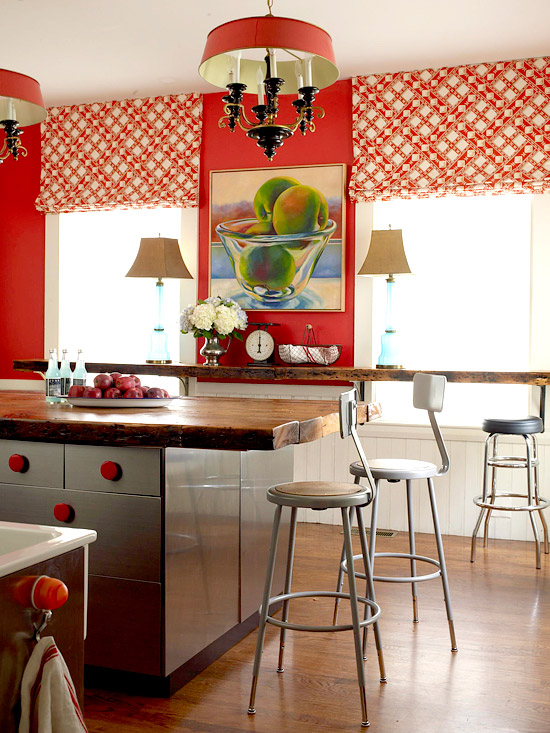 This pantry door still make my red heart beat faster several years later.
Love the red floor, the lamps and fantastic plate racks across the windows.
Something about this image makes me say "Yes."
Although it also kind of reminds me of Marty singing "Da-da-dadada-da-da-circus, da-da-dadada-da-da-afro-circus, afro-circus, afro, polka dot, polka dot, polka dot afro!
I wouldn't mind doing laundry here.
I think the secret to using red in a bathroom is to have just a punch of color.
Or pair it with a cool and tranquil color like turquoise.
The same holds true in a red bedroom if you want to create a relaxing room.  
Using white liberally can also calm the space.
In my own home I have several pieces of red transferware dishes found at the flea market while I lived in Germany.
My collecting efforts have also brought forth a few red vintage aprons and antique French linens featuring red embroidery.
While I wish I could wear more red blouses and sweaters I can't unless I want people to continually ask "Are you feeling ok?"
I inherited my father's freckled red headed complexion so I look best in corals and deep plums. But the color limitation doesn't stop me from having red shoes, a red purse and to currently search for a red pencil skirt.
J. Crew is totally torturing me with a $98 pencil skirt in poppy.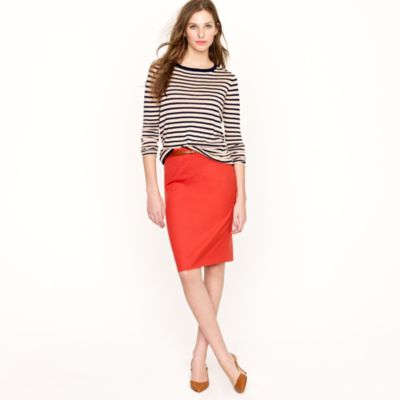 Nordstrom has a red lava number for $59.00
I wonder if Victoria's Secret would also send the spanx that I would need to make this scarlet number work.
But I really only wanted to spend $20. J C Penney's came the closest at $22. Does anyone else love their new ad campaign?
What shade of red do you love?
Laura