I promise this will be the last post that has the words "lamp, lampshade, or lighting fixture" for quite awhile.
A while back my friend Deborah sent me a lovely vintage frame with an image of Madame Pompadour because she is wonderful and probably thought I would like it.  She was right. I have a….thing, love, adoration… for tiny bits of artwork. French themed artwork~ well that creates an almost effervescent frenzy.
The tiny frame presented a tiny quandary in that it could only be hung. After a few weeks it came to me.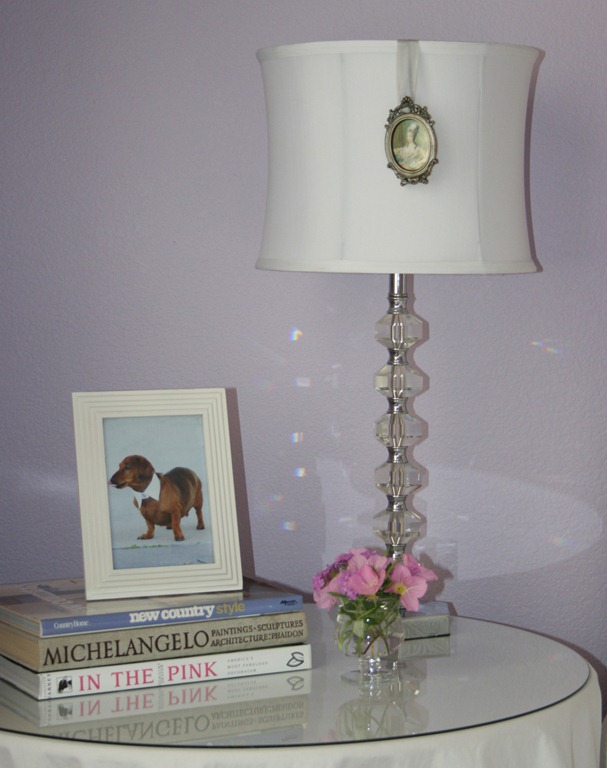 Our guest room has a primarily French theme with one lone modern crystal bedside lamp. I used a bit of silver Rub and Buf to tone down the brass finish of the frame and simply threaded a piece of seam binding through the scrollwork and hung it from the top of the lampshade.
Before: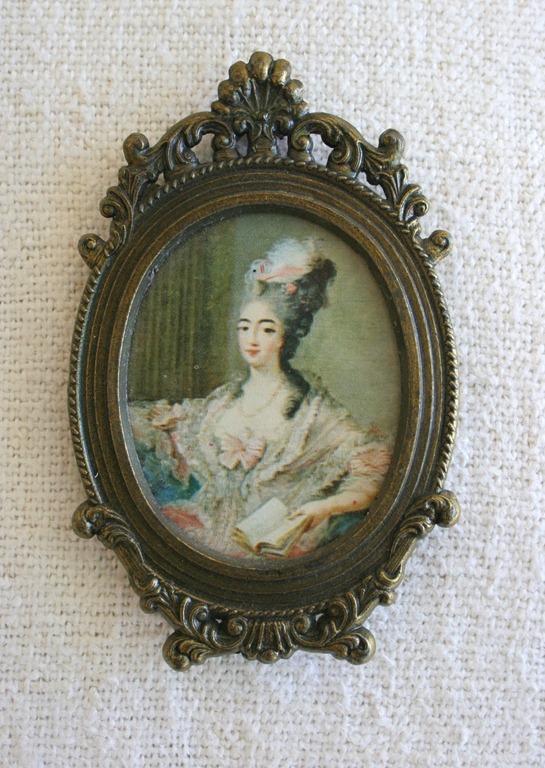 After: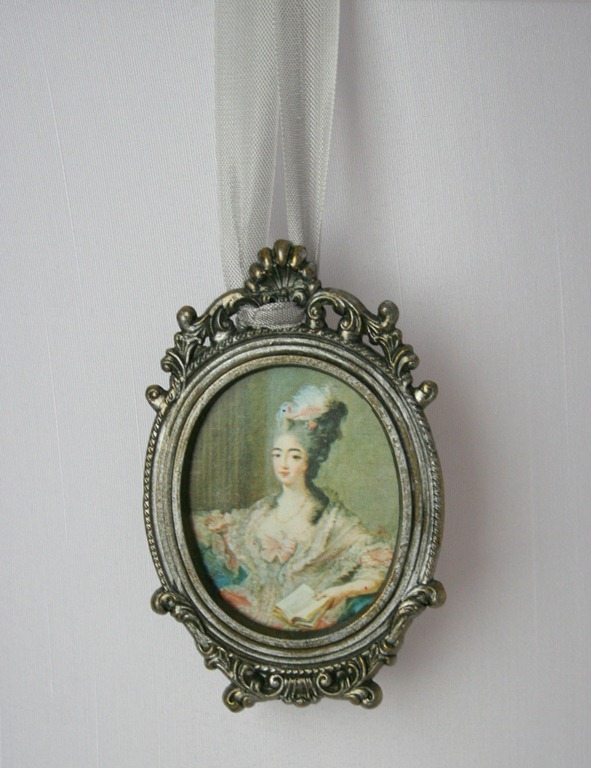 Then while I was in Minnesota visiting Grandma Jingles she forced me to drive her to places like Goodwill and Salvation Army. 🙂 On one such jaunt I discovered a motherload of vintage French and Italian metal frames. If you go on Ebay and type in "vintage metal oval frames" you can find single frames in the $9 to $60 range. I left the price tags on in this shot so that you could share my glee.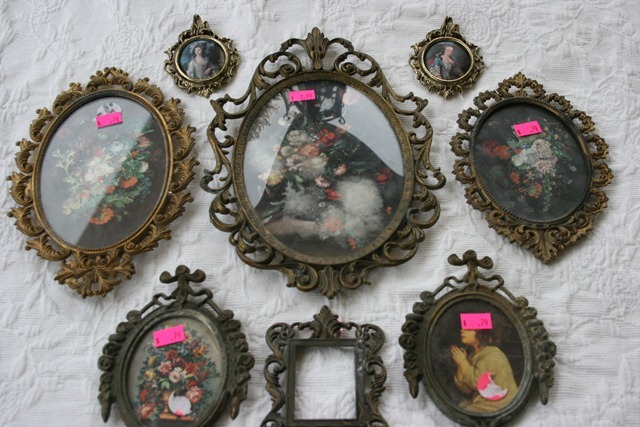 Did you spot these two tiny ladies at the top?  They were 49 cents each.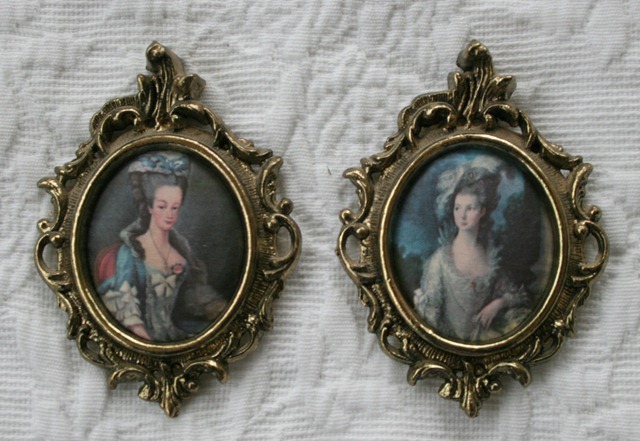 Well, I strung them up too.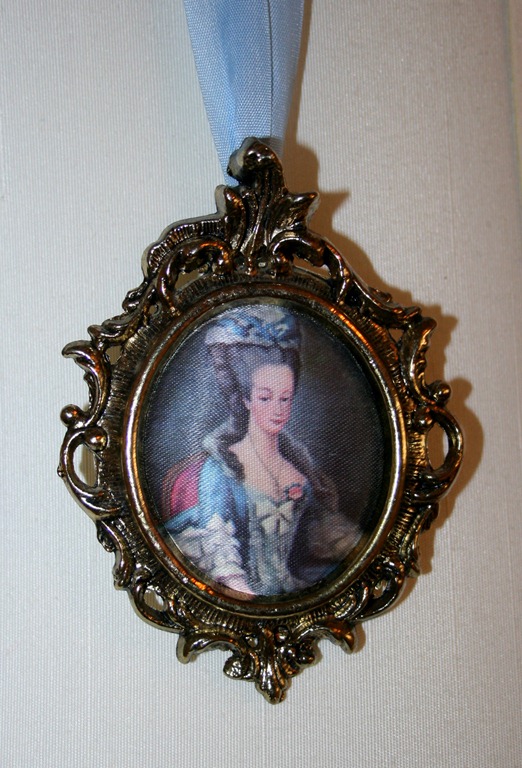 They are a bit different in that the design image is printed on satin fabric and it's a bit puffy. Here's a bad side view. You can see that I hid the knot behind the frame.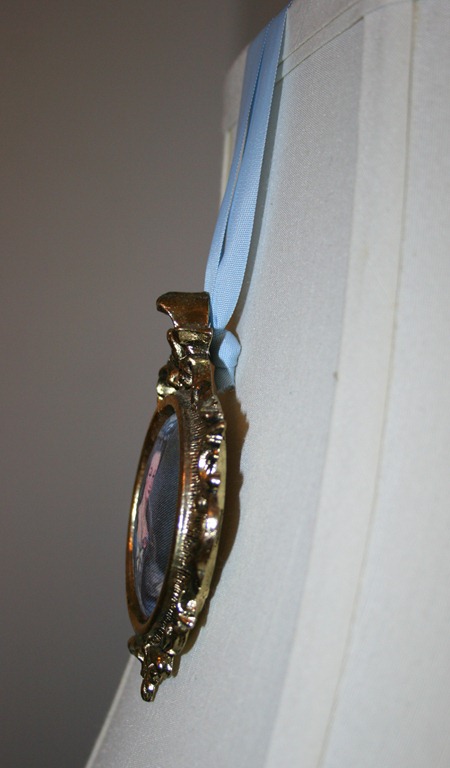 So where did they end up? One is on my nightstand lamp. I recently moved the Dovecote Décor tortoiseshell dresser into my bedroom to use it as my bedside table.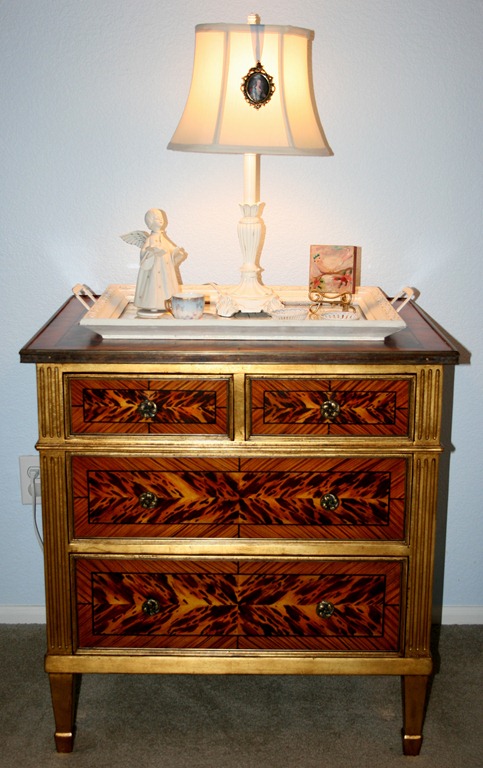 Here's a close up of the other treasures on top of the table for all the Nosy Nellie's. 🙂
The vintage angel belonged to my mother Karen. It is actually intended to be a Christmas decoration as it plays "Silent Night" but I have so few things of my mom's that the angel lives somewhere in the house all the time. It's joined by a beautiful antique Bavarian teacup that my dear friend Marydon gave me the last time we had lunch together. I keep a small votive inside for when I want a bit of candlelight.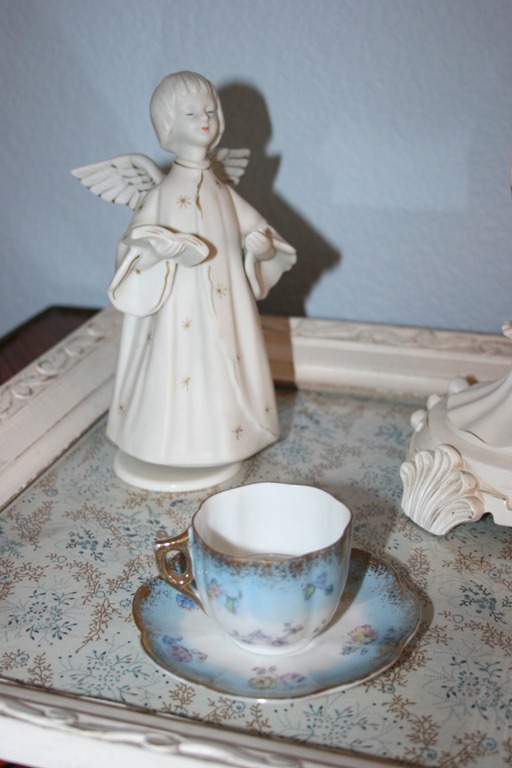 Again with the wee artwork. I found this tiny treasure in the French Quarter of New Orleans while visiting my dear cousin L. We had just eaten our fill of beignets and were in front of the St. Louis Cathedral where many artists congregate.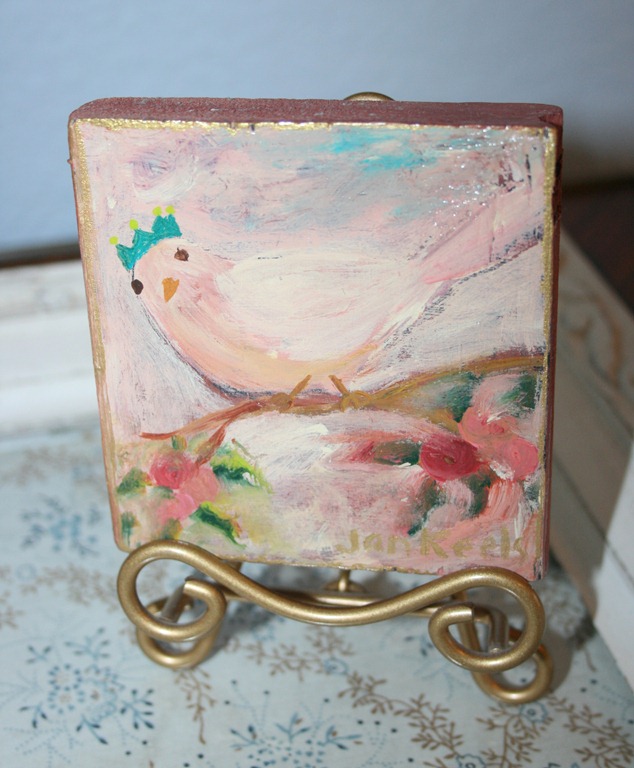 Every time I look at this little painting I am reminded of that special time we spent together. You just can't buy that at TJ Maxx or Homegoods. 🙂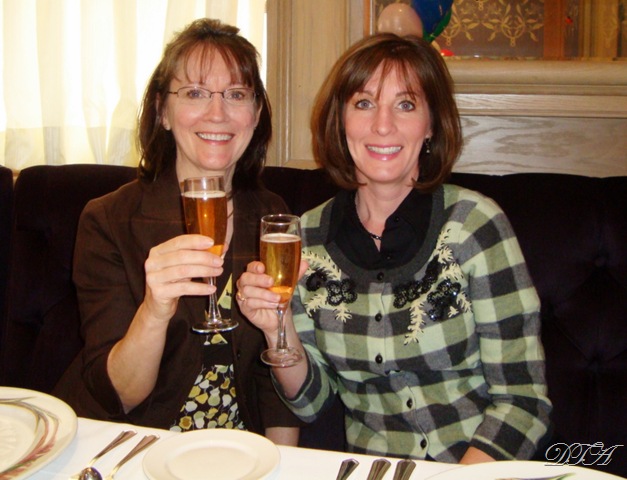 Would you like to see Mr. Décor's side? His nightstand is decidedly plainer. Although he did add a bit of bling when he stole Rudi from this space to hold his nightly change.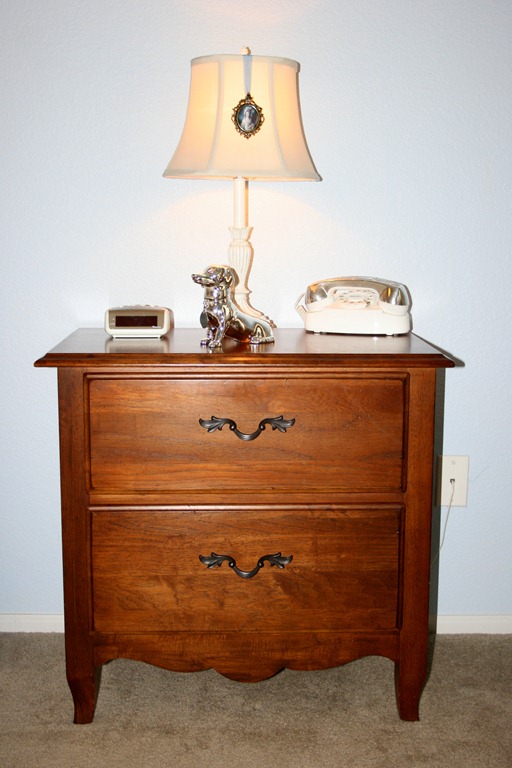 I'm not even sure if he noticed the lady I hung on his lamp. But I guess he knows now as he reads DTA every day.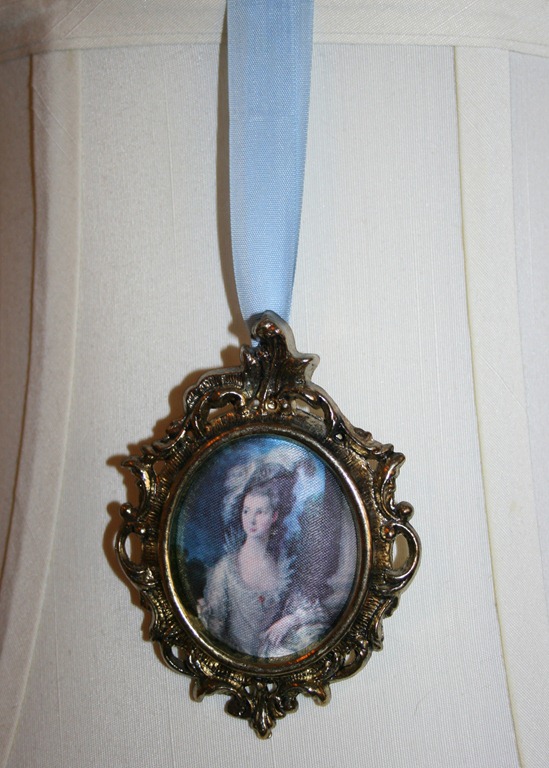 Rounding out his nightstand vignette is our lone landline phone. For safely reasons you should always have one. The modern princess style is topped by a vintage silver handle cover I found at a flea market in Georgia years ago for a few dollars. It has a space to engrave a name. Whoever owned this in the 50's didn't do it and neither have I.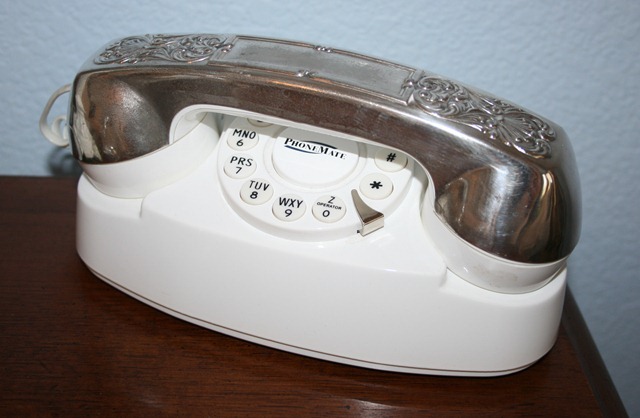 What's on your nightstand?
Laura
Thank you to all those who have voted every single day. Décor To Adore is still hanging in at #10. Voting ends on May 15th.
Linking to: