Falling in love is the easy part. That wonderful time of stolen glances, fingertips touching, whispers of affection and fantastically fast heartbeats. Just the mere remembrance of that time brings a smile to my face.
The hard part is STAYING IN LOVE. It's bone crushing, soul weary, hard headed, mind boggling, downright difficult work.
I can give you many, many reasons why Mr. Décor and I should have divorced long ago according to major statistics. Oh, you want the list? Ok.
Moving.
More than once. Sometimes three times in one year. Thank you United States Air Force.
One move was to a third world island. (Did you know that island fever is a real thing?) No one spoke English. Even the alphabet was literally, all Greek to me. There was not a single Target, Wal Mart or McDonalds on the entire island. Moving to Germany the next year seemed like a cake walking paradise.
Financial matters
Living for many years on an airman's salary. Again, thank you United States Air Force
Paying for college. In more ways than one. 
We've bought three homes and seem to have mastered the motto "Buy high, sell low" yes, that is not a typo. Oh and they were fixer uppers. (Pictures of smiling couples working happily side by side are photo shopped people.)
The economy taking a nose dive and my career with it.
Circles of Life
Hospitalized in a foreign ICU with Salmonella poisoning.
The deaths of a few friends and several dearly loved family members. (Grief can make you crazy.)
Infertility
Three rounds of IVF treatments. (A hormonal roller coasting nightmare.)
A high risk pregnancy.
A premature baby who wouldn't sleep.
A toddler who wouldn't sleep.
A child….well, you get the idea.
Insomnia is now a friend of mine.
Too tired for anything.
A teenage girl. (Nuff said.)
Career changes and the mid life crisis that can follow. (Can also file under the category of moving.)
A pre teen boy. (Nuff said.)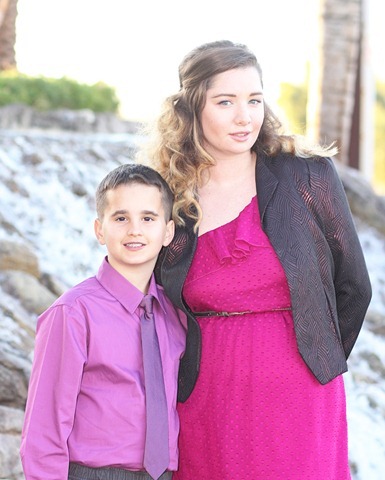 People leaving dirty dishes in a clean sink when the dishwasher is right there! The strange notion that I am the only one qualified to take out the trash. Ditto on emptying the foul smelling contents of the laundry hamper into the washer. 
A perimenopausal woman. (Nuff said.)
I could go on and on. Really I could, but I think you might be too tired too.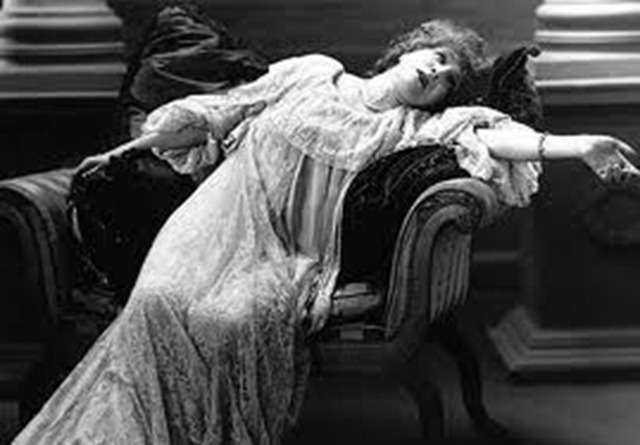 Each of those things could have spelled THE END. IF we'd wanted them to.
I can't speak for Mr. Décor. I can only remember the exact moment that I decided how I was going to roll with the punches life packs. 
I was at the 5th month mark of wedded bliss. I had rubbed my snotty nose on my sleeve for like the 500th time in the two months since arriving in a God forsaken place that time forgot. I was once again fixing dinner (spaghetti) on the outdoor BBQ grill since my stovetop wasn't working and the landlord had told me it would be fixed " αύριο" (pronounced " a vree o " ~ meaning tomorrow) for the past 4 weeks. My 9 year old daughter was lonely, I was lonely. Everyone I could call was sleeping on the other side of the world since my one local friend had up and left the island, and her soldier husband, because "She couldn't take it anymore."  It was cold and our heating tank of oil had just ran out. The rooftop water container was also almost empty. I opened a can I thought read spaghetti sauce and had dumped it into the pot then realized it had turned out to be some sort of sea creature (octopus?) in tomato sauce.
  Rivers of tears I tell you. Snot everywhere.
The goat tied to the olive tree in the front yard bellowed along with me.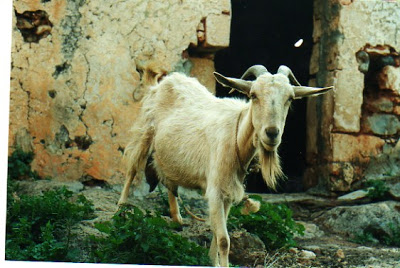 Our darling Nanny
I looked over across the road and saw our neighbor Sophia gathering firewood. She was mounding it up in her front yard fire pit. She saw me and waved, sending out a happy " Γεια σου" (pronounced " ya sue" , meaning hello)
She then called out for Russo her husband. He happily came out lugging the world largest cast iron pot. They filled it up with water and Sophia proceeded to then wash their clothes while Russo headed off to the outhouse.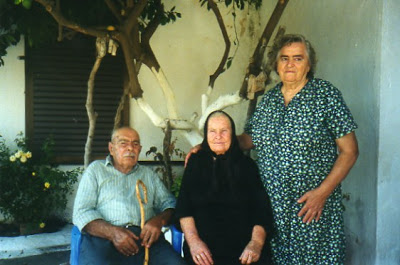 Russo, Maria (Russo's sister) and Sophia
Humbling facts:
I had a washing machine in the bathroom INSIDE our house.
Sophia was 85 years old at the time. Russo was 90.
For better, but probably more like worse~ according to a spoiled American~ those two had worked together for at least 60 years.
It was not lost on me that:
There are other people who have it harder (much harder) than I ever will.
They make the best of what they have. For better or worse.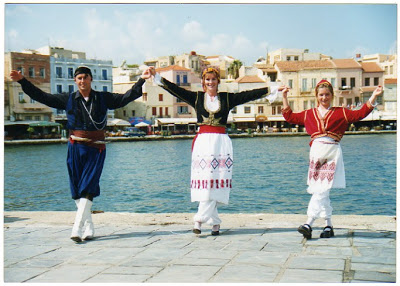 Mr. Décor, myself and the Fashionista in Xania's  (Hon yah) harbor.
It's no secret that Mr. Décor and I are currently on what appears an endless journey of Mr. Toad's Wild Ride. But every morning I look at him and say "I love you." He does the same for me. Together we decide that we are going to make it through just this one day and it's enough.
The days eventually add up.
Happy Anniversary Mr. Décor. Thank you for 14 adventure filled years. Here's to one more day with you.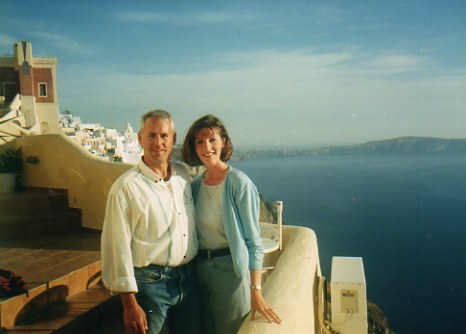 Our one year anniversary photo on Santorini.
Σ ' αγαπώ ο σύζυγός μου.
Γυναίκα σου