I adore tortoise shell. Although not just in the literal sense.
In my high school and young adult years I wore Ray Ban Wayfarers. Now I have moved on to these prescription "sunnies" .
My choice in spectacles are pretty much all her fault.

Since my hair has gotten a bit longer I often pull it back with a favorite barrette.
I wouldn't turn these Louboutin Miss Tack lovelies away if they walked up to my door.
Any time I go to an estate sale I keep my eyes open for antique tortoiseshell tea caddy's.
Alas theses beautiful boxes have, so far, alluded me.
Compacts and snuff boxes are quite desirable fun too. A large collection, like that of artist Brigid Berlin, is pure delight.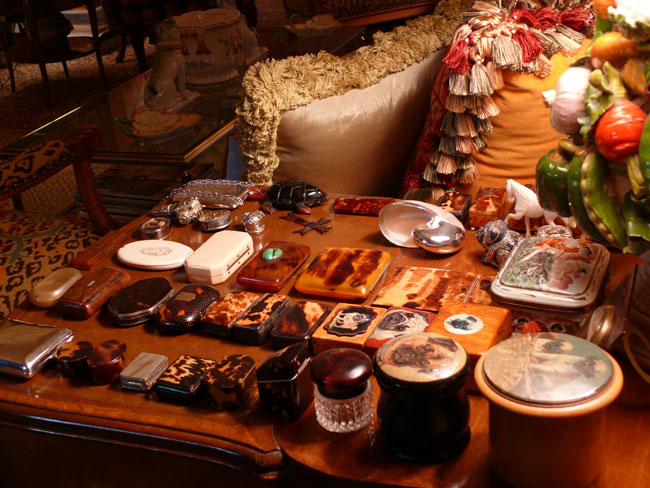 Tortoiseshell comes in a variety of shades from light to dark. Although what is manufactured today is not true tortoise shell but instead a variety of synthetic products.
At the height of tortoiseshell popularity, which occurred from the Victorian Era through the 1960's,  products were made primarily from the hawksbill turtle which now sadly is an endangered species. Thankfully in 1973 the trade of tortoiseshell worldwide was banned under CITES (Convention on International Trade in Endangered Species).
The beauty of tortoiseshell is that it blends with any design style. Michelle Adams, founder and editor in chief of Lonny Magazine, paired an antique buffet with a modern lamp in her dining room.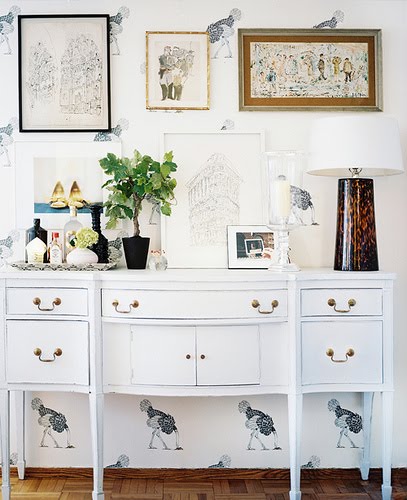 In stark contrast to the light filled space above, Julie Miller created a room that seemed to channel the design style of Billy Baldwin. The combination of the bright blue opaline glass vases and touches of hot pink work quite well with the tortoiseshell boxes.
Tortoiseshell can be the showcase piece, such as this gorgeous table featured in a room designed by Miles Redd.
Yet tortoiseshell can also hold its own in a room full of pattern.
Even in small doses, such as this armoire papered with a Schumacher wall covering, tortoiseshell is lovely.
Fashion designer Tory Burch is well known for her love of tortoiseshell. Ms. Burch took her fashion one step further by shooting her spring 2010 collection in her own home which features tortoiseshell moldings and chair rails.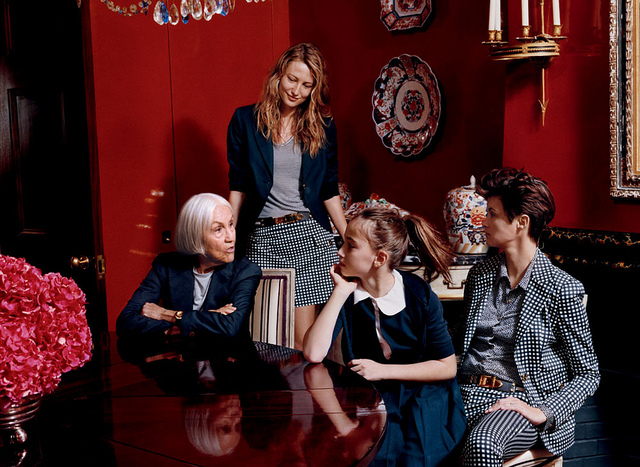 Of course it is quite popular to use actual tortoise shells in well designed rooms. They enhance even small spaces such as this bar area created by Windsor Smith.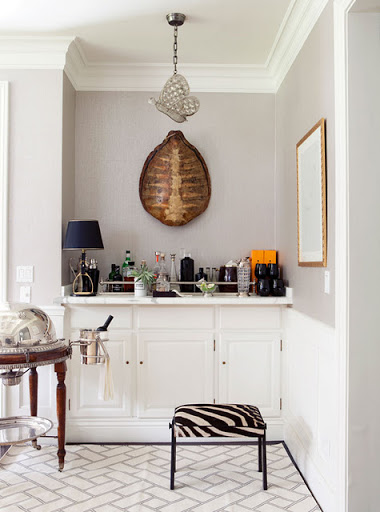 The impact of a large grouping of shells is stunning at the The Tides La Marea restaurant designed by Kelly Wearstler.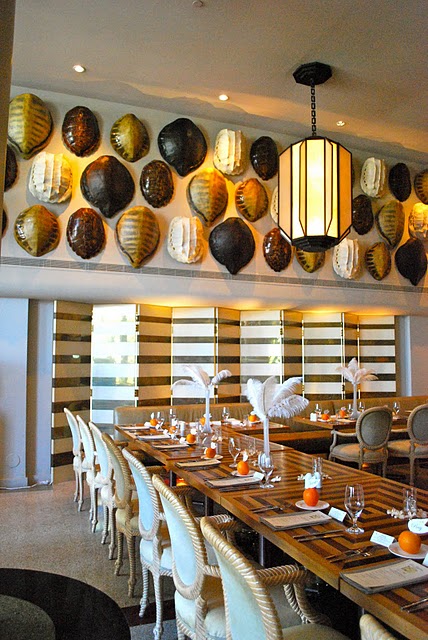 On Wednesday I'll share how well designed tortoiseshell has now entered my home.
Laura