I've been working on my home office for what seems like forever. As I have mentioned before I wanted to keep the makeover costs under $300.00.
While the room is fairly small it has huge cathedral ceilings and thus requires large artwork to fill the wall space.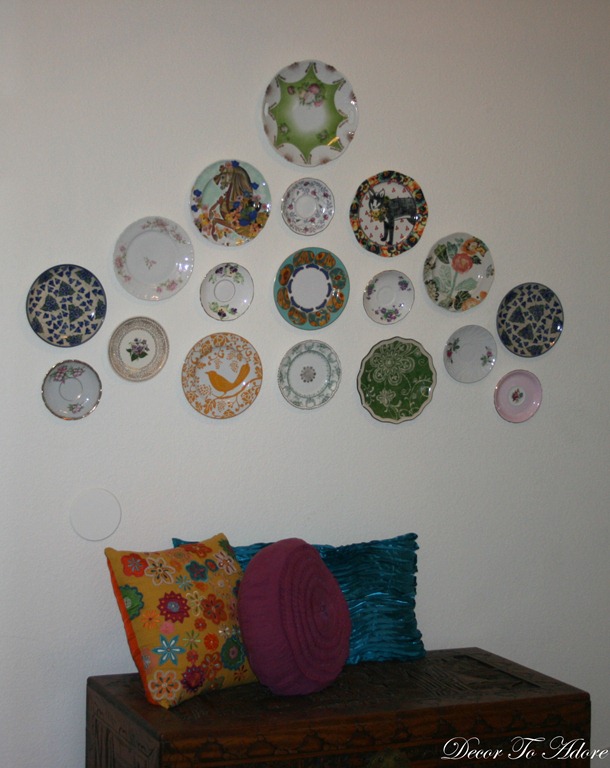 Super sized artwork can get pretty pricey. An fairly inexpensive option is to create a wall of plates. So I turned to Pinterest for inspiration.
I loved the bright colored plates Lisa Congdon chose for her kitchen.
A white floral stoneware grouping by AdoreVintage also caught my eye.
I noticed that asymmetrical arrangements are quite popular.
In the end I decided that I would mimic the shape of my cathedral ceilings with a layout similar to what Edie did in her guest bedroom.
I raided my cupboards for various plates and saucers. Since I am quite the hoarder collector I quickly surmised that I was already on my way to a well curated collection. I then searched a few thrift stores but found no plates in the size or color palette I wanted (Murphy's law). So I filled in the gaps with two plates I found on clearance ($2~ yeah!) from Pier 1. The yellow bird was a discontinued color, but they carry the same design in red and green.
I  was also ever so thankful that my daughter works for Anthro/U.O and gifted me 3 more plates (also on clearance) for Christmas. Sadly, only this plate is still available and it is once again full price. ???
I then began playing around with various patterns on the floor until I settled on "the one".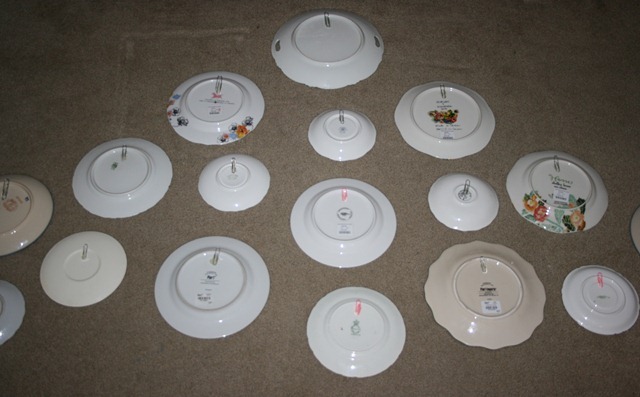 Now here's a little secret. I do not like the look of plate hangers. You know, the gold wire contraptions your granny used? In addition, they cost around $2.50 a piece and that would blow my budget rather quickly since I was hanging something like 20 plates.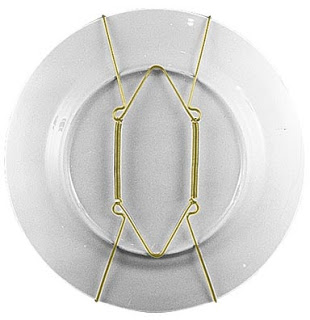 So I googled "alternative ways to hang plates". Voila! Another blogger, In My Own Style, used paper clips and hot glue. My type of gal.
TIP:Use traditional metal wire paper clips. Vinyl coated paper clips do not work. Luckily, I only hung two small saucers with vinyl coated paper clips and they did not break when they fell. The plates I hung with wire clips have now been hanging up on my wall for over a week with no problems.
I used  3 M command strips to attach the plates to the wall. No hammer and nail is necessary and a huge bonus is that there are no holes in the walls! (Click on the link for coupons.)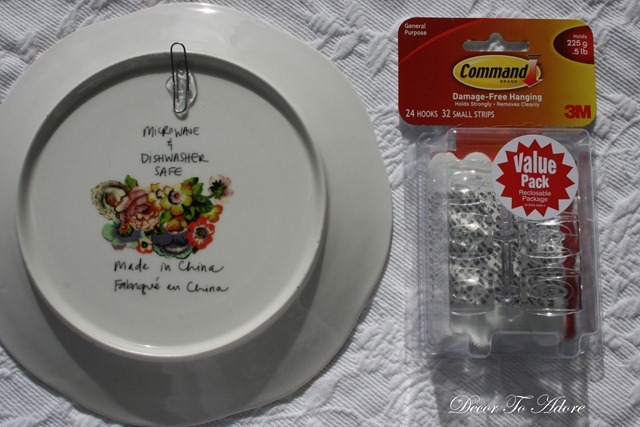 This next segment might make a few technical types nervous. I didn't measure or mark my layout out on the wall in any way. I just hung the highest plate first and following the pattern I had laid out on the floor just continued adding plates in a straight line, eyeballing the placement as I went along.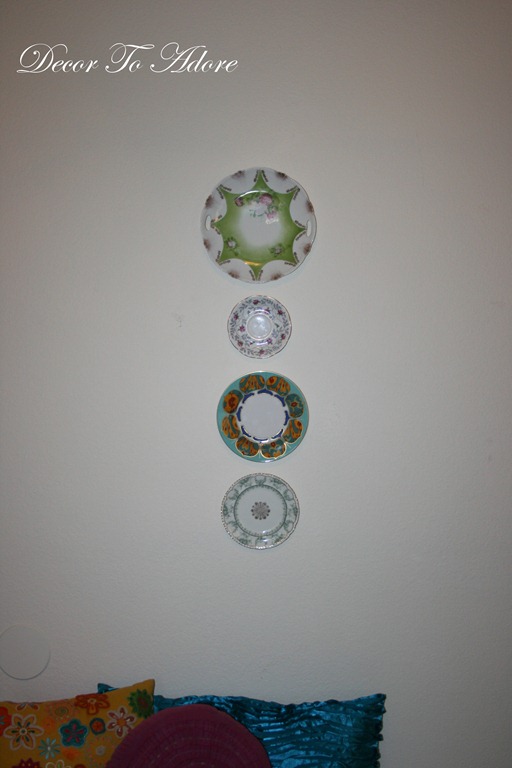 Two more plates were then hung creating a cross shape.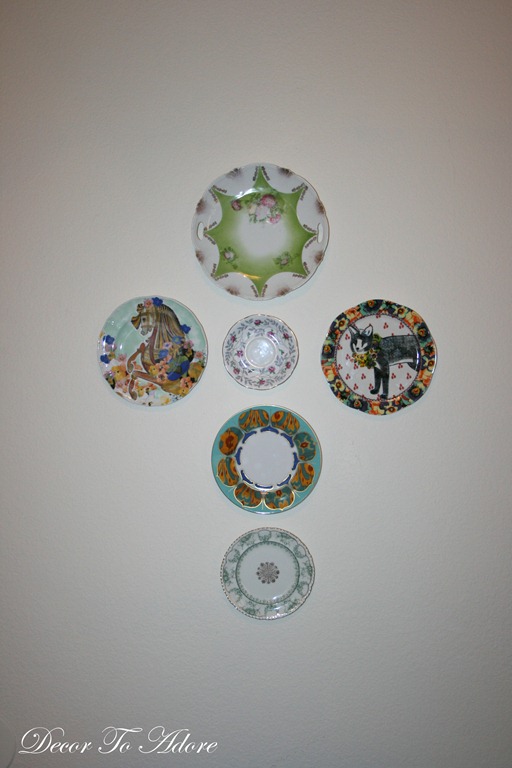 Another two plates were hung on either side.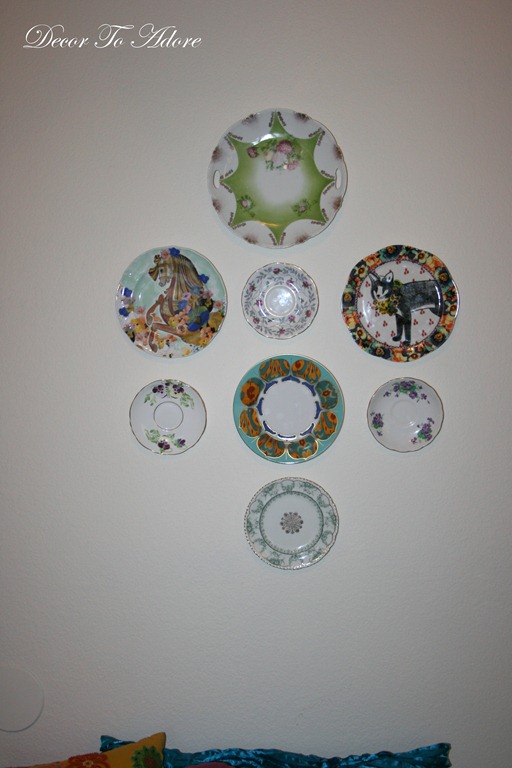 I just kept building out the arrangement, adding a plate to each side. The beauty of this layout is that you can easily add to it when you find new plates to love. 
TIP: If you don't feel confident in hanging such an arrangement by yourself get a friend to help for an extra set of eyes.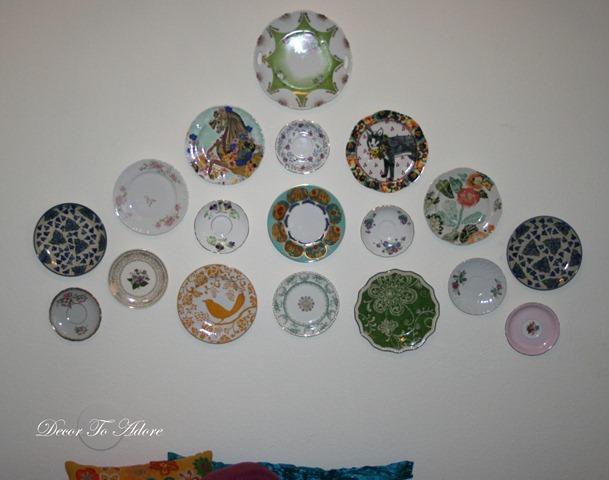 Now I am wondering if I told you about the super cheap throw pillows….hmmm.
Please dish out your opinions,
Laura