You may have heard by now that Parisienne Farmgirl is beginning a new magazine which will carry the same name. I have read Angela's blog for a few years now and have happily witnessed her rise in literary circles via appearances in numerous magazine articles and even a book. So it seems only natural that her next step would be something of her own creation.

To celebrate she is hosting a marvelous "Giveaway Fantastique". I haven't seen a giveaway of this magnitude in a very long time. If by chance you enter and win, please remember how I love all things French and am truly coveting the English tea cups. 🙂
But I also have a secret to share. I will be a contributing writer to the magazine. C'est magnifique!
The premiere issue will debut April 1st and I am not fooling when I say you will love it.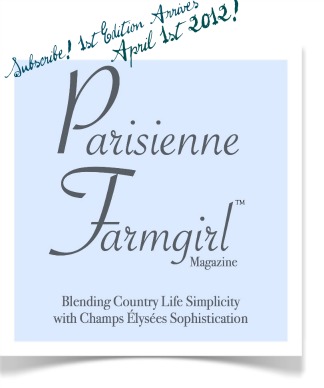 So go visit the Parisienne Farmgirl and enter to win her generous giveaway.
Laura