I am so happy to have been included in the Make It Merry holiday idea series. I offered to provide Holiday Gift Wrapping Ideas as I am always so inspired by the lovely ideas offered in blog land. Further down I will share how I am wrapping gifts this Christmas, but first I thought I would share some of my favorites. Funkytime has provided a free download to create pretty and perfect holiday party favors.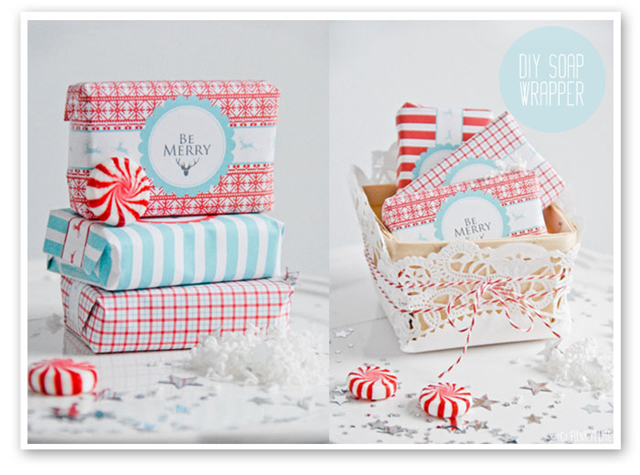 Holiday Gift Wrapping Ideas
While Country Living used paper straws to create the star decoration, I am thinking that a few kids in my family might like a similar design made from Pixy Stix candy.
I love this pretty package complete with a cupcake liner rosette from Sweet Paul.
For bottles of wine and apple cider, I adore the idea of creating Yule logs made from mailing tubes. They are very similar to the candy containers I made HERE. The Yule logs are from Martha of course.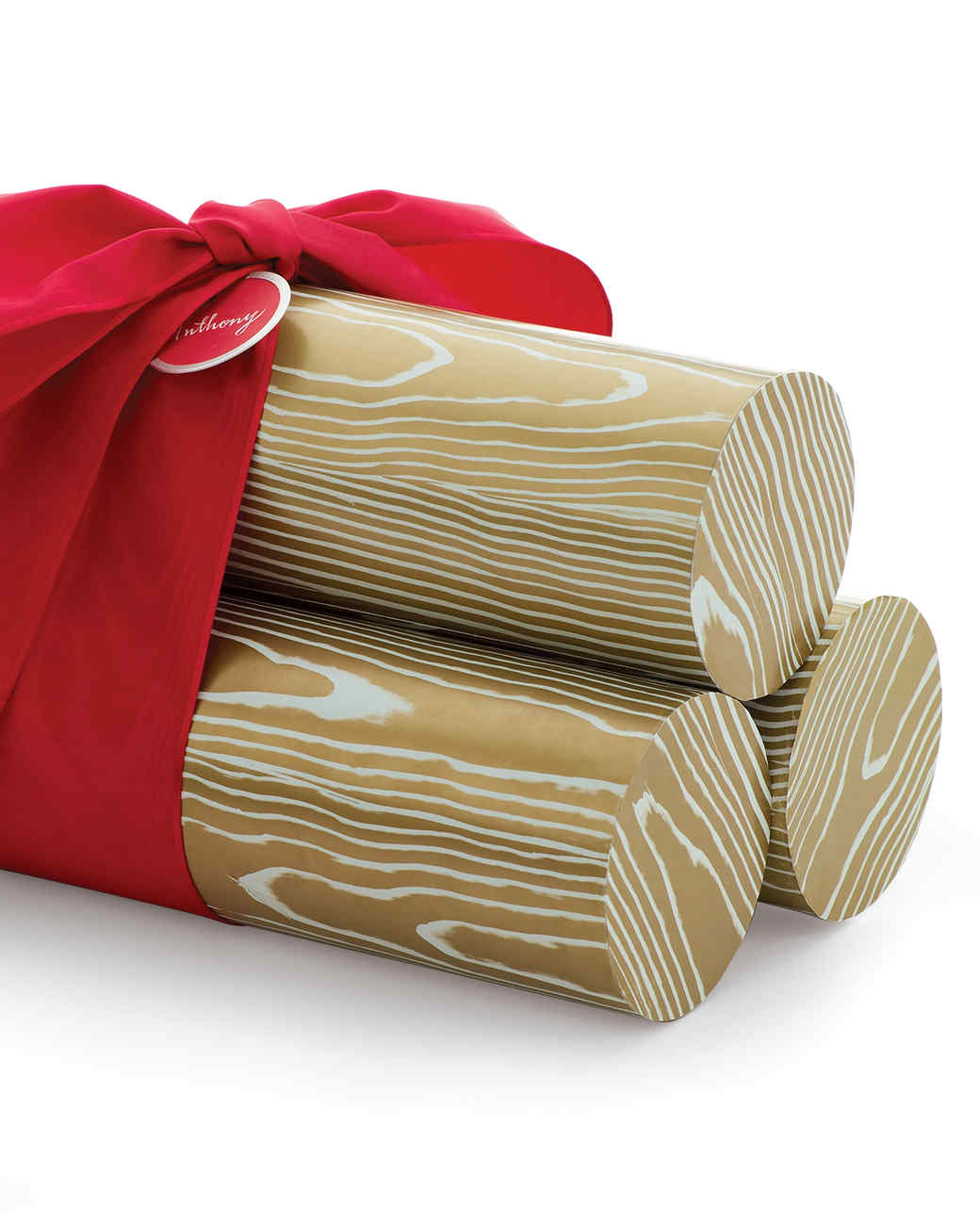 Don't be afraid to use old maps, sheet music, and vintage wallpaper as gift wrap.
Furoshiki
This year I've tried out the Japanese tradition of furoshiki  (fabric wrapping cloths).
Smaller gifts such as lovely scented powder can be wrapped up in vintage handkerchiefs.
Here is my take on furoshiki with a handkerchief.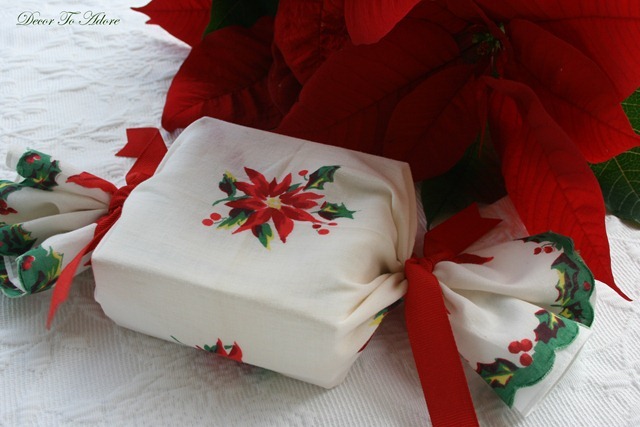 Tulle
Pretty poinsettias were made fancy with a bit of old school tulle and sheer red ribbon.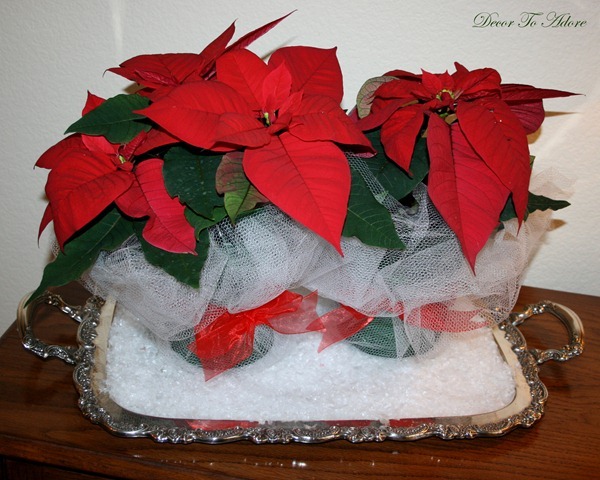 Do you need a snazzy way to present a gift card? Remember when I made the fabric envelopes over the summer? I just updated my design in fabric selections that featured holiday colors.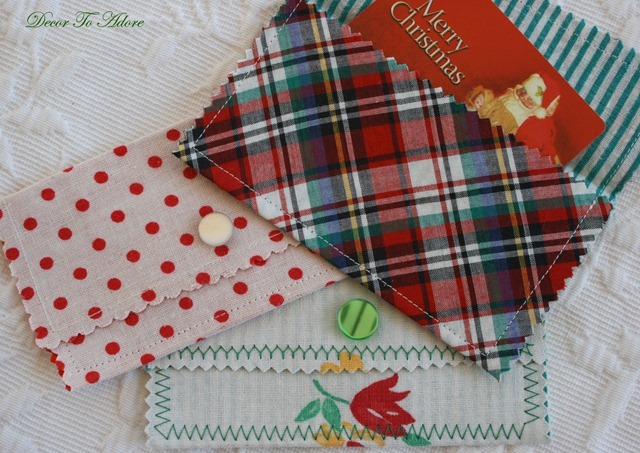 When giving gifts I truly believe that the gift should first be a delight to the eyes.  I mail my packages out early, so there is a good chance that the receiver might be looking at their present for a few weeks. I try to make the present pretty, as well as match their tastes. Yes, I wrap my gifts with the giver in mind. I ask myself, "What do they love? What would look lovely tucked under the tree in their home?"
For the Francophile.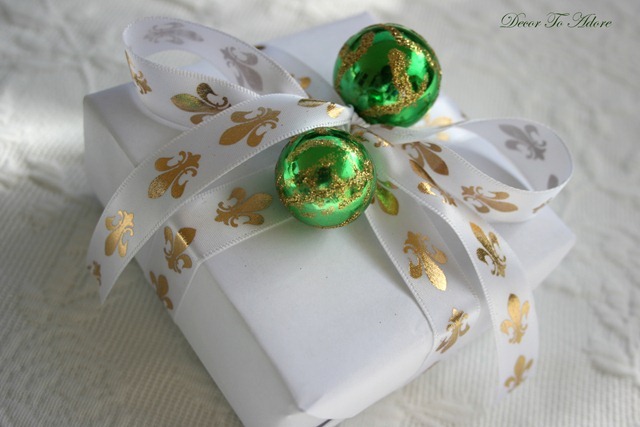 A gift for the gardener who loves roses.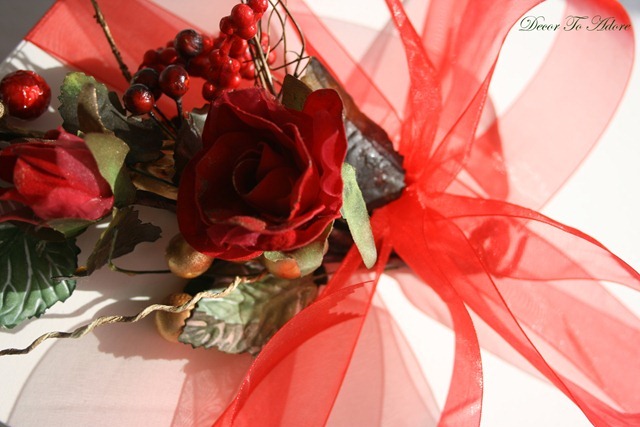 It's actually really easy. Just buy wrapping paper in plain white, gold or silver. It goes with any colored ribbon. I also begin hoarding paper grocery sacks around October. It's better for the environment and provides you with free gift wrap that you (as well as children) can adorn with stamps, buttons, stickers, ribbon, or even snowflakes to suit the recipient.  Cute doesn't have to cost a lot.
Of course, I always like to add a pièce de résistance.  I love, love, LOVE to embellish presents. It can be as simple as collecting bits of nature's bounty to add to a present. (Use hot glue to attach pinecones and greenery.)
Any of my visiting neighbors will receive a bottle of sparkling wine that I nestled into a handmade Christmas stocking. It is topped with this year's handmade ornament. The tutorial will be on Wednesday.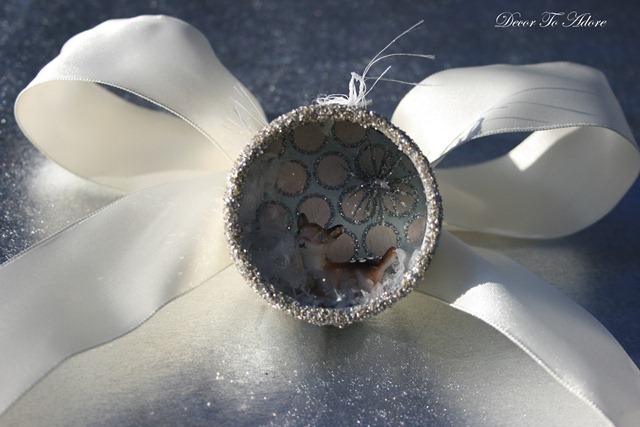 May your days be merry and bright,
Laura