Happy Monday!  Welcome to the fifth installment of inexpensive gifts you can easily make.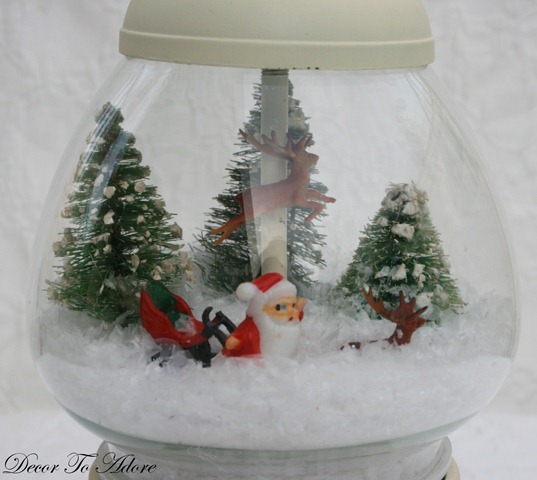 If I had to select the most knocked off project of the season it would probably be the Anthropologie tree in a jar. I have seen several interpretations of this darling idea all over blogland.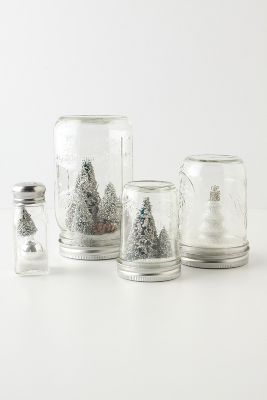 I thought it might be fun to take the idea to another level.
I began by searching the cupboards for cups, bowls, dishes and any other vessel I could find in a selected Christmas color palette of white, silver and green.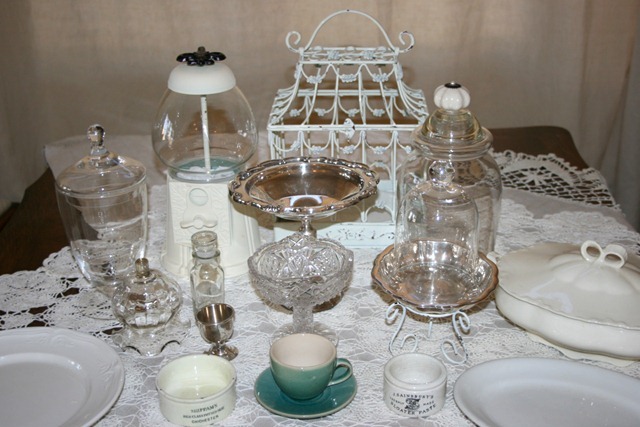 I then gathered up my collection of vintage bottle brush trees. (You can find vintage trees on Ebay or new trees at any craft and hobby store.)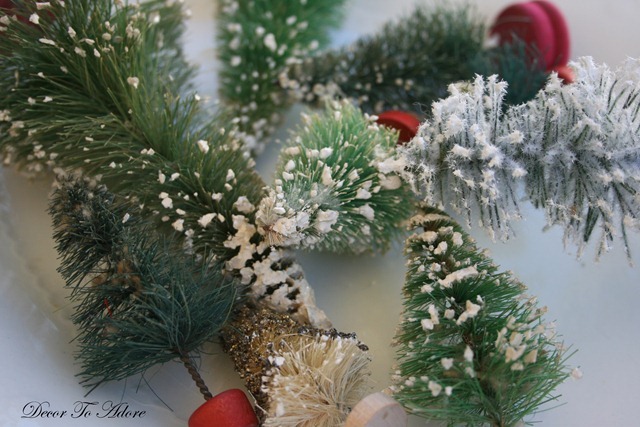 A snowy scene in a gumball machine? Yes, yes and YES! Even the eye sore of a center support pole came in handy as a place to hot glue on a flying reindeer.
To keep the other pieces upright and in place I first hot glued them onto a piece of sturdy cardstock.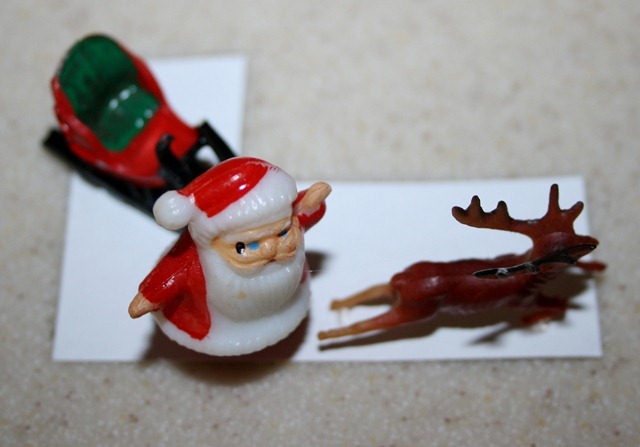 Just add faux snow! A handy dandy pencil helps to set the scene.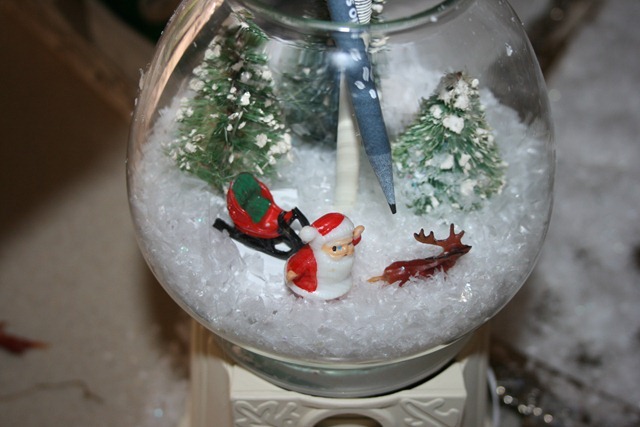 Of course you don't have to use faux snow. You can also use flour, powdered sugar, Epsom or table salt. (Just make sure you don't use salt in a silver dish as it could pit it. )
I opted for sugar as it reminded me of glitter.  Perfect for nestling a darling deer in a wee coffee cup. (The glass cloche was removed for photography purposes.)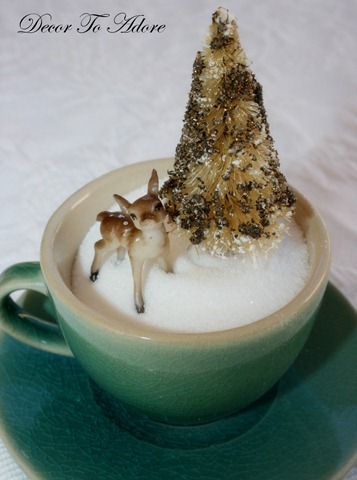 You could also have a cup of tea. I've set up a hot beverage tray on my kitchen island. A display was created using some of my antique ceramic food jars.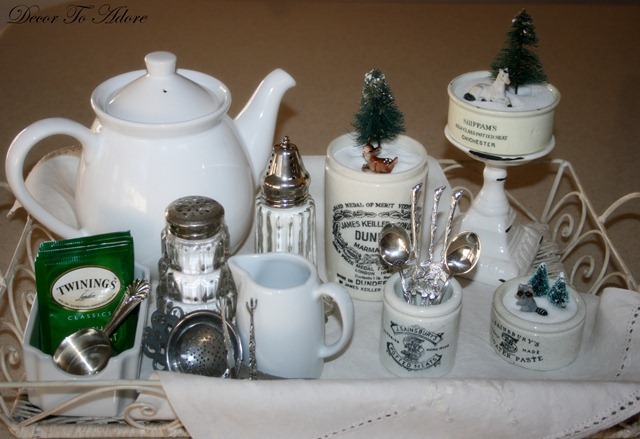 This masked bandit stole my heart.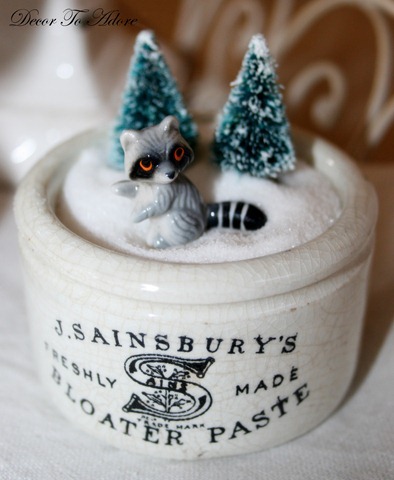 A side table received a glass compote filled with sugared, happy sliders.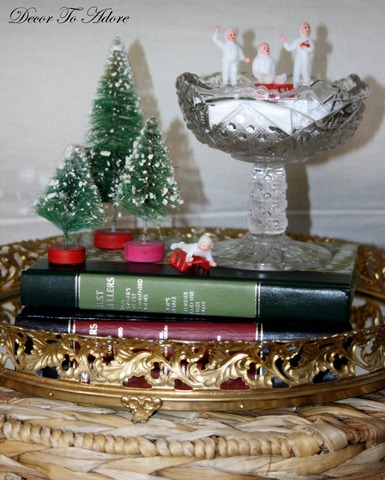 A tiny treasure that's fun to give is this little Frosty in a vintage spice jar.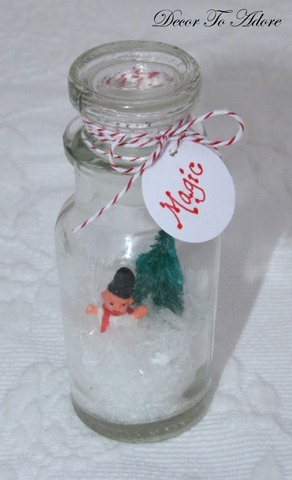 Vintage spice jars can be found very inexpensively in thrift stores. A bit of snow, a tiny tree and a top hatted fellow complete the vignette. Bakers twine was wrapped around the lid and holds a simple handwritten tag.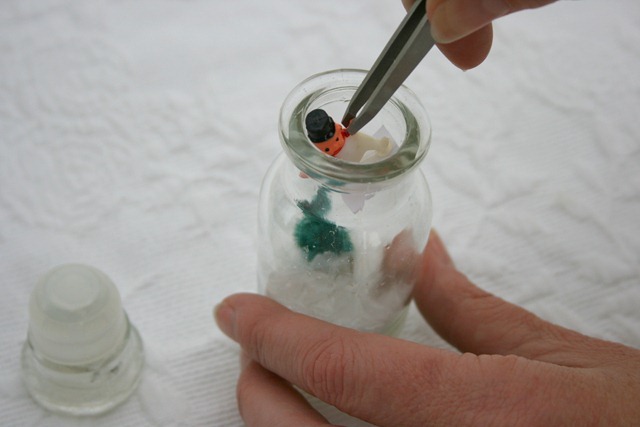 Come back on Wednesday with number 6 in the Gifts To Make  series.
If by chance you have had your eye on a few things in my Etsy shop you are in luck! I am sponsoring a giveaway of $25 gift certificate towards anything in the DTA shop over at my friend Karena's blog, Art By Karena.
More handmade treasures and European antiques will be added to the shop later this week so head on over and enter to win!
Laura
Linking To: