This week Sweet Boy is home from school for Fall Break. I wish we were vacationing at this manor. Don't you just love the hat?
I've enlisted his help to decorate our home this week. I've found some wonderful inspiration on Pinterest.
A few crafts will be made.
I love this Cinderella story for paperbacks.
I'd like to make a few velvet pumpkins. But first I need to find yummy velvet and save this year's pumpkin stems.
Perhaps we'll go on a hike, find a nice branch, cut out a million leaves and create a Pulitzer Prize worthy garland.
I find myself drawn to a neutral palette this spooktacular season.
This image makes me think about what I could put on the plates.
Breakfast could include acorn donut holes.
Or warm apple dumplings.
For lunch ~ risotto plated in the shape of a pumpkin.
Afternoon tea could include these lovely tweets.
Dinner would be warm comfort food.
Perhaps with a spot of apple cider.
I also seem to be really drawn to a black and white themed Halloween.
I think a field trip to the candy store is in order.
Attack of the Ric Rac!
I love to work with felt!
Although we don't do spooky in our home, we do believe in cute.
I've turned the comments off today while I spend time with my sweet boy. See you Wednesday!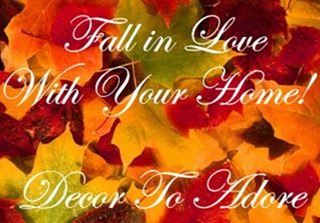 Laura