Remember when I first wrote about trying to fall in love with a house I hate? One of the biggest, evil thought inducing culprits was the mustard colored drapes that hang in our family room.
RIGHT after I wrote that post, my mustard curtains started mocking me.
First came Kate who made a super cute tray ~ note the mustard colored Jonathan Adler fabric.
Next, Susie ordered up a side of mustard for her swoon worthy kitchen chairs.
Then Cassity created a beautiful bedroom mood board with enough mustard for several hundred hotdogs.
The common element that ties these three darling designs together is that the yellow used is a true mustard yellow, versus the muted Tuscan yellow of my drapes. It is perfectly paired with a lovely, modern grey. But I am going to let you in on a secret. While I like grey and wear it often, I don't want to decorate with grey. I've tried and truthfully it makes me feel gray.
Now for another secret. This one is really hard. We bought our house at the height of the Phoenix real estate frenzy 7 years ago. I don't need to tell you what has happened to the real estate market since then. So of course we are totally underwater on our house. Think 200,000 Leagues Under The Sea, drowning tsunami, underwater. I know many people, due to various circumstances, have walked away from such houses, but here we are and will stay for right now.
When you are thousands of dollars underwater on your house you really don't want to add on a frivolous, unnecessary expense of ordering another set of custom made drapes to replace ones that are still perfectly good. (I have 20+foot ceilings in my home, so store bought drapes are not an option as they are too short.)
So I prayed for a solution.
A few days later a Restoration Hardware catalog came in the mail. It showed touches of a mustardy parchment yellow paired with cream couches.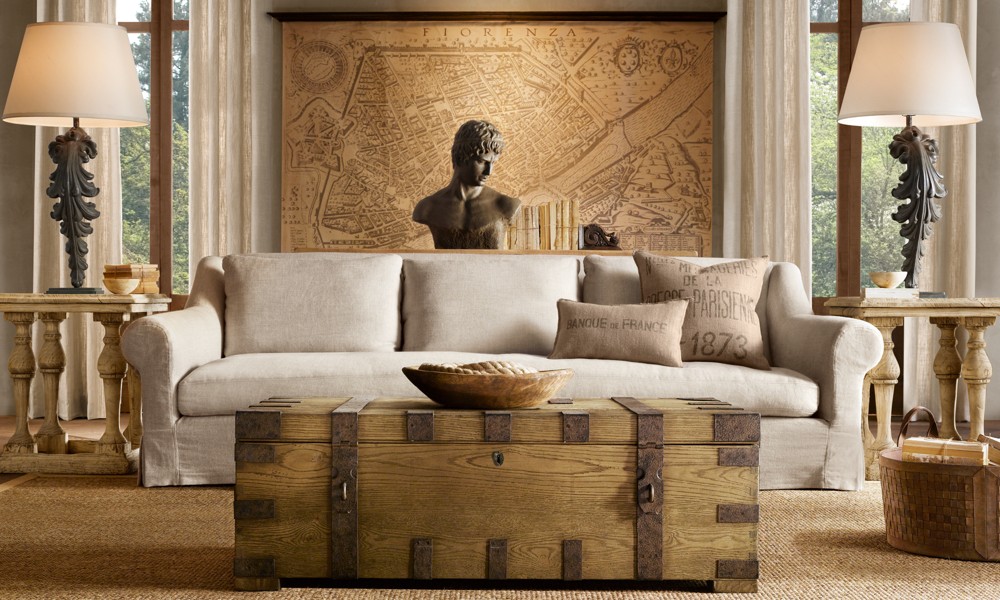 Then I checked the mail again and there was Ballard Designs showing mustard paired with a nice apple green. Hmmm.
Lastly, Pottery Barn graced my mailbox. They showed images that really got me thinking. If I paired my dreaded mustard drapes with cream couches and touches of apple green I might not hate them QUITE so much.
I thought that I could create this look on a very small decorating budget as I had brought back a charming confit pot from France last spring, and apples are pretty inexpensive.
So I moseyed on over to P.B. and spotted this pillow that happened to have liberal doses of mustard yellow, Tuscan yellow and apple green.
I studied the pillow and it's price tag for a good long time to see if there was ANY way it could be knocked off. It featured a design that could absolutely be recreated with fabric paint, but I really loved the richness of the heavy embroidery. I spent several years getting a degree in interior design and one of the rewards was a P.B. designer discount card. So I decided to purchase the pillow and use it as my inspiration piece. An added bonus was that the citrus somewhat coordinated with the fruit featured in the Brunschwig & Fils drapery that hangs in our adjoining kitchen.
This post is already too long, so I'll show you the changes I've made to the room on Friday. Until then, let's see what you've been working on.
Laura