When I was a little girl it was my job was to set the table for dinner.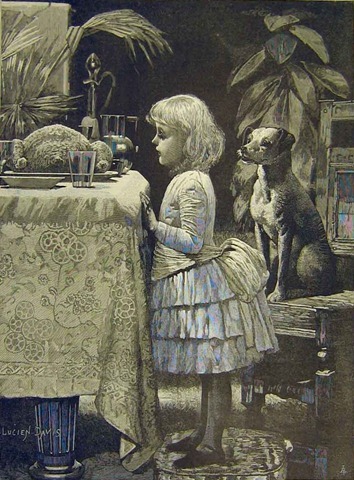 Except on Business ~ Lucien Davis, 1885
My Grandmother Mary and Papa Jack had a set of silver plate that they used for their everyday utensils. It featured lovely swirls and curves and a small rose right below the "V" monogram. My tiny fingers would often trace out the design. To my eye it was the loveliest set of silver I had ever seen.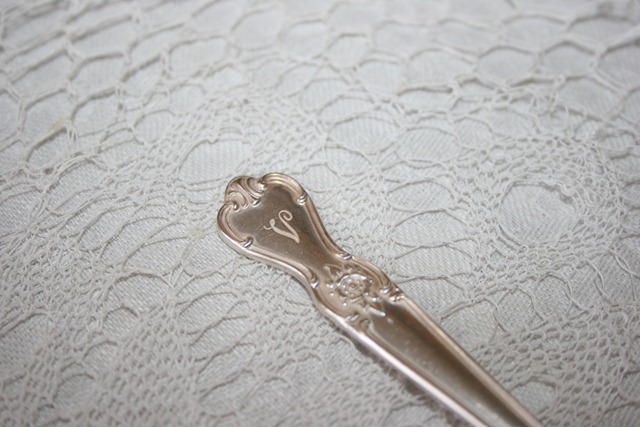 After my grandmothers passing it came time to place my papa into an Alzheimer's care home. I cleaned out the contents of their home by myself. It was five days of tears and happy memories. One day of tears was spent over the contents of the silverware drawer. I could only find seven teaspoons in the familiar pattern. The rest of the utensils had been replaced with a nondescript Oneida stainless steel set. There was no one left to ask the "why" or "where" that ran through my mind. I carefully packed the teaspoons in my suitcase and returned home.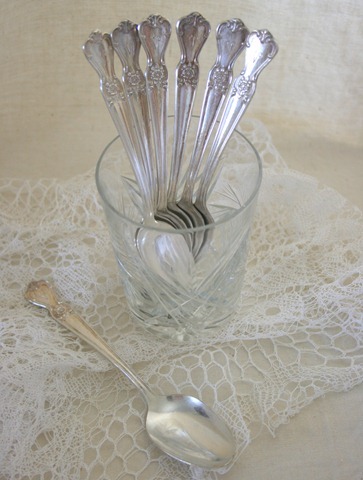 Since that time I learned that the utensils were the "Signature" pattern by Old Company Plate, which was a division of Oneida. The pattern was first manufactured in 1950. I believe that my grandmother purchased the set with "S & H" Green Stamps. Oddly enough even though my married name begins with a "G" I find myself looking for the "V" monogram on Ebay and the like. I have never once found a single piece.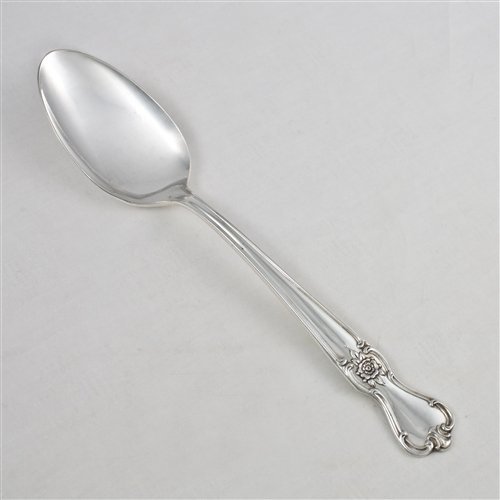 In my heart I know I am probably looking for something more, which of course can now only be found in my memories.  This realization hit me of all places in Paris. As I roamed through the flea market stalls picking up beautiful heavy French silver I found it odd that not a single piece spoke to me.

About once a week I travel 15 minutes to the community of Sun City. It is a retirement mecca. There are a few thrift stores there that I like to frequent. I often return home empty handed. But every once in awhile I spy a treasure.  This time it was a ziploc bag filled with a heavily tarnished five piece place setting for six. The price was $9, which is highway robbery in some states.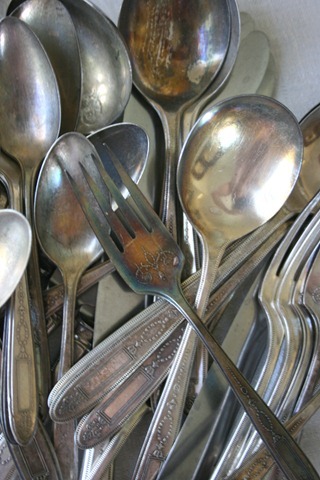 I spent two hours polishing my new "Grosvenor" utensils by Community Plate. While they were not my beloved "Signature"  pattern, I was happy to have rescued these time forgotten pieces. It was interesting to me that a  monogram was never engraved on any of the pieces. Perhaps, they were waiting for me.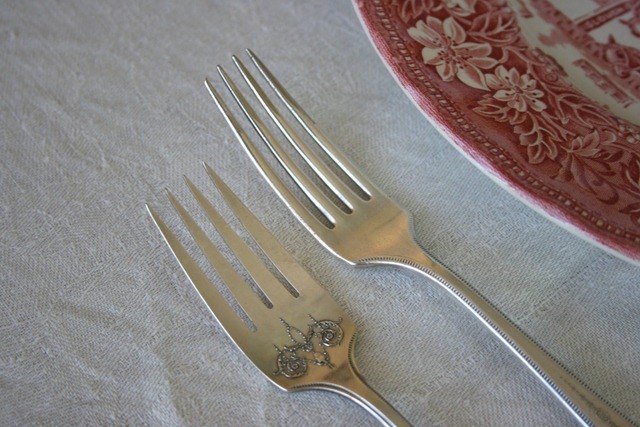 My Oneida flatware has now been listed on Ebay HERE.
The matching hostess set can be found HERE.
Come back tomorrow to see how the silver plate was used for the first time.
Until then, enjoy your day of rest. (Comments are turned off.)
Laura
"Do not store up riches for yourselves here on earth, where moths and rust destroy, and robbers break in and steal. Instead, store up riches for yourselves in heaven, where moths and rust cannot destroy, and robbers cannot break in and steal. For your heart will always be where your riches are." ~ Matthew 6:16~21