Could there be a more perfect setting than an outdoor summer dining experience in the Cotswold's?
The overall theme was "
The Great Gatsby
". Just look at the lighting that hung from the tent… palm fronds, Bentwood chairs… yes, all the elements were there. 

The table setting just feels RICH with the cut antique crystal and heavy silver. The linens were perfection. Whom might the place setting be for? I'll give you a hint, he's my favorite of the Fab Four.

A tower of champagne. I have always loved the look of this and hope to one day see it performed in person. But I have a question for those in the know, "Don't the glasses get a bit…sticky?" Perhaps this is just something you accept in the name of uber cool.

So what was the celebration? It was a wedding. The cake was perfection and reminded me of my own. But higher. I thought it was interesting how the tabletop was back lit.

So who got married in a 12 century church in England and then had an intimate dinner for just a little over a hundred of her close friends and family?
The bride wanted a look that would surprise everyone who thought they knew her. She succeeded.
Even the outdoor facilities were elegant.
It was none other than grunge supermodel Kate Moss looking as lovely as Daisy.
The details are in the fabulous September issue of Vogue. You can view other images
HERE
.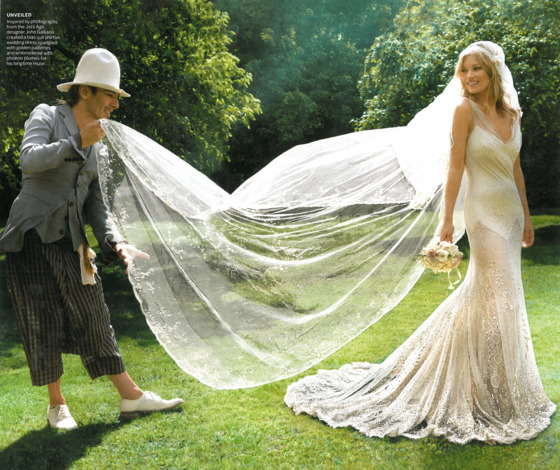 "It's a triumph. What thoroughness! What realism! Knew when to stop, too–didn't cut the pages." ~ The Great Gatsby

Laura
Linking to: