Tomorrow I will turn 43. Truthfully, I have been having a bit of trouble with this one. But I've finally decided to be thankful that I am healthy, have only 6 grey hairs and can still be perky with assistance from an uplifting undergarment.
So let's get this party started. Spin it DJ Décor!
[youtube https://www.youtube.com/watch?v=QzlNFcT2aOE&hl=en&hd=1]
I love a good party. Isn't this venue amazing?
Let's bring in some lovely tables and comfy chairs like this: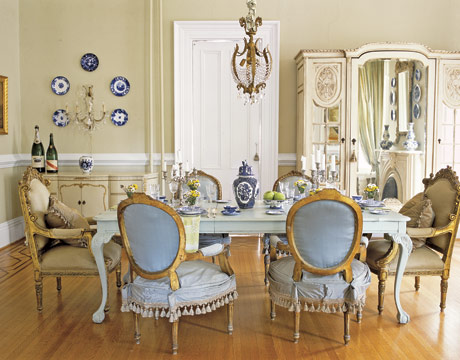 With a tablescape done in creamy whites.
We should have an assortment of cakes and macarons.
Don't you adore a petit four?
I might eat this darling confection all by myself.
Let's make a pretty batch of blueberry lemonade.
Or perhaps have just a bit of champagne?
But what to wear? This lovely greige frock is very me.
The Fashionista will of course wear her own design.
Perhaps you'll arrive wearing lovely lavender.
Or be the life of the party in Grace Kelly blue.
Just be sure to wear comfortably lovely shoes.
Because we'll be dancing 'til we drop!

Thank you all my dear blogging friends. You are the ultimate gift. Your kindness and support makes my heart SO happy. (I am all misty eyed while I write this, so it is truly heartfelt.)

The only other gift I need is to know what your skin care regimen is. Specifically for girls in the know, what do you use to smooth away your crows feet? 
Laura