Feeling Hot! Hot! Hot! is not always desired. Which brings about a dilemma. How does one dress to stay cool when the temperature soars above 100 degrees on a daily basis? Basically there are four options: capri's (still too hot and confining), shorts (um in public?), sundresses (ugh, my 40+ year old arms wave back at me) or skirts. Yes, I'll take a skirt please. 
I can always find a few favorites at Ruche.
Modcloth is also a good source for skirts.
But hands down Anthropologie is my favorite go to shop for skirts. I recently scored this Odille Plait and Pleat skirt for $19.99.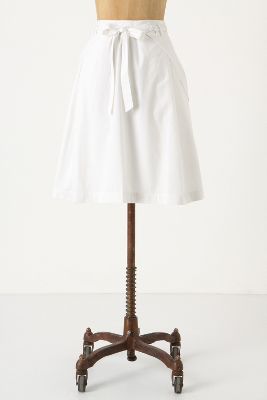 But still, it seems that I have a shortage of skirts. It's tough to find a skirt that meets my requirements:
Must skim the top of the knee
Be styled to fit my pear shaped self well
A lovely color
Not cost over $20.00
So, I resorted to my sewing machine and believe it or not stitched up this little number in just 2 hours. A pair of shoes I found at Anthro on sale two summers ago seem to work well.
I think a crisp white blouse and belt somehow keep me from looking like a hot mess while out thrifting.
What's your go to ensemble in summer?
Laura
Linking to: