Have you ever found an image that speaks to more than one of your favorite design styles? This picture sums it up beautifully for me. French antique meets rustic elegance with a touch of the the seaside.
I recently spent a week in a cabin that had me thinking about cabin décor. The plaster walls that I viewed while stone cold sober had me thinking about what I would consider GOOD cabin design.
For the record I was mesmerized by the plaster for a good 20 minutes. Sweet Boy and I had a ball looking at the various themes of nature that were incorporated into the walls. I had never seen such a thing and yes, I think it could be considered an art form. I'm just not sure if I would want to be so "lucky" to have horseshoe imprints on my walls forever.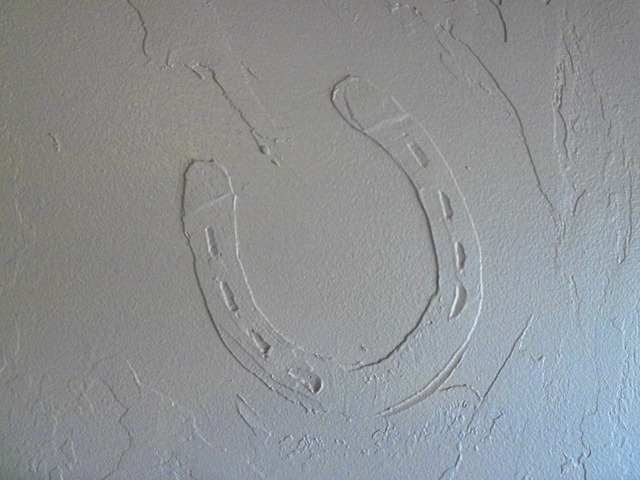 To begin, I think we are all well familiar with bad cabin decor. It generally consists of several styles of various furniture cast offs, moth eaten blankets, and perhaps a velvet Elvis thrown in the mix.
But what is good cabin décor design? Well certainly the Arts and Crafts movement could work well in a cabin environment. I wrote about said architecture (also known as the bungalow style) HERE and A & C interior design HERE. Both posts are written in true DTA fashion, so enough said, let's move on. I think perhaps "Americana" or "Adirondack Style" could possibly be an apt term to describe classic cabin style  Here are a few images of cabin décor perfection also known as the Double RL Ranch.
The Double RL Ranch is owned by a true American tastemaker, Mr. Ralph Lauren. He purchased the property, just outside of Telluride, CO with his wife Ricky ( the second RL) over 20 years ago and has built his ranch piece by piece.
The spectacular views are of course what initially drew the family to the area.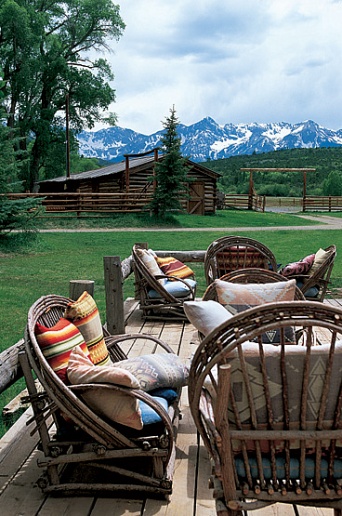 I know that much has been recently said on various design blogs about Million Dollar decorator Jeffrey Alan Marks putting a boat on the ceiling of his home but ahem, cough cough, people have been hanging canoes from the rafters for years. Yep, nothing new in design, just remixed. Also note the art nouveau lamps often found in Arts and Crafts interiors. Love a mad mix!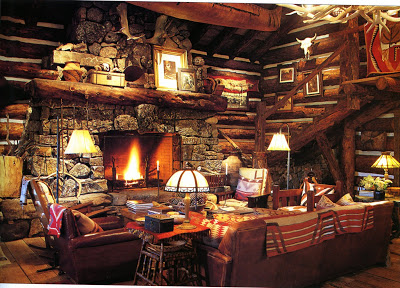 The wood chairs are Stickley, another A & C nod. I like the wool blanket placed under the leather couch cushions. It's all in the details.
What a fantastically designed screening room. Even I could be coerced into watching an old cowboy movie.
There are a few options for dining such as the big barn known as The Vance.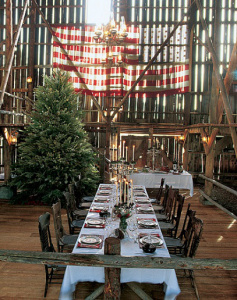 Just for you, a close up of the tablescape.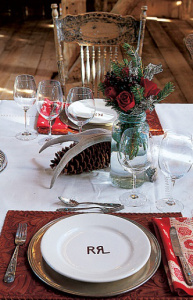 The cookhouse is yet another charming dining area.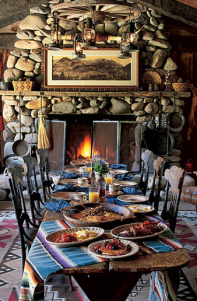 In the main lodge you'll find a bedroom decorated with native American basketry, stacks of what I presume are vintage Pendleton blankets and in a whimsical nod to Mr. Lauren's fashion roots, a display of concho belts.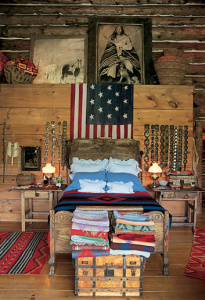 There are various cabins and other accommodations for ranch visitors including a few tepee's. Hmmmm. Maybe I would camp in a tent after all.
But for me if I were going to be spending my days in a cabin I would want a design style along the lines of what I term rustic elegance.
With a kitchen like this:
Or maybe this:
With dining accommodations such as this:
Or this:
A bathroom with a tub and walls like this:
I could see myself sleeping here if we exchanged the westie for a Dachshund.
Surely sweet dreams could be found here:
So which cabin camp do you fall under ~ Americana or Rustic Elegance?
Laura
It's true. I've succumbed to the lure of Pinterest. You can find my boards HERE.
Don't forget to enter the GIVEAWAY for a beautiful piece of artwork from Celadon Home.