Sometimes a girl just doesn't know what to title her post!!!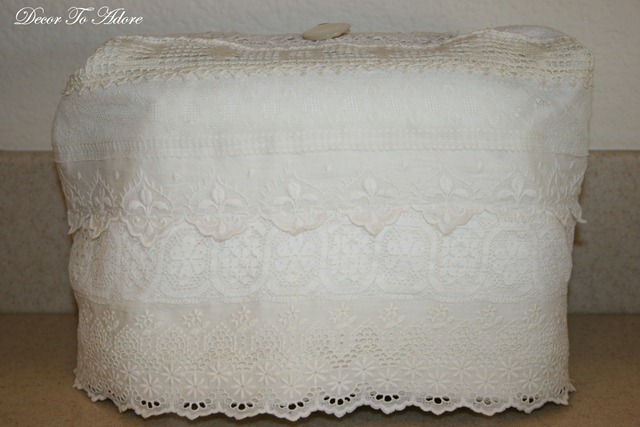 Our toaster gets used everyday, so it is always out. I have a love/hate relationship with my toaster. I love that it works. I hate that no matter how hard I try, parts of it won't come clean.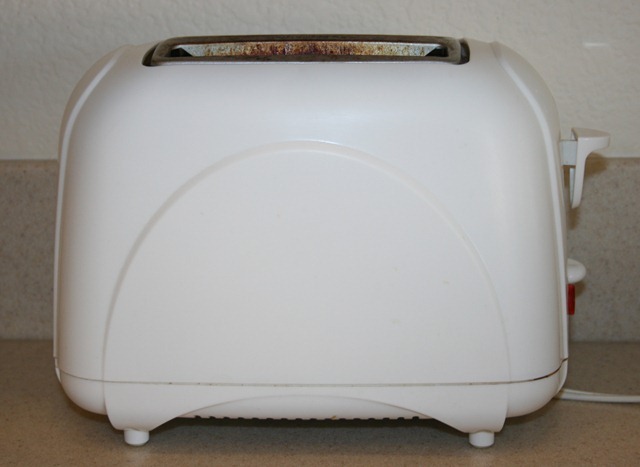 Every so often I cheat on my toaster by perusing the Dualit web page.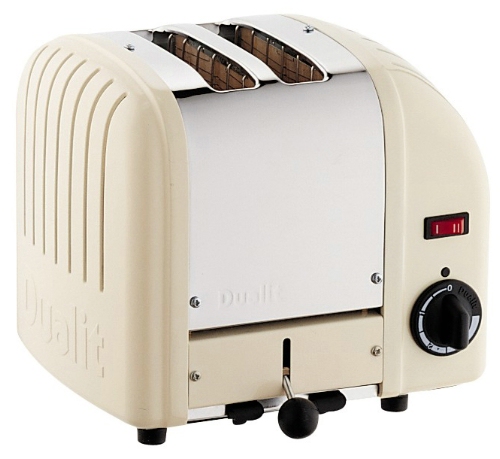 I think I have mentioned Sweet Boy is getting braces, the Fashionista is in college and she needs a new car. So a $200+ toaster is not exactly possible at this point in my life. Sigh. So what's a girl to do? The thought came upon me like a vintage dream. I needed a toaster cozy. A 1950's housewife's kitchen always had one.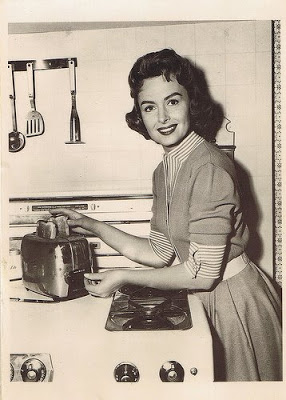 I took a peek at Etsy and Ebay and couldn't find anything I liked. Then an idea took shape as they often do. I was at an estate sale and there was an entire bedroom dedicated to old textiles. I spied a plastic bag of antique lace and trims from the doorway. My heart began to beat faster. There were two other women in the room  and my heart sank as one grabbed the ziploc bag. She then said, "Who would pay $10.00 for this bag of ratty ribbon?" Her friend concurred and they left the room. Yippee!! It was ALL mine. I only had to wash it 3 times before it came clean.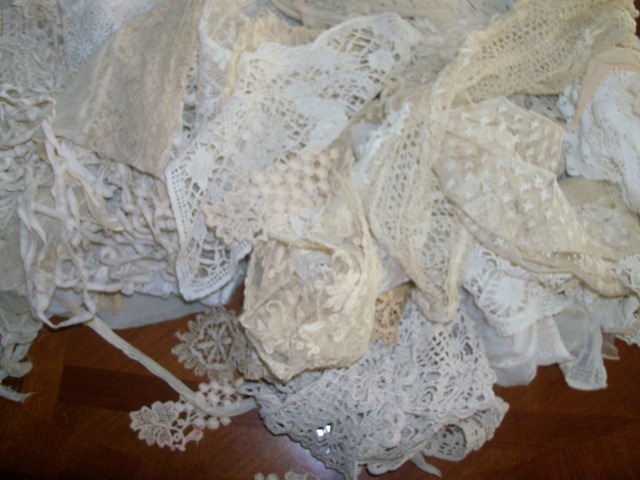 Then of course several of the pieces required that I carefully separate it from the old pieces of clothing, etc. that they were attached to. Yes, it took HOURS. But this was the good stuff and worthy of my time.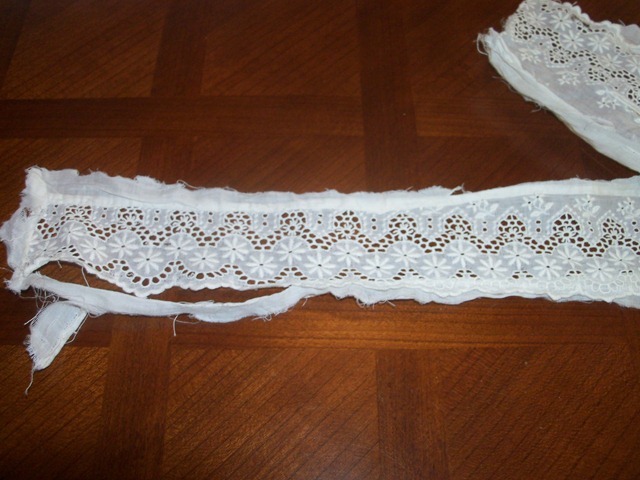 Some of the terrific trims were only 12 or 14 inches long. I had no idea what I would do with such little scraps.
I also  continued to work on my toaster cozy. I know, it drives some of you bonkers, but I worked without a pattern. I used a measure, pin and sew method.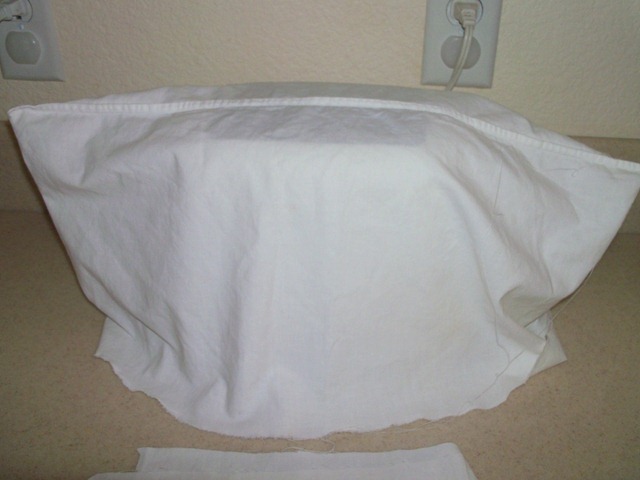 Hmmmm. What about if I covered my entire toaster cozy in lace?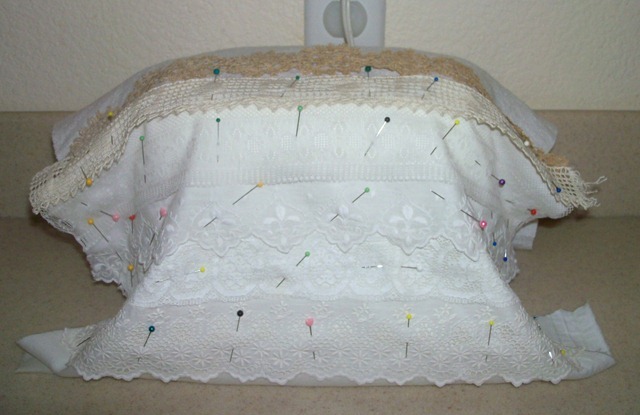 I loved the row of fleur de lis on the back of the cozy the best.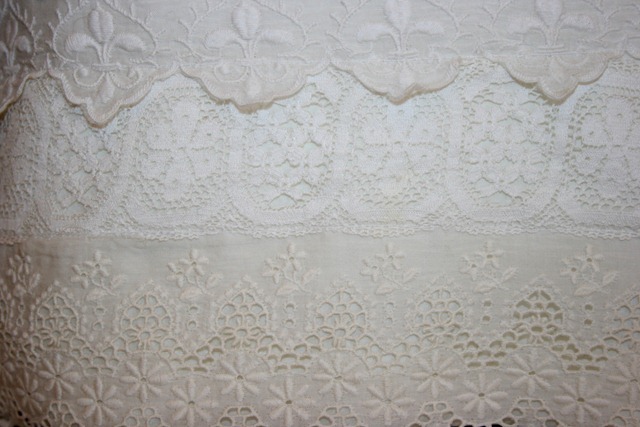 The front of the cozy featured a repurposed antimacassar piece of lacework and some antique mother of pearl buttons.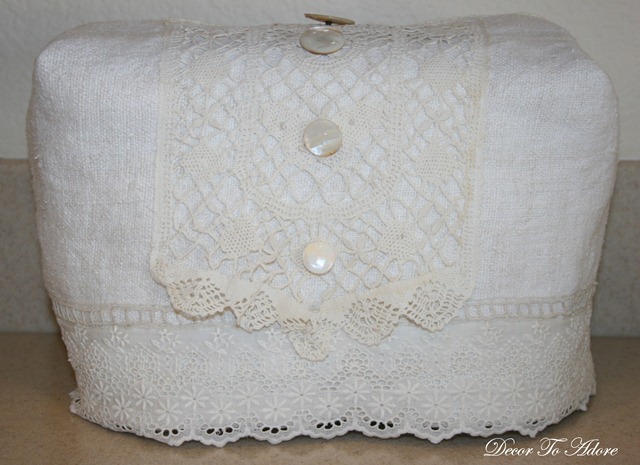 My toaster no longer has to hang its coils in shame. A few extra are available in my Etsy Shop if your toaster also needs to cozy up.
This gem features vintage linen and a lovely antique piece of eyelet. Simple perfection.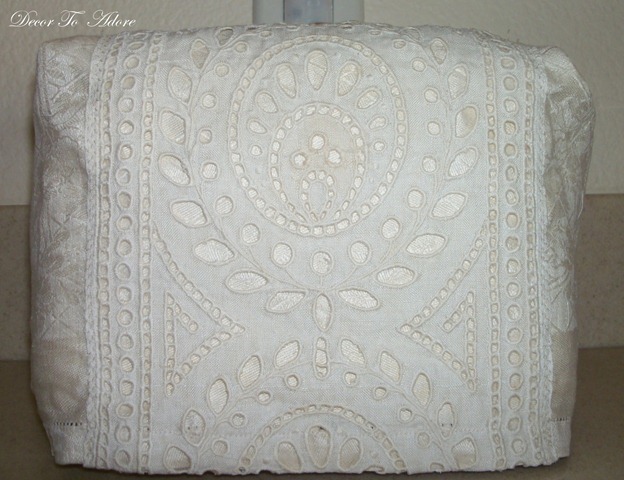 I also went the ruffled route. While it is oh so cute, let me just say that it will definitely be a one of a kind design.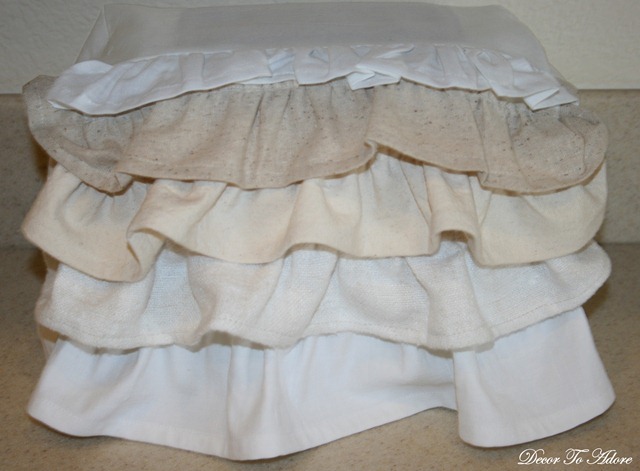 I don't own a ruffle foot attachment for my sewing machine so it was old school all the way. To get the rows even alot of seam ripping and re~sewing went on. After 4 + hours a bit of under the breath mumbling might also have occurred. 🙂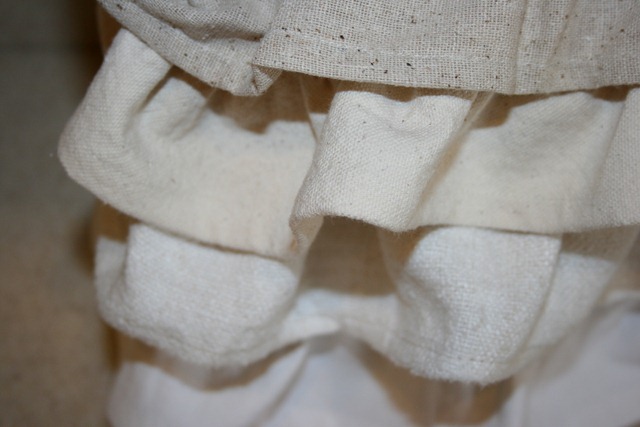 Love this French Country cutie!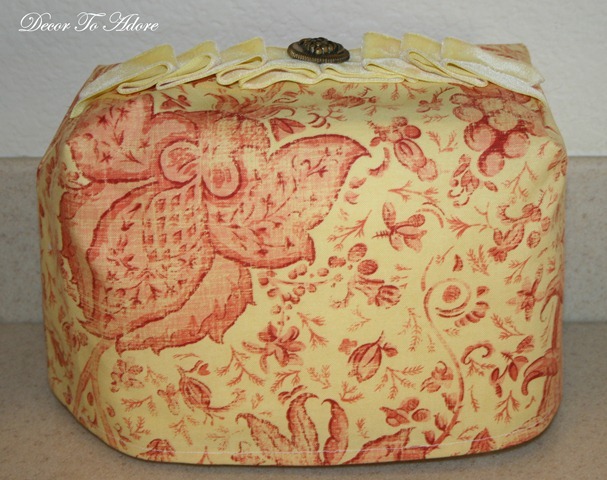 The vintage fabric received a bit of embellishment in the form of some lovely vintage velvet and a button.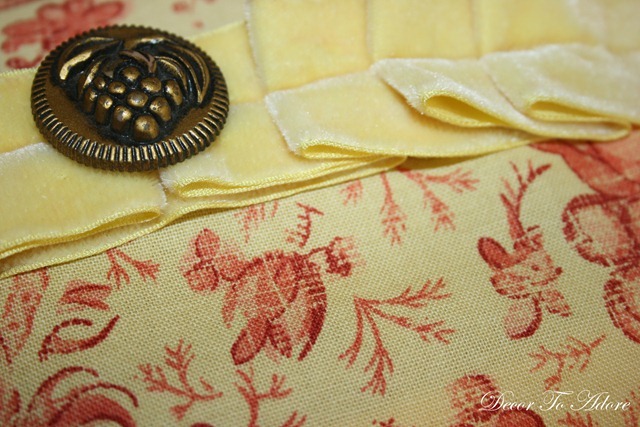 I am now eyeing the blender.
Laura