Welcome to the first Wayfaring Wednesday! One of the best things about summer is the opportunity to get out and explore. Be it an exotic locale or a simple shop its always so much fun to share secret finds. To get things started I thought I would give you a glimpse of one of my favorite things to do~ antiquing in France.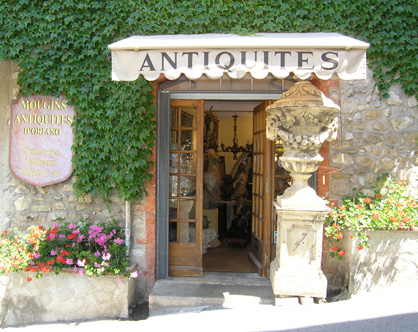 Recently dear Andrea and I were lucky to spend some time in Brittany. The town of Vannes is quite charming with its half timbered houses and quaint little shops.

As Vannes is a coastal town, I found the signage for this high end antique shop thoroughly charming.
Inside lovely treasures were waiting to be admired. Andrea could see this beautiful chandelier hanging in her kitchen in Beaune.
I fell in love with these shimmering sconces.
The detailing on this clock was absolutely exquisite.
We both agreed that this gilded Louis Philippe mirror was stunning.

My holy grail is to someday have a Duchesse Brisée. A few were found, but not exactly in my price range. Even the unupholstered gems were a few thousand dollars.

It's all the fault of Marie Antoinette. When I visited the Palace of Versailles for the first time over ten years ago I was instantly smitten. My favorite are those that come in three separate pieces. Look at that caning!
J'adore this upholstered set Joni found.
I wanted to celebrate the first Wayfaring Wednesday with a giveaway of a few treasures I found while in France.
The winner will be selected by the
random number generator
and will receive a tin filled with yummy caramels, a pastry scraper, Paris themed scarf, almond milk soap...
…my favorite French décor magazine, a French measuring cup, Herbes de Provence, a dozen paper French flags…
… a  French newspaper with the headline of the Royal wedding, a good book on French style, and a European sugar shaker filled with packets of Laduree sugar.
Interested? The rules are simple:
Link up a blog post  (past or present) featuring an excursion. It can be a trip of a lifetime or just a quick journey to a cool little shop or restaurant.
Grab a button for your blog to spread the word about Wayfaring Wednesday.
Thanks for linking up!