While the upcoming wedding of His Serene Highness Prince Albert of Monaco and Charlene Wittstock is not getting quite the attention the recent nuptials of the Duke and Duchess of Cambridge did, there is still excitement in the air.
Prince Albert is of course the only son and second child of the late Prince Rainier III and Princess Grace.
He was born on March 14, 1958 in the Palace of Monaco and christened Albert Alexandre Louis Pierre Grimaldi.
Prince Albert was described by his mother as a sweet and easy going child.
Prince Albert has two children from previous relationships. His daughter, Jazmin Grace Grimaldi was born March 4, 1992. She is currently attending Fordham University.
Prince Albert's son, Alexandre Éric Stéphane Coste, was born on August 24, 2003.
It should be noted that according to Article 10 of the Constitution of Monaco only "direct and legitimate" descendants of Monaco's monarch (or of the monarch's siblings) may inherit the throne. So neither child is in line for succession.
Prince Albert's older sister, Princess Caroline of Hanover, (
Caroline Louise Marguerite Grimaldi, Princess of Hannover, Princess of Monaco)
is just fourteen months older than Albert. The two are said to be very close.
Princess Caroline married Philippe Junot, a man 17 years her senior, on June 2, 1978 but the marriage ended on October 9, 1980.
On December 29, 1983 Princess Caroline married Stefano Casiraghi, heir to an Italian industrial fortune.
They had three children together before Stefano was killed in a speed boating accident in 1990. All three children are in line behind Princess Caroline for succession to the throne.
The eldest is Andrea Albert Pierre Casiraghi, born on June 8th, 1984.
Their second child, Charlotte Marie Pomeline Casiraghi, was born on August 3, 1986.
Their third child, Pierre Rainier Stefano Casiraghi, was born on September 5, 1987.
Princess Caroline married Ernst August Prince of Hanover, head of the House of Hanover, on January 23, 1999.
They have one child together, Princess Alexandra Charlotte Ulrike Maryam Virginia, born on July 20, 1999.
Prince Albert's youngest sister is Princess Stéphanie Marie Elisabeth Grimaldi born on February 1, 1965.
Princess Stéphanie married Daniel Ducruet on July 1, 1995. They later divorced on October 4, 1996.
Their first child, Louis Robert Paul Ducruet, was born on November 26, 1992.
Their second child, Pauline Grace Maguy Ducruet, was born on May 4, 1994.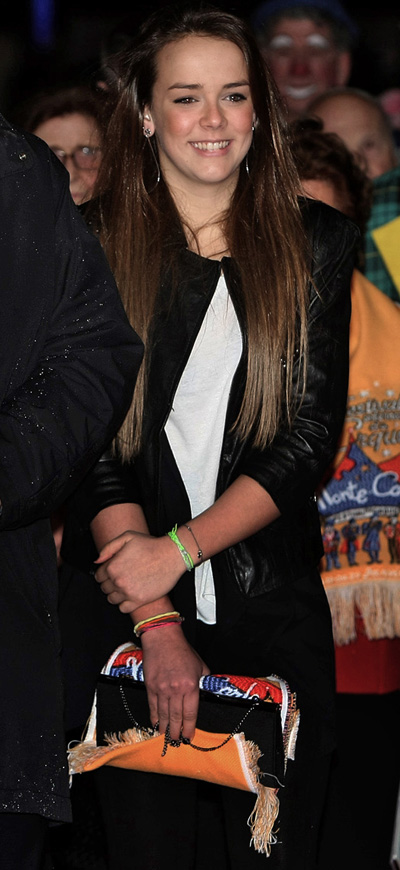 On July 15, 1998 Princess
Stéphanie gave birth to her third child, Camille Marie Kelly Gottlieb. The Princess did not name the child's father, Jean-Raymond Gottlieb~ a former palace bodyguard, as the father on the birth certificate.
Princess Stéphanie married Adans Lopez Peres on September 10, 2003 but the marriage ended in divorce on November 24, 2004.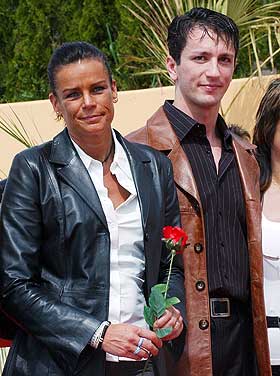 Miss Charlene Wittstock will join the Grimaldi royal family on July 1, 2011. As Miss Wittstock did not grow up in the public spotlight not as much information is known about this lovely, soon to be princess.
Charlene Lynette Wittstock was born on January 25, 1978 in Bulawayo, Zimbabwe, Africa to Michael and Lynette Wittstock. She has two younger brothers, Gareth born in 1980 and Sean in 1983.
She developed an interest in swimming at a young age and won the South African Championship when she was only 18. In 2000 she participated in the Olympic Games.
Later that same year she won a gold medal for the 200m backstroke event at the "Marenostrum" international swimming meeting in Monaco. This is when she met Prince Albert for the first time as he was presiding over the international competition.
Miss Wittstock is now a global ambassador for the Special Olympics and since 2010 has been associated with the Nelson Mandela Foundation. She regularly participates in fund raising events for charities such as Amfar.
Miss Wittstock and Prince Albert share of a love of sports and art and seem to truly enjoy one another's company.
This will be the the first Royal ruling union where both parties were at one time members of their country's Olympic team. Charlene of course for swimming and Prince Albert who has competed in five Olympic games on the Monaco bobsled team. Prior to this couple Princess Anne and her first husband, Capt. Mark Phillips, were also both in the Olympics, but of course will never rule England together.
Both of the Prince's sisters are said to be very happy with Prince Albert's choice of a bride.
Comparisons of the blonde bride to her late mother in law are inevitable.
Charlene does appear to have captured the same qualities of timeless beauty and elegance as Princess Grace.
The citizens of Monaco have great hope she and Albert will reign just as beautifully as his parents did.
Next week, wedding details!
Laura