I have to say of the three days I spent in Paris, the last was my favorite! I am not sure if it was the shopping, great food, or the non stop joy and laughter while experiencing all that Paris has to offer.
We began the day with Andrea once again at the wheel. It was decided that we would quickly drive past several of our favorite landmarks.
La Tour Eiffel (Time for a climb?)
Musée du Louvre (Hello, Mona Lisa!)
Pont Alexandre III (The most famous bridge in Paris.)
Les Invalides (Final resting place of Napoleon Bonaparte)
Then we began driving down the Avenue des Champs-Elysées. THE street for Parisian chic. We whizzed by shops such as Chanel, Dior, and many others.
But you know where the western end of the Avenue des Champs-Elysées leads to right? The Arc de Triomphe.
More specifically a crazy roundabout filled with traffic from TWELVE streets that dump directly into the center which features one of Paris' most famous landmarks. (Thank you google for the aerial shot.)
Andrea announced "I am going to show you how to drive this thing."  I no sooner said "WHAT!" then thought I'd better video tape the experience of my death. Wholly Schmolly! What ensued was tremendous laughter on both our parts. We went around at least 4 or 5 times. Look kids ~ Big Ben, Parliament! Our Videotape Tuesday series will soon debut on Metis, until then:
At the finish I announced I almost peed my pants while simultaneously needing a drink. We opted for the famed Parisian teahouse Ladurée. Of the three locations, we chose the original on 16 Rue Royale. Look~ they even monogrammed the teapot cozy with my initial! The flavor: Thé Marie Antoinette, a rose and jasmine flavored tea.
Of course I ordered desert! It was Religieuse Rose~ a delightful concoction of a rose custard nestled inside a rose infused cream puff scattered with raspberries.
We then went next door to stock up on tea and of course bought a few macarons.
Next we decided to take a stroll over to the Palais~Royal. We passed by several sweet shops and displays.
The Palais Royal was built between 1633 ~ 1639 and was the personal residence of Cardinal Richelieu. Upon the Cardinal's death in 1642 the palace became the property of the King Louis XIII. Over the years it changed hands many times via the political and social climate of the times.
The Palais now houses houses the Conseil d'État (Council of State) and the Ministry of Culture as well as several high end shops such as Stella McCartney and a few second hand couture shops such as Didier Ludot which specializes in vintage Chanel and Hermès .
But oh it is the gardens that will leave you breathless. It was the duchesse d'Orléans who created the gardens in the 1660's and I am forever thankful to her. I smelled the sweetest rose that I have ever encountered in this heavenly scented spot.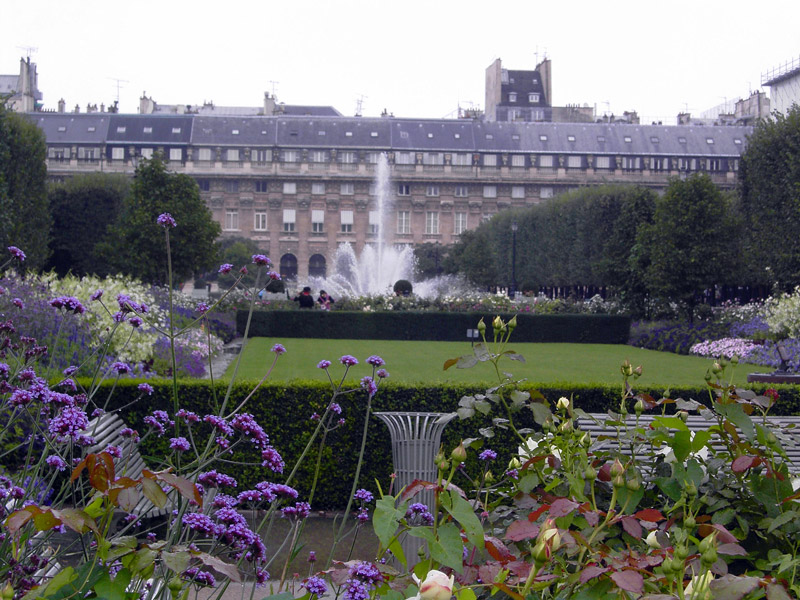 Famished, we decided we would pop into a nearby place that was on my "must see" list. Le Grand Colbert. You know, THE restaurant where Diane Keaton goes with Keanu Reeves but is interrupted by the love of her life Jack Nicholson in "Something's Gotta Give"? Hmmm. We knew we were in the right place, but instead of the elegant  windows that once looked like this:
We found this:
Hollywood arriving is not necessarily a good thing. The charm was gone. What once was:
Sadly now posters cover the lovely frosted mirrors and a track of the movie plays consistently in the powder rooms. This once grand space needed to be retitled, as Andrea expertly pointed out, "Something's Gotta Change". 
Still we sat and I had the best soupe à l'oignon de français (French onion soup) of my life. It was so cheesy. Much like Le Grand Disappointment. But we laughed and THAT was very good.
Next up, a delightful trip to the Brittany coast.
Laura
Linking to: