I adore chocolate. That is not a secret to anyone who knows me. While in France Andrea and I made some wonderful Moelleux au Chocolat (chocolate lava cake). It was a bit of heaven when paired with the local fresh red raspberries.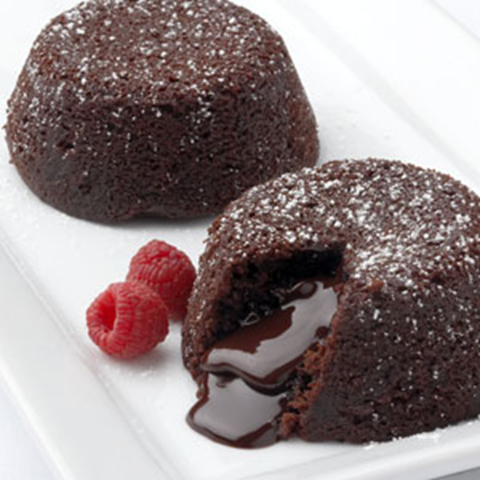 Now you know how I love my copper! I wrote a post devoted entirely to the subject matter

HERE

.
I had hoped to find an antique copper kettle on my trip and my friend Guy sweetly made sure that I was able to purchase my hearts desire. I also learned that any good French chef worth their Brittany sea salt would also have a cul de poule (kull dee pool) available in their arsenal of tools. So I brought a 100 year old beauty home with me. Not only do I love saying "cul de poule" but I encourage you to translate the literal meaning of the words. It will crack you up. (No egg puns intended.)
The first video shows off my copper bowl and lays out the ingredients for Moelleux au Chocolat  (recipe below).
In this next video you can somewhat see my new (old) tea kettle and the wee covered antique copper pot I also purchased in which I melted the chocolate in. I realize I should have a bain marie (water bath pot) to do this job properly, but this was a good improvisation. I also lightly "dusted" the ramekins with butter. Who the heck lightly dusts anything with butter? I should have said "coated".  🙂
For your viewing pleasure: a bowl of mud. The video cuts off the portion where I mention that I halved the recipe.
Yes, I admit it. I ate some raw batter. It was good and I am not sorry.
So delicious and really quite easy to make. Now, if only there were a "taste" button on the computer keyboard.
Recipe for Moelleux auChocolat
Ingredients to make six servings
10 tablespoons (1 1/4 stick) butter
8 oz of semi sweet or dark chocolate (I used the Green and Black brand)
1/2 cup all-purpose flour
1 1/2 cups powdered sugar (a bit more if you like it sweeter)
3 large eggs
3 egg yolks
1 teaspoon vanilla extract
Optional: 2 tablespoons orange liqueur
How to Make It:
Preheat oven to 425°F
1. Melt chocolate on low flame in a bain-marie (double boiler). When melted, remove from heat and                                2. Stir in diced butter, until it melts.
3. In another bowl, beat eggs and sugar, until it starts to whiten.
4. Stir in melted chocolate and then the flour.
5. Coat six individual ramekins with butter, and pour in chocolate batter.
6. Cook for about 12~14 minutes.
7. Tip ramekins upside down onto dessert plates and serve.
You may garnish with raspberries, additional powdered sugar and French vanilla ice cream or whipped cream.
Yum!