Even though Easter is arriving later this year I feel as though it has snuck up on me. I now have less than a week to plan dinner, dessert, and décor.

I imagine my last minuteness (Is that a word? We'll say "Yes".) has something to do with visiting houseguests, helping Sweet Boy come up with an act for the school talent show, soccer practice and matches, consequent heat exhaustion in my little player that resulted in a weekend of waiting hand and foot on him to get him well.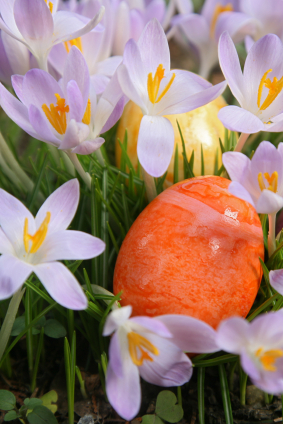 Packing for France is also forefront in my mind as is a craft project I need to create for 26 third graders celebrating Earth Day/Easter this Friday. Whew!
Here are some ideas that I am really loving this year:
I have to say it. This is a peach of a tablescape.
Love the wheatgrass placemats!
My favorite Easter dresses were always lavender. How about on a table?
Speaking of rabbits, this would surely please Peter.
Tie one on. To the back of a chair.
For centerpieces, the idea of this butterfly bouquet could easily be transformed into a stunning focal point.
Finally a good use for Brussels sprouts. (Sorry to those who love them.) Topiaries. Ingenious!
An Easter tradition I loved while growing up was all the church ladies going into their gardens and selecting the best and brightest blooms for the old rugged cross. It remains my all time favorite Easter décor.

I have turned the comments OFF today so that I may prepare my heart and home for the most glorious of holidays.
Laura
Linking to: