I received several emails in reference to last week's post "A History of Wedding Dresses ~Part I" . Thoughts ranged from "How could I not include Sarah Ferguson?"  Or "Why was the loveliest Royal bride of all ~ Princess Grace ~ not included?"  As to the first question, I only covered the brides (with the exception of Diana) who were or later became the Queen of England. As to Princess Grace ~ several of you have expressed sadness that R.W.W. will end in April. Really? Darn. I had planned on writing several posts covering Monaco and the upcoming nuptials of Prince Albert on July 22, 2011 ~ as well as the wedding of Queen Elizabeth's eldest granddaughter, Zara Phillips, on July 30, 2011.
Zara's mother, Princess Royal Anne married Capt. Mark Phillips on November 14, 1973. I have to say I absolutely loved the dreamy ethereal quality of their official engagement portrait and her embossed organza dress.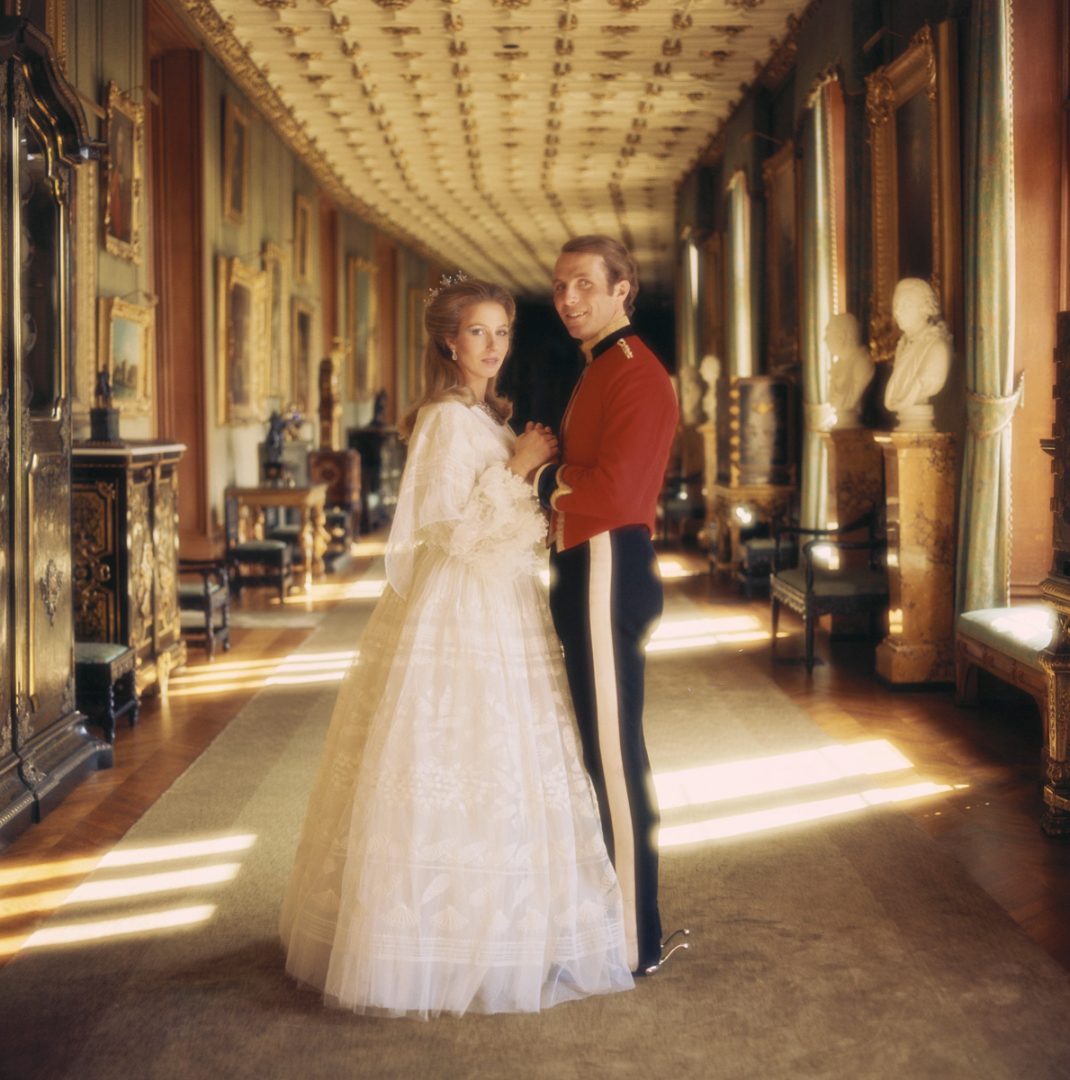 Princess Anne's wedding dress was a medieval Tudor style designed by  Maureen Baker. The dress was made of white silk and featured a high collar and large trumpet sleeves.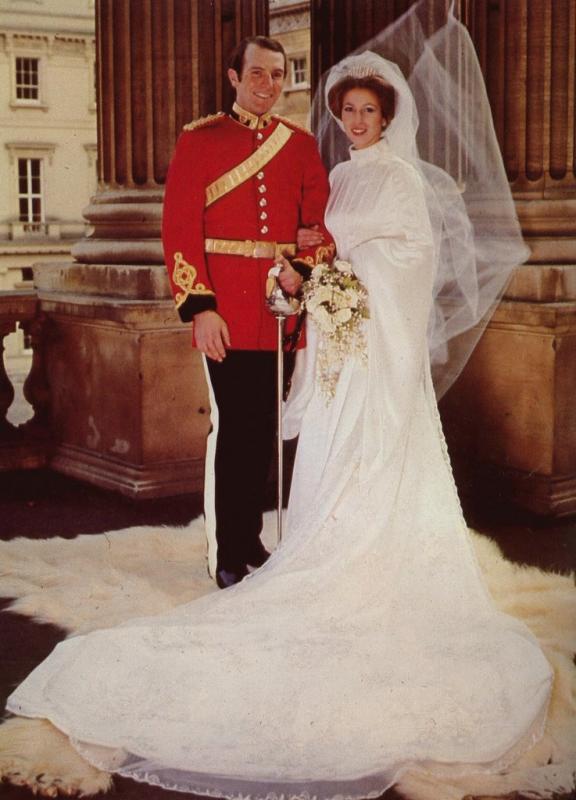 The neckline and shoulders were embroidered with pearls and silver thread. The long silk gauze train featured a design of flowers also enhanced with silver thread. Her veil was held in place by the Fringe tiara~ which was the tiara her mother, Queen Elizabeth, wore at her own wedding. 
Her page boy was her younger brother, Prince Edward. Her bridesmaid was Lady Sarah Armstrong ~ Jones, the daughter of Princess Margaret, Queen Elizabeth's sister.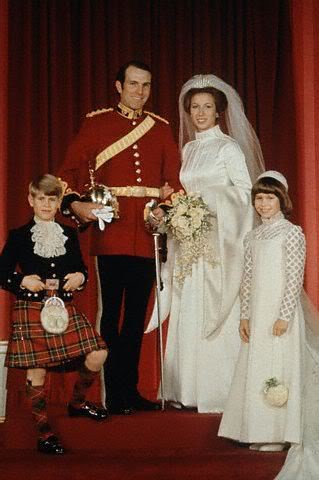 Princess Anne's son, Peter Phillips, married Autumn Kelly on May 17, 2008 at St. George's Chapel in Windsor Castle. The bride wore a ivory duchesse satin wedding gown designed by Sassi Holford. The strapless dress was topped with a lace bolero jacket.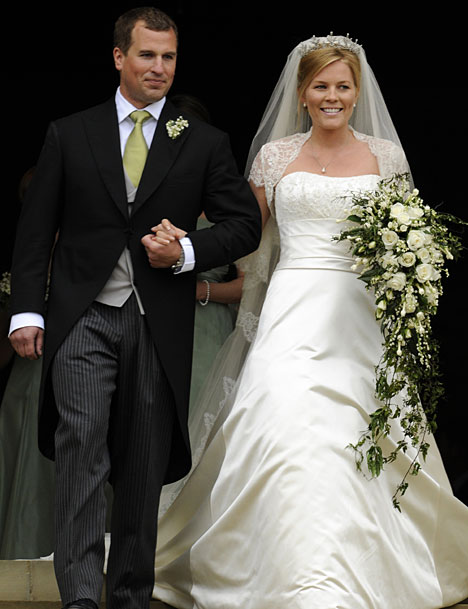 Her dress had a train that was a bit over two meters (6 feet) long and topped by a bow and a row of covered buttons. The tulle veil was held in place by a tiara on loan from her mother in law, Princess Anne.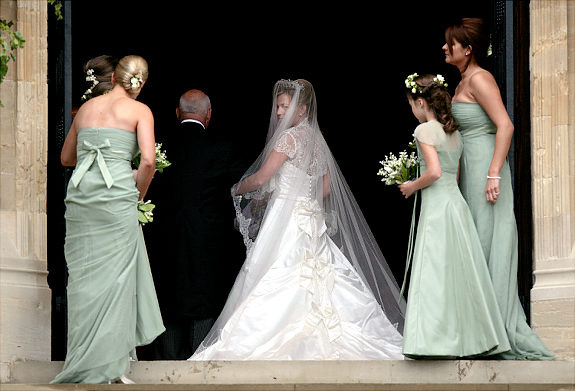 Princess Margaret wed Lord Snowdon on May 6, 1963. It was the first Royal wedding to ever be televised. She wore a dress made of white silk organza. It was designed by Norman Hartnell who had also created her sister, Queen Elizabeth's, bridal gown. It featured an elegantly high neckline and a fitted bodice.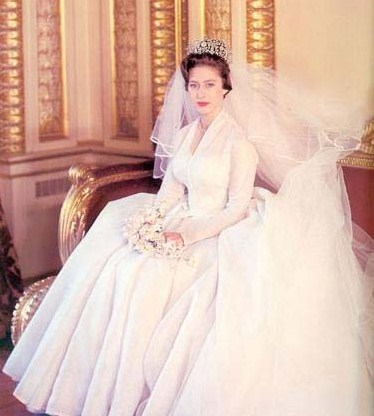 The dress was free of any beading or embroidery and the full skirt incorporated a short train.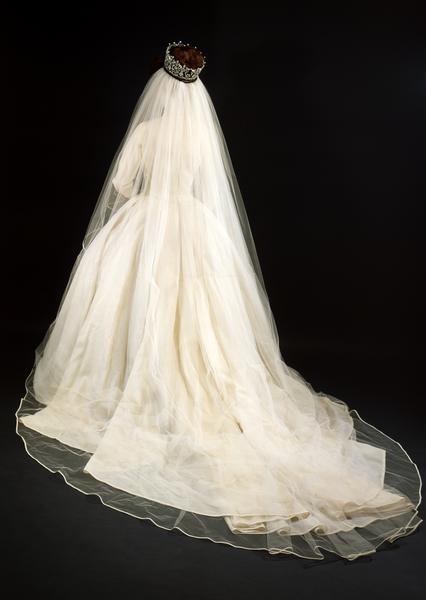 Her veil was made by Claude St Cyr of Paris.  It featured satin trim to match the dress and was held in place by the Poltimore Tiara.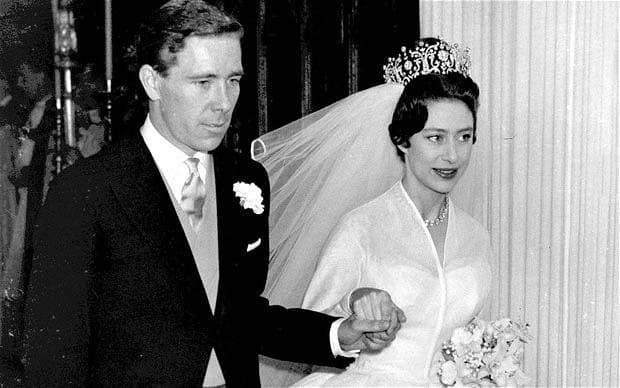 Princess Margaret's son, David Armstrong~Jones, Viscount Linley married Serena Stanhope on October 8, 1993 at St. Margaret's church. The bride's dress was designed by Bruce Robbins and reminiscent of her mother in law's dress. It  featured a fitted satin "V" necked coat that buttoned down the front and split at the waist. The tulle skirt was topped with a large bow on the back of the jacket.  The train was about two meters (6 feet) long.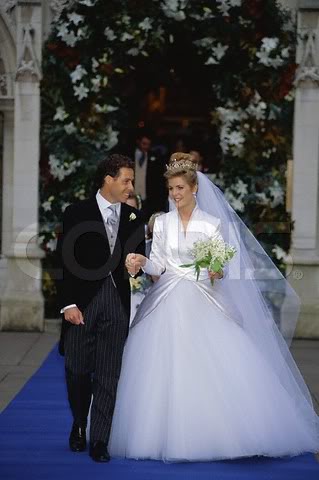 Serena borrowed the Papyrus Tiara from her mother in law. The tiara was originally purchased at Garrad's by Queen Mary who then gave it to the Queen Mum, Elizabeth, who passed it on to Princess Margaret.
Princess Margaret's daughter, Lady Sarah, is actually one of my favorite Royal brides. Many remember her as Lady Diana's eldest bridesmaid. For her wedding to Daniel Chatto, Lady Sarah chose a gown by Jasper Conran. It had long sleeves, a low square neckline and a crushed bodice.
The tulle veil was held in place by a diamond floral tiara. The tiara can also be broken into smaller broaches. It was a wedding gift to Lady Sarah's mother, Princess Margaret, from her groom (and Lady Sarah's father) Lord Snowdon.
When Sarah Ferguson married Prince Andrew, Duke of York on July 23, 1986 she chose Lindka Cierach to create her wedding gown. The dress was made of ivory duchesse satin and featured a scoop neck, a fitted bodice, full skirt and padded shoulders accented with bows. The 17 foot long train fell from the skirt from a large bow and was lavishly detailed with intricate embroidery. The design had very personal meaning as it included Sarah's personal coat of arms, an "A" for Andrew, as well as an anchor to represent the groom's naval career.
In one of my most favorite Royal Wedding details, upon entering the church, the bride's silk tulle veil was attached to a perfumed coronet of roses, gardenias and lilies of the valley.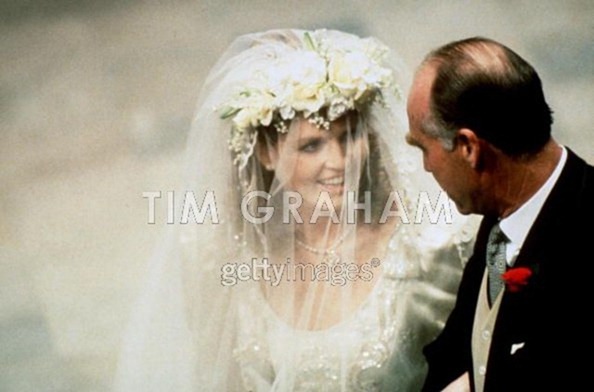 At the end of the ceremony the floral wreath was removed to reveal a diamond tiara symbolizing her transformation from commoner to royal bride.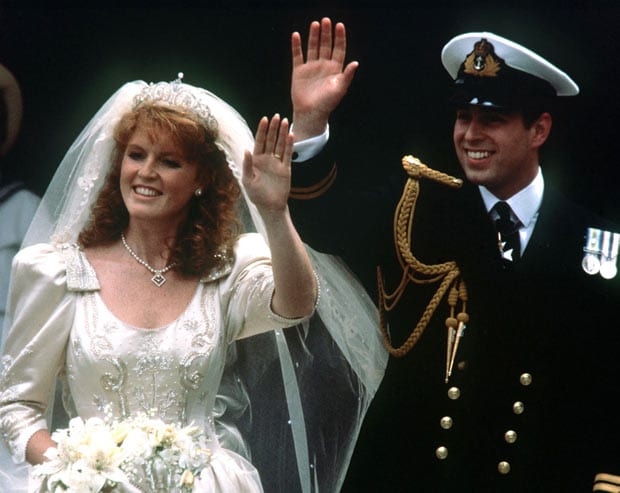 Sophie Rhys-Jones wore a sleek ivory silk and organza dress topped with a matching coat to her wedding to Prince Andrew on June 19, 1999.  The dress, designed by Samantha Shaw, featured 325,000 cut glass and pearl beads.
The bride's hand dyed, silk tulle veil was one inch longer than her train.  It was hand finished with crystals. It was held in place by a diamond tiara on loan from the Queen.
Her jewelry include a black and white pearl necklace, interspersed with white gold rondelle's and matching earrings. The set was designed by Prince Edward as a gift to his bride and made by Asprey and Garrard.
I imagine that if one is to write a history of Royal wedding dresses, the "Wallis blue" confection that Mrs. Simpson wore on June 3, 1937 to marry King David, a man who abdicated the throne of England for her, must be included. She of course became the Duchess of Windsor but was forever denied HRH (Her Royal Highness) status.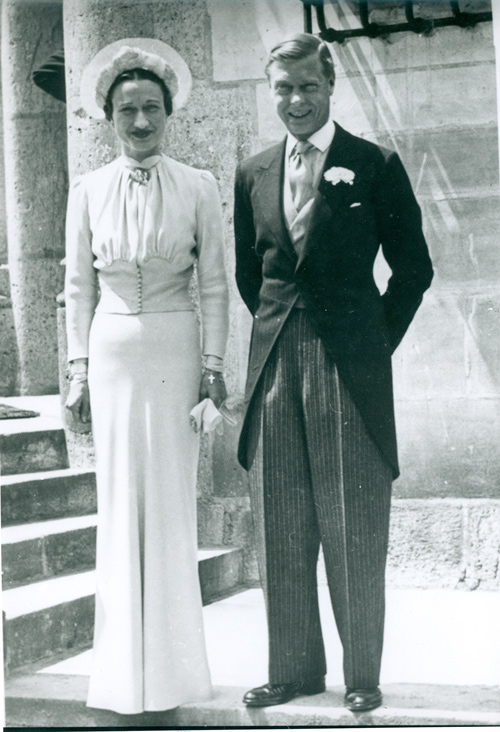 The full length gown and long sleeved jacket was constructed of silk crepe. It featured a tightly cinched waist enhanced with covered buttons.  A jeweled brooch was worn at her neck and a hat adorned with pink and blue feathers was the only crown she ever wore.
The Duke of Windsor had three younger brothers ~ Albert, Queen Elizabeth's father, who became King George VI,  Prince Henry, Duke of Gloucester, Prince George, Duke of Kent and  Prince John  who passed away at the age of 13. On November 29, 1934 at Westminster Abbey Prince George married Princess Marina of Greece and Denmark . She wore a cowl necked gown made of silver and white lamé with a raised "Rose of England" pattern. Her necklace was a gift from the groom and featured 36 large diamonds.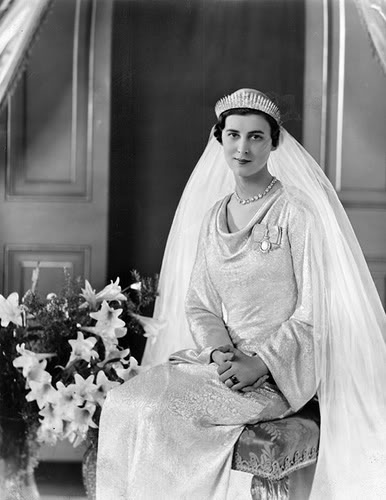 One of her bridesmaids (lower left) was then Princess Elizabeth. It was said that Princess Marina was the true beauty of the Royal family.
I have my own favorite true beauty and thus saved her for last. Lady Alice Christabel Montagu Douglas Scott married Prince Henry, Duke of Gloucester on November 6, 1935  in the Private Chapel at Buckingham Palace. A much more elaborate affair had been planned, but was scaled back due to the recent passing of the bride's father and ill health of the groom's father, King George V. Her dress was designed by Norman Hartnell, who also created Queen Elizabeth's and Princess Margaret's wedding gowns.
The dress was made of silk crepe in a blush color. Her stunning bouquet was created by Constance Spry who also did the arrangements for the Duke and Duchess of Windsor's wedding.  Her cathedral length veil (exact measurements unknown) was held in place by an elegant tiara.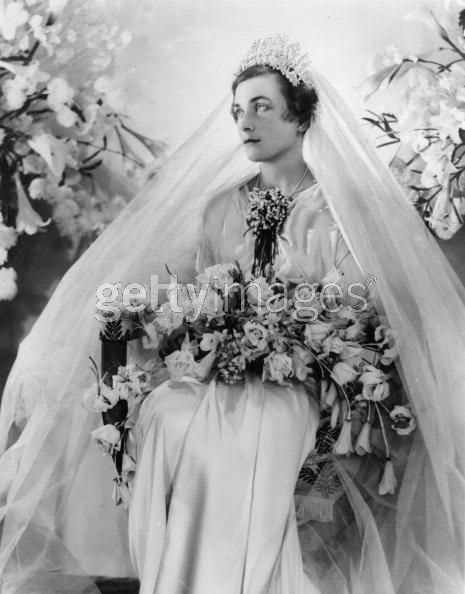 Princess Alice remained dedicated to public service her entire life. During WW II she worked with the Red Cross and became head of the Women's Auxiliary Force in 1940. She passed away at the age of 102 becoming the longest living person in the history of the British Royal Family. Beautiful.
What shall we talk about next~ bouquets, cakes, or wedding receptions?
Laura
Please join me here on Friday for an auction featuring vintage and antique linens.