Welcome to the Royal Wedding Wednesday~ What To Wear linky party! I am so happy you all enjoyed a good laugh at my bridesmaid horrors on last
Monday's post
.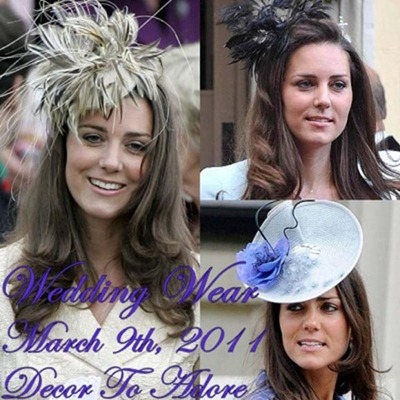 Alas my invitation to the Royal Wedding has yet to arrive. But for those who have received theirs, it clearly states what the dress code is.
Military Uniform
Morning Coat
Lounge Suit (what the British refer to as a coat and tie)
Hmmm. Not much help for the women. Thankfully you have me. (smile)  But let's begin with the men. Sigh~I love a man in uniform.
Prince William has three options available to him as an officer in the Royal Navy. (HRH is a Sea King Search and Rescue Pilot.) I imagine he will select something close to the middle image and no doubt will wear all of his medals proudly.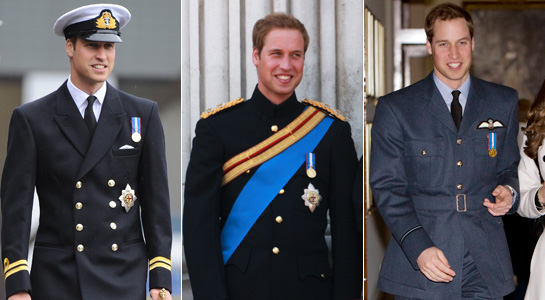 Much like his grandfather, Prince Philip, did on his wedding day.
Of course many of us remember his father, Prince Charles, wearing full regalia on his wedding day to Lady Diana.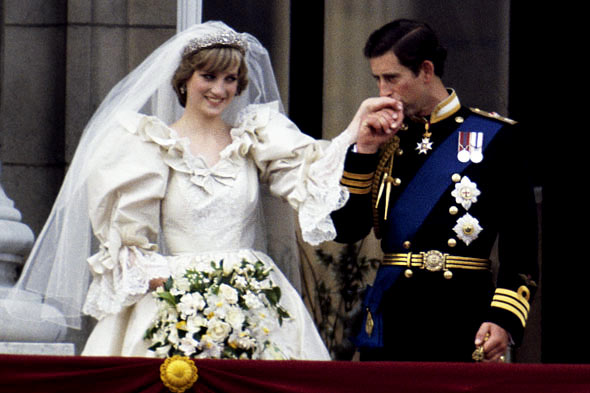 For the morning coat category I had no need to search google for an image. I have excitedly been waiting to show you Mr. Décor's dashing Uncle David and lovely Aunt Bette. This also is a good first clue on what ladies should wear.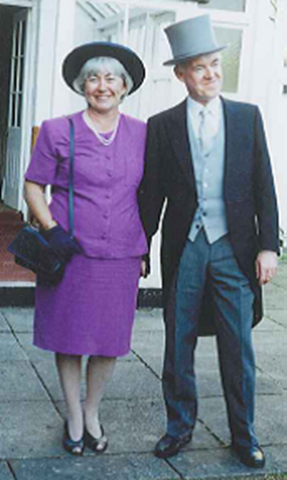 A morning coat (or tailcoat, as Americans refer to it) is the daytime formal dress code, consisting chiefly of a morning coat, waistcoat (vest) and striped trousers, generally in various shades of gray. One often wears a top hat as well. Morning dress is generally worn only for weddings, some official government or Royal functions, races such as Ascot, and as uniform at some of Britain's most traditional schools such as Eton, which both Prince William and Prince Harry, attended.

Uncle David was an educational ambassador for Great Britain for many years. His service to his country was recognized by the Queen and he was awarded the O.B.E. (Order of the British Empire) That's right, our David went to Buckingham Palace to receive this truly distinguished honor.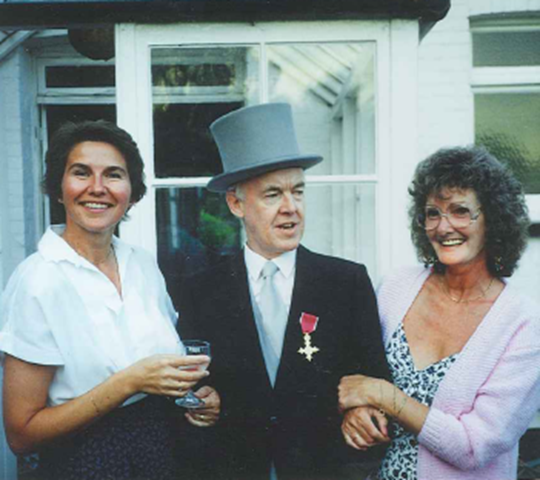 The Most Excellent Order of the British Empire is an order of chivalry established on 4 June 1917 by George V.  The Order of the British Empire recognizes distinguished service to the arts and sciences, public services outside the Civil Service and work with charitable and welfare organizations of all kinds. The Order's motto is "For God and the Empire". I am blessed to know Uncle David and can tell you his character truly encompasses all that this honor stands for.

Lastly, we have the lounge suit. Yawn. I hope that very few of the gentlemen in attendance at the wedding select this option. After all, it is not everyday that the future King of England marries.

Now for the ladies. The clue that their selections should be rather formal are of course indicated by the option of a morning coat. So what does this mean?
First and foremost you can leave your strapless dresses at home. As the young couple is marrying in Westminster Abbey~ a Church of England, I would bet a rather large sum of money that even the bride will have her shoulders covered. This makes me very happy as I am rather tired of the strapless look and Catherine's gown selection will no doubt usher in a new trend.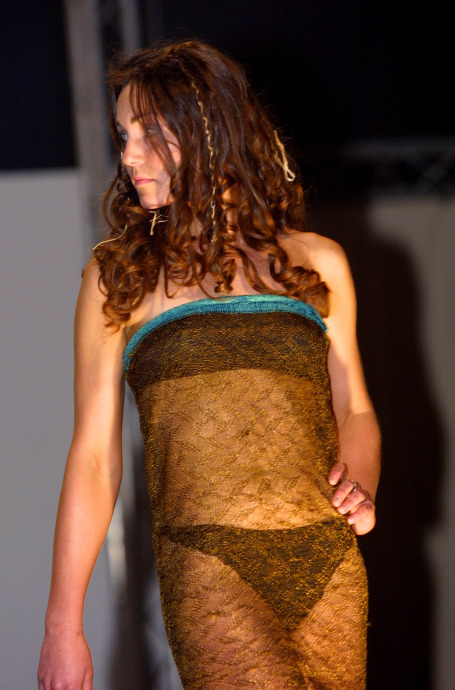 Secondly, make sure your legs are not bare either. Once again this is a formal occasion held in a church. As the wedding does take place in England in April, you'll thank me later that you had the extra layer. By all means enjoy the now popular range of textures and colors available for hose, but keep restraint in mind.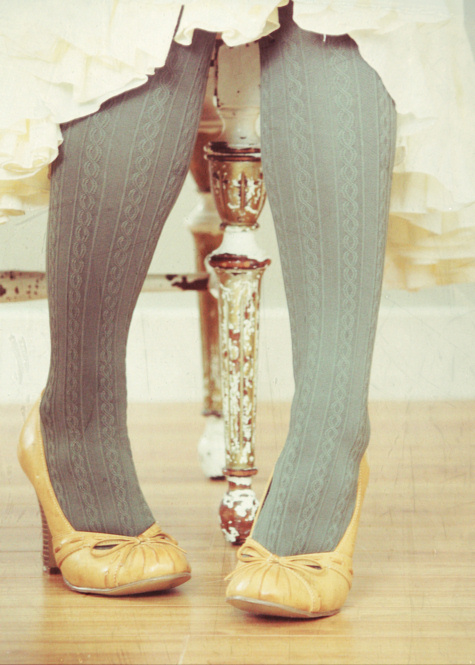 The English still wear head ware to formal occasions. (Yeah!) We can look to Kate for the various forms of accepted, yet still stylish, headwear.  Keep in mind for a daytime ceremony it is in good taste for only the bride to wear a tiara.
But by all means wear a full brimmed hat.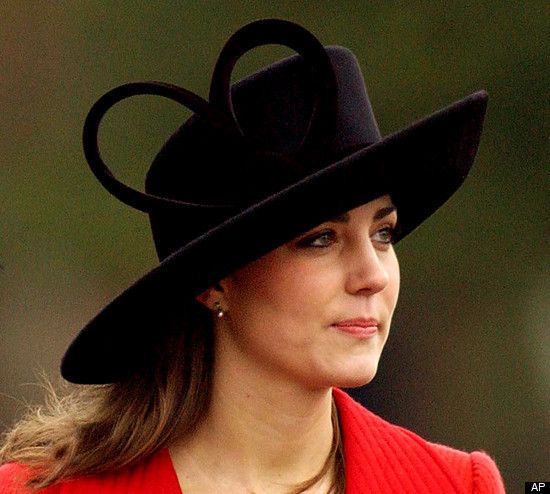 Pill box with veil.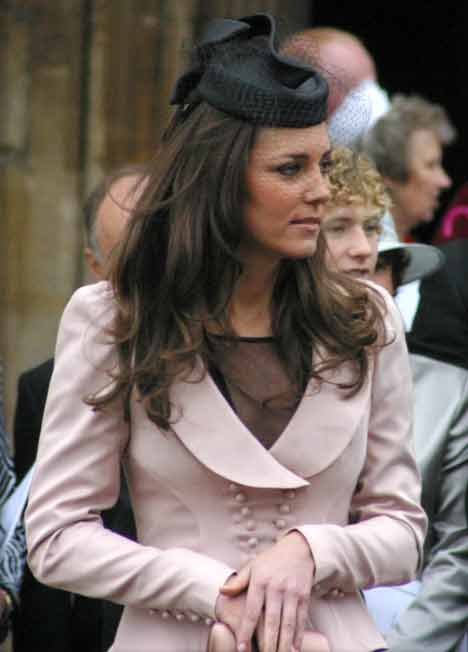 My personal favorite so far has been a medium sized asymmetrical felt creation that fit her ensemble perfectly.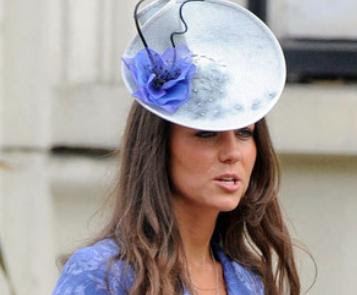 Runner up, the large flirty feather fascinator.

As well as the smaller fascinator ~a choice she made in her first official appearance last weekend and will no doubt will be a popular choice with the younger guests.
Non acceptable headgear.
Now onto the wedding guest dress and suit selections.
Please keep in mind that if you are over that age of 10 it is only appropriate for the bride and her attendants to wear solid white or ivory. End of story, no arguments. This is the brides day to shine.
No neon and no fire engine red (raspberry, plum, and claret are acceptable shades). Again, this is the bride's day to stand out. Jezebel ~ have you learned nothing from Scarlett?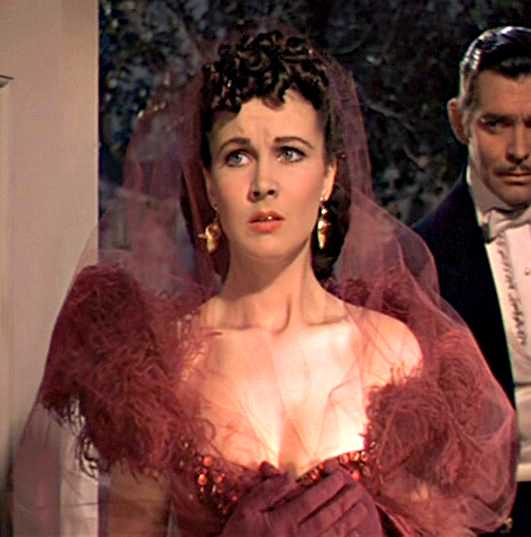 Black is only to be used as an accessory. This is a wedding and not a funeral.
Acceptable fabrics
Think soft and flowing silk.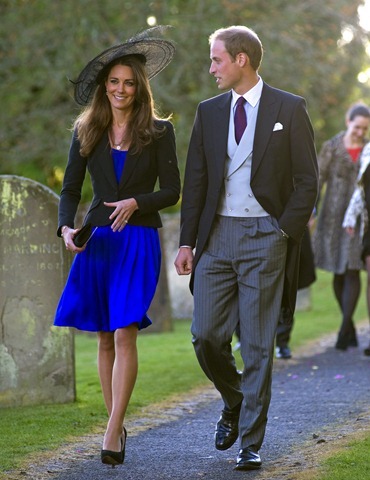 Beautiful brocade in springtime shades.
Lovely summer weight wool.
Crisp cotton chintz or jersey.
Accessories
Select a small to medium sized handbag and tasteful heels. Here is where black, as an accent color, is acceptable.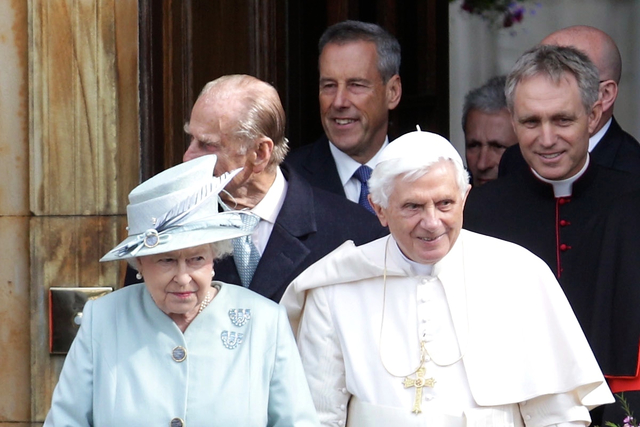 Jewelry should be kept to a minimum. Both pearls and diamonds are acceptable. Select stud earrings, small rings, broaches, simple strand necklaces and bracelets.
If you follow these guidelines, the Queen will be very happy.

You may have noticed in the above images that the Queen often wears gloves. Many women attending the wedding will follow suit. A favorite glove maker of the royal family is Dents gloves.
Here I offer you an outstanding example of what a perfectly outfitted female guest might wear to the Royal Wedding. Smashing Bette!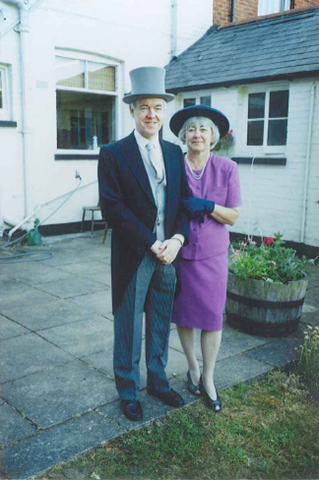 Now that we have seen proper attire I am eager to see what you will link up in the form of bridesmaid gowns in the "Pretty Princess or Perfectly Putrid" category. The best submission, selected by esteemed experts Jenny and the Fashionista, will win a vintage crown broach, antique berry bowl, soap, sachet, chocolate and of course no stylish English rose would be caught without her handkerchief.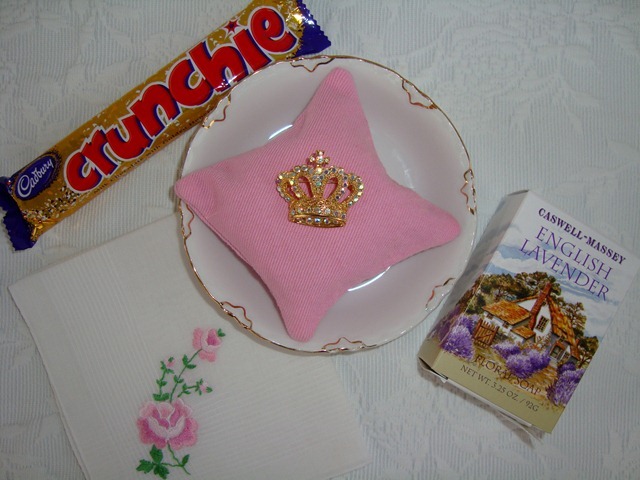 Congratulations to Laurie at Bargain Hunting and Chatting for her entry in the bridesmaid category. The judges agreed that the vintage 60's gems worn below could actually go either way (smile) but we'll say "Pretty Princess".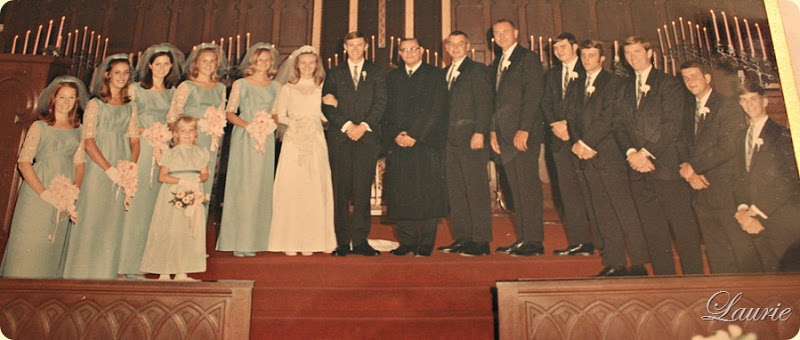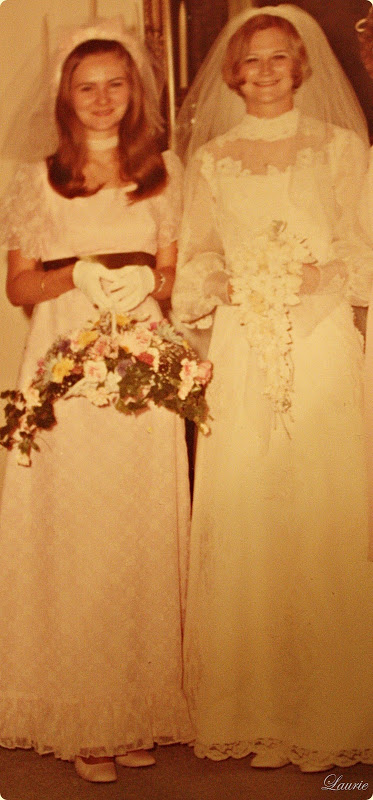 The "Hat's Off" winner will receive a lovely vintage broach featuring a sweet hat wearing Prince. You can nestle your gems in an antique berry bowl and as all good fashionista's know, a hanky, lavender sachet, great soap and chocolate can truly help a girl get through a day. I want to see what you wore on your big day…HAT, VEIL OR TIARA!

Congratulations to Nook and Cranny who created this darling chapeau specifically for the Royal Wedding.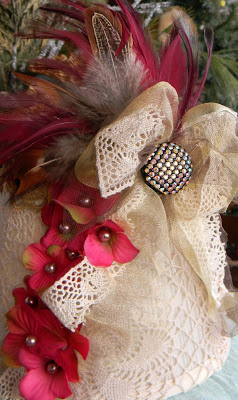 Lastly, we have a sweet vintage rhinestone tiara broach, antique berry and bauble bowl, sachet, hanky, soap, and chocolate for our "Best British Baubles" winner.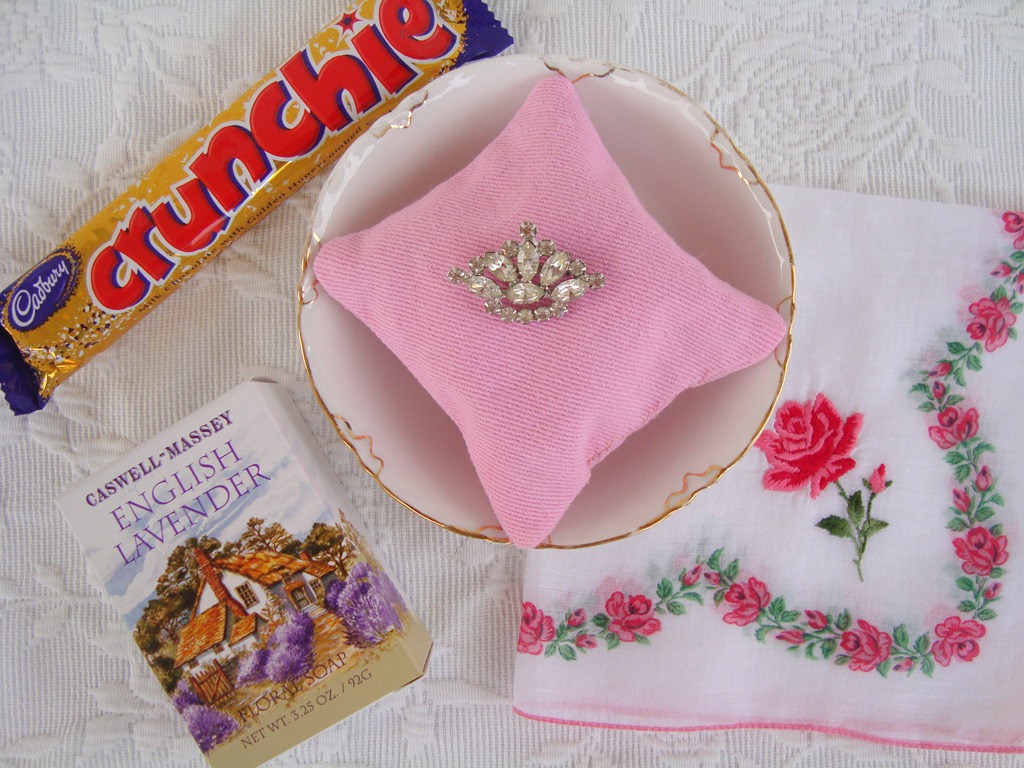 Congratulations to Lax Super Mom of Sugar & Spice in the Land of Balls and Sticks for her beautiful bling. This beautiful bride had a tiara, earrings, a lovely wedding ring… even her fingernails had rhinestones!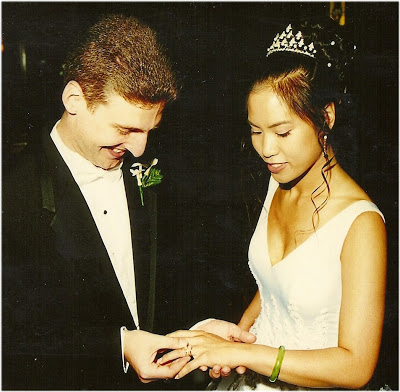 Ladies, you can now grab your button and consider yourselves crowned Queen!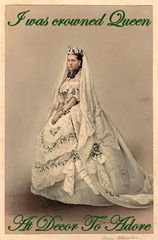 May your own home be your castle,
Laura