My heart and eyeballs are overflowing! Thank you so much for your support in the previous post regarding my decision to now accept advertising. You guys are awesome! Group hug. (

)
You may have seen the film "27 Dresses" in which Katherine Heigl models some of the most horrific bridesmaid dresses ever worn in a wedding.
I have to be honest that the mauve colored confection (with matching shoes!) that my maids wore in my first wedding were flat out awful. My only saving grace (besides the fact it was the 80's) was that we bought the dresses at the Gunne Sax outlet so the girls paid very little for the honor of wearing such awful satin bows and lace. Of course these girls (and others) had their revenge on me in later years and we all laugh about our "beautiful" selections now.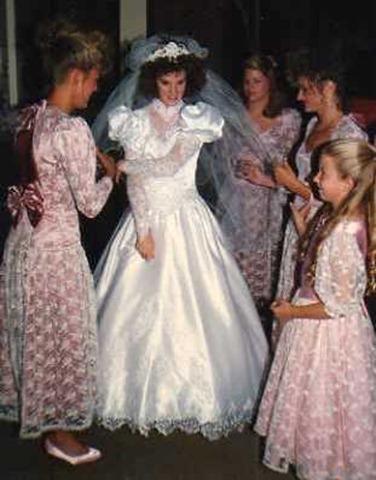 When I married Mr. Décor I had but one maid ~ my cousin sweet T (of Catherine's Coach fame) who was responsible for introducing me to my Prince Charming. I had learned from my earlier dress selection disaster and told her: "You can wear whatever you want, just please make it periwinkle." We christened the gown she chose the "Dangerous Liaison" dress for it's beautiful corseted laced back and big full skirt. I look at this photo (now 13 years old and rather blurry) and still love our choices.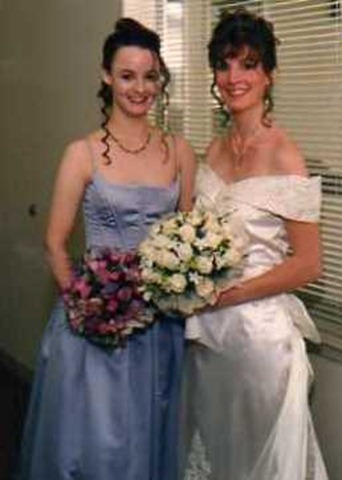 Before we get started with the kidding and mocking of some of the following bridesmaids gowns I want to make it clear that I am VERY blessed to have many dear and true friends. We often get together and look at old photos of ourselves and laugh until we cry (or as time cruelly creeps on~ pee our pants) at the fashion selections we once made. I treasure my friends and am so very happy and proud that I have been included in some of the most important and precious memories of their lives. I received permission to poke fun.
So what makes a bride chose a particular bridesmaid dress? I imagine that sometimes a "theme" is selected by the wedding destination itself.
Of course sometimes it is just the fashion of day~ perhaps inspired by a romantic film such as "Somewhere In Time".
But what causes a woman who is generally a rational, sane and even quite stylish person to go overboard? Well everyone knows that women temporarily lose their minds when an engagement ring is placed on their finger. Here is a dress that was actually pretty but the "theme" accessories pummeled into the putrid category.
There is also one friend's theory that you want your maids to look as awful as possible so that you, the bride, are elevated into further beauty and all eyes remain on you.  I made it through the wilderness in this choice.
But should a bride be held responsible years later for what was dictated as fashionable when she got married? There are clothing styles that time has not only marched on, but trampled right into the ground. What is lovely 30+ years ago may not be so much so today. (We blurred this video to help shield your eyes.)
My sweet Mama in THE dress. As you can see I was four. She passed away a year later. I told A & E that I am not a hoarder ~ I am a keeper of memories. My plan to keep their intrusive camera's and psychologists off my doorstep is to have an online antique china sale this Friday. (See the top of the sidebar ~ I hope you'll come back.)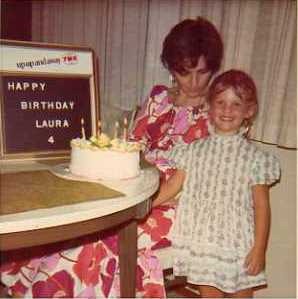 But this Wednesday, in honor of Royal Wedding Wednesdays, I am hosting the Royal Wedding Wear linky party which will include three separate categories:
The first category is "BEST British Baubles" ~ show me your rhinestones, pearls or other jewelry collection. But be forewarned, if you make a video and try to say Best British Baubles, it may turn out like this blooper:
The second category is "Hats Off" ~ show me your fabulous headwear.
The last category is "Pretty Princess or Perfectly Putrid" ~ bridesmaid wear.
The following picture would actually work for both of the above categories.
The esteemed experts selecting the three winners include my friend Jenny who is a walking encyclopedia of vintage fashion and my daughter, the Fashionista, who writes for the Urban Outfitters blog and recently earned a degree in fashion design. Here are the prizes:
The "Hat's Off" winner will receive a lovely vintage pin featuring a sweet hat wearing Prince. You can nestle your gems in an antique berry bowl and as all good fashionista's know, a hanky, lavender sachet, great soap and chocolate can truly help a girl get through a day.
Next, we have a sweet vintage rhinestone tiara pin, antique berry and bauble bowl, sachet, hanky, soap, and chocolate for our "Best British Baubles" winner.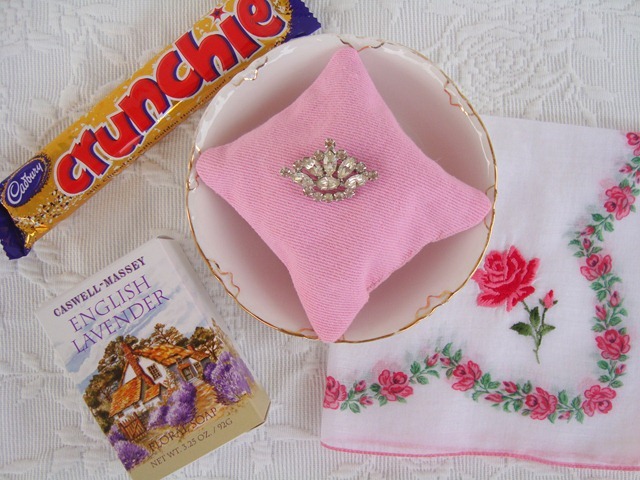 Lastly our "Pretty Princess or Perfectly Putrid" winner will take the crown vintage pin, antique berry bowl, soap, sachet, chocolate and of course no stylish English rose would be caught without her handkerchief.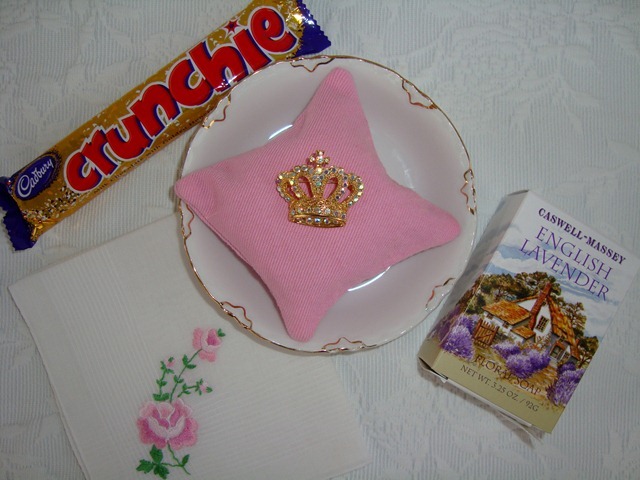 So grab the button and play along. I promise it will be a hoot!
Laura
Linking To: